As you've likely heard, we humans aren't 'designed' to sit around all day. There are all sorts of problems that can arise from our sedentary lifestyles including obesity, increased blood pressure, high blood sugar, excess body fat around the waist and abnormal cholesterol levels.
That's all well and good, but what about if you have to spend time working in an office and most of that's spent on your seat?
Luckily, there are dozens of smart home exercise options that you can comfortably use from your own home office. This guide will go through the best exercise machines you can use at work we've found, including all the latest fitness gadgets and sneaky office gym gear you can use to get fit while you sit.
"Once you get used to cycling while typing, this desk bike can actually keep you and burn a good amount of calories, while you get through some work."

Citysports
Walking Machine

"This sneaky space-saving treadmill can be stood vertically and tucked away in the corner of any office. It's a brilliant way to burn calories and stay trim on your work-breaks."

"Add some extra weight and benefit from your everyday movements. A clever way to tone muscles without actually doing anything extra!"

Simple ankle and leg weights

"This under-desk bike is quiet and give you a simple way to offset the harmful effects of sitting all day."

Active Forever Dumbbell Set

Ideal to keep beside desk

Track all-day calorie burn

Ideal to keep beside desk
What we look for picking gear to keep you fit at work
Things we're looking at when picking the 'best' office gym gear
Gear that doesn't hog all your space– Anyone with a massive home office can probably skip this but for the rest of is, we might not have room for a massive treadmill next to our desks. One criteria we've used is picking fitness gizmos that can either be stashed easily, or that can be used at your desk.
Shhh! I'm trying to work – While we love the Concept 2 rower here at Home Gym Experts, having one in your home office might be a bit distracting. So we're checking the decibels and keeping the noise down. Thankfully the gear designed for this marketplace does a good job of keeping the noise down.
Gear you can quickly hop on and off – So the idea with counteracting the effects of sitting too much at work is to regularly take active breaks where you're doing something. As such, we've picked gym gear you can either use while you work or things you can quickly grab and chuck down when Sara phones from head office.
Things you can do at your desk – While standing desks are a thing when it comes to reducing the amount of time you sit at work, they're a bit out of the scope of this guide, as we're looking for stuff that can go one step further and get us in shape at work. We've included some things you don't need any space for and can train at your desk.
Office gym gear that burns calories – Is the idea of torching calories while you're filing the VAT a pipe dream? Maybe not. This list includes some nifty ways to shed some kcals while you're at your computer. It's a bit like padding your tummy and rubbing your head, but it's doable!
Stuff that won't fall apart when you look at it – As always, we're on the hunt for decent gear. You know, not that no-name brand stuff that creaks like your grandma's hips and will be broken in a few months. Give us something sturdy, chunky and that's going to last for years.
Is it portable? – While some readers will be looking for some crafty ways to get in shape from a home office, we know some of you will be looking for some fitness gear you can take to work with you. Don't worry, we're on the case and are checking the kgs and the cms all the way.
---
The best current gear to keep you fit at work in 2023
Before the buyer's guide, let's go over the current top office fitness gadgets out there in 2023. Here are the ones we found were actually worth the money, starting with the top pick first.

#1 – Yo-Yo Desk Bike
What is it? An exercise bike with a built-in desk
What's it do? Burn calories and tone your legs while you work.
Storage and portability: While you won't get it in the back of the car, it can be wheeled anywhere in your office.
Size required: 96cm x 59cm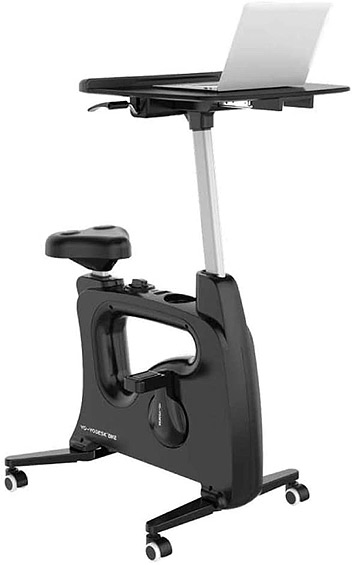 An award-winning design, the Yo-Yo desk bike is an integrated exercise bike and working surface, and it's exceptional at both.
As a bike, you get the choice of 8 resistance levels, and active tracking for all the essential stats including calories, RPM and distance.
As a desk, the built-in surface is solid and hard-wearing, with adjustable height and a large working area that can easily hold a laptop, as well as notebooks, pens, and your all-important cup of coffee.
You don't just have to use this as a bike, either. The desk surface is at the perfect height to be used as a standing desk, giving you even more, health and fitness options.
Top-notch build quality
Good sized work surface
Solid and sturdy
Can be used as a standing desk too!
Ideal for a few hours a day
One of the more expensive options
The 70's sci-fi look won't be for everyone
Verdict: While it looks like it should be confined to late-night shopping channels and Facebook ads, this bike is not a gimmick. You're getting a serious way to get rid of the guilt of sitting down all day and actually make a positive change to your fitness, weight and health. The Yo-Yo bike is just awesome.
Check Current Amazon UK Price
Or read our guide to desk bikes here
---
What is it? An ultra-flat sort of treadmill you can move around easily.
What's it do? Ideal for a break from work, a quick jog or just walking.
Storage and portability: Although it's not the lightest office fitness gear, it's a fully-fledged treadmill with a teeny footprint.
Size required: 108cm x 43cm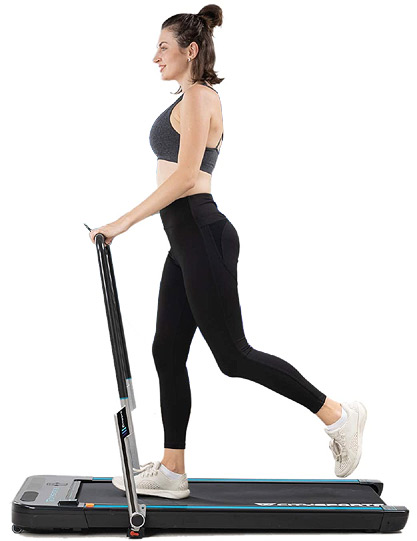 While it looks like a treadmill without the front console, this is a dedicated walking machine that's designed around long term fitness.
With settings for 1 to 8km/h, you can set this to a range of comfortable walking or jogging speeds, and the large dedicated walking deck is stable and quiet, so you're not going to drive your household mad or interrupt important meanings.
Bluetooth speakers give you an option for musical accompaniment, and the integrated child lock keeps your family safe when it's not in use. It's also surprisingly easy to store, so you're not going to struggle to lug this around the office when it's not in use.
Verdict: This is an impressive little treadmill that will make a big difference to your fitness at work, and definitely counteract the problem of all-day sitting. It's one of the most compact machines we've seen yet still manages a respectable 8km/h output.
Keep active at work
It's sturdy and has a smooth action
Good upper speed of 8km/h
Go for a walk without leaving your office
Bluetooth and lots of clever tech
It's a bit heavy at 32kg
Takes some getting used to the motion
Check Current Amazon UK Price
See our guide to folding running machines for more like this.
---
What is it? A set of arm or leg weights.
What's it do? Increases the workload turning ordinary office movements into a workout!
Storage and portability: Easy to store, and can fit in your case or bag.
Size required: None – you can wear them to work.
Ankle weights are a great way to discretely increase the resistance of everyday activities and working from your home office, there's absolutely nothing stopping you from strapping these on and hitting some leg raises or other exercises when sitting at your desk.
They also serve double duty as a set of arm weights, giving you another option for exercise, all in one budget package.
Verdict: They're cheap, they're comfy and they'll give you some extra exercise without actually doing anything.
Often recommended by physios
Fully adjustable
Thick, reliable strap
Solid and made to last
Very portable
Takes a bit of getting used to
Check Current Amazon UK Price
---
What is it? A mini-treadmill you can use at a standing desk.
What's it do? Keeps you moving and burns calories.
Storage and portability: It's small and fairly lightweight, at 25kg.
Size required: 42cm x 86cm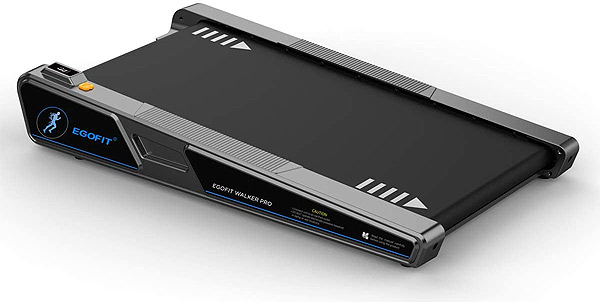 Egofit boasts that their walking machine is the smallest and lightest in the world, and once you get this thing out of the bow, you'll see why. It's ridiculously tiny, less than a meter long and just over 50cm wide, so it's going to fit almost anywhere, even in the smallest offices.
Despite that, it doesn't suffer in performance, with a 5kmh top speed and a max weight limit of 110kg (240lbs.) It's also surprisingly quiet and has the option for phone controls.
Verdict: When you can find them in stock, you're getting a cracking little treadmill. While it's only suited for walking, it's got an incline that makes for tougher work. A great way to stay in shape at the office.
A fab, compact way to walk 'n' work
Light weight design
Tiny footprint
Powerful 2HP motor
Incline makes for a tougher workout
Tricky to find in stock
For best results, you'll need a standing desk
Check Current Amazon UK Price
---
What is it? A mini exercise bike that goes under your desk.
What's it do? Works your legs and burns calories while you work.
Storage and portability: While you won't get it in the back of the car, it can be wheeled anywhere in your office.
Size required: 62cm x 51cm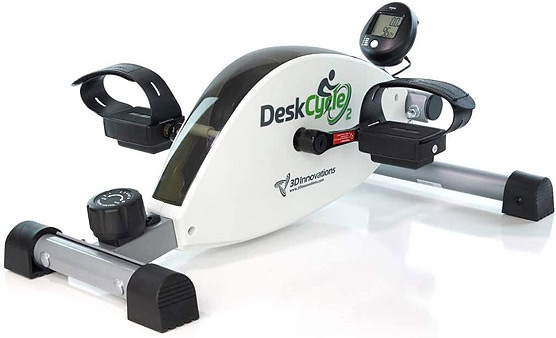 Slimline and small enough to slip under any desk, if you've already got your home workspace set up, but want the health benefits of a bike, the DeskCycle 2 has you covered.
Using the same whisper quiet and smooth, joint saving magnetic resistance that you'll find in gym quality, commercial bikes, the action on these tiny pedals is gorgeous. You can adjust the height, making sure that it's always comfortable for you, and there's 8 different resistance settings, as well as a cute little display so you can check all your stats at the end of the working day.
Verdict: Counting how many extra calories you've burned while at work becomes addictive with the DeskCycle 2. It's not a huge step-up from the first incarnation, but the OG was a great product too. A brilliant way to up your fitness while you're on the laptop.
A good way to get a workout while you're sitting down
Solid base that doesn't skid about
Increases circulation
Well-built and stylish
Adjustable resistance
Manual could be laid out better
Takes a bit of practice but quickly becomes second nature.
Check Current Amazon UK Price
---
What is it? A hand-held gadget that exercises arms and wrists.
What's it do? Uses a gyro-scope to build resistance in your muscles.
Storage and portability: Fits in your pocket. 'Nuff said.
Size required: 8cm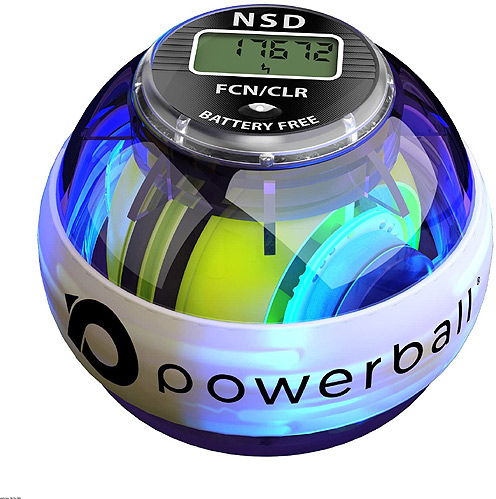 Fun to use as well as good for you, Powerballs are smart little gadgets with a whole host of benefits. Using it for just a few minutes a day can increase grip strength, work your arm muscles, and help with issues like RSI and tendonitis.
Plus, once you get started, you'll quickly get addicted to beating your own record, and anyone else around is sure to want a go. Small enough to fit into a drawer, Powerball's are also pretty cheap to pick up. We recommend the autostart version, which I actually have on my desk right now!
Verdict: While it looks like a toy, don't let that fool you. These things generate a lot of force and you'll be surprised how much 'resistance' you'll get from it. A great way to train forearms, wrists, fingers and build dexterity while at work.
Great for rehab
Train your arms at your desk
Builds wrist and finger strength
Easy and fun to use
Portable
Bit noisy if you're on a call
Check Current Amazon UK Price
---
What is it? An office-friendly set of dumbbells
What's it do? Take on an infinite number of exercises.
Storage and portability: They're easy to carry and, aside from the weight, simple enough to carry around.
Size required: 21.5cm x 10cm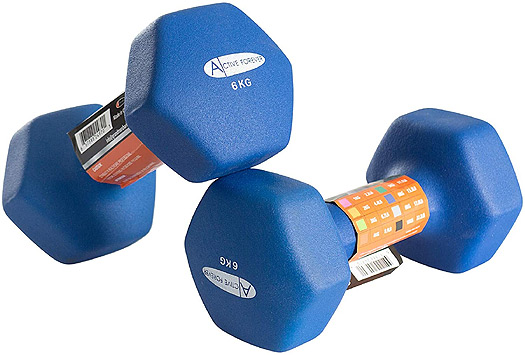 There's a lot to be said about working out from home, and having a set of dumbbells available lets you bang out reps while you're working, listening in on meetings, or taking a 5-minute break.
The weight set we've chosen is light enough that you shouldn't break out in a heavy sweat but has the option of a 3kg weight, which is heavy enough to make an impact.
They come on a small stand that will easily tuck away into a corner, but the weights are hexagonal, so they won't roll, and neoprene covered so they're not going to damage anything, meaning you can easily just leave your favourite on the edge of your desk.
Verdict: There's something pleasing about the way these dumbbells feel and they're ideal for office use. They come in a decent range of weights, look good and they're dumbbells. Train anything you want to – an ideal break from the computer screen.
Solid and well made
Textured grip feels great
Reasonably-priced
Massive range of possible exercise
Don't take up much space
Handle is thick – not ideal if you've got small hands
Check Current Amazon UK Price
See our hex dumbbells guide for some more ideas.
---
What are they? Elastic bands you can use to train your legs.
What's it do? You can do a range of exercises, even sitting at your desk.
Storage and portability: They roll up and hardly weigh anything.
Size required: Slip them in your coat pocket.
Resistance bands can be used to tone almost your entire body, but when you're working from home, they're perfect for hitting your legs and your core. You can even wrap them around your thighs and perform curls against your own weight.
Cheap and cheerful, this set of bands has three different resistance levels and can be stored almost anywhere.
Verdict: …
Comes with different 'strenghts'
Not like the cheaper latex ones
Comfy & easy to use
Quick to put on and take off
Portable and don't take up space
Check Current Amazon UK Price
---
What is it? A posture-correcting cushion.
What's it do? Forces you to keep your spine aligned.
Storage and portability: It's inflatable, so can squish right down.
Size required: Little space when deflated.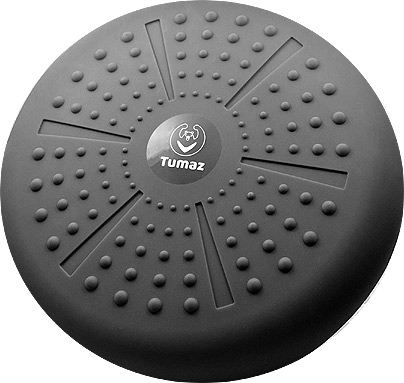 Cushions like these can be put onto any office chair, making your seat slightly unstable and forcing you to sit with good posture and your core to constantly work.
Each side has a function, one for acupressure massage, and one for balance and strength, and when the day is done you can take this off the chair, put it on the floor, and use it for balance training.
Verdict: You'll be surprised how much of a difference a simple thing like this can make to your posture during the day. It's simple to carry around and really comfy for your bum.
Great for anyone doing computer work from home
Recommended by chiropractors
Good for back pain
Corrects posture
Excellent quality
Takes some getting used to at first
Check Current Amazon UK Price
---
What is it? A watch that will track your fitness.
What's it do? Record everything from calories burned to steps.
Storage and portability: Slips on your wrist and looks stylish.
Size required: Just your wrist!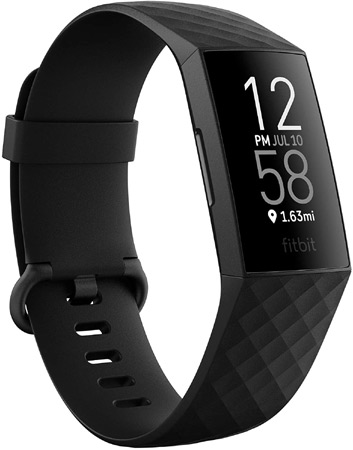 One of the easiest ways to stay fit and healthy is to be aware of it. And there's no better way to stay on top of your health and fitness than a fitness tracker.
Fitbit is the most well-known name on the market for a reason. Their trackers are smart looking, packed full of features, have great battery life, and link with any phone or computer.
You can track heart rate, activity, calories burned, and program alerts for inactivity, reminding you to get up and start moving when you've been sitting in one place too long.
There's literally no better tool for your health and fitness, and the Charge 4 is surprisingly budget-friendly for what it offers.
Verdict: An improvement over the previous versions and a great way to track your fitness, with a view to building and increasing simple things like breaks, exercise and steps.
Track your activity throughout the day
Easy to use
Fits well and looks sexy!
Track eating habits
7 days battery
Doesn't support all banks for Fitpay
Check Current Amazon UK Price
---
Getting in shape at work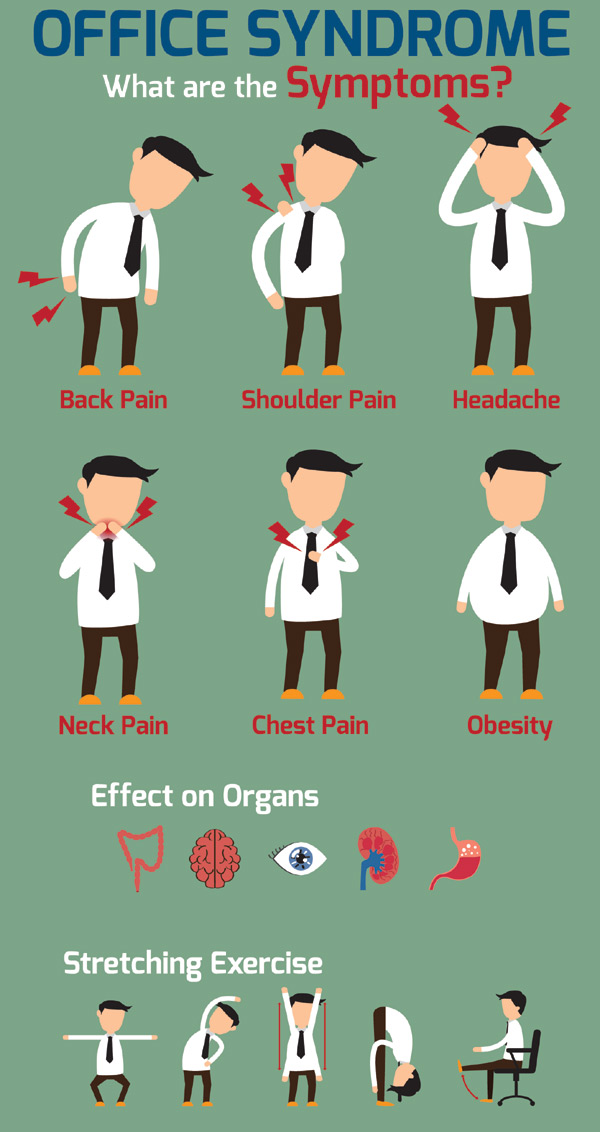 Offsetting the effects of too much sitting
Whether you work from home or get into an office every day, studies agree that it's essential to break up your sitting and don't spend all day slumped at the keyboard. That's easier said than done and I know exactly how hard it is sometimes to tear away from that task. There's a lot of stuff can start stacking each work day that needs our attention.
As we always say, the best exercise routines are always the ones you're going to keep doing. However you decide to work out in your home office, pick something that makes it safe, comfortable, and fun, and you're far more likely to keep it up.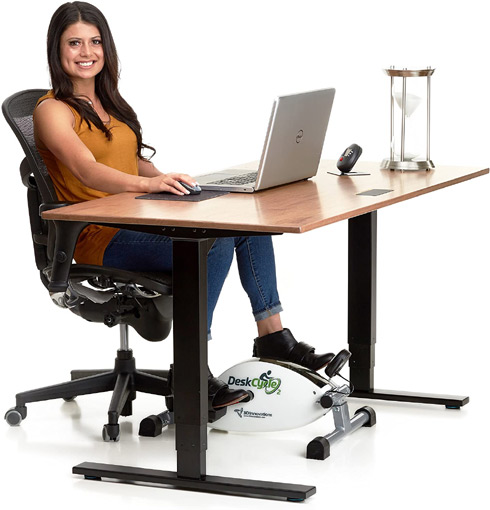 5 tips to staying in shape at work
1) Have a timer
Having a set time each hour, every two hours, or whatever works for you is essential to breaking up your work. It's so easy for a workday to pass and you've been sitting there for hours. If you've got an Alexa, set a reminder for 60 minutes to get up and do something.
2) Have some gym equipment nearby
This is especially easy if you work from home, but there are workarounds for any office. If you can have something like a little training mat, a set of dumbbells, or a kettlebell near your desk, and you can remember to take time each hour to do a few swings, you're on your way to better fitness at the office.
I heard one brilliant idea to put a chin-up bar in a door and every time you pass through it, do 5 pull-ups.
3) When there's no gym gear around
There's plenty of great exercises you can do to break up your sitting at work without ever needing any equipment at all. My favourites are:
Jumping Jacks
Push-ups
Ab crunches (use a chair)
Running on the spot (I find fast pace or getting knees up gets me out of breath faster!)
Squats – and holding the lower position for as long as you can – ouch!
* If you can get outside and do some exercise, without anyone thinking you've lost your mind, you'll also get some sunlight that will nab you some extra vitamin D, and also help you sleep better too.
4) Be mindful of your position
Set regular reminders or prompts top to bring your mind back to your body and get into the habit of correcting what you find. If you're like me, this will be a constant battle, where you find yourself slumped like a monkey at a keyboard and have to do a reset and get your posture back where it should be!
5) Move at your desk
As weird as it sounds, you can exercise a lot of your muscles sitting down. Develop a little routine you can break out through the day. While your office chair probably won't thank you, your chiropractor will. Here's what I do to break up long sessions at the computer:
Roll your head from side to side, so your chin presses against your chest
Roll your shoulders around – forwards and backwards
Lean from side to side
Rotate your hips one way then the other (Hoola-hoop motion!)
Stretch your legs (as long as there's room)
Then pull your legs right back like you're trying to get your heels to your bottom
Stretch your arms right up (there's usually some space there at least!)
Then pull them down like you're doing a lat pull-down
* You can find your own ideal reps for each exercise above.
Thanks for reading our guide. If you've got any advice for our other readers about how to work out from home, make sure to comment!
---
References & Further Reading