Today I got the chance to check out an incredible and unusual fitness machine – the NordicTrack Fusion CST. If this is the first time you're seeing this workout station, you'll be forgiven for thinking "what the actual hell is that?"
Looking like something from a Starwars medical bay, there's not really anything on the market I've seen in my years training like the CST.
But is this machine any good? Does it work? And is worth getting to whip yourself into good shape?
In this review I'll go deep on everything you need to know about the CST, including both good and bad stuff that with this cable-based strength training machine.
---
What is the NordicTrack Fusion CST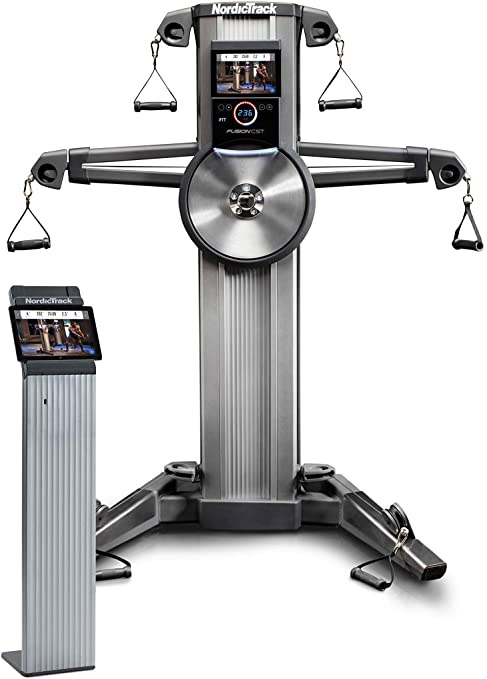 NordicTrack are known for their powerful, high-end cardio machines, including their treadmills, bikes, and freestride machines.
The Fusion CST is NordicTrack's only entry into the strength training market. Looking at the Fusion CST, it's actually hard to place it. It's a cardio machine that also has strength training benefits.
I guess the closest thing to it is a SkiErg, but that's really not an accurate comparison.
Te CST uses cable pulleys, but doesn't have any weights attached to it to generate resistance. It has a built in console, that can be detached and walked far enough away that you can't even see the machine any more, but still tells you how to work out.
I guess the closest thing to it is a SkiErg, but that's really not an accurate comparison. A muddled attempt at a one liner would be the Fusion CST is an all-in-one strength and cardio machine, that relies heavily on cables and a built-in flywheel.
You get it when you try it
Once you use the CST, it's a different story.
The combination of flexible exercise patterns, magnetic resistance from the built in flywheel, and constantly updating workouts mean that this is an impressive piece of kit, if you're looking for a powerful, complete cardio system with some real bonuses.
What you get from training on the NordicTrack Fusion CST
The Fusion CST is specifically designed for exceptional cardio workouts that are balanced against strength training and rowing for muscle definition and tone.
The whole machine is built around iFit, with iFit Live training being one of the main draws. For the uninitiated, iFit is live training, delivered online, from world class trainers, every single day.
An even bigger draw is the fact that your system links in with iFit HQ, letting the trainer control your machine's resistance levels, just like if you were training at a gym.
It's more about HIIT than weight lifting
While the Fusion isn't a true strength training machine, it's absolutely fantastic for HIIT (high intensity interval training,) with fast paced workouts that are great for toning and building lean muscle.
Training is also easy on your body, because the Fusion uses magnetic rather than conventional resistance, which results in much less force on your muscles and joints.
Because it uses cables, the specific movements can take a little getting used to, but there's nothing stopping you from performing a full range of strength based exercises with it, including:
Curls
Squats
Lunges
Presses
Rows
Any other cable resistance exercise
---
Where can you get the best price for the NordicTrack CST?
This product is available on Amazon, as well as other retailers but you're actually better off buying direct from NordicTrack. They offer free delivery on the CST and full warranty and returns. They frequently have deals on this model and there's in fact an offer today (see below).
Who is the Fusion machine best suited for?
The CST sits in a slightly odd place in the fitness world…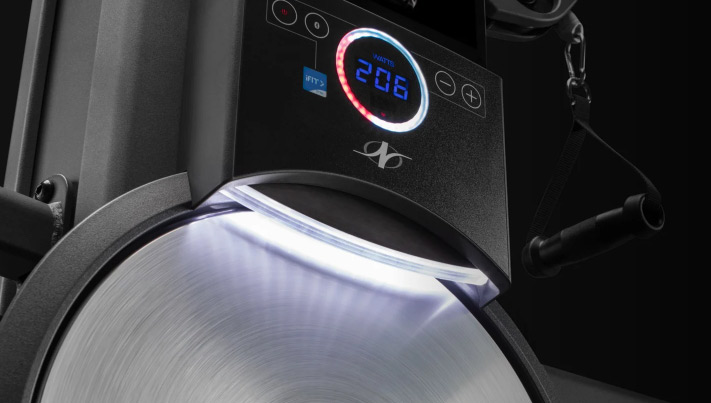 The combination of cardio and strength make the Fusion a good choice for people starting to exercise, and intermediate training.
It's also great for people who have underlying or chronic joint and muscle issues or other injuries that make exercise difficult, as the SMR (silent magnetic resistance) systems it uses have much less impact on the body that conventional mechanical resistance methods.
The same features are great for older users who might otherwise need more rest and recovery time between workouts. Magnetic resistance has been scientifically proven to require less rest, meaning you can exercise more often and feel less aches and pains the day after.
But these same features mean the Fusion probably isn't suitable for people who are very fit, or regularly lift heavy, because it can't replace conventional weight training.
This isn't a 'futuristic multi-gym'. A home gym will build your strength. This will do some strength but mainly fitness-based workouts.
Key features
3 pairs of cables with maximum 95 inch extension
2 included squat pulleys
iFit Coach Plus delivers excellent workouts
Inertia enhanced flywheel
Silent Magnetic Resistance system
20 digitally controlled resistance settings
NordicTrack Portal 10 inch tablet
Adjustable height phone stand
Wattage meter for tracking power output
Daily step monitoring with provided wearable
Bluetooth chest strap heart rate meter
Free shipping
---
What we like about the NordicTrack Fusion CST
NordicTrack quality
it's not going to wobble or shift when you're in the depths of a rowing session, or punching away.
Probably one of the best high end brands in home fitness gear in 2023, NordicTrack have been pushing out some insanely good machines lately. I can only imagine what's to come. Like their better-known treadmill range, the CST has that same quality – rightly so; after all, this is not a cheap machine.
Everything from casing to bearings, to the cables have a good quality feel and the unit itself is compact but has that weighty, chunky feel about it. While you're not going to move this about anywhere, it's not going to wobble or shift when you're in the depths of a rowing session, or punching away.
Smooth and controlled resistance
Like all NordicTrack exercise machines, the Fusion CST uses an inertia enhanced flywheel that works from silent magnetic resistance, instead of the standard mechanical or friction based resistance used in cheaper machines.
The CST's resistance is much better than friction resistance, which uses brake pads to mechanically brake the flywheel and provide the necessary resistance. This means that parts wear out over time and need replacing. It also tends to be loud, especially at higher resistances.
Magnetic flywheels on the other hand never touch anything except the axle. Instead, they use powerful magnets which interact as the flywheel spins. Resistance is adjusted by changing the distance between the flywheel and the magnet brakes.
A good range of resistance levels
The Fusion CST has 20 resistance levels that use digital adjustment, which can be controlled from the central console, or by the trainer when you're linked into iFit.
The magnetic resistance is almost silent, much quieter than competing options, which makes this a great choice if you live above someone or have very close neighbours.
10 inch Entertainment Tablet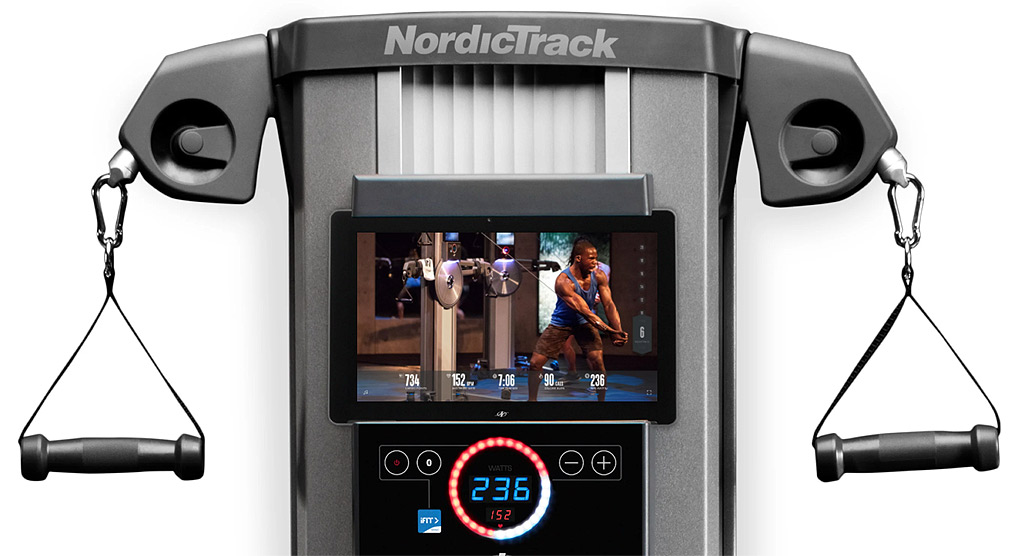 The Fusion is built around a 10" HD multimedia tablet system that gives you up to date stats, including heart rate, resistance levels, and working intensity.
One thing we love is the wattage meter, which can be centred right in the main screen. This tracks your power output up to the second, letting you see precisely how much effort you're putting in with every single rep, and really helps to balance your workout and make sure that you're putting in the required amount of work for the best results.
The tablet can also be detached from the machine and used as a free-standing system, which is a huge help when it comes to iFit workouts.
Obviously, tablets blow away regular old-school displays and offer a lot of versatility and accurate stat tracking, oh and there's also the sweet video content.
The iFit Fitness Programs
Workouts are updated daily, with several live sessions that you can log into
iFit is one of the major draws for all of NordicTrack's exercise systems.
It's an interactive, live fitness program that's designed and led by world-class trainers, and as close as you can get to bringing a high-quality gym experience into the comfort of your own home.
Workouts are updated daily, with several live sessions that you can log into, so you're exercising alongside the trainer.
iFit also has a library of hundreds of past workouts, as well as specific workout plans that have been put together to help you hit your goals, whether that's burning muscle, losing fat, getting fitter, or something else entirely.
iFit is a subscription service, but all machines come with a 1 month subscription for free.
Easy assembly
Unlike a lot of complicated workout machines, the Fusion CST comes almost completely assembled. All you have to do is attach the arms and legs, then attach the handles and plug it in.
We do recommend having a second person with you when assembling your machine, because it's a surprisingly weighty 160kg.
If you're a regular on Home Gym Experts, you'll know one of our main problems with multi-gyms is the length of time and amount of work involved. That's not the case here. This product requires minimal setup and lets you get straight down to action.
Tiny Footprint
Despite being a solid piece of kit, the Fusion is surprisingly tiny. It only takes up 3.5 x 5 feet, which is just 17.5 square feet. That means it's fantastic for the space conscious, especially considering that it can be used as a complete exercise station.
---
What we don't like about the NordicTrack Fusion CST
The Short Warranty
Unlike a lot of NordicTrack products, the warranty on the Fusion CST is surprisingly short. As opposed to what we'd expect, which is three to five years on most of the working parts, you only get one year on parts and labor, with a ten year warranty on the frame.
It's not cheap!
Needless to say, the Nordic Track CST is not a budget price machine. And there's no real cheaper alternative to this machine (there's not anything else like it at all, come to think of it).
There's no getting around the fact that this is going to swallow up a large chunk of your home gym budget. Hovering just under the £2000, the CST is a big investment for many, but one that's arguably worth it. You're getting a lot of training here for your cash.
Cables and resistance
There are a few issues with the cables. For starters, the cables are fixed mounts, so can't be moved. This won't be an issue for 90% of users, but could prove annoying if you're particularly large or short.
The cable-driven resistance is an unusual exercise pattern that can take some getting used to. It's also hard to balance each of the 20 resistance levels with conventional weightlifting numbers.
Not very mobile
your Fusion CST will be staying where you assemble it, unless you plan on disassembling it again to move it.
Despite its compact size, the Fusion is much heavier than a lot of other pieces of exercise equipment, and it doesn't have any mobility options.
Realistically, this means that your Fusion CST will be staying where you assemble it, unless you plan on disassembling it again to move it.
This won't be a deal-breaker for most, and you're likely already planning a spot where your CST can live, but this isn't one of those machines with the nice little transport wheels that will discreetly fold away.
Resistance is one direction only
One minor downside is that the resistance on the Fusion is only single direction, like a rowing machine. That means you have resistance on the concentric (pulling) phase of the rep, but there's no resistance on the eccentric half.
This is different to the feel you get from multi-gyms, free weights and other bits of gym gear, where you'll make gains on both parts of the movement. Still, it hasn't hurt rowing machines!
We don't know what the name means
Okay, this is more of a joke, but even NordicTrack's official literature doesn't actually specify what the CST in the name stands for.
We can guess, from marketing blurbs and our own experience, that it stands for Cardio and Strength Trainer, but it seems like we're forever going to be wondering.
Conclusion
NordicTrack's Fusion CST is an interesting machine that you'll likely know whether or not it's going to be for you. If you like the sound of having a station you can jump onto when you have time, that offers a way to get in shape from home, this is a great fitness product.
There's always a new class to try, or a different kind of workout to tackle.
The CST will appeal to anyone interested in losing weight, toning up and generally getting in better shape. As long as it's within your budget, there's a serious amount of training-per-pound on offer here.
While it's not a good choice for anyone looking for a more strength-oriented program, iFit does a fantastic job of keeping you motivated, without that feeling of dread creeping in when it's time to train. There's always a new class to try, or a different kind of workout to tackle.
If we were to buy this, it would be for the focus around trainer-led workouts and iFit. A lot of iFit compatible machines, like treadmills and bikes, don't have the functionality for complete workouts, meaning you're hopping on and off the machine and using tiny dumbbells.
NordicTrack's Fusion CST is a versatile and powerful piece of kit that can run you through an almost infinite amount of full workouts. If you're looking to get fitter, and want the benefits of trainer guided programs from inside your home, it's a great option.
Full Fusion CST Specs
| Brand | NordicTrack |
| --- | --- |
| Type | Strength & Cardio |
| Resistance type | Silent magnetic resistance |
| Resistance levels | 20 |
| Display | 10" Touchscreen tablet (included) |
| Training type | Life interactive training |
| Heart rate monitor | Wireless chest strap (included) |
| Supports multiple users? | Yes |
| Flywheel | Inertia-enchanced |
| Display | Watts & heart rate |
| Assembled Dimensions | 107L x 157W x 188H |
| Product Weight | 160kg |
| Warranty | 2 Year parts and labour warranty upon warranty registration within 28 days of purchase. |
| Accessessories | Adjustable tablet & smartphone stand |
| Delivery | Free ground floor |
| Memberships included | 1 year family iFit |
| Finance avilable? | Yes, 48 months |
Further Reading and References