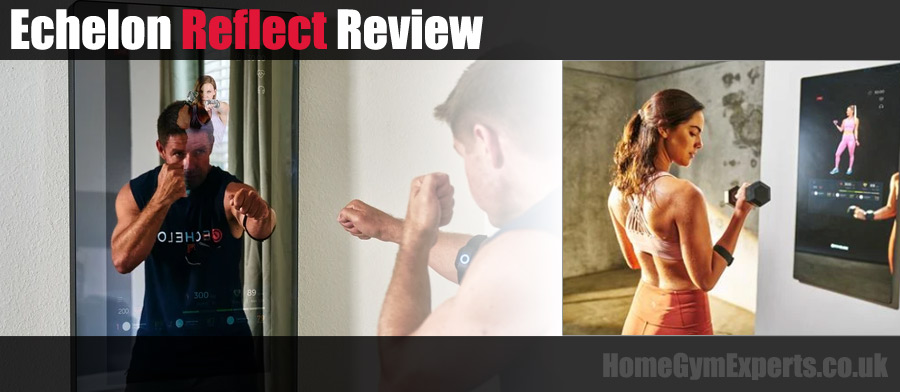 The fitness world is shifting hard into home streaming services, delivering fitness classes and exercise plans straight to you, wherever and whenever you need them.
Echelon is leading the charge, with the Echelon Connect fitness streaming service, which integrates with all of Echelon's exercise machines, and now also the Echelon Reflect.
So just what is the Echelon Reflect?
Mirror, mirror on the wall… who is the fittest of them all?
The Echelon Reflect is a workout mirror with an integrated screen that's designed to let you watch yourself and check your form while you follow along with live-streamed workouts directly in the comfort of your front room.
That might strike you as weird (not going to lie, it seemed weird to us at first) but there are some serious indications that workout mirrors might just be the next big thing in home fitness, with some of the biggest names on the market starting to take note and roll out production of their own competing models.
But is the Reflect worth the surprisingly high asking price? How does it make you fitter, and should you buy one? Read on to find out.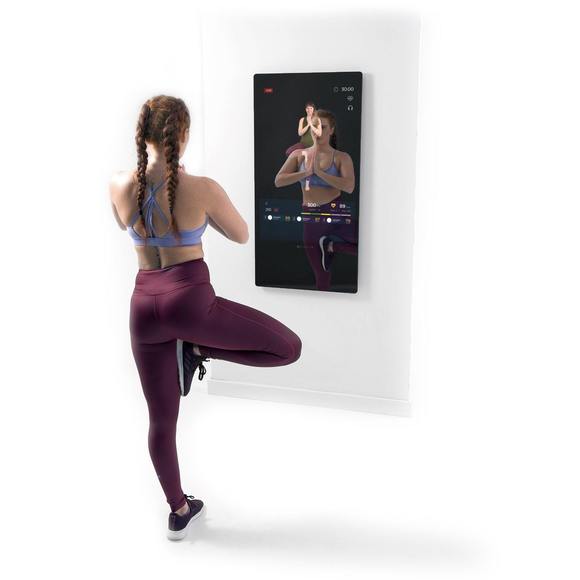 What does the Echelon Reflect actually do?
The easiest way to describe the Reflect is to describe what it is in literal terms. It's two things.
One, it's a large, flat-panel fitness mirror that can be held up by a stand or mounted to the wall like a flat-screen TV.
Two, it's an integrated HD panel, like a smart TV or a giant iPad or another tablet, with everything that comes alongside that, including a built-in camera and touchscreen functions.
It's literally designed as a workout companion to let you mirror the experience of gym classes, inside your own home. The Reflect is simple to use, with easy controls and a very intuitive touchscreen system that gets you into your workouts as fast as possible.
Initial set-up and how you use the Reflect
Basic set up on the Echelon Reflect is surprisingly simple. Out of the box, it has options for mounting, either a standard wall mount or any standard 200mm x 200mm VESA stand. The instructions in the box are pretty comprehensive, but if you need more help, the Echelon site also has installation videos that can run you through the process, step by step.
Turning the thing on and off is pretty simple. There is a master switch on the back of the mirror, and the front Echelon logo controls standard on/off. A single touch brings everything online, and you can't accidentally switch it off after, as it takes around six seconds of constant contact to switch it off again.
Initial set up prompts you to buy an Echelon Connect membership, enter your details if you've already pre-purchased, and link it up to your wireless network. This only ever needs to be done once.
The last thing you might want to do as you're setting up your Reflect adds the rest of your family, which can be done through the Profiles menu, Manage Families, and Adding Family Members.
---
Using your Reflect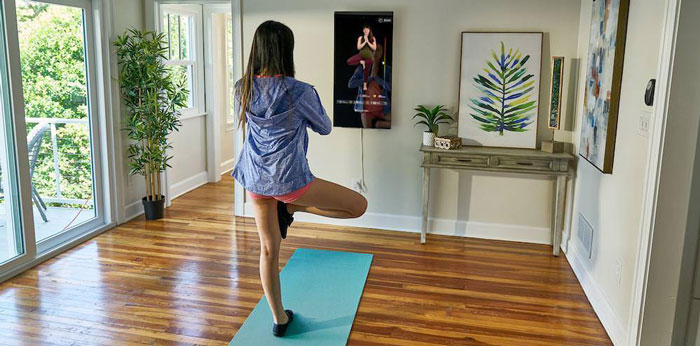 When you first bring the Reflect out of sleep mode, you're presented with a list of active users. Selecting your user profile brings you to the main menu, which gives you a full list of workout categories, which includes:
Boxing
Cardio
Celebrity
Conditioning
Meditation
Nutrition plans and help
Pilates
Strength training
Stretching routines
Zumba
Yoga
---
Related Guides
---
Once you select a category, you'll drop into the second list of live and on-demand workouts. From here, you can just select one, and get going! You can expect at least half a dozen live classes daily, more on weekdays, with a library list of previous workouts numbering into the thousands.
In use, the Reflect is interesting. You're able to see both the instructor in their class and yourself as you exercise, which can really help you when it comes to fixing posture and other micro-corrections; which is actually one of the reasons so many gym classrooms are clad in mirrors, so you can see yourself move!
You also get other details on the screen, including the current time, the volume, as well as a user list in your class, and your heart rate, if you connect a chest strap or armband heart rate monitor. And honestly, it's worth considering doing that, because that's a big draw for the Reflect.
---
What are the main advantages of the Reflect?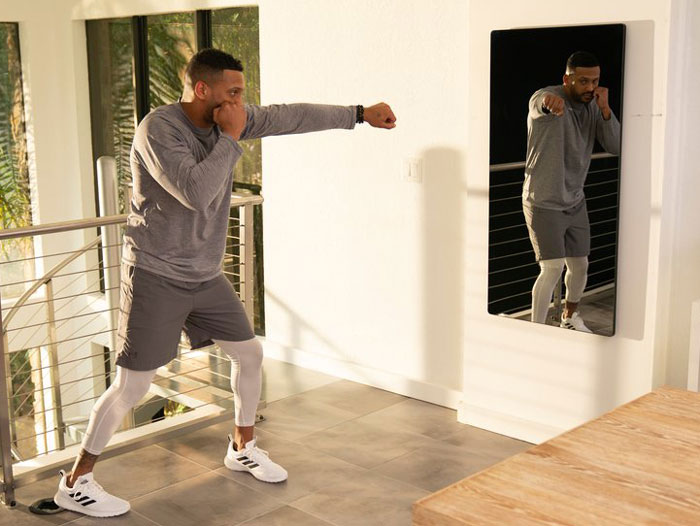 Probably the biggest benefit of the Reflect is how it delivers gym class workouts directly into your home, whenever you need them. The benefits of this are hard to overstate, but it's worth going over them quickly.
Some of the biggest reasons that people don't exercise are simply convenience. It takes time to drive to the gym, make space for a workout, and to shower afterwards. Plus, if you're taking trainer-led classes, then you're at the mercy of your gym's schedule.
Being able to fit your workouts in literally whenever you want gives you so much freedom, and opens up a ridiculous amount of free time, which can be more than worth the asking price by itself.
The other major benefit is that the Reflect can help you exercise harder, faster, and more intelligently by gamifying your workouts.
It does this in a few different ways. One, if you're part of a live class, you can see live updates of everyone in the class at the bottom of your screen, with updates on how everyone's doing. If you enable your camera, your instructors in live classes can also see you and will offer advice and motivation as you go.
Secondly, attaching a heart rate monitor lets the Reflect read your heart rate and use that to give you a points scale as you exercise, rating you based on whether you're pushing yourself into the fat-burning zones or beyond, with a leader board at the end of every workout.
---
Echelon Reflect specifications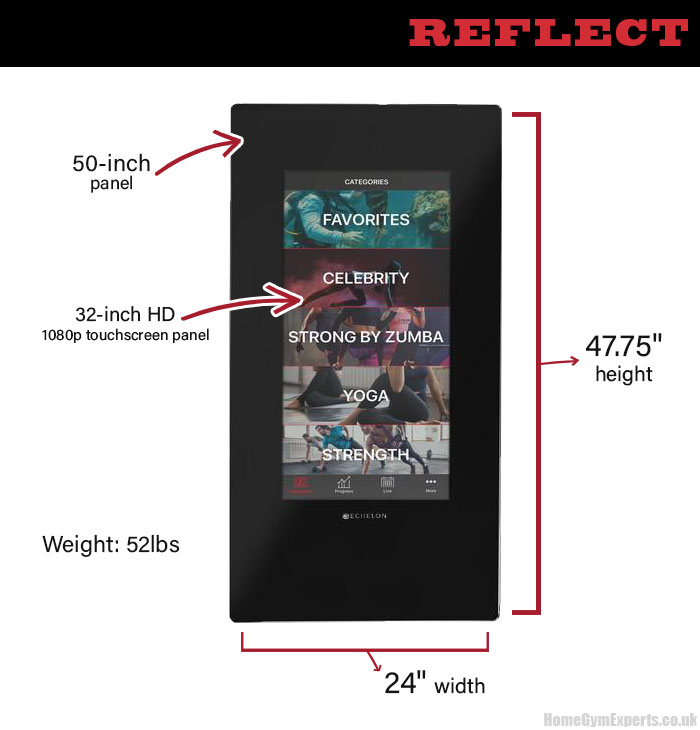 50-inch panel, with a 32 inch HD 1080p touchscreen panel with a 60Hz refresh rate
1.8GHz Quad-Core CPU, running Android 7.1
Twin 8 Watt speakers
8-megapixel camera, hidden behind the screen
Bluetooth headphone link
Heart rate sensor link
52lb (23.5kg) weight
Option of wall mount or 200mm by 200mm VESA stand
---
How much does the Reflect cost?
As of writing, the Echelon Reflect costs £1799 (check the latest price here), which is a hefty chunk of change, but that price quickly breaks down when you look at what it might otherwise cost not to have it.
The main draw of the Reflect is gym-quality workouts, in the comfort of your own front room (or wherever you hang it.) The gorgeous touchscreen and HD display basically feels like you're in a full classroom, unlike streamed classes through normal screens or on exercise equipment.
That means, if you're a regular member at a commercial gym, with classes added in on top, the costs can equal out. The Reflect could potentially be paying for itself, especially if your family also have memberships alongside yours.
It's also worth pointing out that you do have to pay membership fees, a monthly cost of £39.99, with options for savings on 1 year and 2-year packages.
But the Echelon Connect membership covers your entire family, and also covers any piece of Echelon gear you might also own, meaning if you've got an Echelon EX3 bike or an Echelon Stride treadmill, the membership fully covers every system, all at once. Another nice little bonus.
---
Final thoughts
Is the Reflect worth it? It's hard to say, but for a lot of people, we're leaning towards yes.
The main question to ask yourself is this. Do you regularly take part in fitness classes at your gym or health club? If yes, then the Echelon is going to be something that you quickly fall in love with.
Do you regularly work out from home, and want something that can lead you through Yoga or Zumba classes, body pump workouts, and almost act as a holistic health trainer, then you can get a lot of use out of the Reflect.
What it comes down to is this. The Reflect is a fantastic piece of gear, but it's not for everyone. It's great at what it does, and honestly, equipment like this is going to be the future of fitness. You probably already know if you want this, and reading our review has just confirmed it.
---
Brand
Echelon
Model
Reflect
Screen
32" Full HD 1080p
60Hz Touchscreen
Mirror
NANO crystal coating,
fingerprint resistant glass
Dimensions
47.75" H x 24" W x 2" D
Thickness
3mm
Light Transmittance
30%
Coverage
1 year parts and labor
System
Android 7.1
Processor
1.8GHz quad-core CPU
Sound
2 x 8W speakers
Connection
WiFi 802 b/g/n,
Bluetooth 4.2,
100 mbps ethernet
Camera
8 MP front facing camera
for future one-on-one coaching feature
Power Requirements
100V - 240V