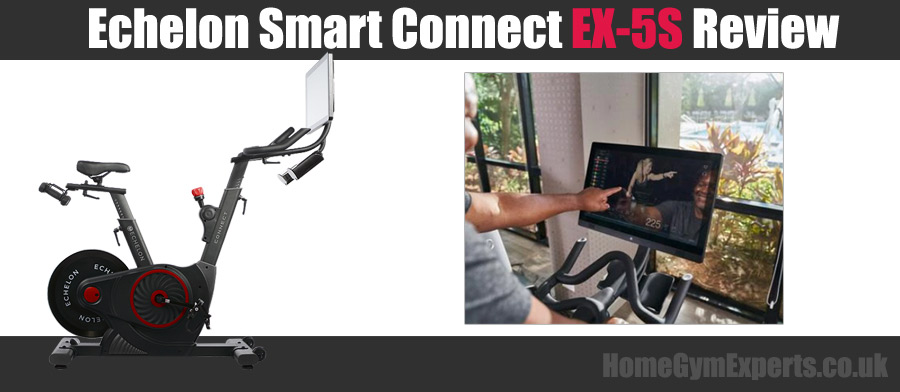 Welcome to this in-depth review of the Echelon EX-5s smart bike. In this deep-dive, we'll cover everything you need to know about this indoor bike and whether or not you should think about picking one up for your home or gym.
What is the Echelon Smart Connect Bike EX-5S
The latest in Echelon's range of smart fitness bikes, the EX-5S is designed to be a step up from their previous offers, including the EX3. (Which we've already reviewed, and found to be an incredibly impressive piece of kit.
Equipped with the one thing every Echelon bike so far has been missing, a large, touch screen equipped tablet panel, the EX-5S is a premium level bike, with a premium price tag to match.
What can you get from training on the Echelon Smart Connect Bike EX-5S
The EX-5S is aimed at the same market as the biggest names in the fitness industry. It's a big, heavy bike that's packed with technology, and with it, Echelon is stepping out of the shadow of brands like Peloton and NordicTrack with the intent to knock them off of their throne.
With that in mind, it's equipped with all of the things you'd expect to see on a bike at that level. A large, high-clarity touch screen panel. A big magnetic flywheel. Impressive fittings and fixtures. And access to Echelon's new fitness app, FitPass.
---
Who is this best suited for?
The EX-5S is geared towards two types of people. Real athletes who are looking for a big, beefy, powerful bike, and people who work out from home and look to a system with tech that's going to make every single workout a dream.
With that in mind, the EX-5S has a great features list and a lot to recommend it. It has a well-rounded set of workout options, a solid build all around, and a really impressive fitness app with impeccable class quality.
Echelon EX-5S Key features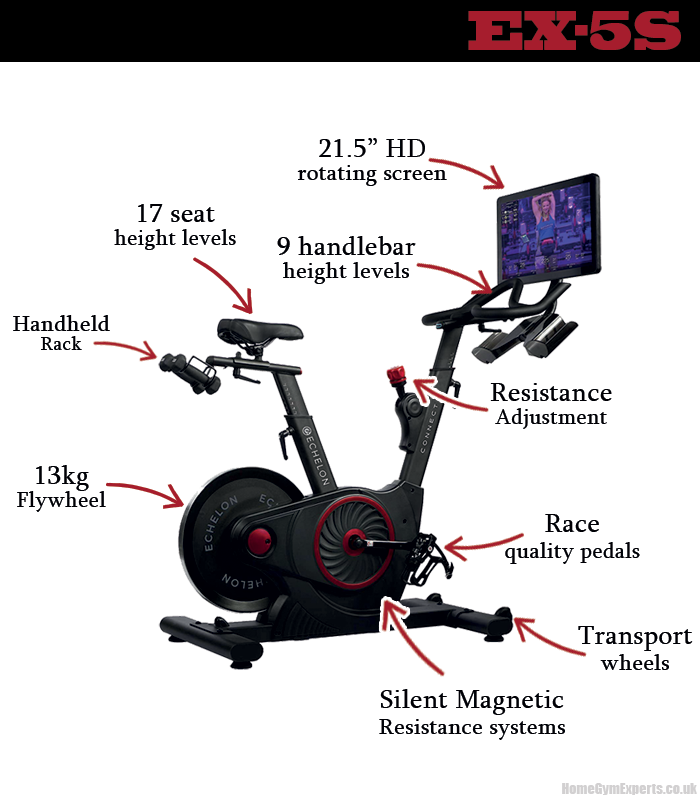 13kg flywheel
Silent Magnetic Resistance systems
32 resistance levels
Race quality pedals
17 seat height levels
9 handlebar height levels
136kg (300lb) max user weight
56kg (123lb) unit weight
Built-in transport wheels
1-year parts, 5-year frame warranty
---
Related guides
---
What we like about the Echelon Smart Connect Bike EX-5S
Fantastic build quality
When we reviewed the EX3, we found that it was very well built across the board, especially for a mid-range bike, and the EX-5S only improves on that formula.
The basic frame is rock solid, giving the bike a sturdy foundation to build around. It's heavy at 56kg, but not too heavy to move, which is good, especially with the movement wheels, because this has no option to collapse for easier storage.
But apart from that tiny issue, which isn't even an issue for anyone not living in a tiny box apartment, everything is incredibly impressive. The pedals are high-quality, with toe clips on one side, and a cage on the other, allowing you to train however feels natural.
The seat is a big, padded competition seat with 17 adjustable levels, and can be freely swapped with any third party seat of your choice. It also holds up to a massive 136kg (300lbs) making this a good bike for larger users.
The handlebars are also large and comfortable, with 9 set levels, and multiple grip points. We also love the water bottle holder, which is just below the bars and easy to reach, rather than stuck low on the frame like a lot of other bikes.
The warranty also reinforces that this is a solid piece of kit, with a decent 1 year on parts and labour, and 5 years on the frame. This isn't quite industry-leading, but it's very very good.
A great touchscreen panel
The newly added HD touchscreen is what Echelon's bikes needed to compete with the top brands, as it was the most obvious omission.
The panel here is a large 22 inches, with a fantastic high-clarity, high definition display. It reacts well, and it's easy to see from distance, as well as being rotatable so you can use it to work out off of the bike. You'll see why that's important later when we touch on Echelon's fitness app.
A big, heavy, powerful flywheel
The flywheel on the Echelon EX-5S is a decently weighty 13kg, which puts it at roughly the same level as the bigger names on the market, gives or take a couple of pounds.
As you'd expect from a bike at this level, resistance is generated with a silent magnetic resistance system (SMR) rather than the conventional friction and brakes. There are multiple reasons why this is better, but in short, for this review, it's easier to say it's just what you'd expect on a bike like this.
Resistance is adjusted with a knob dial, rather than pad or touchscreen controls, which is a shame, but there are a very reasonable 32 total resistance levels available, which is more than enough for almost anyone.
Exceptional app fitness support
Even though it's a new competitor on the market, Echelon's fitness app, the FitPass, has already started garnering great reviews across the board.
It's still in the early days, but Echelon is pushing hard on the subscription service, with over 2000 exercise videos currently in their library, and a promise to meet or exceed 14 live classes daily.
For a new service, that's incredibly impressive, especially also considering that it's not just for the bike. You can also take classes on boxing, Pilates, Zumba, Yoga, and more, which is made much easier by the rotatable screen
At the time of writing, 12.99 for a standard class access pass, and 39.99 for a full pass that includes family members and live training options.
---
What we don't like about the Echelon Smart Connect Bike EX-5S
It's expensive
Compared to some of the competition, the EX-5S is a hefty chunk of change. Comparatively, it's actually cheaper than some of the bigger bikes, but the issue is what's missing, and what that costs.
For example, for a couple hundred more, you could buy one of NordicTrack's top-level bikes, the S15i and S22i. (Reviews here.)
And unfortunately, both of those bikes are significantly better across the board.
Some major omissions
Compared to other bikes at this price, a few things seem to be missing on the EX-5S.
There's no incline or decline feature for a start, even unpowered, and no built-in workout fans, which are both major omissions on a bike at this price. Especially when you directly compare this to the S22i.
There are no built-in programs
Incredibly, the EX-5S has no onboard training programs. You have to follow the app classes or stare at nothing because the screen can only be used for their app. No Netflix, no emails, no internet browsing. Nada.
Echelon obviously think everyone is going to just use their subscription service. A more suspicious man would think this was the intent, to force people to pay for a subscription.
---
Final thoughts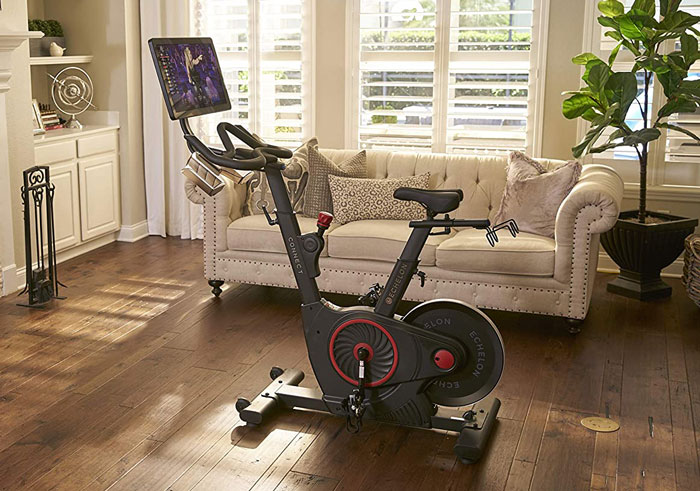 One of the best things about Echelon bikes is their value for money. The EX3, which we reviewed in our Peloton alternatives guide, found here, is a truly impressive piece of kit that's almost half the price of the bigger bikes, with a comparable features list, except for the touchscreen.
But by choosing to step up into this price level, Echelon is trying to directly compete with the big names like the Peloton Bike+ and NordicTrack S22i.
And unfortunately, right now, the Echelon EX-5S just isn't good enough. With this bike, Echelon are on the right track, and we'd bet good money that their next bike is going to be a real threat to bigger brands. But right now, given the choice, spend your money on the S15i instead.