Welcome to our SportsTech RSX500 Review (Available on Amazon). In this guide we'll cover absolutely everything you need to know about this rowing machine, including what it gets right, and where it falls flat.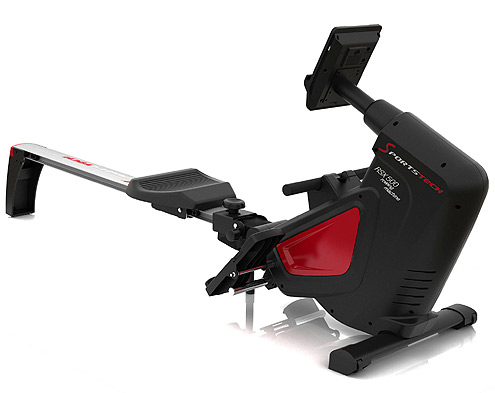 What is the SportsTech RSX500 Rowing Machine?
So what are you getting here. This is a modern, mid-priced home rowing machine that's made by German fitness company, SportsTech. This is the bigger brother to the RSX400, which we reviewed earlier.
The RSX500 provides a full-body workout, especially your back, legs, and abdominals. It comes with a 7kg flywheel and offers 16 magnetic resistance levels. Unlike a lot of cheaper rowers, this one can control that resistance via the on-board computer.
There's a variety of ways to connect your gadgets to this rower, which we'll cover later. But it comes with a mainly monochrome display and a tablet holder, along with an app that replaces the display with something more exciting.
The app compatible console allows you to seamlessly integrate your fitness apps for a variety of training options.
Program-wise, you're getting 12 pre-programmed training routines, of which four are pulse-based and linked to the included heart-rate monitor. The sturdy RSX500 also fits neatly into your home, with a simple folding action that reduces the unit dimensions to only  800mm x 440mm x 1455mm.
Here's a quick summary video of the RSX 500
---
At a Glance Features
16 levels of programmable magnetic resistance
Permanent magnetic brake system
12  pre-programmed training options with four pulse programs
Heart belt for pulse-based training
5.5-inch multi-functional display that is app compatible
Foldable design for storage
Integrated tablet holder, USB charger
Low noise rowing system
Dimension training (LxWxH): t
Dimensions folded (LxWxH): 80cm x 44cm x 145.5cm
Easy-glide seat with ball bearings on aluminium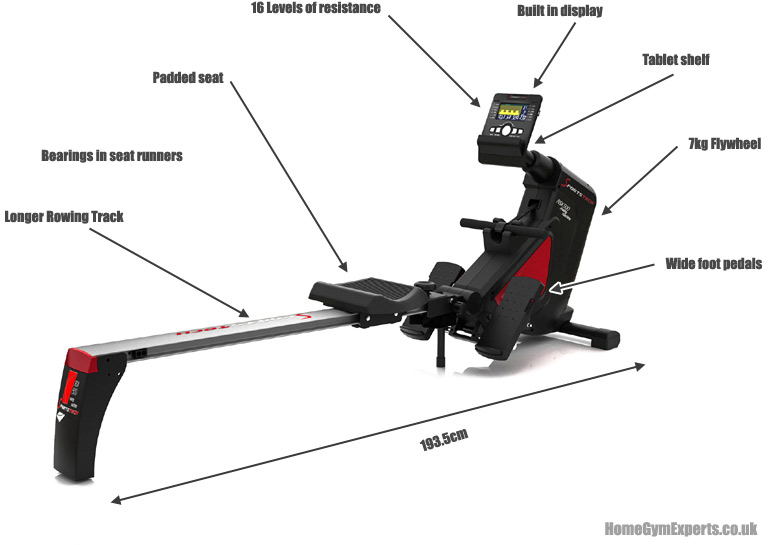 Check Current Amazon UK Price
---
Benefits to Training with the RSX500
So what are you going to get if you plonk down the cash for this bit of gym gear? It's no stranger that we love a bit of rowing here on Home Gym Experts. But for anyone new to this nifty way to get in shape, what are the main reasons to grab your oars and take to the seas?
Full-Body Workout (Well, nearly)
Rowing is an almost-full-body workout, (despite those that think that it merely targets the arms and legs). According to the experts, rowing uses up to 86 percent of the muscles in your body. In fact, the  American Fitness Professionals Association (AFPA) claims the rowing action as using 65-75% of your leg muscles and 25-35% of your upper body.
What muscles will rowing at home target?
It's always funny when people new to rowing do a few strokes and say something like, 'well, this is easy!' Oh yeah? Give it a few minutes, my friend. Rowing is a fantastic way to work your muscles and, as you'll likely feel the next day, it works a really wide range of them:
Upper back
Pecs
Arms
Abdominal muscles
Obliques
Quadriceps
Calves
Glutes
You'll burn loads of calories!
Being in an energy deficit is the only proven way to lose body fat from your body.  And rowing is one of the best ways you can do that. Rowing is an excellent way to burn the calories you need to lose weight.
According to Harvard Health, a 125lbs loses an average of 255 calories in 30 minutes, while a 155lbs will burn 316, and a 185lbs person 377 calories. Having the RSX500 in your home will give you plenty of opportunities to shed off some extra pounds.
Low Impact Excercise
Because of the set position, rowing allows you to burn calories without the stress on your joints associated with so many other exercise equipment. By adjusting your settings to lessen resistance, the rower can be a great way to recover from sports injuries or build your endurance up gradually.
A scientific study found that 24 people over eight weeks of rowing simulation found a 30% improvement in their torque joints or rotations such as the lumbar region, knees, and elbows.
Who is the RSX500 Aimed at?
The RSX500 is an excellent choice for those who want a home exercise option that provides a more full-body workout than the traditional stationary bikes or treadmills. Because the unit weighs in at only 32.5kgs (71.6lbs) and its foldable action, it would suit individuals with limited space in their apartments.
Although the RSX500 is sturdy, it is not suited for those over 120kg (264lbs) or taller than 200cm (6.5ft). Ideally, the RSX500 is for those seeking a low to moderate exercise intensity as the 7kg flywheel is better suited to moderate training.
Check Current Amazon UK Price
---
Who are Sportstech and are their rowers actually any good?

Berlin-based Sportstech has an impressive (and growing) range of fitness and strength training equipment and has won awards such as the Amazon Export Champion award and Deutschland Test Top Online Shop Award.
We've reviewed a number of their fitness machines on Home Gym Experts, including the RSX400 and exercise bikes and treadmills and found they were both well made and had an eye for the future, with up-to-date tech and good quality components.
They also look pretty good too, in our opinion.
The brand is extremely popular on Amazon. Check the latest user reviews, good and bad – Click here to see the reviews there for the RSX500.
---
Review Time: What we Liked About the RSX500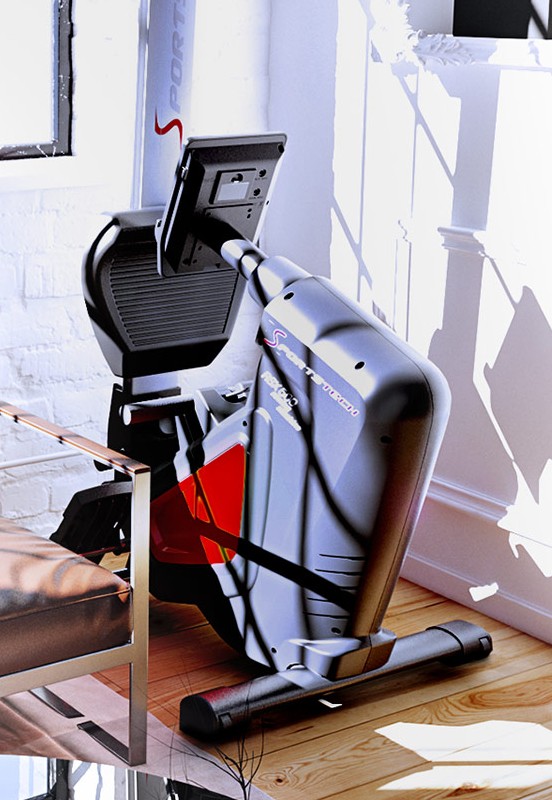 The SportsTech RSX500 folds down to a decent enough size
Portable and Light Weight
Let's start with the un-boxed weight of this rowing machine and look at whether it's a good buy for anyone who doesn't have the space to dedicate to a rower full-time, as it were.
The RSX500 weighs in at just over 32kg which is about average for a rower. It's heavier than the Concept 2 (which weighs around 26kg) but not the heaviest machine we've seen by a long shot. Most people shouldn't have any problems moving and lifting the rower around.
One thing I definitely want to talk about with this rower is how it folds up. I've seen a lot of mechanisms on rowers that aim to make folding them up and storing them easy but it's extremely well done here, and the stowed foot print is a respectable 80cm x 44cm x 145.cm. For a full-sized rower, it's actually compact when folded up.
The RSX500 will suit those living in smaller apartments due to its compact fold up and easy portability with its onboard wheels.
But does it wobble? Despite its lightweight, the unit feels sturdy and there were none of the expected shakes while testing it that occur in lighter products.
Smooth Rowing Action and Long Pull
How does this machine handle?
The ball bearing glide on the aluminium rails is smooth and relatively soundless, which would suit someone who shares their living area with others.
The system here is different to the air rowers. Instead you've got a 7kg flywheel which is further slowed down with magnetic resistance. If this sounds weird, it's not as strange as it sounds. It's been used well in other gym gear and makes for a nice smooth feel to the machine.
The main two advantages over air being that the console on the RSX500 can control the resistance, increasing and decreasing it during the 16 fitness programs to vary your workout. Rowing at the same intensity endlessly is so boring. It's great to have a machine that works like a treadmill or exercise bike and makes you work harder.
On the pull
This machine is long! While this won't be of interest to anyone on the south side of 6 foot, it absolutely will be an important benefit to taller folks out there who might have felt cramped on other machines in the past.
The longer track and generally larger frame than the RSX400 makes it a good buy for tall people. The adjustable pedals are easy to fit to accommodate different shoe sizes too.
Chunky and sturdy for the price
Sportstech's 500 model is definitely a step up from the RSx400 in a number of ways. One of which being the overall heftiness and build quality. This machine is larger, heavier and more sturdy. Clearly meant for rowers wanting more resistance and a tougher challenge.
I'd stress I've no idea how it will hold up long-term or in a commercial situation, where I've seen even Concept 2's take a beating, but for now, smooth sailing (or rowing!)
Connectivity
Connecting wirelessly to my tablet and smartphone wasn't too much of a process, and we liked the extra USB touch. It has a great screen cradle centre stage and can stream to a bigger screen if you wish to enjoy apps like MyRowing on the big screen.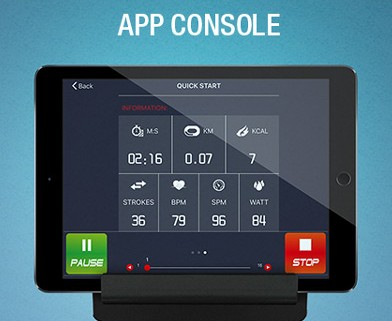 The wireless integration was not glitchy at all, and we didn't experience any technical issues.
Comfortable Rowing Action
The ergonomically designed seat has a slight incline that helps retain posture and is comfortable even during more extended training.
The ball bearing mounted four roller system came into its own when you switched up resistance and got your burn going. There was hardly any of the squeaking and sliding noises you sometimes fiend on ergometers.
Pulse Training
Like it's smaller sibling, the RSX500 comes bundled with a chest strap for pulse-based workouts. I know not everyone wants to get that into their rowing, but it's a great inclusion for anyone looking for an accurate way to measure how much work they're doing. It's comfy, easy to connect and gets the job done really well.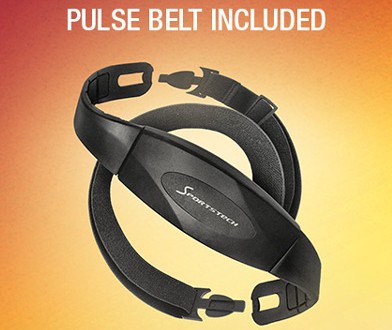 The heart-rate sensor works well on the various training settings. It's nice to have the option of mapping your heart rate to determine whether you are in the proper aerobic zone when training. And if only more machines included these (they're normally at least a £30 extra purchase you could do without).
Check Current Amazon UK Price
---
Reality Check: What Could Have Been Better?
Like any gym gear, there are things with the RSX500 that could have been better. Let's go over the short-comings with Sportstech's home rower.
Doesn't work with Kinomap
There has been some confusion regarding the Kinomap app/system connection advertising, which caused a lot of lower ratings for this product than there should be. The RSX500 is not Kinomap compatible, in case you might also be disappointed.
Built in console is too small
The console is a tad on the smaller side, and they could have taken a bit more care in its design. That being said, the display is easy to read and serves its purpose.
Foot pedals could use more grip
Some reviewers felt that the foot pedals did not deliver enough grip, but although they are smoother than other models, we found the strap firm enough not to encounter problems. The foot plate itself could use more 'grip' texture on it, to be fair, but the straps do a decent job of keeping your feet in place.
---
Conclusion: Is this rowing machine worth a buy?
The RSX500 represents good value for money thanks to it's full length track, good build quality and a respectable level of resistance. The way the console controls your resistance and the range of programs will also please a lot of people.
The rower strikes a good balance between being portable without being wobbly or light weight and has a smooth, relatively noise-free action that is perfect for those sharing their living space. (Or watching movies).
It is unfortunate that the Kinomap can't be used with this machine but we'd rate this unit highly for anyone looking for a good rower to use from home.
---
Sportstech RSX500 Full Specs
| Brand | SportsTech |
| --- | --- |
| Machine type | Rowing machine |
| Resistance type | Silent magnetic resistance |
| Drive type | Belt drive |
| Resistance levels | 16 |
| Display | 5.5" LCD display and also Connects to your tablet or phone |
| Rowing track angle | 15° |
| Number of programs | 12 |
| Heart rate monitor | Wireless chest strap |
| Supports multiple users? | Yes |
| Transport wheels | Yes |
| Foldable | Yes |
| Max user weight | 120kg |
| App | e-health app |
| Rowing machine weight | 34.5kg |
| Dimensions | 201.5cm x 57cm x 83cm |
| Folded dimensions | 80cm x 44cm x 145.5cm |
| Straps | Buckle |
| Pedals | Quick-adjust pedals |
| Seat | Cushioned seat |
References and Further Reading