Welcome to our NordicTrack FreeStride Trainer FS5i review. We'll be looking at what this elliptical cross trainer does, where it excels and the things it doesn't do so well.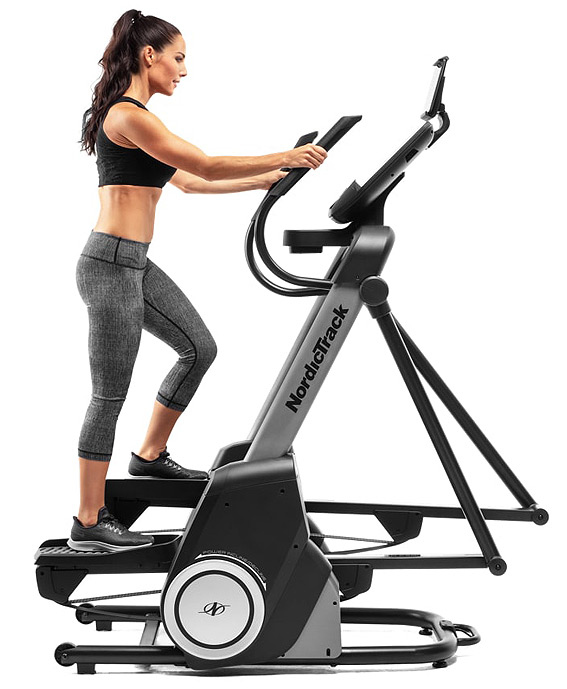 In this review we'll cover everything you need to know about this cross trainer, including both the good and the negative aspects.
---
What is the FreeStride Trainer FS5i?
The FreeStride machines are NordicTrack's entry into the home elliptical market, aimed squarely at the higher end of the market. It's an elliptical machine on steroids, with some Starship Enterprise level engineering, and the ability to swap between three distinct modes.
The Freestride Trainer FS5i is a 3-in-1 training machine designed for a mix of High-Intensity Interval Training and general cardiovascular activity depending on the options you choose to use. It provides its user with a real-time training interface as well as a variety of entertaining features to stop your workouts from getting boring, such as the google maps running program.
It's highly adjustable, easy to use, and packed full of clever tech – like the drive system, which is powered by belts instead of gears for a smooth training session. It has a large stride length and a 5 backlit display.
The heavily-integrated iFit service gives you access to online classes, coaching, pre-recorded workout sessions, where you'll see the instructor on the built-in screen, or in the case of the FS5i, a tablet. We'll cover iFit and the FS5i in some depth in this guide, as it's one of the main reasons to go for – or not go for – this machine.
---
The NordicTrack FreeStride Trainer FS5i offers a superb quality cross trainer that combines a stepper, treadmill and cross-trainer and offers excellent online training facilities.
What you'll get from training with the FreeStride Trainer FS5i
beneath that easy-going smooth motion lurks some of the toughest workouts you can get
As we've already mentioned, the FreeStride trainer 5i can function as three different types of exercise machine:
It's a treadmill,
a stepper
and an elliptical.

This lets you get your cardio burn with the treadmill, then shift to a higher resistance on the elliptical to blast your arms, legs and core muscles for a solid workout.
Using all three of these functions in sequence gives you a great workout that will:
Exercise all muscle groups in your body
Raise your heart rate
Boost your cardiovascular system
If you've read any of our other guides on Ellipticals, you'll know one of the things we love about theses machines is how little impact (almost zero) they place on your joints. Contrast that smooth motion with the thumping action of running and you get the picture.
Don't let that smooth action fool you…
If you think ellipticals are an easy option for getting fit, remember that beneath that easy-going smooth motion lurks some of the toughest workouts you can get (if that's what you're looking for!) Ellipticals offer both a brilliant, easy way to get into exercise as well as a tough cardio (see: super-sweaty) way to get in shape.
---
Who is the FS5i for?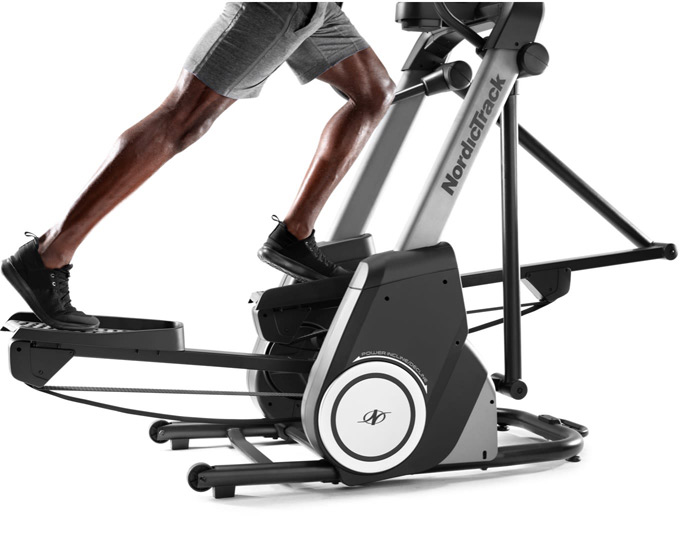 A good choice for families or couples
The FreeStride FS5i is aimed at anyone wanting to improve their cardiovascular fitness.
With the range of options on offer, the FS5i can be adjusted to fit people on different levels of their fitness journey. The FreeStride has been designed so that the workouts on offer have been categorized into different levels of difficulty and the respective areas the workouts are aiming to improve.
You can have multiple accounts with the FS5i and it's easy to hop on and push on with your own program.
Excellent for weight loss

If you're looking for a machine that will burn off calories and help lose weight over time then there's plenty of good options for home users. We love treadmills, rowing machines and, of course, ellipticals. One of the big myths with ellipticals is that they are an easy-going workout.
As a study at Havard found out, ellipticals can burn up to 400 calories per half hour. That's pretty crazy. Personally, I usually go around 200 calories for 20 minutes work, not bad! Calories lost on an elliptical like the FS5i will also vary according to your weight.
Average calories you can burn on the FS5i elliptical by weight
| User Weight | Calories |
| --- | --- |
| 125lb / 56kg | 270 |
| 155lb / 70kg | 335 |
| 185lb / 84kg | 400 |
Good for HIIT and cardio
Different muscle groups can be targeted depending on the workouts you want to use.
One of the main reasons people will be buying the Freestride FS5i is to work on their fitness and jump into some of the online HIIT (High Intensity Interval Training).
The FS5i is useful for improving cardiovascular fitness as it offers HIIT programs and more traditional cardiovascular workout methods such as stepping and striding.
Different muscle groups can be targeted depending on the workouts you want to use. There are also plenty of options for endurance or high-intensity workouts, depending on how you're feeling on any given day.
Don't expect to bulk up those muscles on a cross trainer machine though!
Despite the option to target different muscle groups, the FreeStride FS5i is ultimately a cardiovascular-focused machine. Any muscle growth resulting from the use of this machine is minimal, and there are better alternatives if muscle building is what you are looking for. A Multi-gym might be more what you're looking for.
Is this machine really a treadmill and an elliptical?
Another thing to be mindful of is that while the FS5i machine promises a "treadmill" option, despite it's insanely complex engineering, it's more just mimicking running movement; there isn't traditional running action if that is what you are expecting.
If you want to run, you're better off running outside or using a treadmill.
---
NordicTrack FS5i – Key features
20lb equivalent drive system
Powered incline, up to 10 degrees
12,000+ workouts with iFit
Built in web browser and WiFi enabled
375lb maximum user weight
22 resistance levels using Silent Magnetic Resistance (SMR)
Water bottle holder
OneTouch digital controls
Easy assembly
Built in transport wheels
Run through 3d views of different routes – pretty much anywhere in the world
10 year general warranty, 2 years on parts, and 1 on labour
Check the price at NordicTrack
---
What we liked about the FreeStride Trainer FS5i
If you've ever got bored exercising in the past (who hasn't, really?) This tech is just made for you.
Google Maps technology
The FS5i contains the option to go just about anywhere on the planet and stride through the views on offer while you're doing your workout. We like this feature as, unlike in traditional gyms, your most exciting view is usually a wall or a window.
With the FS5i, the rolling scenery keeps you engaged with what you're doing and can keep your mind off of the fact that you're doing a pretty tough workout.
This feature is sometimes combined with the personalized coaching at hand. The coaches will talk you through the views and sometimes tell stories related to what you see in front of you.
While the scenery you see doesn't stream past you real time, as such, you get a photographic view that refreshes every second or so. The while thing is just incredibly-clever. While it's in no-way only available with iFit, it's really well implemented here.
If you've ever got bored exercising in the past (who hasn't, really?) This tech is just made for you.
Personalized Coaching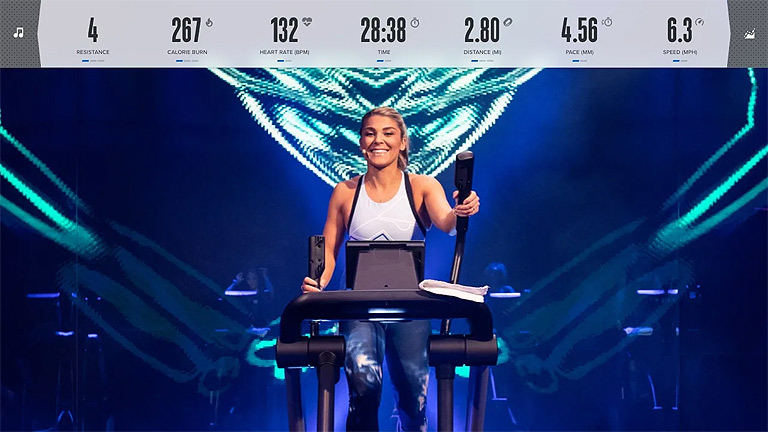 As mentioned earlier, the FreeStride FS5i bolsters a subscription service that gives you a team of professional coaches leading daily workouts.
If you decide to follow one of these coach-led workouts, one of the excellent features is that the coaches can adjust how your FS5i works, adjusting the resistance and stride levels to create a workout of differing intensities.
Some days the workouts involve short, but high-intensity interval training and others are more endurance-focused, with slower, less intense activity levels but for longer periods. We found this made things interesting as it mixed things up.
To our surprise, the coaching staff you'll encounter using the NordicTrack freestride weren't cliché like you maybe think they might be. Most coaches were pretty funny and told some pretty interesting stories.
Sometimes it would just be straightforward coaching, but on the longer, endurance-based workouts, the coaches would tell us stories or give us nutrition tips, which was a nice touch.
3-in-1 option
The versatility on offer is a neat feature.
If we felt like doing a climbing-based workout, we would just put the machine into stepper mode and get to it. Alternatively, if we wanted to do some long strides, we'd set the machine into stride mode and set the stride pitch and set off working.
And then, if we felt like doing a short "run" the machine could be put into treadmill mode, and we'd get a gut-busting endurance workout in. Some people don't like running, and some people don't like stepping. With the 3-in-1 option, it's up to you if you want to use all 3 or just 1 of these options.
12,000+ Workouts
In all honesty, you could use this machine every day, and you probably wouldn't be able to get through all the workouts.
The workouts are broken down and categorized into different difficulty levels and workout types. You don't have to spend time figuring out which options will work out which areas and what they'll do.
On top of this, new workouts are added almost every day, further increasing the variety on offer.
Stat-Tracking
The FS5i makes it simple to see the distances you've travelled, intensity levels reached, and calories burned through its stat-tracking interface.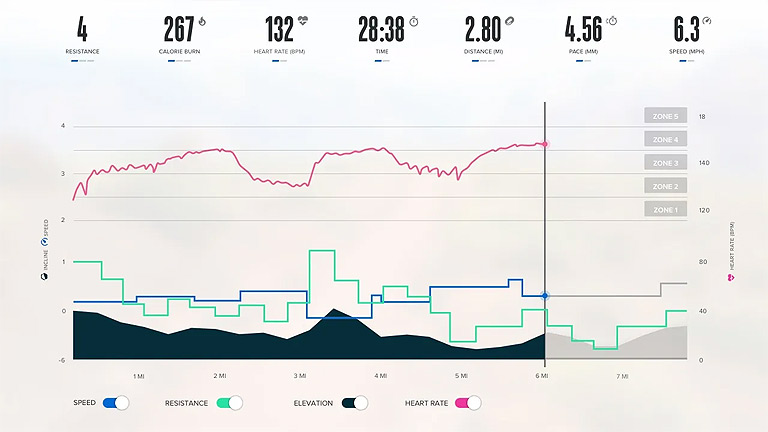 This makes tracking your performance week-by-week and comparing your progress a smooth process. You don't have to worry about calorie counting when your calorie burn is calculated in real-time.
There's an impressive, if overwhelming, amount of data you can dig into. Who thought there was so much going on when you're training? In all fairness, the Freestride FS5i does an admirable job of introducing new users to this info and it's all accessible and easy to use, even if you just want the basics.
Super smooth operation
Most heavy duty exercise equipment like treadmills or stepping machines are driven by gearing systems or heavy flywheels. Because of this, there's always mechanical resistance when you're working out. Resistance that you have to fight against, and that takes a toll on your body, and not in the way that you want it to.
The FS5i doesn't use gears. Instead, it uses a series of belts, meaning that the working parts glide over each other, with no clunky changes when it comes to speeding up or moving to a heavier resistance level.
That means less impact on you, less long term impact on your body, and a more comfortable experience all round.
If you're looking to lose weight, the FS5i might be your new best friend
Because it has such super smooth operation, the FS5i takes all the pressure off your joints, letting you work out harder and get the results you need, without feeling it for days after, and making it an amazing option if you have joint issues. All of these together make the FS5i one of the single best options for home exercise for weight loss.
Check the price at NordicTrack
---
Things that could be better on the FreeStride Trainer FS5i
So there's a few minor niggles with the FS5i which hold it back from greatness. Here's the things which the FS5i didn't do so well on.
No screen or tablet included
While this will be good news for anyone looking for the Freestride experience without iFit, or the need for a tablet or screen, if you are interested in the online stuff, then you'll have to supply your own screen. You can use your phone but a good tablet is recommended for the full experience.
The larger (and more costly big brother to this machine, the FS9i, is the daddy of bog screens, with a large touch screen built in. Some users will jump at the chance of hooking up their own screen, or won't want a Freestride connecting at all, but it's worth noting that there's no screen or tablet included here.
Google maps scenery
Sometimes on the randomized scenery workouts, you could be placed in some run-down areas, which can result in unintentionally hilarious (or just plain grim) outcomes.
We were once placed on a random street in India, where it was filled with trash. This may not bother some people, of course, but for others, it can take you out of the workout.
This is of course the nature of the tech used in the NordicTrack FS5i however, and adds to the feeling of freedom to go anywhere. Just be warned: Google Street View has some less-than-appealing spots you can get dropped into too.
Thrown in the deep end
Despite all the workouts on offer, there isn't much of an introductory period.
You pick a workout or coaching session and go. For people who are just getting into the FS5i or even starting their fitness journey, you can end up doing some pretty intense lung-busting workouts that could put off a beginner as it's not super clear where you're supposed to start.
This could probably be a little bit more clear to help new people out.
Audio issues
This may seem like quite a minor problem, but it is still worth noting. On the coach-led workouts, the audio from the coach could sometimes be muffled or crackly. This made understanding what the coach was saying quite hard.
There are also occasionally minor issues with the coaches sounding too quiet. This doesn't seem to be a problem with the machine itself but more of a problem on the studio end where the coaches are actually located.
Having to pay a subscription for the online fitness
The benefits of the iFit program are fantastic, but it is a paid for service. In our opinion, it's expensive, but worth it. iFit offers way more than some app on the app store. You're getting real coaching, instruction and a wealth of high quality content that will help you get where you want.
Bear in mind you get one month free to try it out initially, and if you're anything like us you'll quickly learn to love it. But if you can't justify the cost, you don't need iFit, and can just as easily get a decent session in without it.
---
Conclusion: Is the FS5i worth a buy?
The FreeStride FS5i is an incredible machine. Like the other Freestride products on the market, it offers a good range of features, from its interactive and live coaching to the 3-in-1 features, it is certainly a versatile product that can be used for all kinds of cardiovascular workouts.
It has an interesting coaching team and incorporates sophisticated Google maps ride-along software that stops workouts from getting boring.
The stat-tracking ability of the FS5i is of great help to someone wanting to see constant improvement in their cardiovascular fitness levels as well as someone who wants to lose a few pounds.
We love the fact that it's entirely up to you whether you wish to use personalized coaching or just go at your own pace. After all, you don't have to follow the 12,000 workouts on offer. You can set your resistance level and mode and go for it.
However, the pre-defined workouts can feel quite daunting and challenging to navigate at first. You're thrown into an intense workout with little warning, although it does get easier to understand the more you use it.
The Google maps software can put you anywhere Google street view is available, which can lead to you being put in some unusual places, although this won't be an issue for everyone.
Overall, we think that the FreeStride FS5i is worth a buy due to the range of workouts on offer to its users. The live coaching and Google scenery helps provide a challenging-yet-fun workout. Even when we decided to use the FS5i without any live coaching, its resistance levels and 3-in-1 option helped to provide a workout based on our own terms.
If this is within your budget, and you like the sound of this machine, you're in for a lot of fun… and fitness.
Highly Recommended
Check the price at NordicTrack
---
FreeStride FS5i Full Specs
Brand Name
NorticTrack
Construction
Commercial Solid Steel Construction
Color
Gray, Black and Silver
Display
5" backlit display
Tablet holder?
Yes
Speakers
Dual 2" speakers
Flywheel
7kg
Delivery & installation
Ground floor only
Stride length
32" Auto-Adjustable Stride
Resistance levels
22
Workout fan
Yes
Max user weight
135kg
Transport wheels
Yes
Water bottle holder
Yes
Pedals
Over-sized cushioned pedals
Dimensions
148L x 75W x 187H cm
Weight
105kg
Warranty
5 Year Frame Warranty
2 Year Parts and Labour
Multiple users
Yes
On demand worksouts
16,000+
Memebership
Includes iFit family membership
---
References and further reading