With an ever-growing number of mid-priced treadmills up for sale online, picking the best ones is no easy task in 2023. Today we're hopping on one of JLL's range and reviewing the T450 running machine. As usual, we'll cover what we liked about this machine and where it falls short.
What is the JLL T450?
The JLL T450 is JLL's upper mid-range treadmill, which promises to offer solid, effective performance delivered by a big, hefty motor block, backed up by the same solid construction you see across the range, that lasts forever.
The real question then is, does the JLL 450 treadmill (up for grabs on Amazon) follow in the footsteps of JLL's other equipment? Is it a decent treadmill, and is it worth your money?
Is 'JLL' a good brand and are they reliable?
JLL are a homegrown fitness company that operate right here, out of Birmingham. We've already reviewed their Ventus 3 rower and JLL IC 400 bike and found both of them to be reliable, dependable pieces of gear that have a lot to offer at their price point.
Check Current Amazon UK Price
What can you get from training on the JLL T450?
Treadmills are the go-to cardio choice for almost everyone, because almost everyone is capable of walking, whereas cycling and rowing take some practice to get right.
There's a reason everyone defaults to treadmills. They're a simple tool that's incredibly versatile, easy to use, and your workouts can be designed to fit your goals, whether that's just warming up, cardiovascular health, or training for serious events.
Who will get the most out of this running machine?
Before we jump into our review and let you know what we thought about this machine, here's a quick guide as to who will benefit from this treadmill.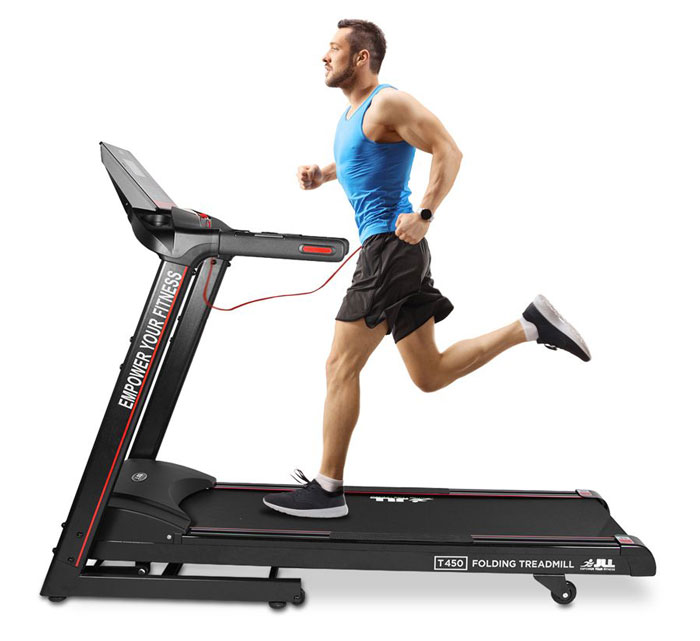 As a mid-level treadmill, the JLL T450 is suited for people who are looking for a sturdy, reliable workhorse. A treadmill that's going to be used a lot, and is just going to keep on trucking, no matter what you throw at it.
It's missing some of the flairs that you would expect on more expensive models, and most obviously, doesn't come with any built-in or optional extras for interactive fitness apps or programs, so if that's something you're looking for, then you'll need to consider something else.
---
JLL T450 Key features
4.5HP (2.5 CHP) motor
11.2mph max speed
120kg (265lb) max user weight
20 points of powered incline
The large, cushioned, flexible running deck
Built-in transport wheels
Bluetooth linked speakers
Two (!) cupholders
Fantastic warranty
---
Related Guides
---
Review Time: What we like about the JLL T450
Great build quality
One thing we love about JLL is how well built their gear is. You could almost call it overbuilt, as you're getting a treadmill that's about as good as something that might cost you twice as much.
It starts with the solid frame, made from rock hard steel that everything else is built around. The treadmill comes 99% assembled out of the box, meaning that you can literally just set this up, plug it in and get started.
The treadmill itself is a big, beefy model that weighs 64kg (141lbs,) and has a very solid 120kg (265lb) max user weight. The running deck is fantastic, with a decently sized running area of 127 x 48cm, which is long enough to accommodate almost any stride and wide enough to give you a lot of room to move. And despite being large, you can easily fold this away when you're done, and move it with the built-in transport wheels.
The belt itself is giving, with a flexible texture that offers a good amount of grip, and 16 points of cushioning to take the strain off of your joints after a long workout. This is especially important because of one of the biggest draws of this treadmill, the incline.
The JLL T450 has a powered incline running deck, that moves through 20 points, fully automatically, with controls in easy reach on the arms of the frame. The benefits of an incline powered treadmill are huge and hard to overstate. You can burn up to four times as many calories simply by walking, and gives any of the 20 programs a huge amount of variation in how it hits your muscles, and how hard you train.
Finally, all of this is covered with a solid warranty, with 2 years on parts and labour, 5 years on the motor, and a lifetime on the frame.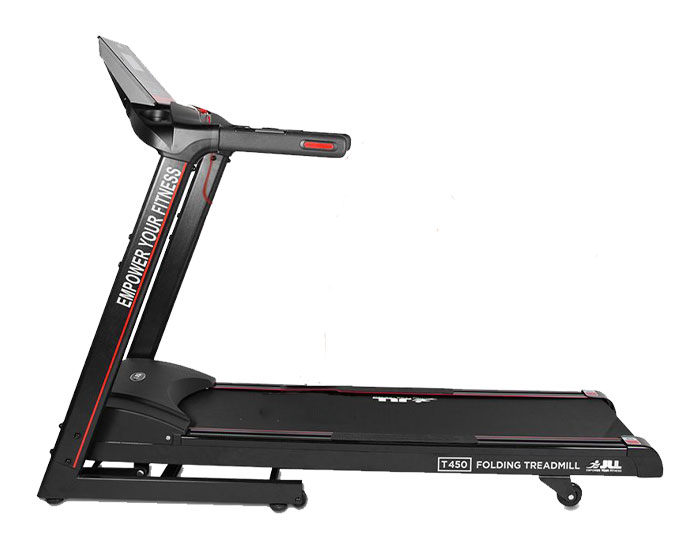 For a mid-priced treadmill, the motor is relatively powerful
The heart of a treadmill is the motor, and it's good to know that JLL invested heavily here.
The motor block on the JLL T450 is a chunky beast that puts out 4.5HP, with a continuous horsepower of 2.5HP. That lets it put out a maximum top speed of 11.2mph (15kph) which is seriously impressive, especially when it's running at a decently high incline.
A big motor like this is one of the biggest reasons to buy an expensive treadmill like this, as it adds a real level of reliability and control to your exercises.
Good level of incline running which is fully automatic
Another good reason to go for this machine is that you get a powered incline which is controlled by the computer, rather than some manual affair where you have to set it manually. This machine does a brilliant job with its powered incline and adds a lot to how tough your workout can be.
The machine itself is surprisingly sturdy for a budget treadmill, with a chunky tubular steel frame.
Simple, easy to understand controls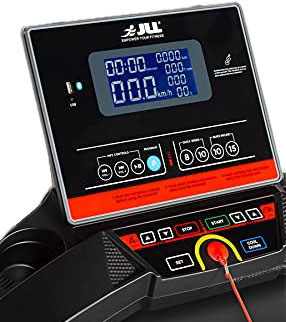 The controls for the JLL T450 are handled using a reasonably old-style LED display, which is a bit of a shame, but the metrics it puts out are comprehensive. At a glance, you can check the time, speed, incline, distance, heart rate, and calories.
The actual control buttons are just as solid, a set of pressure-sensitive buttons that respond rapidly to presses, and let you shift through settings with ease.
Entertainment is provided by a big pair of speakers, that can be linked via a USB input or Bluetooth to your phone or other devices.
While the display or onboard computer might sound like a small thing, there are some really cheap and nasty ones on some budget treadmills out there, and you'll spend a good amount of time looking at them. This one is great though; you can see calories, time, distance and a lot more all on one screen.
Not only that, the touchscreen buttons work perfectly and feel a lot better than those cheap push-in ones we've seen.
Some welcome little touches
This machine comes 99% assembled. No messing around for hours figuring out what goes where. Having said that, the instructions could use more depth and clarity. But you shouldn't have any problems putting this thing together.
Another thing we like about this machine is the two cup-holders (hey, they're handy!) And you currently get a free Bluetooth fitness tracker with it. Nice!
Fact: This machine has a top speed of 16 km/hour!
Check Current Amazon UK Price
---
What we don't like about the JLL T450
The heart readout sensor
While the JLL T450 boasts that it comes with built-in heart sensors out of the box, the provided heart sensors on the arm supports aren't the best, with inaccurate readings and a fit that might be uncomfortable for some people.
But don't let this put you off. Heart rate sensors are cheap and easy to link to this treadmill, so if you want accurate measurements, it's only a few quid more.
Old style console
Once you break the 500 marks with fitness gear, it's common to see it have the option to link to tablets and other devices, and as you approach the big thousand, even have a built-in screen.
While the LCD display on the JLL T450 is decent and does absolutely everything you need it to, it's still just that.
---
Final review thoughts: Is this runner worth a buy?
The JLL T450 performs exactly as we expected it to. It's a solidly built, reliable, and dependable treadmill that offers a decent level of performance for the cost.
JLL themselves have proved reliable with the gear we've bought from them and have been easy to work with when something had to be returned. A good UK-based company, in short.
One issue we see is that  this machine does lack an option for interactive fitness which would really improve the T450.
Other than that, the JLL T450 treadmill is a fantastic piece of kit that we'd wholeheartedly recommend.
Check Current Amazon UK Price
---
JLL T450 Full Specs
Brand
JLL Fitness
Model
T450
Motor
DC Continuous Power 2.5 HP (1800W),
Peak Power 4.5 HP (3350W)
Running Area
(L x W)
127cm x 42cm
Entertainment
High Powered Speakers,
iPod/iPhone/MP3 Connectivity
through the USB interface
and Bluetooth wireless connection
Material
Alloy Steel
Item Dimension
(L x W x H)
168 x 72 x 133 cm
Power Source
Mains
Frame Material
Alloy Steel
Item weight
64kg
Maximum weight
120kg
Maximum horsepower
4.5hp
Speed Rating
0.3 - 18 km/h
Number of Programmes
20
---
Reference and Further Reading