We're excited to bring you our JLL IC400 Pro Review – a full guide to one of the more popular mid-priced, 'pro' quality indoor exercise bikes.
Is this home spin bike any good? Is it worth the money? By the end of this review, you'll know everything there is to know about JLL's indoor bike (and some stuff you never needed to know, probably!)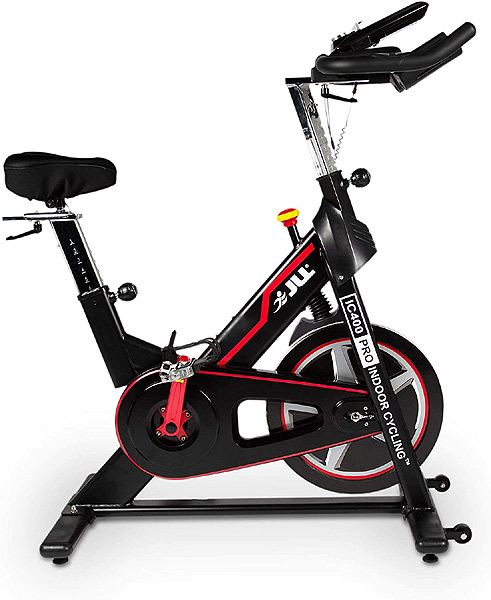 The JLL IC400 Pro has a sleek and professional look
---
Check the price on the JLL IC400 Pro at Amazon UK.
---
What you'll get from training with the IC400
Whether you're just starting out, or looking to add some more cardio to the plan, cycling is a superb exercise.
First off, there's the basic benefits of cardio, including:
Increased cardiovascular health
More powerful lungs (less running out of breath)
A healthy and happy heart (especially as we get into later life)
As opposed to running, cycling is incredibly low impact. Running, especially long distance running, can hurt the joints, but cycling doesn't have that same repetitive impact of your feet on hard pavement.
When you cycle on a bike like the JLL IC400 Pro, most of your weight is on your butt, so you're not going to suffer from any of the issues runners face, including shin splints, inflammation, or DOMS (delayed onset muscle soreness.)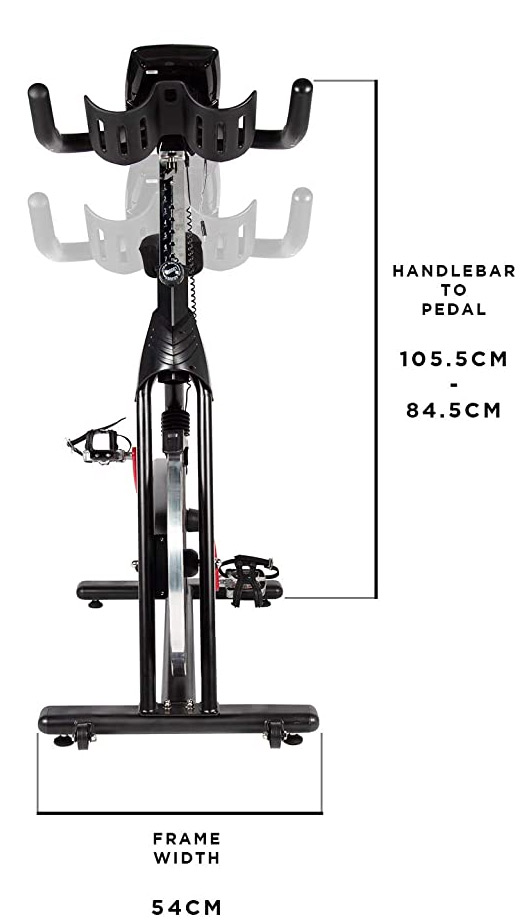 Feeling better and burning calories
Studies show that exercise also improves your mood because it releases endorphins and adrenaline, and studies show that it can actually help reduce anxiety and depression.
But the real reason we're here is to get fitter. The fat burning benefits of cycling are also impressive. You can expect to burn between 400 and 1000 calories per hour on the IC400 Pro, depending on intensity and your weight.
You'll also tone and build muscle, especially around the legs and bottom. If you want a nice, toned bum, mixing some squats and cycling is the best way to do it, bar none.
An exercise bike also has the advantage of being able to be done from home, whenever you want, in any weather. Exercise is best when it's routine, plus not having to rely on outside conditions or going elsewhere can really save you time.
Don't be put off by the 'pro' bit; JLL's latest  indoor bike is designed so it can be used by anyone.
The final benefit is for other people. An exercise bike is a whole lot quieter than the closest equivalent, a treadmill. Your family, neighbors and pets will love you for choosing the bike
---
How's it compare to the other JLL IC family?
This bike isn't JLL's only stake in the home cycling ground. It's a group of bikes that currently comprises of the following models:
| | | | | | | |
| --- | --- | --- | --- | --- | --- | --- |
| | | | | | | |
| | Magnetic: Fully Manual Dial | | | Magnetic: Fully Manual Dial | | Magnetic: Fully Manual Dial |
| | | | | | | |
| | | | | | | |
| | | | | | | |
| | | | | | | |
| | | | | | | |
Who is the IC400 Pro best suited for?
Don't be put off by the 'pro' bit; JLL's latest  indoor bike is designed so it can be used by anyone.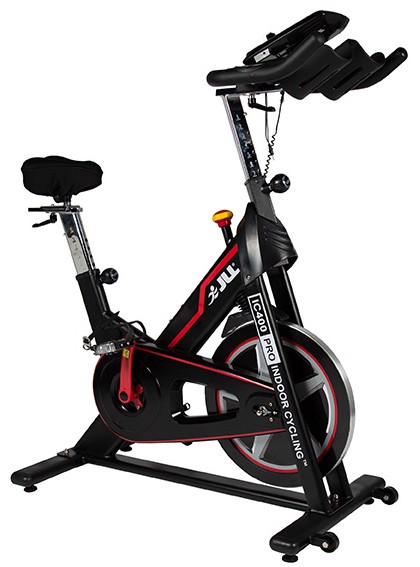 The big advantage of an exercise bike, especially one that's as variable and simple to set up as this one, is that literally anybody can use it, whether they're training for an event or just trying to shift a few pounds.
It doesn't matter what your current fitness level is, because cycling is low impact and the bike has a wide choice of resistance settings, you'll easily be able to find a program that's effective for you and your goals.
Finally, this bike has a much smaller footprint and less noise impact than other options, including treadmills, so a the IC400 is simple to put in your house, even if you're short on space.
If you're looking to just buy a bike and start, this might be at a price point that's a little too high, but if you're at all serious about your health and fitness, you can consider this an investment into yourself.
IC400 Bike Video
This video shows how the bike arrives and what to expect when you're assembling it.
Key IC400 Features
As a mid-range bike, the IC400 has an impressive range of features, including:
Heavy flywheel: The flywheel is an excellent 22kg weight, giving you a wide range of resistance options
Solid rubber belt: No loud chain, full power transference, cycle backwards or forwards
3 piece pedal crank: Tough and much higher quality than single piece cranks
Handlebar adjustment: 6 positions
Full seat adjustment: 6 horizontal and 10 vertical positions
Onboard ride computer: The 7 function display gives you all the details on your workouts and connects to online apps via Bluetooth
Heart-rate sensors: Built right into the handlebars
150kg maximum rider weight
Transporting wheels: Front mounted, so you can wheel it through your home easily
Self assembly instructions
12 month warranty
Check Current Amazon UK Price
---
What we liked about the JLL IC400 Pro
The stylish and sleek build
The first thing anyone will notice about this bike is how gorgeous it is. You can get it in black or white, and it looks great in both.
Aesthetically, it would be more than at home in a high-tech gym. It's also sleek and minimalist enough to fit into any house, but stylish enough to catch the eye of your friends when they come over.
The welding joins and components are all good quality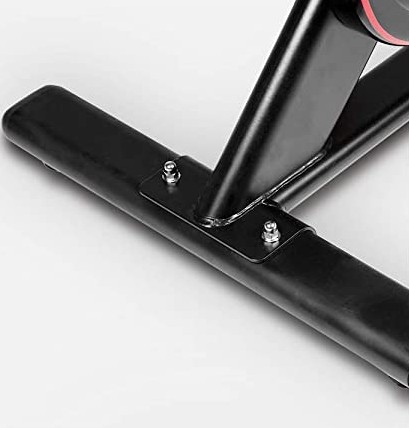 When you're setting up, the 6 handlebar settings, and 6 horizontal and 10 vertical seat adjustments make it easy to find your perfect comfortable riding position. The built quality is mostly excellent throughout, especially the working parts.
The belt is tough rubber and direct driven, so it's sleek and quiet in operation, with no chain.
Easy enough to put together
JLL's racing bike comes disassembled, but it's reasonably easy to set up.
Once it's built, it's a solid 53kg. This is good on one hand, because it adds stability and makes it much safer to run at high speeds, but it also makes it harder to move. That means it's best to assemble the bike near to where you're setting it up, because moving it around after it's built could be tough.
The IC400 does come with built in wheels, so you can scoot it from place to place, but steps or any vertical distance is going to be impossible to navigate if you're moving it on your own.
The IC400 Pro is solid and reliable
The 22kg flywheel is solid and heavy, much heavier than a lot of comparable models. That increased weight means the overall operation is buttery smooth, and the adjustable magnetic resistance lets you crank up the load when you're ready for a real challenge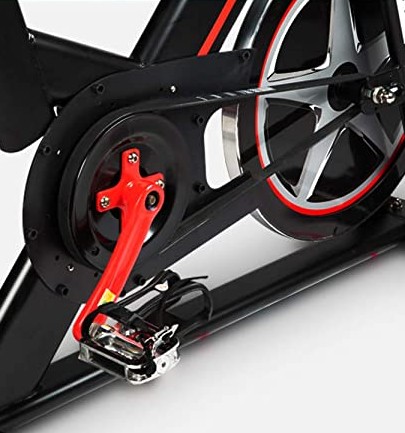 The belt drive makes for a quieter, smoother rideThe solid build extends through the entire bike. For example, unlike a lot of cheaper bikes, this comes with a 3 piece pedal crank, which is much tougher and more reliable than single piece cranks. That might not sound like much, but you'll appreciate if you're heavier, or you decide to do a full ride standing up!
The maximum rider weight is 130kg (286lbs.) If something does happen to go wrong, you also have a 12 month home warranty to rely on.
The onboard computer is excellent
Built into the bike is an onboard computer with 7 functions. It monitors every aspect of your workout, giving you detailed information on the time, your speed, your distance traveled, and calories burned, then puts all of that information directly in front of you on the built-in screen.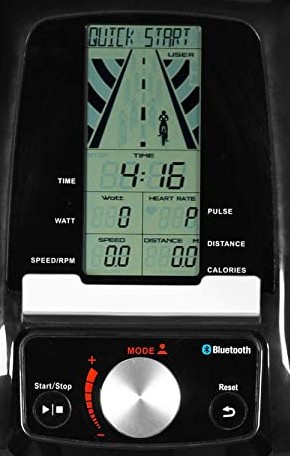 The bike also measures your heart rate, with the heart rate sensors built directly into the handlebars. Not only does this let you keep track of your workout and keep your heart rate in the optimal fat-burning zone, it's also a great guide for your arm position whilst you're riding.
Bluetooth connectivity
Something else that's an essential, that the IC400 does well, is Bluetooth connectivity. Download the free iConsole app and you'll be able to easily connect to a phone and tablet. This lets you get way more data than what you can get on any display console. Track in-depth specs on everything from intensity to rest time and average heart rate.
Thoughtful touches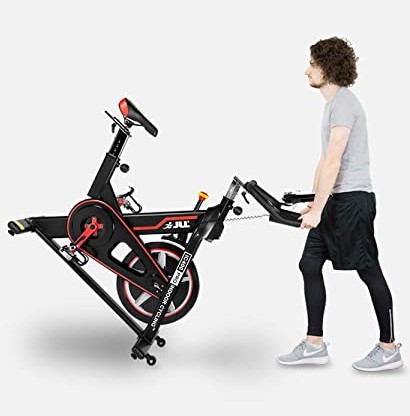 Cheaper bikes obviously only come with the basics, but as a mid-range model this has a few really nice touches, including a built in emergency system that stops everything dead in a crisis, and a water bottle holder. It even comes with its own bottle, which we thought was a really sweet decision.
The price is right
We're not going to lie, the JLL IC400 Pro isn't the cheapest exercise bike on the market, but when you factor in the solid build quality, excellent electronics and reliable performance, the price you pay is more than fair for what you're getting.
Check Current Amazon UK Price
---
Things that could be better on the JLL IC400 Pro
Imperfect running
When the bike is running, especially if it's running at high speed or high resistance, you might get the occasional loud squeak from the wheel or belt. This is expected, and you will get this on almost any bike, but it can get distracting after a while.
The pedals
Overall, the pedals could be better. They feel strong and sturdy with a decent toe cage, but the anti-slip bumps are sharp, which means that this bike isn't suitable for use barefoot, and they're sharp enough to feel even through thinner shoes.
On the upside, the pedals are really simple to replace with your own choice, so this is a pretty minor issue.
The seat
The JLL IC400 comes with a firm seat as standard, which can be uncomfortable for some people. But as with the pedals, this is easily changed for almost no cost, and most people who use bikes long term will try and find a seat they like anyway.
---
Conclusion
There's a reason this is one of the most popular spinner bikes from JLL. The IC400 Pro is tough enough to be used every day, easy enough that an absolute beginner could put it together, and has all the tech you need to track your workouts like a pro.
All this for a price that won't break the bank. If you're looking to start a fitness program or lose some weight with an exercise bike, you should definitely consider this bike first.
Check Current Amazon UK Price
IC400 Pro Full Specs
Resistance
Flywheel and magnetic resistance system
Flywheel
22kg 2-way flywheel
Drive
Belt drive system
Data tracked
Time
Distance
Speed
Calories
RPM
Watt and Scan
Heart Rate Training
Yes. Via bluetooth band
Bluetooth
Yes
Seat Adjustment
Vertically and horizontally
Online capabilities
Works with 3rd party app iConnect+
Handlebar adjustments
Vertically
Handlebar grips
Multi-position handle bars, sit up right or lean forwards
Crank
3-Piece crank
Transport Wheels
Yes
Dimensions
125.5cm (Length) x 54cm (Width) x 141.5cm (Height)
Pedals
SPD Compatible Pedals
Maximum User Weight
150kg
Machine Weight
53kg
Colour
Black and Red
Resources and further reading