What is the JTX Cyclo-Go
A smart budget exercise bike from JTX, the Cyclo-Go is designed for home use, whose main draw is the whole host of smart features and comfort aids built into a sturdy frame.
It knows precisely what it wants to be, and backs up a decent performance, at least to a point, with great design choices that make this one of the simplest and most comfortable bikes on the market right now.
What can you get from training on the JTX Cyclo-Go
There's a reason many people lean on cycling as their core method of cardio. Cycling is a low impact on the body, but a high impact on health and fitness, and almost everyone knows how to ride a bike.
The Cyclo-Go pairs with several smart features that make it feel incredible to use. First, the core of the bike, the flywheel, is a surprisingly heavy 11kg and uses premium magnetic resistance and magnetic braking for a smooth and easy riding experience.
Second, there are a whole bunch of comfort features built-in that make this a fantastic bike for anyone who's looking to work on recovery, build up their cardiovascular fitness, or is looking to get back into exercising after an injury or some time out.
The Cyclo-Go is what we call a workhorse bike. It's a great bike for all the standard exercises, ie, 75% of people who are looking to buy an exercise bike for home use.
While the Cyclo-Go is never going to compete with the big names like Peloton and NordicTrack, It's not intended to. JTX already has a wide stable of bikes that are far more expensive, with a bigger suite of features.
This bike is aimed instead at the home market, who might not want to drop over a thousand pounds on an exercise bike. Instead, for the price, what's on offer here is fantastic, with money spent on all the essentials for a comfortable and efficient riding experience.
JTX Cyclo-Go Key features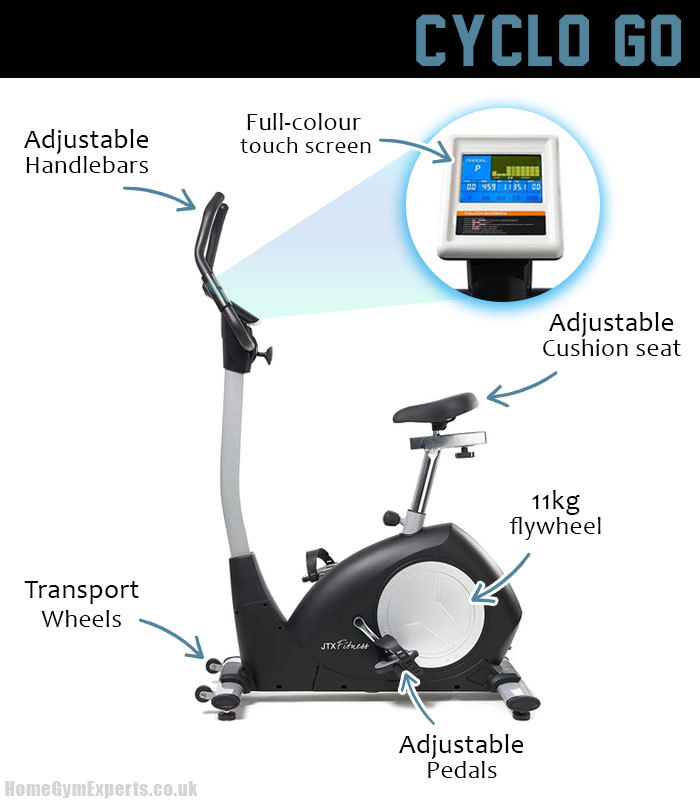 11kg flywheel
16 levels of resistance
Magnetic resistance and braking
140kg user weight (310lbs)
Full-colour touch screen
Heart rate sensors
Oversize, comfortable seat
2-year repair, the 5-year frame warranty
Who are JTX Fitness?

The JTX Cyclo Go is a machine from a company called JTX Fitness. Not familiar with JTX? They design and build commercial standard fitness equipment such as rowers, running machines and cross-trainers. They're known for their customer service and machines with high-quality components, build quality and aesthetics.
If you have any problems with your new bike, or any of their machines, they send engineers out to your home to fix it quickly, which is very rare and something we love.
You can find out more about the Go, and different exercise bikes on the JTX website.
One thing that you'll read a lot about, if you research into JTX, is how good their support is.
---
What we like about the JTX Cyclo-Go
A great build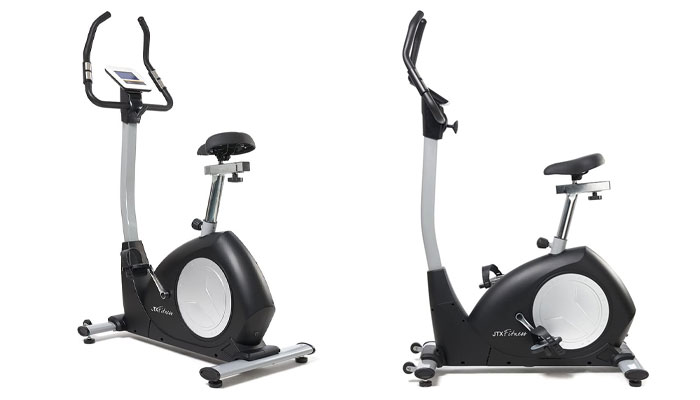 For a reasonably cheap exercise bike, there's a lot to love in terms of build quality here. The frame is solid, though does rock a little at high resistances or with high user weights, though with a colossal maximum user weight of 140kg (310lbs) that's to be expected.
All fittings are well made and comfortable, with an oversize bucket seat that has vertical and horizontal adjustment. This is backed up with tilt adjustment on the handlebars, not ideal, but paired with the seat it's easy to find a good riding position.
One huge thing about the bike is the low step-through access. For the uninitiated, this means that the bike's body is designed to sit lower than usual, so you can step into the bike and set up for a workout with maximum ease, a great feature for anyone who struggles with mobility.
Finally, this is all backed up with a solid warranty: 2 years on repairs, and 5 years on the frame.
Incredibly comfortable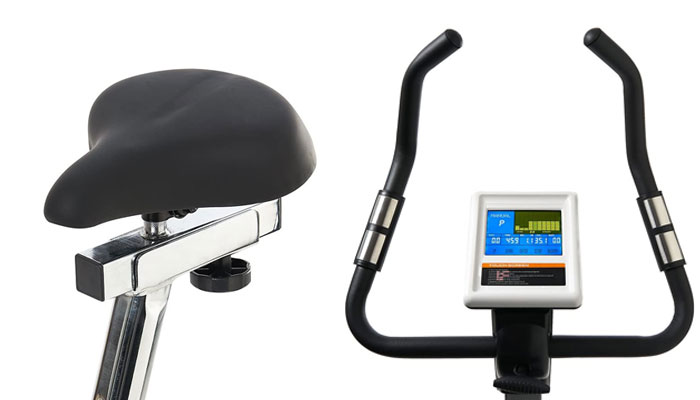 Building on the build quality is how comfortable everything is on the bike. From the oversized, extra cushioned seat that's going to stay soft on your rear even after a long session, to the adjustable, easy to hold handlebars.
One thing we absolutely love is the low profile body that's designed specifically to make the bike simple to get on and off of, which is a big help for larger riders or those who might have existing injuries.
A fantastic flywheel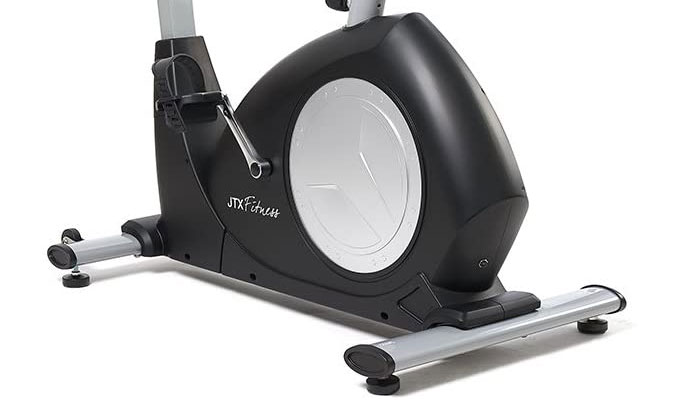 Considering the flywheel is the heart of a bike, providing the resistance necessary to actually exercise, finding out that a bike's flywheel is of great quality is a big plus on whether you should consider buying it.
Thankfully, the JTX Cyclo-Go packs a weighty 11kg flywheel into that sleek body. That's a hefty, powerful weight for a bike that sits at the upper end of budget pricing, and it makes a huge difference when it comes to working out, as you push through the included 16 levels of resistance.
Resistance and braking are also both provided by a magnetic resistance system, which again is great to see on a bike at this price, and makes the overall ride much smoother and more consistent, really helping you squeeze every drop out of your time on top of the bike.
The controls and sensors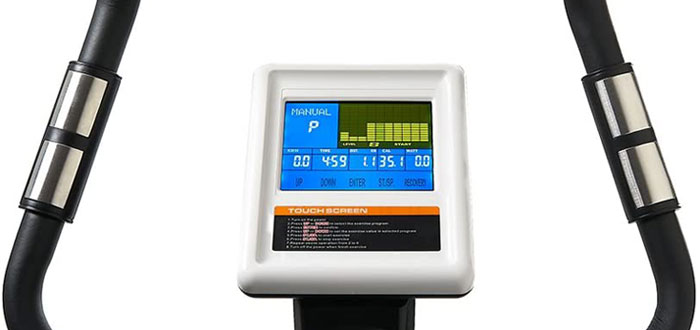 Continuing the theme of thoughtful design, all the controls on this bike are in easy reach, so making changes to your fitness program is simple, even when you're cycling.
Controls are provided with a great colour touchscreen that's simple to navigate and easy to understand. The bike provides all of the standard metrics, including having heart rate sensors built into the handlebars, with the option to expand with a Polar heart rate chest band using the built-in Polar receiver.
---
What we don't like about the JTX Cyclo-Go
Putting it together is a problem
It's becoming more and more common for exercise gear to come mostly preassembled, in two or three major pieces that all slot together effortlessly, with limited tool use and knowledge needed.
Unfortunately, the JTX Cyclo-Go is … not that. Out of the box, there are a large number of parts, some of which have to be partially disassembled in order to put everything together correctly.
The instructions make the issue worse, with small, hard to understand pictures and limited guidance.
Our recommendation is to follow a YouTube video, and have a spare pair of eyes around to help and confirm things.
---
Final thoughts
The JTX Cyclo-Go does exactly what it promises to do. It's a lightweight, well built, easy to use exercise bike that's absolutely perfect for home use and light to medium intensity training.
All of that is combined with a very reasonable price tag, making this a great bike for general use, rehabilitation, and light cardio training. If you're looking for something that's going to push you towards the upper echelons of elite fitness, then you might want to look at some of JTX's more expensive bikes, but for anyone else, the Cyclo-Go is great.
---
JTX Cyclo Go Full Specs
Brand
JTX Fitness
Model
Cyclo-Go
Resistance
16 Levels of electro-magnetic resistance
Computer Console
Touch screen
Workout Programs
21 Programs: 10 Fitness programs,
plus: 1 manual, 1 watt training,
4 HR training, 4 custom,
1 body fat measuring
Heart Rate Training
Yes via hand pulse sensors or chest strap
(sold separately)
Pedal Options
Large pedals and straps
Power Supply
Mains powered
Seat Adjustment
Vertical and horizontal adjustments to the saddle
Seat Width
24 cm
Seat to Floor Height
82 cm (min) - 100 cm (max)
Seat to Pedal Distance
73 cm (min) - 92 cm (max)
Flywheel
11kg
Comfort Features
Cushioned saddle and adjustable,
multi-grip handlebars
Crank
3 Piece Crank
Transport Wheels
Yes
Dimensions
101(l) x 149(h) x 59(w) cm
Boxed Dimensions
104(l) x63(h) x 28(w) cm
Max. User Weight
140kg
Machine Weight
34kg