Welcome to this in-depth review of the JTX Cyclo 5, A mid-priced home upright exercise bike from JTX Fitness.  This guide will cover everything you need to know about this bike and help you decide if this is the right bit of kit for you. As always, we'll cover the good… and the bad.
JTX Cyclo 5 Best price & full guide
The Cyclo Bike at a glance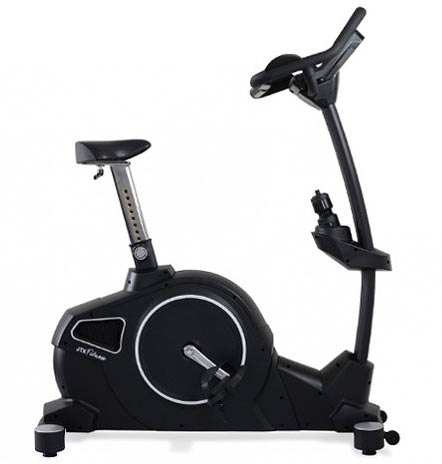 A quick overview of what this exercise bikes features
Home exercise bike
Large sturdy design
Gym standard quality
17kg fly wheel
5 Star reviews on Trust pilot
Fully adjustable seat
Cushioned seat
Heavy duty welded steel frame
19 programs (12 fitness)
Can also design your own
Heart rate training
Racing-style handlebars allow multiple positions while cycling
Suitable for any user height
Max user weight: 150kg
16 levels of resistance
Available in self powered or mains powered
Free delivery
---
What is the Cyclo 5?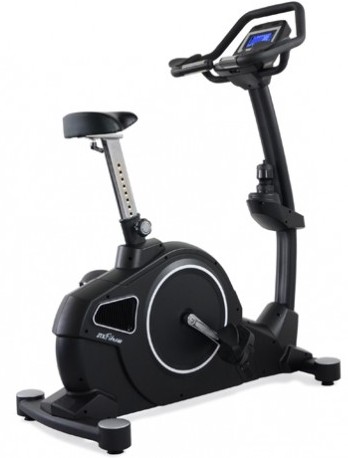 The JTX Cyclo 5 is a high quality exercise bike that's designed to be used at home, although you might sometimes see them in health clubs or spas. This machine uses electro-magnetic resistance combined with a 17kg flywheel.
You can adjust everything from the seat, handlebars and foot pedals and the bike is suitable for users of any height or weight. Up front there's JTX's own console which can integrate with online apps such as Kinomap easily.
It's a really cool machine with lots of built in things to help get to your fitness goals.
The rest of this guide will dive into some more depth about JTX's Cyclo bike and help you decide if it's for you… or not!
---
Who are JTX Fitness?

The JTX Cyclo 5 is a machine from fitness company JTX Fitness. Not familiar with JTX? They design and build high quality commercial standard fitness equipment such as rowers, running machines and cross-trainers. They're known for their customer service and machines with high quality components, build quality and aesthetics.
If you have any problems with your new bike, or any of their machines, they send engineers out to your home to fix it quickly, which is very rare and something we love.
You can find out more about the JTX Cyclo V, and different exercise bikes on the JTX website.
One thing that you'll read a lot about, if you research into JTX, is how good their support is.
---
5 things you might just love about this upright bike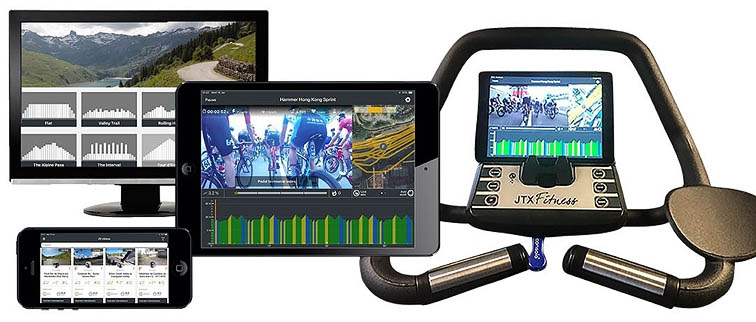 It's actually comfortable – If your bum aches at the thought of some of those exercise bikes you might have tried in the past, fear not – the Cyclo 5 has one of the more comfy seats out there without feeling 'squishy'. It's supportive but the soft padding means you can cycle for a long time in comfort.
It's big and it's sturdy – There's plenty of options if you're strapped for space and want a bike that's easy to stash out of the way. What you're getting with the Cyclo Five is a large bike that doesn't wobble when you put it through it's paces. It's a hefty 68+ kg and that's a good thing in our book. The build quality is one of this machines strengths.
The programs will keep you busy (and knackered) – Some people just like to get on their exercise bike and do their own thing. But don't overlook the programs the JTX Cyclo has built in. Most notably are the 12 fitness ones mentioned on the website. Why are these good? They have interval training which means you'll burn off more calories in less time and your workout will be more productive in general.
The display console is very well implemented – Although there's cheaper bikes on the market, you often lose out when it comes to the display. The Cyclo's panel offers a large, bright display similar to what we've seen in other JTX machines. You can pick the 'main' stat to show on the display, with 6 other metrics showing beneath that. Really good and easy to read.
Awesome integration with Kinomap – While not everyone wants to hook up to the web and take part in online races, if that's your thing then the Cyclo 5 does a pretty good job of making it all work together. You'll need a phone or tablet and the Cyclo will actually adjust the action to what's happening on screen. Climbing a hill? You'll FEEL it. Really cool stuff.
---
Powered vs non powered
Just to clear up a bit of confusion with the 'powered' version of the Cyclo 5. The bike has a power cable that attaches to the mains in the standard version. This powers everything from parts of the resistance to the console. There's an upgraded version which you can add at checkout, where YOU provide the power.
The advantage to this paid upgrade is that you won't have a power cable spoiling the aesthetics and you're not tied to putting it next to a mains outlet. The downside being it's a hefty £200.
---
Using the Cyclo 5 with Kinomap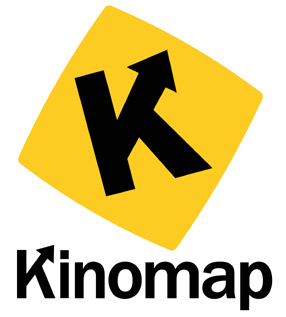 Online courses, racing and fun
One of the best things about JTX's exercise bike is how easy it is to get up and running with apps like KinoMap. If you've never heard of this before, you use your tablet's or phone's screen along with an exercise bike (although it also works with things like rowing machines).
Once connected you do some of these cool things:
Race along famous cycling routes
Compare times and speeds with others
Do LIVE online races and events
Get trained by a proper instructor
The Cyclo is fully compatible with KinoMap and makes it easy to connect and get going. Kinomap makes it fun and breaks up your routines to keep them fresh and interesting.
Here's a quick video showing some of the things you can get up to:
Benefits to training with an upright bike like the Cyclo 5
Build cardio vascular strength
Suitable for any age
The Cyclo 5 is sturdy & well built
Smooth motion with not impact on joints
3 year warranty
Easy to assemble
Gym quality cycling without going to the gym
Good variation in programs to keep you motivated
Watch the video below for a good overview of the Cyclo and all its features.
---
Reception of this exercise bike
What are the reviews like for the JTX Cyclo Bike?
One of the 3rd party independent sources for reviews on this fitness bike is Trust Pilot. The Cyclo 5 currently sits at 5 stars. At the time of writing, there's a good number of reviews of this product.

Here's some opinions from users of this upright bike:
"Seems a very solid and well made machine. Assembly was a bit of a challenge but got there in the end. Incidentally I am a 69 year old female, so if I can do it, reckon anybody could! I look forward to exploring all its features as my level of fitness improves" 
Mrs Christine Millard
---
"An excellent purchase: great features, fast and prompt delivery, very sturdy and great build quality (didn't encounter a single flimsy component whilst putting the bike together, unlike most other goods nowadays" 
Peter Vandenberk
---
"Very solid, heavy, gym quality exercise bike that i anticipate will give me years of problem free service. Maybe paid a slight premium but absolutely no regrets for paying for quality. Highly recommended." 
Malcolm Ingram
---
Why is this machine a higher price than a budget fitness bike?
You can get an exercise bike for under £100 pretty easily. So what does JTX's bike have that makes it 6x more expensive than those models?
Better build quality
While cheaper bikes might look comparable in the photos, the Cyclo 5 is definitively made from sterner stuff. Everything from the frame, handlebars and other parts you see, to the inner workings are on another level to cheaper machines.
Better display and programs
Another thing you sacrifice on cheaper bikes is the display console. The Cyclo has a good in-depth console which is capable of doing things like adjusting the resistance dynamically, whereas budget bikes normally require you to do it manually.
JTX Customer Service
I don't normally list customer service as a plus point but in the case of JTX it's worth mentioning. You'll be hard pushed to find anyone with a bad thing to say about them. Check out JTX's Trust Pilot rating here.

---
What's the console like on the Cyclo 5?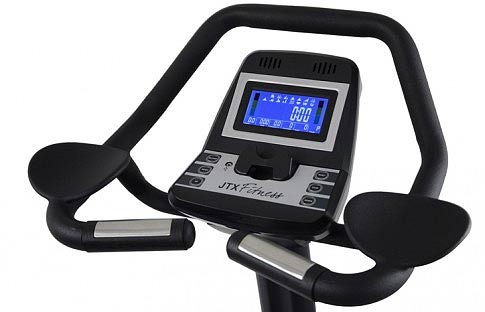 A crisp display that's easy to read
If you've been to a gym in the past 10 years or so, you'll be at home with what the Cyclo 5 has to offer in terms of it's display. There's simple up and down buttons for anyone looking to skip the techy stuff and get pedalling. But there's also some depth here to keep you engaged over time.
Overall the display is good, easy to use and lets you see plenty of info at a glance.
Decent range of programs
There's an odd number of 19 preset programs, most of which are the typical interval, hill climb variety we've seen before. One nice feature is you can build your own program and up to four people's stats profiles will be saved.
Connecting to other apps
The display is a tad old-fashioned looking and it's not touch screen but there's a tablet holder at it's base if you want to dive in and connect with a fitness app for your device. To that end, there's Bluetooth connectivity, if you're on an app that needs to connect.
The best part about the pulse sensors is that it integrates with the Cyclo's console and the resistance can be adjusted to keep you in your ideal heart rate.
Using your heart rate with the Cyclo 5
The Cyclo 5 has the standard pulse sensors on the handle bars. They work well, but you'll need to keep your hands fixed as they're only in one position on the handle bars. For a better workout, attach the chest strap and you can put your hands anywhere.
The best part about the pulse sensors is that it integrates with the Cyclo's console and the resistance can be adjusted to keep you in your ideal heart rate. This will vary depending on your age and what your training goals are, but it's a brilliant addition that more exercise bikes should opt for.
---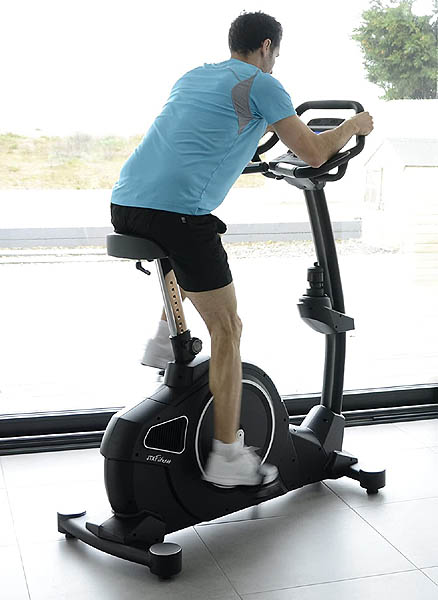 Smaller stuff we like about the JTX Cyclo
Hey, it's not all about the big things! So let's take a peak at some of the other little details that make this a good choice for home cycling:
A proper tablet holder – It's amazing how much gym gear like this we review and there's nowhere to stash your phone. Whether you're watching Netflix or using an app to track your progress, it's kinda helpful to have somewhere to put it. The Cyclo has a proper holder that means you won't live in fear of your tablet taking a dive to Smashville during your workout.
Bottle holder – There's a decent holder for a bottle about halfway down the handle bar column. It's easy enough to reach and keeps the console area free from clutter.
Generate some power! – Well, it generates it's own power. There's nothing to plug in here, and no need for batteries. While it's not a huge problem on other machines, we like the idea of making our own power simply by exercising.
It's quiet – Anyone looking for a more refined, quieter cycling experience will appreciate the Cyclo 5's more silent form of resistance: electro magnetic. There's no friction, no air blasting out. You won't wake the rest of the house up on those early morning rides. Every bike claims to be whisper quiet. This one is pretty close to that.
3 year warranty – One of the things we love about JTX is they look after their customers. When you buy the JTX Ignite rower, you're automatically registered for a warranty of 3 years. That includes home service. They've also got top-notch customer service available when you need them. Unlike a lot of other companies.
Next day delivery – You're excited to get started. To get ripped. To get in the shape of your life. Well, the good news is you can get started tomorrow. Another thing we like about JTX is the free next day delivery.
28 day money back guarantee – If you're interested in rowing and looking for a good machine to get started, it's hard to imagine anyone not loving the JTX Ignite machine. But, sometimes things don't work out. You get a 28 day money-back guarantee on all JTX machines, in case you need a refund.
---
Where can you get the best price for the JTX Cyclo 5?
While you can buy the Cyclo from third party places like Amazon, you can order it directly from the good folks at JTX. One thing you'll find with them is they've got seriously good customer service. Whether you've got a problem, or need to know how to use your machine, they've got a very good customer rep.
---
What are the negatives to the Cyclo 5 exercise bike?
If you're a regular on Home Gym Experts, you'll know we like to get seriously nit-picky and find all the faults a product has. As great as we think the Cyclo is, there's always room for improvement on every gym equipment. So what wasn't so good about the Cyclo 5?
Self assembly
While you likely won't have any trouble putting the Cyclo together, it does come in a fair few parts and will require some self-assembly.
Downsides to weight!
One of the biggest strengths with the Cyclo 5 is it's big, weighty feel. But that's also going to be a negative point if you're planning on moving this around between sessions.
It's also too heavy for one person to carry up stairs. Our tip is to un-box it first and then carry the parts up stairs.
Console guide could be expanded upon
While the console you get with the Cyclo 5 is good, you'll have to practice how to use it as the instructions aren't that comprehensive when it comes to setting the programs.
---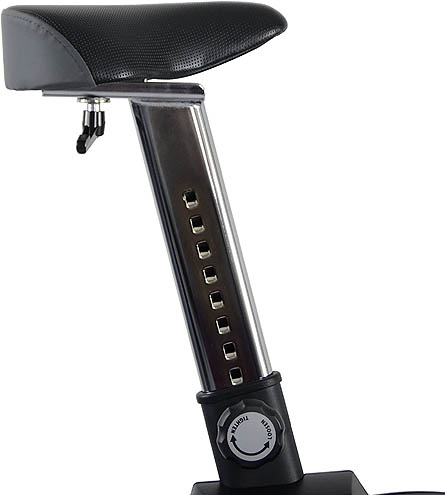 Cyclo 5 FAQs
Here's some of the things people often want to know about this product. If you've got a question that's not answered here,. please feel free to grab us in the comments and ask.
Is it a good choice for tall users?
Yes. This exercise bike can be adjusted to suit any height. There's no upper limit.
How many user profiles can you store?
The Cyclo 5 can be used by multiple people and will store up to FOUR separate profiles.
Does it work with Zwift?
No. The Cyclo will only work with Kinomap at the moment.
How sturdy is the bike and console?
The bike is built so that it doesn't move around or wobble, even when you're 'going for it'. The console especially is stable. This is due to the quality of the components and the machine's weight.
How do you change the resistance?
The Cyclo's resistance is set via the console between the handlebars.
What's a good app to use with the Cyclo 5?
The app stores are flooded with software that can make your training time a bit more exciting. If you're looking for a quick route to a good one for cycling at home, you might want to check out BitGym. Take immersive tours, jump in to guided workouts and the best bit is there's no complicated pairing needed.
---
Full Cyclo V Specs
| Resistance | Electro Magnetic |
| --- | --- |
| Computer Console | 5" Colour LCD |
| Heart Rate Training | Via hand sensors, or heart rate strap |
| Bluetooth | Yes |
| Workout programs | 19 |
| Flywheel weight | 17kg |
| Pedals | Oversized, self-balancing |
| Seat | Cushioned saddle |
| Crank | 3 piece crank |
| Transport wheels | Yes |
| Dimensions | 128(l) x 61(w) x 152(h) cm |
| Boxed dimensions | 126(l) x 37.3(w) x 77.5(h) cm |
| Max user weight | 150kg |
| Free Accessories | Water bottle |
References and sources
The official JTX Youtube channel is packed with high quality videos of their products, if you'd like to check out other rowing and fitness machines.
Find out more about what you can do with KinoMap here
If this is your first exercise bike, take a look at the NHS's cycling guidelines before you get started
Contact JTX on their website, or using the email info@jtxfitness.com
You can also contact them for help or any other queries on the JTX Cyclo 5 on 01273 453855
How good is JTX's customer service? Check out their Trust Pilot company reviews here. Spoiler alert: 4.5 / 5 stars.
Are you up to it? Check out the Live well website on NHS before you dive into your new exercise bike.