Welcome to our guide to the UK's best compact gym gear you can buy for your home in 2023! Got a huge mansion, with your own private gym? Then this post probably isn't for you. For the rest of us, home gym space is a precious thing. This guide looks into your options if you're short on space to train in and dives into some of the best compact gym gear out there today.
You don't need a lot of space to get in shape
If you haven't got a spare room or garage, don't worry – there's a world of training you can do, whether you're looking to build muscle, lose weight or or want to get that body you've always wanted (as the cheesy ads say!) Not everyone wants to get out for a run and the weather doesn't always permit it.
As long as you have a few spare feet you can lay claim to now and then, there's some really good workout equipment you can get that will achieve your goals.
---
Where to start: Compact home gym ideas
This section is for anyone who wants to get fit at home but has no clue where to start. After this, we'll get into more specific stuff.
---
What if you only have a temporary training space?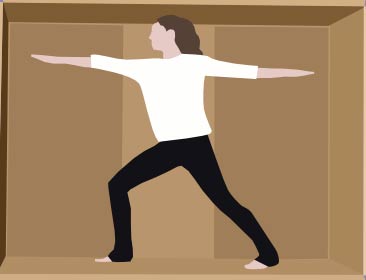 While it's helpful to have a home gym that no-one messes with, it's not always possible or practical. Thankfully, there's some really interesting compact workout equipment you can get that doesn't need to take up a permanent place in your home or garage.
Some of them might come as a surprise as you might not know they had a fold away version at all. Some gym gear you can use and then store out of the way include:
Weights benches
Rowing machines
Running machines
Free weights
Folding weights benches
Compact rating
Price rating
We've written about folding weights benches on Home Gym Experts in the past. Although there's not a massive range of these on the market, modern fold-away benches can do a good job of giving you a stable workout bench you can store after use. And they can do everything a permanent one can do too.
Do everything a non-folding weight bench can
Opens up loads of exercises with dumbbells
Build muscle strength in each group
Need somewhere to store it
Will also need dumbbells
What's a good one to start with?
If you're really short on space, the SportsTech Foldaway is a simple brilliant weights bench that folds about as flat as an ironing board. You can see more of it on Amazon.
---
Rubber dumbbells
Compact rating

Price rating
If the only thing you get for a little home gym is a set of rubber hex dumbbells then there's not much you can't train with them. They're also great for training in the garden on the rare UK days when the weather's good enough, use them in my home office, and even take them in the living room to watch TV while working out.
Rubber dumbbells are coated with thick protective coating. When I say protective, they'll protect everything from your furniture to your floors, to your body! They're easy to store out of the way and the range of possible exercises is off the charts. I really like the Hex ones, but you can also get rounded ones if that's your thing.
Huge range of exercises
Build up muscle strength, core strength
Small storage foot print
Can be carried out and put away easily
Tricky picking correct weight
Can get expensive for heavy weights
What's a good one to start with?
Body revolutions dumbbells offer a good balance of quality and price and should last you practically forever. You can see get them on Amazon in various sizes up to 10kgs and are available in pairs.
---
Best compact cardio gear
So you want to burn off calories, tone up and look amazing but the home gym became the home office, or is now piled high with boxes? This section will cover some nifty space saving fitness gear you can use to get in shape when you don't have loads of room to spare.
Folding exercise bikes
Compact rating

Price rating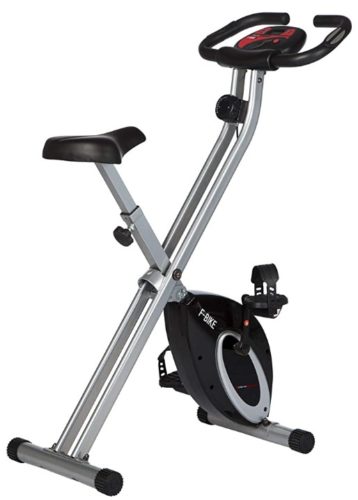 They exist and they're actually good.
The most common type is a simple X shaped design, with a pivot in the middle. They do what a regular exercise bike does but can be easily folded away after the event. You'll get a simple flywheel resistance and a display / CPU to track how much work you have done.
Easy to use
Burn off calories easily
Light weight
Not as stable as the 'real thing'
Not as big or robust
What's a good one to start with?
Amazon has a good range of folding exercise bikes and you can get a decent one for around the £200 mark. There's some super cheap ones for around £100 up to four times that. You can read more about the best smallest folding exercise bike in this guide.
---
Folding treadmills
Compact rating

Price rating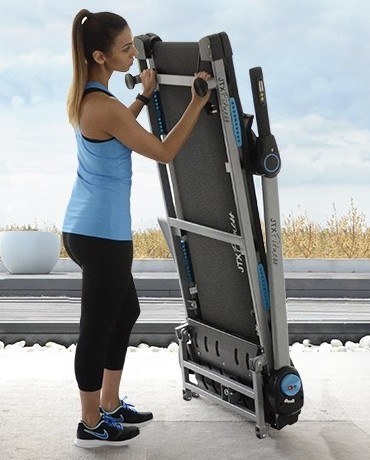 Folding treadmills are nothing new. And just about everyone one on the market technically folds up. But if you want a seriously compact one, you'll have to look a little harder. Some major problems come in the size of the running track and the stability on cheapo machines.
That being said, you can get some excellent treadmills that fold reasonably flat. You'll need somewhere to stash them – behind a sofa in that spare room, but they can be a life saver if you're looking for some compact fitness gear that will shred calories.
Great way to run indoors
Easy to use
One of the more bulky bits of compact gym gear
Hassle of folding and moving
What's a good one to start with?
Prices start at around the £100 mark on places like Argos, although don't expect anything spectacular for this price range.
If you want something comparable to a gym quality rowing machine that is really decent, check out JTX's Fold Flat treadmill. It's an absolute beast of a machine and folds super-flat. It's definitely not cheap but is a serious bit of kit that has a small foot print.
---
Rowing machines
Compact rating
Price rating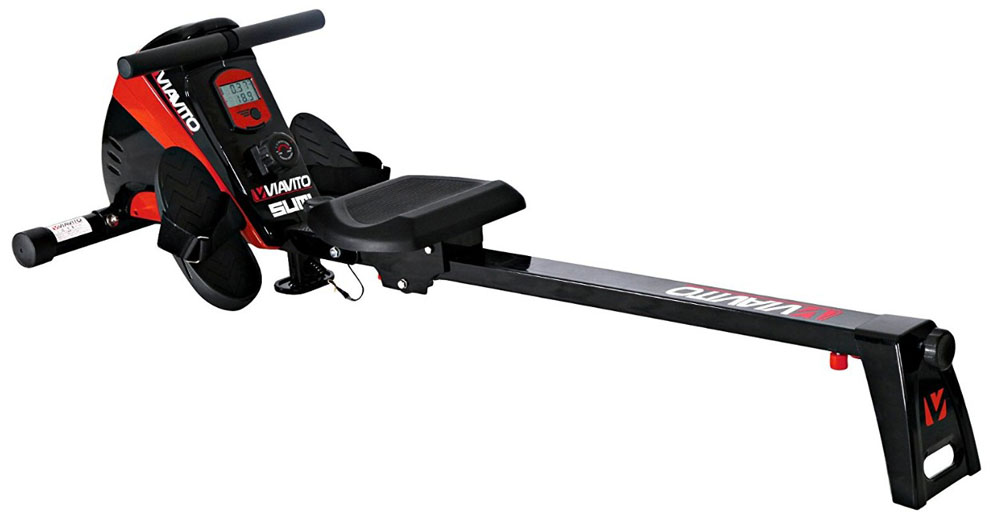 Rowing machines are one of the best cardio and strength exercises out there. They're low impact, easy to break a sweat with, and burn of calories. Most rowing machines either fold in half, or 'flip up' and so they take up a small foot print.
They normally have transport wheels so you can wheel them into a spare room, or just the corner of your room when you're done exercising.
While you can't stash them in a cupboard, it's easy enough to put them out of the way and clear the floor space. There's good options for both modest and larger budgets.
Low impact exercise
Burn off loads of calories
Simple way to get in shape
Not the cheapest machines
Requires assembly
Can be noisy
What's a good one to start with?
For anyone looking for a good budget rowing machine, you might want to look at the Viavito Sumi. We've got a full review of the Sumi here. This machine folds down and can be easily stored and has variable resistance and some good features for a budget priced machine.
If you're looking for the best rowing machine people are using, the Concept 2 rower is an awesome machine.
At that same level of quality (and price, sadly!) are the Water Rowers. These machines offer a natural feel to your rowing and look so good you won't need to hide them in the spare room when you're done.
---
Really simple – gym gear you can get out and set up quickly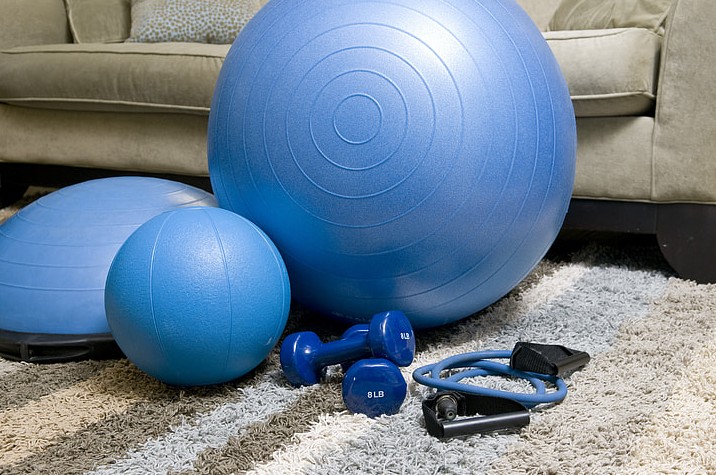 If the idea of unfolding a bit of gym gear, or wheeling something out of the way doesn't sound like your cup of tea, this section covers super-simple gym gear you can store easily.
Medicine balls
Kettle bells
Fitness Sand bags
Skipping ropes
Medicine Balls
Compact rating

Price rating
Medicine balls have literally been around for thousands of years and are an extremely simple and affordable bit of kit. There's tons of cardio, strength and conditioning exercise you can do with a single ball and you can't get much easier to store out of the way somewhere.
There's different kinds of medicine balls that do slightly different things but they're all basically a big, tough heavy ball you chuck around in one way or another.
Huge range of possible exercises
Super easy to store
Fairly cheap
Can use them in your own garden gym, or outdoor space
Need to learn how to use them
Picking the right weight can be tricky!
Some exercises require a sturdy wall or floor
What's a good one to start with?
You should get a medicine ball for under or around the £50. If you've not used them before, don't go for a slam ball or one with handles. And check out the Jordan range of balls – they're a good balance between quality and price.
---
Kettlebells
Compact rating

Price rating
Another compact bit of fitness gear you might want to look into is the good old kettlebell. This humble hunk of metal is capable of a ridiculous amount of different exercises and there's not a muscle group it can't work.
You'll strengthen every part of your body in a way you just can't with other gym equipment. The storage size to training value is really impressive here and even a couple of kettlebells can be stashed out of the way without much fuss.
Hugely beneficial to strength
Exercises for every part of your body
Can use them outdoors
They last forever
Some exercises require space to swing them
Have to learn good form
What's a good one to start with?
Good kettlebells start at around £20 upwards and one of the best selections is over at Best Gym Gear. Sadly, you'll pay more as the weight goes up, as is the case with pretty much any gym equipment, but they're well worth the investment and should last you a lifetime.
---
Off the wall ideas – other compact fitness gear for training in reduced space
Rebounders – mini fitness trampolines
Compact rating
Price rating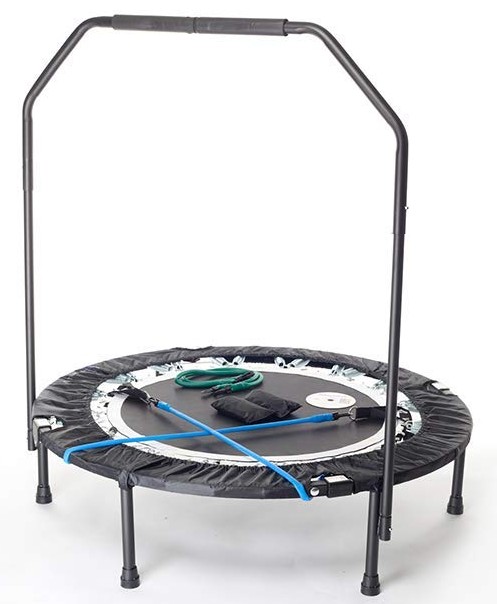 If you thought trampolining was just for Olympians or for kids of parents who've run out of ways to keep them occupied during the summer months, think again. Mini trampolines or 'rebounders' are a scientifically proven way to improve all kinds of aspects of your fitness and health.
The clever thing about rebounders like the Maximus Pro is that they can also be folded up small enough to carry around with you. But they're also ideal for stashing in a spare room, or under the bed.
Easy to get into
Folds down really small
Lots of fun
Good for weight loss
Lots of science about it's health benefits
Does need folding down
Good ones are not cheap
What's a good one to start with?
The main one that everyone tends to go for is the Maximus Pro. Although not the cheapest by a long shot, it's way more sturdy than the cheaper ones (and quieter). It's quick to fold up and has a small storage foot print. You can read more about rebounders like the Maximus pro here.
---
Training in a small space without any fitness equipment
Even if you've got a tiny space to train in, there's still loads of great exercises you can do to improve whatever you're working on. Strength, fitness, endurance – space isn't an issue.
Here's a really good video showing what you can do in just a few spare feet of room.
---
Low impact workouts that won't wake your neighbours
Another thing to think about when picking some decent compact gym gear is the people under your flat, or even next door. (Homeowners can probably skip this part).
Things like dumbbells, kettlebells and slam medicine balls are probably not what you want to be looking at.
Thankfully there's a lot of top body weight exercises you can get stuck into and build your own little routine up.
Some good exercises I like to use when I can't clang and bang are:
The plank
This unusual exercise sounds a bit weird if you've never tried it before, and it takes a bit of practice. But once you've got the hang of it, you can build some serious strength without actually moving a muscle. It's a silent exercise you can do literally anywhere.
Push-ups
This simple free exercise sounds old fashioned but it's a natural extension to a good plank and is great for strength, core strength, fitness and can get a good sweat on too, especially if you repeat them in sets.
They're also one of the exercises I see most people getting wrong, cheating on, or having terrible form on. Push-ups are easy to do, use a huge range of muscles at a time and require hardly any space. They also won't wake anyone up.
Tip tip: go for quality not quantity!
---
A quick warning about 'folding' and easy to store fitness gear
One thing that a lot of gym gear manufacturers will add to their product listing is that their machine is portable or folding. We've seen a lot of machines over the years that technically do 'fold up' a bit, you gain a negligible amount of space back by doing so.
Check the folded dimensions of anything you buy and check it really does fold up, go flat or is compact enough to stash in that cupboard when you're done.
---
Compact Workout Resources and Further Reading