Not everyone has the space for a full-size treadmill and there's a trend at the moment for these smaller, compact folding running machines. the Q2S (Avilable on Amazon) is the latest one I had a chance to check out and in this review, I'll let you know if it's worthy of a place in your home gym.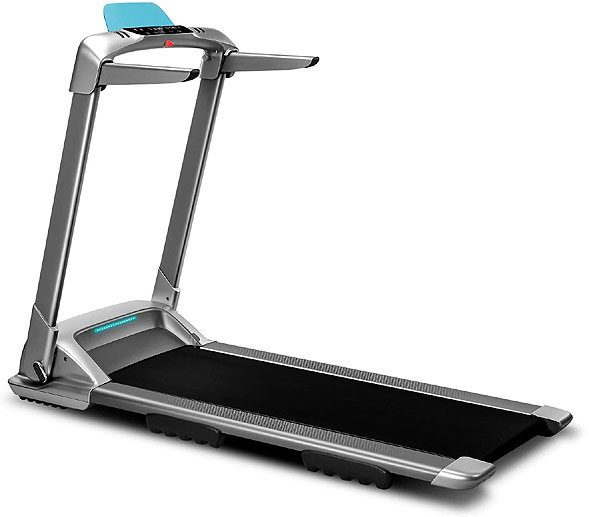 The quick version: is the QS2 any good?
If you're just after the verdict on this machine, here it is:
The Q2S looks very similar to a lot of similar machines but pulls ahead in several key areas. The belt size (a not-massive-but-decent 43 cm x 124cm)  is great, the heaviness and build quality is impressive and the app integration with Fitshow is extremely cool.
The 3HP motor is way better than many of the competing compact machines we've seen too.
On the downside, it's not the cheapest in its class.
A good, solid, compact home treadmill with a good bit of space to run and a powerful enough motor.
Check Current Amazon UK Price
What is the Ovicx Q2S Folding Treadmill?
Basic overview
The Q2S is a compact treadmill that, unlike other 'folding' treadmills really does fold down flat. Rather than the deck nearly flipping up, the side arms fold down flat and you can then store it on end.
The 3.0HP motor is capable of speeds up to 8.7mph, which puts it above a lot of competing machines and is suitable for:
Walking
Fast walking
Jogging
Running
It's not capable of sprints and interval training.
The Q2S uses it's own tech called Silkworm Shock absorption to prevent stress on the knees and joints and an extra-long running track for a more natural running feel. Basically, the deck has a bit of a bounce to it.
The console-free treadmill offers an LCD that reflects user stats such as time distance and calories and is Fitshow compatible for interactive on-demand coaching and Google map-based runs.
There's a handy safety with the Fatigue Slowdown Function, allowing users to slow to a stop safely through 2.4 mph increments. This function may be reversed once activated, eliminating the sometimes unstable stops and starts of other motorized treadmills.
It's mains-powered and it ships from the UK.
---
Ovicx Q2S Folding Portable Treadmill Features at a Glance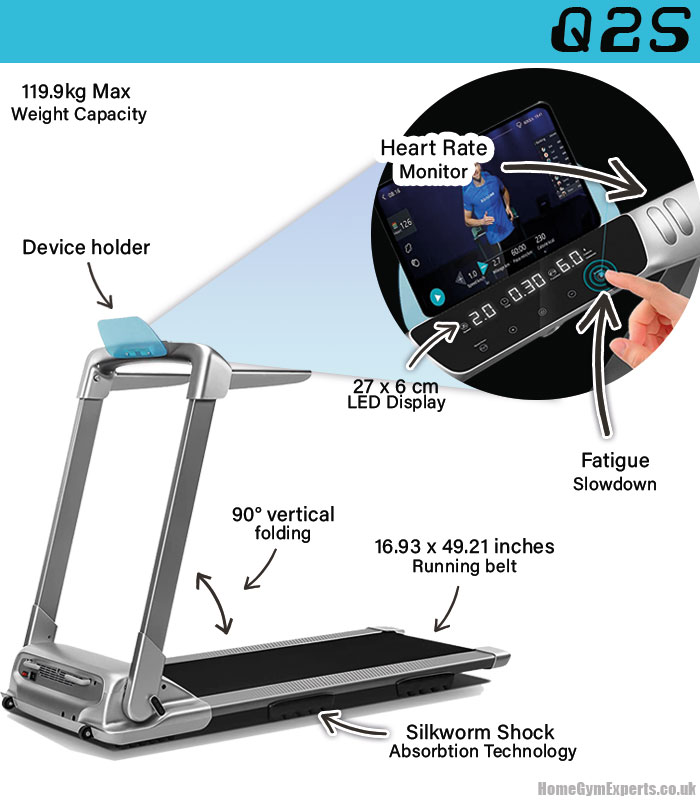 Extended running belt of 16.93'' width and 49.21'' length for extra legroom
Durable stainless steel construction
Dimensions 64.96 x 25.59 x 44.88 inches (L x W x H)
Folded Dimensions: 64.96" x 25.59" x 8.27"(L x W x H)
Weight: 94.8 Pounds
Fatigue Slowdown function reduces speed gradually by 2.4 miles per hour increments for safety
Silkworm Shock Absorbtion Technology absorbs rebound and impact, preventing joint and knee stress
LED screen shows stats and Fitshow compatible for in-time data and group activities
The treadmill is foldable for compact storage of 5.39ft²
Rate/Peak Power: 1.25/3.0HP
Product Size: 64.96" x 25.59" x 44.88"(L x W x H)
Folded Size: 64.96" x 25.59" x 8.27"(L x W x H)
Max Speed:8.7MPH
Rated Voltage: 110V
Max Weight Capacity: 264.55Ibs (119.9kgs)
---
Related Guides
---
5 Things you'll love about this treadmill
1) It's great if you're short on space.
The Q2S folds up vertically for neat storage in smaller spaces, making it perfect for those who seek to exercise from their homes.
The Q2S has an easy-to-use folding function via a press button and two pull-out lever systems. Once upright, it has a neat profile of 0.5㎡and suits those who live in smaller spaces.
2) There's very little to set up
Being the kind of person who loathes assembling… anything, one of the highlights with this machine is you literally just open the box, flip up the front panel and you can get to the real hard work – running!
You shouldn't have any problems if you're taking delivery on your own and you don't need to be a bodybuilder to move it around. There's a fair bit of cardboard to take to recycling (if you don't know some kids who can turn it into a fort).
3) Comfy, non-cramped running
The Silkworm Shock absorption technology takes the form of buffers that reduce the impact and rebound stress on the joints and knees while running. The Q2S also provides a Fatigue Slowdown function that allows users to slow down or speed up safely and a clip-on emergency stop to prevent accidents.
4) Pretty meaty 3HP Motor
The 3.0HP motor delivers speeds of around 8 miles per hour (12.87km/h), allowing users to reach a comfortable running speed without being stuck in jogging mode. Speeds above 12km/h allow users to build up their speed and endurance for a great home fitness regime.
5) You can burn calories and improve your health
Treadmill running is a great cardiovascular exercise that may burn over 1300 calories an hour for a 185lbs user. Running on a treadmill improves cardiovascular function, improves heart function, lowers bad cholesterol, and prevents heart disease.
Check Current Amazon UK Price
---
Who is the Ovicx Q2S Aimed at?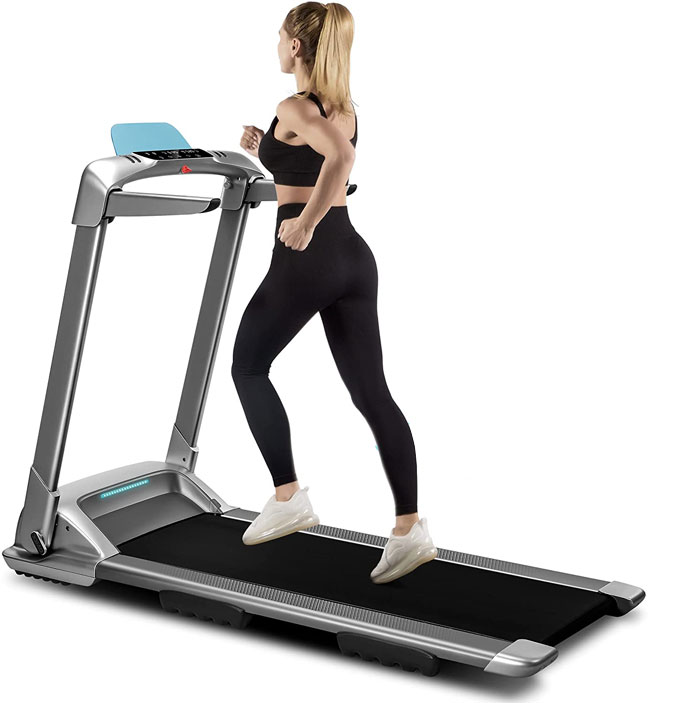 Anyone looking to improve general health and fitness
The Ovicx Q2S suits those who seek to improve their health and fitness from the comfort of their homes. The powerful 3HP motor allows a more extensive range of speeds than most treadmills in its class, suiting various fitness levels.
Beginners benefit from the enhanced safety features, and the Q2S offers plenty of leeways to improve their stamina and fitness over time. Those who have already developed a fitness regime may benefit from the ample 12km/h speeds to enhance their peak performance and endurance.
The foldable dimension makes the Q2S perfect for those who have limited space in their homes, and the quiet action helps those who share their living area with others.
Due to the manufacturer's specifications, the Q2S will not suit users over 264.55Ibs (119.9kgs) or those who seek high-intensity sprint training due to the 12km/h speed maximum.
---
Q2s Review: What this machine gets right
You're not cramped on this one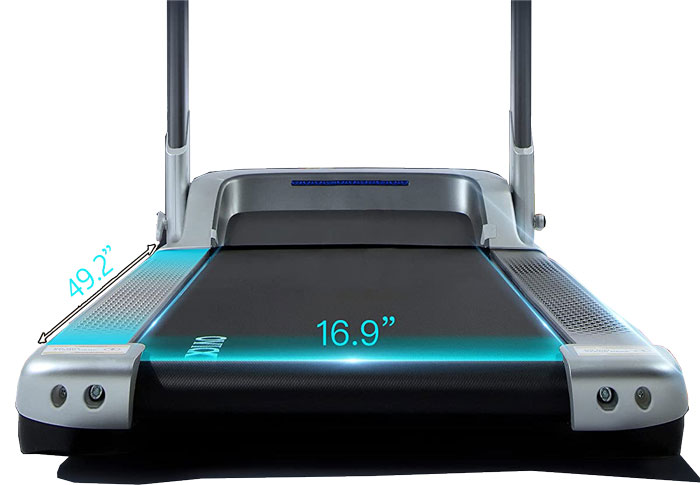 Having run on a lot of treadmills, one thing that stands out with a lot of these compact 'foldy' type ones is they can be a little on the narrow (or short side) when it comes to the actual running track.
A narrow belt means you have to initially really concentrate on not stubbing your trainers on the side and losing balance. Too short and taller runners like me, have to do a weird sort of penguin run.
So I'm happy to report the Q2S has a reasonable 43 cm wide belt and a 124ish cm running track length. That's above average for this kind of machine and should keep all but the tallest of runners happy.
Anyone up to 6 feet should feel comfortable here. If you're over that, you'll likely want to find a treadmill with a longer belt.
Smooth Running Action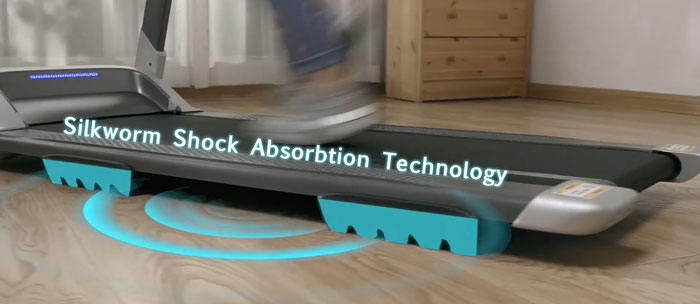 This folding runner is surprisingly quiet and smooth, it's 'Silkworm Technology' reducing much of the impact stress and noise associated with indoor treadmills.
The sound is sufficiently dampened from the next room not to disturb your significant other on a late-night exercise mission.
Powerful Motor
Although we found the 8.7m/ph a bit unrealistic, you can definitely get a proper jog or run on this machine, unlike a lot of machines that look similar to this one, where they're really aimed more at walking.
Too often, treadmills in its class keep one in the light jog stage, which can become a bit frustrating at times.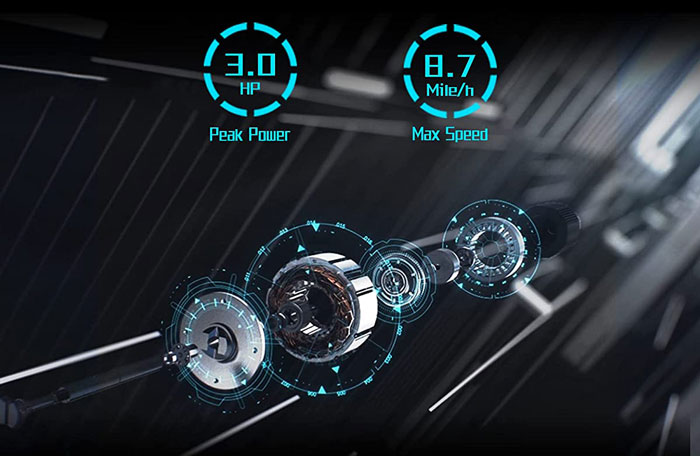 Although you won't get an Olympic sprint out of this offering, there is enough pace available should you want to move out of a cramped jog.
The construction is better than it looks in the pics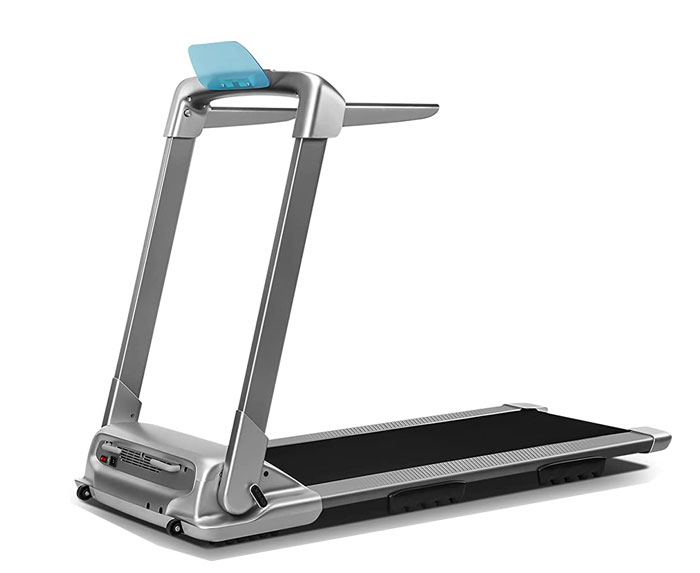 Although it is a tad heavier than the treadmills in its class, I like the stainless steel frame of the Q2S.
It feels solid and has none of the clatter and noise of the more plastic-laden frames of treadmills on offer. The shake-free and solid feel of the treadmill while running at higher speeds sets it aside from some of the cheaper machines that look like this one.
It's worth mentioning that the arms are not plastic-feeling, as they look in some of the pics. They're actually weighty steel which makes a more stable run.
Intelligent Speed Reduction

The Q2S has an interesting addition they call the 'Fatigue Slowdown Function'.  It's great for walk/run transitions and handy for interval training.
It works like this: one touch of the shift button and the treadmill slows to 2.5 mph; touch it again it returns to your previous speed before you reached the shift.
This feature allows you to manually adjust your speed up or down from 2.5mph in speed reduction mode.
Fitshow app is better than it used to be
Another good thing about this machine is that it connects to your phone or tablet over Bluetooth and you can then use the online features that come with the FitShow app.
Sadly, there's no connectivity to any other 3rd party apps like the awesome Zwift or Kinomap, which we would have liked to see, but the online stuff is there and Fitshow has improved over the years.
The interface is easy to use, it looks good and there's plenty of interesting eye candy to keep you engaged during a run.
There are a few different screens and things you can play around with Fitshow like:
Running on different courses and scenery
Trying different workouts
Get more detailed stats about your run
Best of all, there's no monthly subscription.
It's worth mentioning too that the app is optional. This machine will work fine without it.
Check Current Amazon UK Price
---
What Could Have Been Better
Rudimentary LCD Display
The Ovicx Q2S has a rudimentary stat display and no console, like many treadmills in its class. That being said, the display is intuitively set out for clear reading, and most consoles are just glorified LCDs anyway.
No Frills
We understand that the Ovicx  Q2S is an entry-level treadmill, and we don't expect great frills, but a water bottle holder should be a must on any home exercise equipment and quite necessary for a hassle-free workout.
No incline features
At this price point, we'd normally want some kind of incline. The main problem being it's hard to do that without increasing the size of the running machine. But if you're used to running on gym treadmills you might miss the extra work you can get from a bit of hill running.
---
Our Verdict: Is the Q2s worth it?
The Ovicx Q2S is a solidly built and well-designed treadmill that fits well in a smaller home and takes up little space when folded upright.
There's plenty of power here that will suit anyone looking for more than just a walk or a light jog. As long as you're no taller than 6 feet, there's ample space here too.
The Ovicx performs well, and we feel it's a contender in its class for those seeking a home fitness regime that is affordable and functional.
Check Current Amazon UK Price
---
Ovicx Q2S Full Specs
| Brand | OVICX |
| --- | --- |
| Model | Q2S |
| Color | White |
| Display type | LCD |
| Item display length | 64.96 inches |
| Weight | ‎43 Kilograms |
| Item display width | 25.59 inches |
| Power source | ‎Corded Electric |
| Speed rating | ‎14 kilometers_per_hour |
| Batteries included? | No |
| Maximum weight capacity | ‎120 Kilograms |
| Product Dimensions | ‎165 x 65 x 114 cm |
| Item Weight | 43 Kilograms |
---
References & Further Reading