In this review, we're taking a look at another alternative to the WaterRowers, the Sportstech WRX700. (Available on Amazon UK). This German-designed fluid rower is about the same price as Waterrower's cheapest model so it's interesting comparing the two. We'll cover everything you need to know about this rower: the good, the bad and the ugly.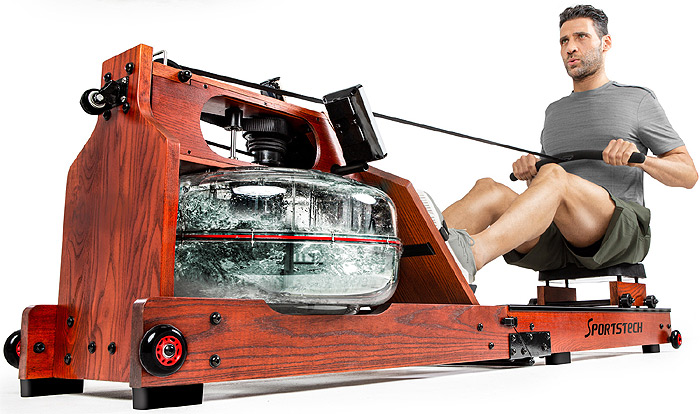 What Is The WRX700?
This is a rowing machine that uses a water tank to provide resistance. Once set up, you'll sit on a sliding seat and perform a rowing stroke (preferably with the proper form). The frame is made from thick Ash Wood. Like air rowers, the harder you pull, the greater resistance you'll feel.
This bit of gear will increase health, strength and work a wide range of muscles from your upper and lower body, as well as your core.

As with most of the Sportstech gear we've seen, you can connect the WRX700 to online apps – the best of which is currently Kinomap. To that end, there's an adjustable tablet and phone holder.
WRX700 video ad shows the features in detail…
This rower differs from the WaterRower brand in that whereas they flip onto their end for vertical storing, this one has a mechanism where it folds in half.
How does this differ from a Concept 2 Air Rower?
all that gorgeous solid wood brings with it some extra heft
Using the famous Concept2 Model D, let's compare this wooden rower against some key factors and see how it fares!
We've got a whole article on Air Rowers vs. Water Resistance Rowers but let's just quickly go over the main differences between this and the most popular rowing machine on the market.
The most obvious thing that sets these machines apart, the form of resistance, is a matter of preference as to which is better. The WRX700 technically puts out lower decibels and a more pleasant sound, as well as having a very different 'feel' to that of air resistance. However, both will fight back the more you pull. Both the C2 and the WRX can be set to slightly different difficulty levels too.
Weight-wise, all that gorgeous solid wood brings with it some extra heft, with the WRX700 outweighing it's air-based rival by around 10kg. As far as storage goes, both fold in half but the Concept 2 has a smaller footprint when collapsed at 63cm x 83cm vs the WRX700's 113cm x 55cm (although the Concept 2 requires more height).
As far as user weight, they're both sturdy work-horses, with the WRX700 supporting up to 200kg of weight while the C2 will handle up to 227kg. As far as performance monitors go both have Bluetooth LCD displays. The C2 offers a more advanced, larger, backlit display. The WRX700's is smaller and shows less info. However, you've also got the option of Kinomap integration.
---
Who are Sportstech do they make good rowing machines?

While not as well known as your NordicTracks, Reeboks or Marcys of the fitness world, Berlin-based Sportstech is a large sports brand and seem to have really increased their gym gear over recent years and make a name for themselves.
Sportstech has a wide range of fitness machines, to suit different budgets. And their treadmills, bikes and rowers are good quality, and they seem to be more focused on more futuristic tech like online connectivity, built-in.
Although this is their only wooden rower, they also have a non-wooden machine, the WRX700 along with several other rowing machines. These machines have reviewed well on Amazon and in our own reviews.
We've seen products from them such as rowing machines, exercise bikes and of course, treadmills. They tend to review well, have good customer service, and get around 4 – 5 star review, on average.
---
Where to buy it?
You can purchase this rowing machine direct at SportsTech, or via the Amazon website. At first glance, it looks £100 cheaper on Amazon but on second glance there's a hefty delivery charge. It's the same price on both sites. You can check the latest price below:
Check Current Amazon UK Price
---
At a Glance Features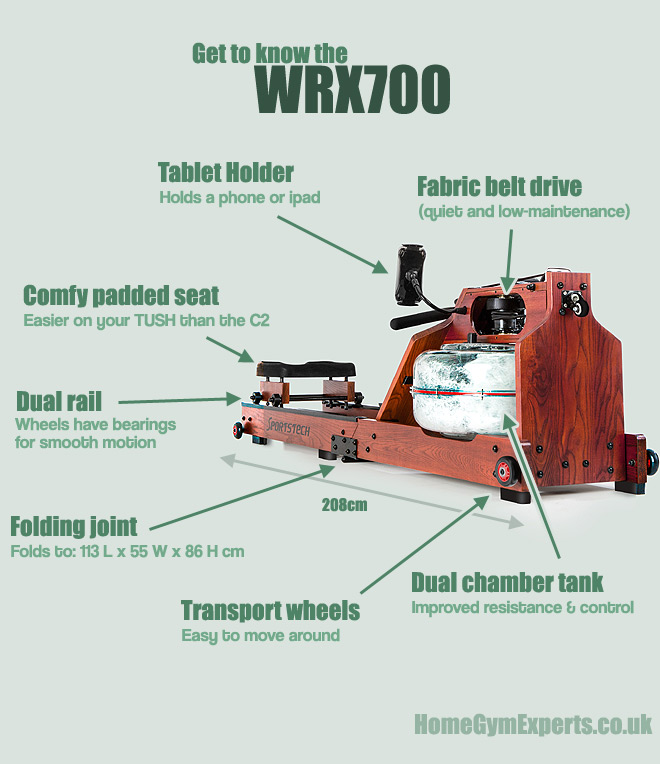 Solid wood – Made from real Ash, the grain looks amazing
Realistic rowing experience – complete with authentic water sounds
Durable water tank – protection against leakage from a toughened sealing ring
Workout almost your whole body – Targets 85% of your muscles
Designed specifically for strength training and cardio
8+1 HRC programs – Easy enough for beginners
LCD monitor – displaying heart rate, speed, calories, stroke count, as well as total distance and time
Tough belt drive – long-lasting drawstring
V-grip handlebar – ergonomic handle aims to offer accurate rowing motion
Adjustable footrests – can be set to any sized foot
Comfortable seat – Curved, padded seat with a low noise system
Smart App compatible – for Kinomap and iConsole+
Tablet holder – For smartphone or tablet from 5.7″ upwards
Folding design – with safety lock
Transport and swivel wheels – Can be moved to another room between sessions
Also includes – electric water pump, chlorine tablets and a heart rate monitor
---
Benefits to Training With The Sportstech WRX700
if you're looking for something a bit more sporty you've got a choice of two apps here
Rowing will improve your health and body
Everyone will tell you that rowing is great for this and that, but what does the science actually say? We've done a lot of reading through some pretty hefty research papers on rowing (there's been a lot of studies into the effects on health and physical fitness) and it's not an understatement to say a rowing machine is a huge way to improve your mind, body and health.
Take this study for example, which tracked the effectiveness of rowing on a group of people who had not exercised much previously. Researchers found:
A decrease in body fat percentage
A significant increase in strength and muscle fitness
A big drop in cholesterol levels
Water-resistance is way better than magnetic resistance
Magnetic resistance is one of the best inventions in gym gear; it's quiet, maintenance-free and makes for a smooth workout whether it's used on a rowing machine or a spin bike. But the downside is you can out-grow it pretty quickly. One of the good things about rowers like the WRX700 is you can't do that.
The water will always fight back the more you pull. And you can also increase the difficulty with something as simple as adding more water to the tank. With magnetic, you're fixed at that level.
Speaking of water: with the sounds of rushing water surrounding you, you will control the resistance,  just as you would with real rowing.  The flow of water shifted establishes pressure, so the larger volume of water in the tank, the stronger its resistance. You will feel more like you are rowing a real boat with this machine's original features.
Kinomap will keep you motivated
After the initial enjoyment of rowing fades, most of us need something to keep our minds busy while we work on our fitness goals. To that end, you've got a really good little tablet holder here. It adjusts to a phone or iPad size device and you can swivel it about to get the right height and angle. Netflix your thing? You'll find this handy.
But if you're looking for something a bit more sporty you've got a choice of two apps here: iConsole – a basic fitness app or, even better, Kinomap. If you're not familiar with Kinomap, we've got a guide all about it here. Basically, it's an online subscription service where you can row different rivers, follow others or compete in online races. If you normally get bored of training fast, give this one a shot.
If your TV is a smart one, you might also be able to get the app for it, so you'll be able to enjoy Kinomap or iConsole on the big screen.
It's kinder to your bum than a lot of rowers
If you're some (literally) hard-assed rowing pro, you can probably skip this bit. But one of the great things that this rower gets right is in its seat. The smooth gel-like seat is ergonomically designed for your real anatomy. Featuring the non-slip design, you can feel confident that your exercise will be stress-free.
You'll notice there is little to no pressure on the lower spine. The fluid rail system is pretty much exactly what we've seen in every other water resistance rower – a dual rail with bearing wheels that glide along effortlessly. It allows you to move freely with very little noise.
Unlike some air-rowers, it's impossible to lean to far to the left or right on the WRX700, effectively pulling the brake the seat on the rail, stopping your stroke.
---
Who will love this machine?
If you're looking for something really good quality…
One of the big issues we've seen with a lot of gym gear is that it can work great when you get it, but quickly develop that 'squeak'. This rower is definitely not the cheapest you can get, but the quality on offer here is seriously good.
From the quality of the woodwork, which has been lacking in some of the wood rowers we've seen, to the quality of the little things, like the wheels. This is a proper rowing machine that you'll likely use for many years.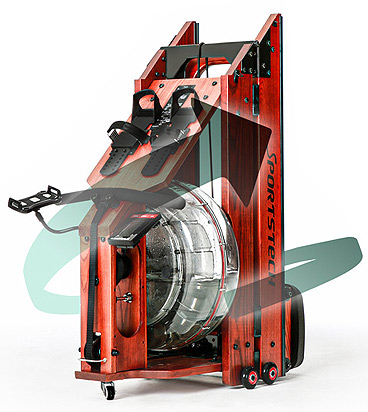 If you're looking for something to share with family or housemates…
One of the best things about this kind of rower (and machines like the Concept 2) is that there's not much to adjust between users and things like the footplates can be fully swapped to accommodate different foot size. This is a great choice if there are more than one household member who fancies getting stuck in and doing some rowing.
You can each have your own app and track your progress separately too.
Taller rowers won't feel cramped here
The uber-long rail here also means this machine is ideal for tall users. One a lot of machines we've seen, you've got to be careful you're not cramped. The WRX700's rail will suit any rower.
We've also got a guide on the best rowers for taller people here, if you'd like some more help on that.
Check Current Amazon UK Price
---
Other Rowing Machine Guides
---
Our Opinion: What We Like About the Sportstech WRX700
The wood grain itself is the star of the show, with a polished ash finish that looks great from any angle.
It's gorgeous
It's not very often I open up a review of a bit of gym gear praising its aesthetics but that's what we're going with here. There's a wide range of wooden rowers on the market today but this one definitely stands out in terms of its craftsmanship and the insanely good quality of every component.
The wood grain itself is the star of the show, with a polished ash finish that looks great from any angle.
German Engineering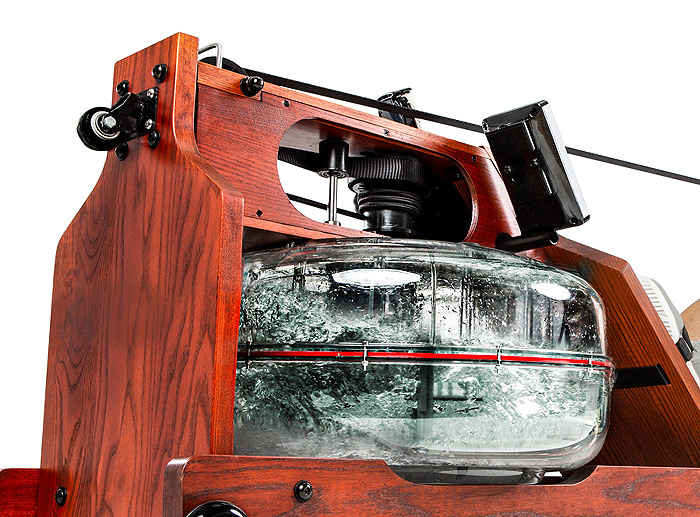 This German-built rowing machine is one of the only machines in the UK that can provide you all the benefits of a great workout on one amazing platform. This product is made with superior quality, and German manufacturing stands out above the rest with its skilled craftsmanship that can not be beaten.
Not much to do when it arrives
If you're relishing the prospect of a lengthy build (no one?) then you'll be disappointed with this wooden rower. Ouit of all the gym gear we've seen, this probably has the least you've got to do. Getting the set on and filling it with water being the main two tasks. All those bolts, screws and wires have, thankfully, all been taken care of by Sportstech prior to delivery.
Heart rate monitor is a welcome inclusion
While you might prefer to use your fitBit or smartwatch, the WRX700 comes with a perfectly good pulse belt. This straps around your chest (it's comfier than it sounds – you'll forget it's there). And this makes for some more advanced training and being able to accurately track your heart rate.
Easy to use controls
There's nothing much to learn here, especially if you're just planning on using the built-in console rather than one of the apps.  The 8 programs offer some variety and there's one extra available where you can set your own workout.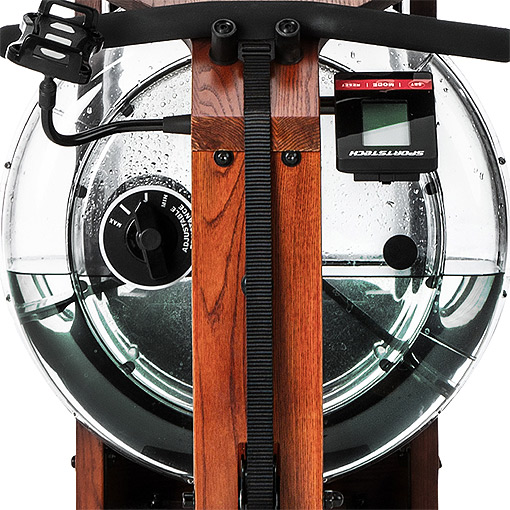 Good support team
Sportstech has been brilliant each and every time we've talked to them, answering questions quickly. They've been friendly, helpful and have welcomed follow-up emails. We never felt like we were in the way or asking something silly, as you can feel with some companies.
Solid and smooth workout
If you're wondering if this machine is as good as the Water Rowers the machine here is really solid in terms of its stability and there's no wobbles or awkward noises. The rowing mechanism itself is a work of art, which you can watch in action with the cutaway section at the front.
The weaved fabric 'belt' also keeps things running smoothly and is a different experience to the chain on the C2. It looks like it won't wear out for a long time. Elsewhere the bearings in the wheels also keep things running as smoothly as possible.
Check Current Amazon UK Price
---
What Could Have Been Better
You don't really need the water pump
Although freebies are nice, the water pump here is perhaps a little over-engineered. It's quicker to simply use a funnel or jug. But if you're desperate to not spill a single drop on the floor, I guess there could be a case made for the pump!
Kinomap isn't free
Although not the most expensive of online fitness services (currently £9.99 / month) it's still not free, and many people won't want another subscription coming out each month. The iConsole app is limited and if you're looking to get the most out of this rower, you'll likely want to at least give Kinomap a go on the 14-day trial.
Water rowing machines aren't cheap
If you're looking for a cheap wooden rower, they don't often dip beneath the £700 mark. The WRX700 is no exception. With rowers starting at £300, this is almost three times that price. However, the quality on offer here is far superior.
The performance monitor is not comparable to the WaterRower's
Lets talk about the real drawback with this rower; the display console. Compared to the official Water Rower, the display here is a simple affair. Compared to something like the C2's pm, it's extremely basic. There's a simple panel that, although glossy and good quality, offers very simple information. If you're planning on using one of the compatible apps, you can mitigate this, but the console here is not what we'd expect from a full-price water rowing machine.
---
Conclusion: Is the WRX700 Worth A Buy?
The Sportstech WRX700 is not only gorgeous to look at, but it also offers a solid, smooth rowing experience too. It's a rowing-newbie-friendly but easily tough enough for more advanced users too.
The performance monitor could be better but the Kinomap and smart device integration is seriously good.
It's hardly a compact rowing machine, either folded or at full-size. On the flip side, there's weighty reliability here that makes this machine feel like a reliable, solid product.
The WRX700 is a worthy alternative to the WaterRowers and well worth the price.
Check Current Amazon UK Price
---
Sportstech WRX700 Full Specs
Brand
SportsTech
Model
WRX700
Type
Water Rowing Machine
Material
Real Ash wood / Aluminium
Display
LCD
# Programs
8
Tank chambers
2
# Blades
3
Folding
Yes
Transport Wheels
Yes
Heart rate training
Yes
Includes heart rate strap?
Yes
Weight
37.3kg
Drive
Heavy-duty drawstring
Extras
Electric water pump
Smart app compatible
Yes
Compatible apps
Kinomap | iConsole+
Self assembly?
2 simple steps
Tablet holder
Yes
Includes
WRX700 Rowing machine
English Manual
Sportstech heart rate belt
Chlorine tablets
Electrical water pump
---
References & Further Reading