Welcome to our Sunny Health & Fitness SB-B1805 review. We're going to take a deep-dive on SH's popular home upright bike, covering why it might brighten up your day, and look at the things it doesn't do so well.
What exactly is the SF-B1805 bike?
The SF-B1805 is an upright exercise bike designed for home use. It's a bit like the bikes you get in gyms that are used for spin classes. This bike has a meaty 20kg flywheel, a solid, heavy frame and uses belt drive and magnetic resistance.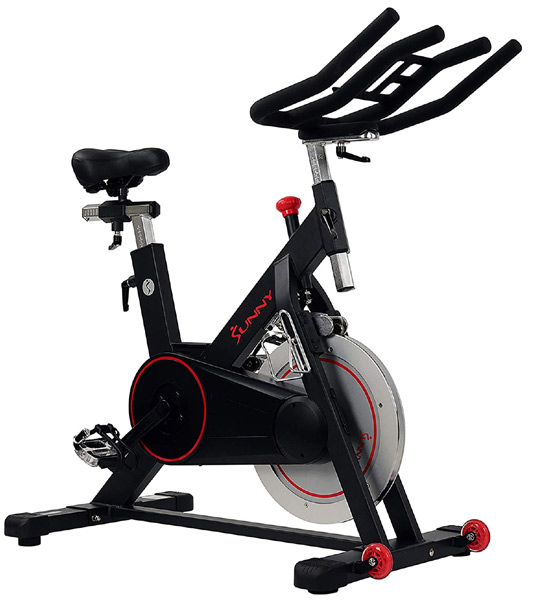 The handlebars and seat both use '4-way' adjustments which is a fancy way of saying you can move them up, down and backwards and forwards. They've got gym-esque locks that take a few seconds to swap between riders. If you're buying this to share, you'll appreciate these.
The Sunny bike offers adjustable micro resistance for a challenging cardio workout and secure toe caged pedals with adjustable straps for secure footing.
The cycle provides a low-impact workout for a wide variety of fitness levels and the larger-than-normal flywheel means this bike will keep pretty much everyone happy, even if you've been to a spin class or two.
Your bottom will appreciate the cushioned seat, which is more comfy than a lot of bikes out there. You've also got secure grip handles, which you can grab or rest on in a number of ways. And smack int he middle of those you'll find a secure tablet holder to integrate your streaming services.
The SF-B1805 bike provides plenty of levels to increase your fitness and endurance levels as you progress in your home training.
Check Current Amazon UK Price
---
How does it compare to the other Sunny Health bikes?
There are currently a few different Sunny Health bikes around online at the minute. They have a decent entry level price point model going up to some more 'serious' bikes. It's hard to find any that review with less than 4 stars on platforms such as Amazon.  Let's take a look at the main features and what the difference is between them:
Compare Sunny Bike Features
Compare Sunny Bike Prices
Prices Last Updated Thursday 9th November 2023 - 20:11:33 pm
Sunny SF-B1709 Video Review
Sunny Health Bike: at a Glance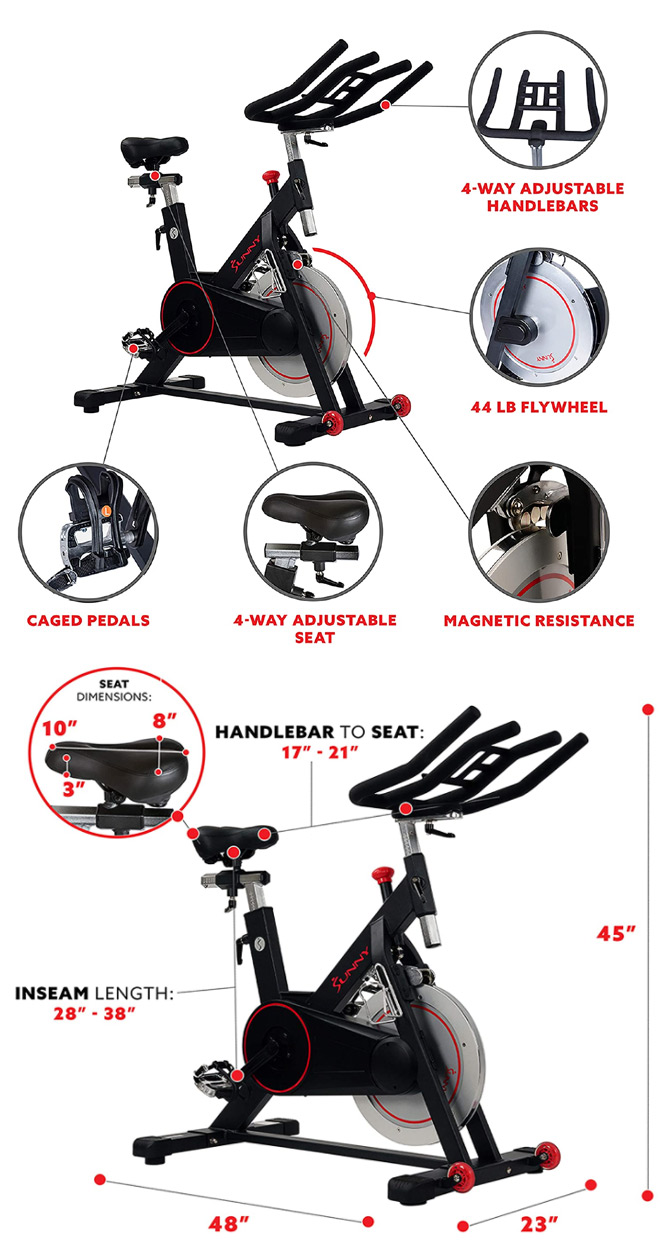 44lbs chromed flywheel (20kgs)
Multi-grip handles and caged foot pedals
Adjustable magnetic resistance
4-way adjustable seat
Bottle and tablet holder
Transport wheels
Smooth belt drive system
Adjustable height: 28″ to 38″ inseam
Handlebar to seat adjusts 17″ to 21″
Weight: 125.7 lb (57kgs)
Dimensions: 48''L x 23''W x 45''H
3-year warranty on frame 180 days on parts
300lb weight capacity (136kgs)
Floor stabilizers and emergency stop
---
Who are Sunny Fitness?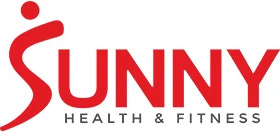 Sunny Health & Fitness are a LA-based sports and fitness gear distributer. They have a wide selection of home gym gear including treadmills, steppers, ellipticals, exercise bikes and rowing machines.
---
What's it like to set up?
This bike comes in a big box and it's fairly heavy too. If you don't want to put your back out, get someone to help you move it to where you'll be un-packing and building your Sunny bike.
Unless you're especially masochistic, you'll likely want a quick build process. What's this like to assemble?
Setup isn't too daunting, actually. Here's the parts you'll be faced with once you've un-packed them: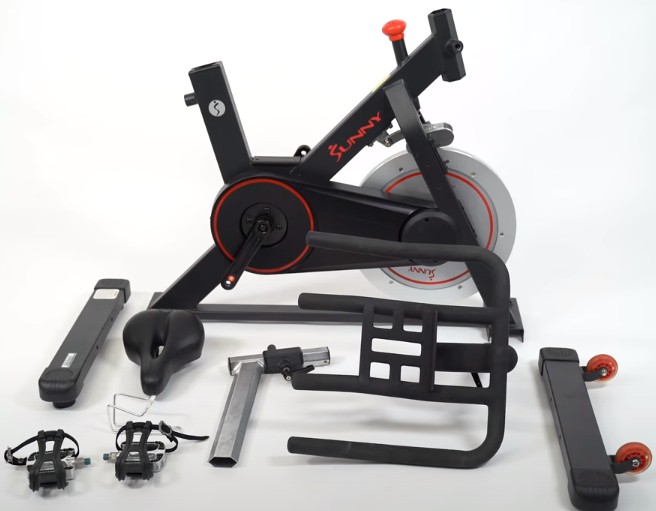 If you're curious about the steps you'll need to take, or have bought this bike and want to jump to the assembly video, here's the guide:
---
5 Things you'll get from training on this bike
If you're trying to figure out if this bike will be a good match for you, here's the five main things you'll get from training with the B1805 bike: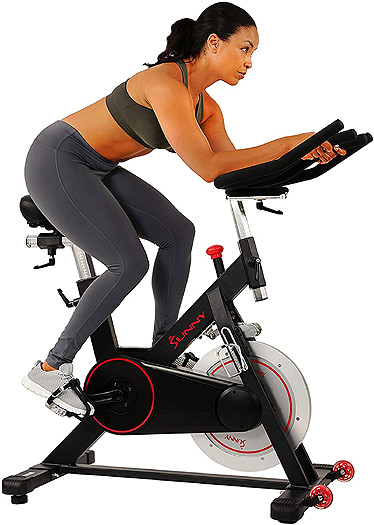 1) Burn Calories and Reduce Weight
The sunny health and Fitness bike has a heavy flywheel plenty of magnetic resistance to challenge and improve your fitness from home.
Harvard Health states that 30 minutes of vigorous cycling can burn up to 466 calories, one of the top calorie consumptions on the home exercise list.
2) There's no impact on your joints
Stationary cycling on the Sunny Health Bike provides smooth and low impact training without the impact stress associated with running, jogging, and jumping. The cycling action protects your joints and while strengthening them from a secure seated position.
This way, you have effective training without concerns about stability or joint stress.
3) It's a good cardio workout… and then some
Studies have shown that aerobic activities such as stationary cycling strengthen your heart, lungs, and muscles and improve blood and oxygen circulation in your body. It can even improve your brain power! An improved cardiovascular function has several health benefits, including:
Lowered bad cholesterol
Improved immune system operation
Improved memory
Better sleep
Reduced stress levels.
4) You'll save some money
This bike is around a quarter of the price of a Pelaton bike but has all the strength and powerful resistance that goes along with it. While it's obviously not equal to the more expensive bike, it's not far off. If you're looking for more of a Pelaton experience, without splashing out the cash, pick up a cadence sensor at Amazon and use this bike with the Pelaton app.
5) A bit of peace and quiet
Obviously, it's not easy to gauge the noise level of a bike, magnetic or otherwise from the images. While the SF-B1805 is not silent, it's noise level is very low. That's partly due to Sunny opting for belt drive on this bike, rather than chain.
Check Current Amazon UK Price
---
Who Would Benefit from the sunny Health and Fitness Bike?
Anyone looking to go down a dress or trouser size (or two…)
The Sunny Health and Fitness indoor bike provide an excellent means to lose weight and improve your health from the comfort of your home. One of the biggest obstacles to health and fitness is a lack of time in our busy modern lives.
If you're short on space…
The B1805 isn't the biggest spin bike we've seen. The 121.9cm x 58.4cm footprint is on par with the Pelaton, which measures a similar 120 cm x 60 cm.
If you don't have time to get to the gym
With a stationary bike such as the Sunny magnetic bike, you can exercise at any time of the day or night, and the bike ensures a smooth and quiet operation for those who share their home space with others.
If you're already fairly fit
The meaty weight of the 20kg flywheel means that the Sunny Bike suits all levels of fitness, from beginners to more advanced users seeking moderate to high-intensity training.
Check Current Amazon UK Price
---
Review Time: What we liked about Sunny's SF B1805 bike
The SF B1805 is really solid, sturdy (and heavy)
Super-sturdy frame takes some punishment
One thing that varies wildly with spin bikes and gym gear in general is to do with frame thickness and quality of the welding.
Expensive bikes usually increase the quality and stability you can expect. One of the best things the SF-b1805 gets right is the frame. Tubular steel here but the thickness and the strength on this bike, in particular, stands out from what we've seen with other machines.
The SF B1805 is really solid, sturdy (and heavy).
The heavy-duty steel frame offers a stable and secure ride, with a construction that ensures your bike will last. Unlike the less expensive bikes in the range, the Sunny Bike shows none of the plastic rattles and noises you often find in high resistance modes. We liked that the bike didn't shift in training and stood solidly in its space.
Magnets + heavy flywheel = great workout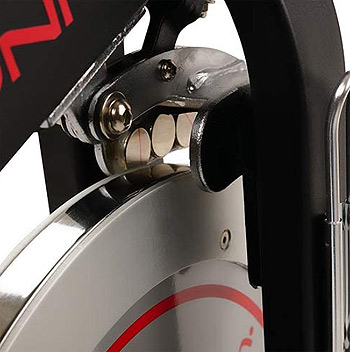 What users sacrifice in the Sunny bike's added weight gain in an impressive resistance range. Resistance levels here are far more challenging than other bikes in its class, and this would provide a user with an excellent means to increase their endurance over time.
It's fine for beginners looking for a way into spinning but there's enough bite here from the heavy fly and adjustable resistance to also give anyone who thinks they're a bit of a spin-wizard a real challenge.
It's smooth and your bum will like the seat
Saddles on spin bikes are notoriously hard on your bottom. One thing this bike does well is it's extremely easy-going and comfy. Think soft, bouncy padding. Definitely more forgiving than the Peloton.
As for the ride action, it's a good quality experience. The rattles and squeaks and wobbles so often found on bikes are minimized in the Sunny cycle, making it perfect for shared living spaces. The bike performs smoothly even in increased resistance levels and vigorous cycling actions.
The usual adjustments are all there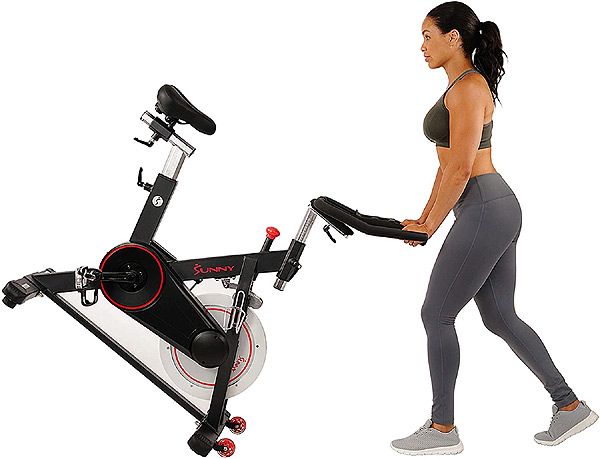 The Sunny Health and Fitness bikes offer four-way adjustments on both the handlebars and seat to easily conform to user height variances. The adjustments are an easy pin system, and you can easily change between users without fiddling and fuss.
Intuitive Layout
We particularly liked the layout of the Sunny bike, especially the easy-grip handlebars. The handlebars adjust easily and offer an excellent position for leaning into a high resistance mode.
The tablet holder fits neatly between the handles in the perfect position for focus when streaming an application such as iFit. The water bottle holder is easy to reach and conveniently placed for workouts.
Check Current Amazon UK Price
---
Related Spin Bike Guides
---
What Could Have Been Better with this bike?
Complaints Regarding faulty Pedal Cranks
Although the bike we tested performed smoothly and silently, there have been several complaints about faulty pedal cranks online. One complaint could be considered an anomaly, but we were concerned that Amazon had several users reporting pedal crank failures.
The Sunny manufacturers' response was slow and inefficient for most of the complaints, which is a point of concern considering the bike's cost.
No built-in cadence
As mentioned earlier, you'll need to splash out on a cadence sensor if you want to connect this bike to your favourite app. It's not exactly expensive to do (you can get a sensor for under £20) but would have been a good inclusion out of the box.
Another odd omission are the pulse sensors you'd normally expect to find on the handlebars. While these are often not the most accurate, it's unusual they're missing from an upright bike.
Again, a chest strap isn't expensive (although you'll need to use it with a 3rd party app as it won't connect to the SF B1805's console…) but we'd like to have seen some built-in connectivity.
---
SF-B1805 Verdict: Sunshine or a rainy day?
The Sunny Health and Fitness SF-b1805 bike is robust and neatly designed for an impressive range of resistance. The solid construction provides a smooth and stable ride with excellent adjustment ease and bespoke fitting for various user dimensions.
The bike is comfortable and well-spaced for a proper HIT experience and delivers an effective burn to shed those lockdown kilograms.
It's a cheaper alternative to the Peloton if you're not ready to fork out a couple of grand for a good quality spin bike.
Check Current Amazon UK Price
---
What other bikes can you get in this price range?
There's a lot of different bikes in this sort of price range up for grabs in 2023! Check out our list of suggestions below.
The Nero Sports Bluetooth bike is a good choice if you want to connect your phone or tablet to the bike and get into some online racing and streaming.
There's also JTX Fitness's brilliant Cyclo series, with the Cylco 6 in almost the same price bracket as the IC350.
Check out Dripex's indoor bike too – it's been getting a lot of good reviews on Amazon and the company has brought out some great home gym gear recently.
Prices Last Updated Thursday 9th November 2023 - 20:11:33 pm
---
SF-B1805: Full Specs
Product
Upright exercise bike
Brand
Sunny Health & Fitness
Model
SF-B1805
Resistance
Flywheel and magnetic brakes
Tablet holder
Yes
Adjustments
4-way handlebar and seat adjustment
Bottle holder
Yes
Seat to handlebar distance
Min 17"
Max 21"
Max User Leg Inseam
Min 28"
Max 38"
Multi-grip handles
Yes
Flywheel weight
22kg
Transport wheels
Yes
Max user weight
300lb / 136kg
Pedals
Caged foot pedals
Seat dimensions
25cm x 20cm x 8cm
Bike weight
57kg
Dimensions
122cm x 58cm
Height
114cm
Safety
Emergency stop brake
Assembly time
Less than 1 hour
Drive mechanism
Belt-drive
Frame material
Steel
Manufactured in
China
---
Resources and further reading