Welcome to our guide on the best battle ropes you can get in the UK in 2023. If you're new to this kind of training, be sure to check out our buyer's guide at the end of this article. You might not know you can get fitness ropes for home use, but they're not hard to set up and have enormous benefits to strength training and your body toning.
"A great quality rope for the cash. It's ideal for home gyms."

Lengths: 9m / 12m / 15m /

"Tomshoo's battle rope is fab quality and comes in loads of sizes and weights."

Weight: 7.4 kg / 9.8 kg / 13 kg

Natural Jute Battle Ropes

"An old-school battle rope. Doesn't cost the earth and is completely organic."

Made from 100% organic fibres

Wide range of sizes and weights
Separating out the real battle ropes from the pretenders: what we look for
There can't be much to a rope… can there? Here's some things we use to decide if a fitness rope makes the grade.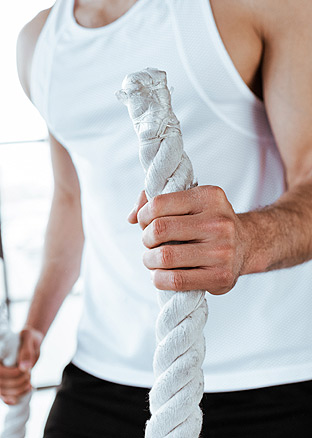 Is it enough of a *******? –  This ain't no tickling competition and we want some ropes that are going to instil a certain dread at the thought of that next set. Some flimsy, light-weight rope isn't going to cut it. While it varies between users, there's a certain 'heaviness' we like to feel in a good, meaty battle rope.
Is this going to drop to bits next month? We've seen more than our share of gym gear that looked amazing in the pics but doesn't last more than a few weeks of intense use. (We're big blokes here). While it might seem like there's not much that can go wrong with battle ropes, they're prone to wear and tear and things like the handles breaking off or cracking, or even ropes unravelling.
Do you get the anchor? Any rope worth its salt will have a decent anchor point you can fix it to. And these vary in quality too. Don't worry. We'll check the fixing out.
What's it made of? Whether you want to go for synthetic fibres or trendy organic materials, we've covered some choices for both.
What if it breaks? – As with any gym gear, we want to know what they'll do about it if it all goes wrong. We always check for good brands, what other customers are saying about them, and sometimes perform some crafty checks on their customer service.
---
The best battle ropes for your home gym in 2023
Before the buyer's guide, let's go over the current top battle ropes out there in 2023. Here are the ones we found were actually worth the money, starting with the top pick first.

#1 – Power Guidance Battle Ropes
Length: 9m, 12m, 15m
Weight: 14kg, 18kg, 22kg
Anchor Point: Yes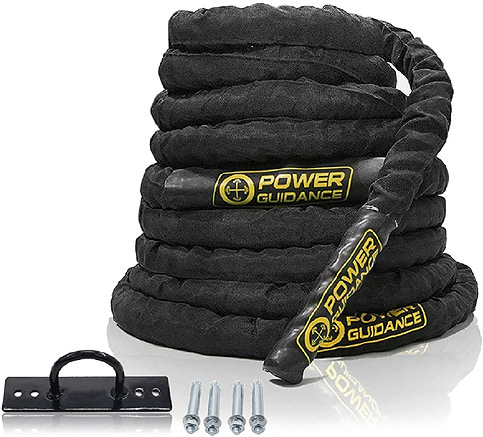 With some of the most 5 star reviews we've seen on Amazon, Power Guidance's ropes swing into action carrying some high expectations. So are they any good? To put it bluntly, they're the single best battle rope set we've seen. There's just so many options available here that no matter what you're looking for, you can find your perfect set up.
First off, there's a huge amount of variety in the ropes here, with all three standard lengths on offer. That means you can tailor your rope to your gym set up, and make sure that it's going to fit perfectly, no matter what. There are also two thickness options, though as we mentioned in our buyer's guide, most people are going to want the thinner, 1.5 inch option.
Second is the quality of the material. Unlike most other choices, these ropes are 100% Dacron. That makes them incredibly tough and hard wearing. This rope is coated in a fetching nylon sleeve which is more hygenic and will help protect the rope. You'd have to do something drastic to this rope to make a dent; it should last you for years.
The rope is sleeved at the ends with 25cm handles that are guaranteed never to come off, and there's also a rope guard at the centre, to protect from friction damage against the anchor. Finally, the kit comes with a reasonably standard anchor. All of this, for a surprisingly low price.
Good choice of length
Very well made
Feels really heavy
Comes with a good rope anchor
Not expensive
Nylon sleeve could wear if used outdoors
Verdict: Power Guidance actually isn't the most expensive rope we've seen, but it is, so far, the best. It's heavy, built to last and the nylon coating protects it from wear. This is a great fitness rope for any home gym.
Check Current Amazon UK Price
---
Length: 10m / 12m / 15m
Weight: 7.4 kg / 9.8 kg / 13 kg
Anchor point: No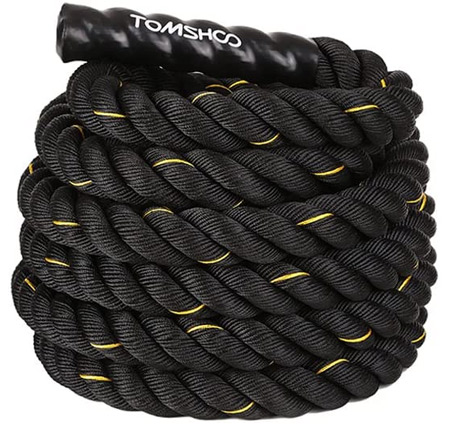 If you think all heavy ropes are pretty much the same, you haven't had a go on a Tomshoo. If there was a luxury brand of fitness ropes, this would be the one. They're heavy, ridiculously tough and just have a fantastic feel about them.
Like any posh product, you can customize 'em just how you want, with a choice of 3 lengths and two different grip widths. Some of the things you can't get from pictures are how well the rope lies. Unlike a lot of ropes, you won't constantly have to untangle it, and it doesn't get itself twisted either.
The polyester rope seems tough and built to last which is important considering a lot of heavy ropes are prone to fraying. It's not hard to wrap up at the end of a good session either, well relatively speaking. The more floppy feel of the rope means you won't have too much trouble coiling hte thing up again (other than the normal struggling with a 13kg giant snake of course).
Extremely heavy
Great quality feel
Plenty of different sized and weights
Wear-resistant design
You don't get an anchor point
Not the cheapest set of ropes
Verdict: Tomshoo's rope looks good and is incredibly well-made. Although you can get cheaper products, there's no denying it's a heavy beast that takes it out of you. A fab rope that should last you a long time.
Check Current Amazon UK Price
---
Related guides
---
Length: 11m
Weight: 7.15kg
Anchor point: No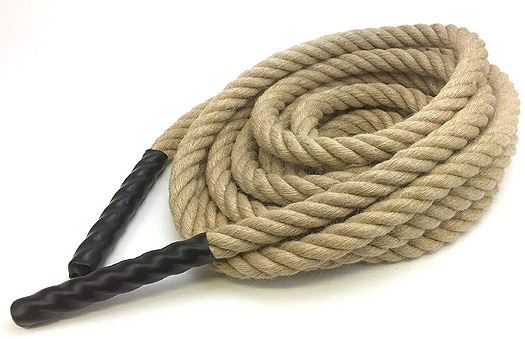 Made from natural, organic jute fibres, this rope is perfect for people looking for a more rustic, old-school feel for their gym, or if you're particularly concerned about your environmental impact.
Every rope is hand made to order, with a wide range of lengths and thicknesses available. The natural fibres are tough and hard wearing, with adhesive shrink tubed ends that are simple to hold and easy on the hand
Personally, we prefer synthetic fibres to natural, just because they're longer lasting and normally cheaper. But if you insist on the natural, these are a solid choice.
Completely organic material
Long handles
All hand-made
Not expensive
Not as long-lasting as synthetic fibres
Verdict: These ropes will remind you of your old school gym! They have a great natural feel to them and they're completely natural and organic. Considering they're all hand made, they're cheap too.

Check Current Amazon UK Price
---
That's the end of our list. Hopefully, now you're closer to making an informed decision about the gym ropes you're looking for, and you've found the right one for the job.
Next up, we've got a buyer's guide packed with handy info for anyone all tied up about which rope they need for their gym.
---
Battle Rope Buyer's Guide
The Big Benefits of Battle Ropes for Strength and Conditioning
What are battle ropes?
Picked up as a tool by crossfitters and elite level athletes the world over, battle ropes are becoming far more popular as a method for packing on lean muscle, boosting your cardio, and blasting your whole body.
The equipment itself is simple. A thick, heavy rope anchored down at a point, with both ends of it held in your hands.
Then, you can whip, wave or slam the ropes up and down, which, after a minute or two, really starts to burn.
Why are battle ropes so good?
Battle ropes are a fantastic tool for a whole bunch of reasons, which is why they're becoming far more popular in gyms and fitness clubs all over.
It's a total body workout: Until you've used them, you don't realise just how exhausting battle ropes can be. They can and will hit every single part of your body, and leave you in a sweaty pool on the floor.
Try a number of awesome workouts: Multiple grip options, short, high intensity bursts, long cardio boosting slogs, it's all there, and it's all useful.
It trains out imbalances: Because each arm is working independently, natural imbalances in strength and conditioning are worked out of your body.
It's fun! It genuinely is. Once you get a good rhythm going, slamming the ropes down starts to feel almost hypnotic.
Short on time? You'll love these ropes – It's hard to articulate just how hard work battle ropes are! Forget running for half an hour. Try some HIIT rope work. You might never go back. OK, we're being hyperbolic here, but seriously – you'll be amazed just how absolutely knackered you can get in a minute.
How to choose a set of battle ropes that don't SUCK
At first glance, battle ropes might all seem the same. At the end of the day, it's a thick piece of rope that you shake, right?
Well, yes, but also no. There's a surprising amount of variables in a battle rope that can affect how you exercise with it, which come down to three main things: Material, length and thickness.
Lets unravel how you can pick a set of ropes that won't... unravel.
What's the best material for battle ropes
Almost all battle ropes will be made from one of two materials:
Manila ropes are made from Manila hemp, and they're a fantastic all round choice. You get solid weight, a strong rope, and they're organic and environmentally safe, too. They're also the more traditional option, and just look cool. But Manila ropes are falling out of fashion for a few reasons.
They're more expensive than synthetic ropes, they're more susceptible to damage, and every time you use them, the surrounding area is going to be covered in tiny strands that are knocked out of the rope structure, which takes a crazy amount of clean up if you're indoors.
Poly Dacron ropes on the other hand are made from synthetic polypropylene and Dacron fibres wound into cables. Polypropylene provides a strong but lightweight core, with Dacron offering all the strength.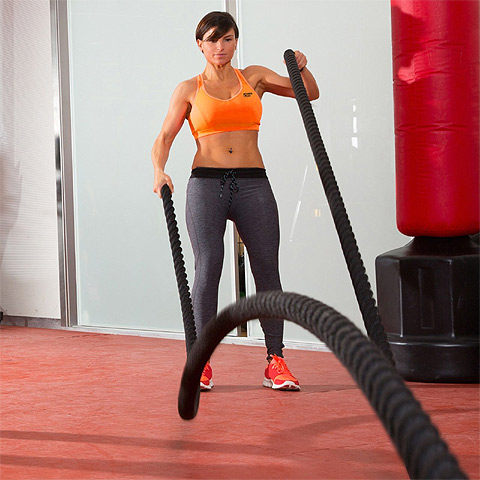 The downsides with synthetic polydac ropes is quality. Cheaper ropes will have a low Dacron content, which causes the ropes to be weak and lightweight, and much less effective to use.
If you're buying a synthetic polydac rope, look for higher quality, higher cost ropes.
It's also worth pointing out that synthetic ropes will be very tough the first time you get them out of the box and set them up, but after a few workouts the fibres will soften and become fluid and flexible.
What length battle ropes should you get?
Battle ropes come in multiple different lengths, and the overall length is going to have a big impact on your workouts.
Standard lengths are 30ft, 40ft, and 50ft, (9m, 12m and 15m.) In general, it's better to aim for longer lengths, as that leads to more flexibility and fluidity in the rope as well as more weight, so means a much more effective workout. But it's also important to consider space.
A battle rope will be folded in half across the anchor point in use, so a 50ft battle rope will realistically need about 30ft of space (25ft of length, plus space for you.) Sometimes, space is at a premium, and a shorter rope is necessary.
It's also worth pointing out that anchor points are interchangeable. It's just a metal bracket in the ground, so multiple ropes can be switched into and out of an anchor point at will.
Do you need a big space to use a battle rope?
No, because battle ropes are heavy (if you've not tried one, you'll see what we mean when you do!) You don't need miles of rope to get a workout. Ropes start at around 9 metres and you'll be halfing that number remember. And you don't even have to use all that. As long as you have the full length of even a single-garage, you're more than good to go.
Alternatives to anchor points
No everyone wants to drill holes and fix an anchor point to the ground or wall for their battle ropes. Whether there's just nowhere for it to go, or you're a DIY-phobe, thankfully there's some common ways to use battle ropes without reaching for the drill.
People find all kinds of things to anchor their battle ropes around and it could be that there's something you can already use in your home gym, or in your shed or garage. Just be careful and don't wrap it round any pipes.
Nice weather? Take your ropes outdoors
Taking your ropes outdoors is great because it keeps you cool and gives you plenty of room to move around. And if you've got a tree in your yard or garden, nature has provided you with the perfect anchor for your ropes. Just be wary that you might damage the bark, or your ropes. You can get sleeves, or use an old towel on the trunk.
One of the best alternatives is a battle rope wall and floor anchor. You can prolong the life of your battle rope by getting a kit like this, or just make it easier to attach your rope wherever you want to.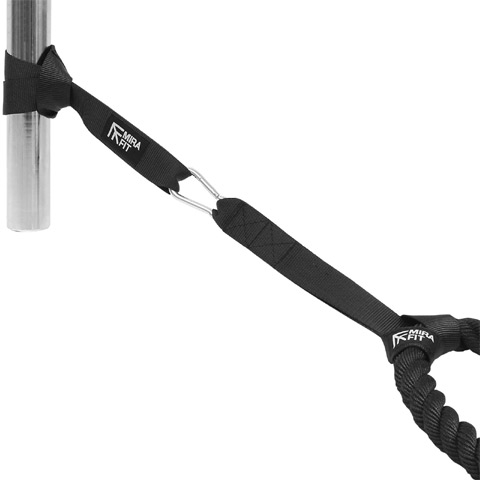 Thickness
As well as different lengths, ropes can also come in different thicknesses, with 1.5, 2 and 2.5 inch thicknesses as standard.
Our recommendation is that almost everyone buys a 1.5 inch thickness rope, for two major reasons.
One, unless you have shovel hands, larger ropes are going to be tough to wrap your fingers around comfortably, especially after a minute or two. If you're on the shorter side, a larger rope is basically out of the question.
Two, a thicker rope adds a lot of extra weight, and that's going to cause you to gas out much quicker, which counter-intuitively means that your workout is going to be worthless.
We won't go deep into the math, but that extra half an inch thickness increases the total area, and so the weight, of the rope by over 75%.
Lesson? Always start with a 1.5 inch thickness rope and work upwards. Your arms will thank you.
---
References & Further Reading