Welcome to this review of NordicTrack's RW-600 rowing machine. In this guide, we'll cover all there is to know about this machine including exactly what it does, who it's likely going to appeal to and, of course… is it actually any good?
What is the NordicTrack RW600
New for 2023, the NordicTrack RW600 is the latest model in their popular rower series. Building on what came before, it's a direct replacement for the venerable RW500, replacing some of the tech that was showing its age, and upping the specs in a few key areas.
Who are NordicTrack?

NordicTrack is a long-running luxury exercise machine brand, known for pushing boundaries and advancing the idea of what technology can be used for when it comes to home exercise.
While anyone into treadmills will likely have heard of them, you'd be forgiven for not knowing Nordic have a line of rowers (and other gym gear) on the market.
Main 5 'things' NordicTrack brand get right
Quality
Futuristic tech (like iFit integration)
Good warranties & after-sales service
Smart engineering
Machines that look gorgeous (if you're a gym nerd)
They've been in business for over two generations now, and every year NordicTrack keep pushing the boundaries of personal fitness. In 2023, NordicTrack's rowers are at the forefront of home fitness. Their current family of rowing machines, the RW and RX models have both won numerous awards in 2023.
What can you get from training on the NordicTrack RW600
Rowing is an incredibly low impact form of cardio exercise, but that's why it's so popular. Because it puts almost no force on your joints, you can row at full force for far longer than you could cycle, or especially run, without injury or other issues. 
Backing that up is the fact that rowing can burn a lot of calories, from 200 to 300 in a standard 30-minute session. Factor in that almost anyone can row, and you've got an exercise that's suitable for absolute beginners to warm up with, up to professional athletes looking for a serious burn. 
---
Who is this best suited for?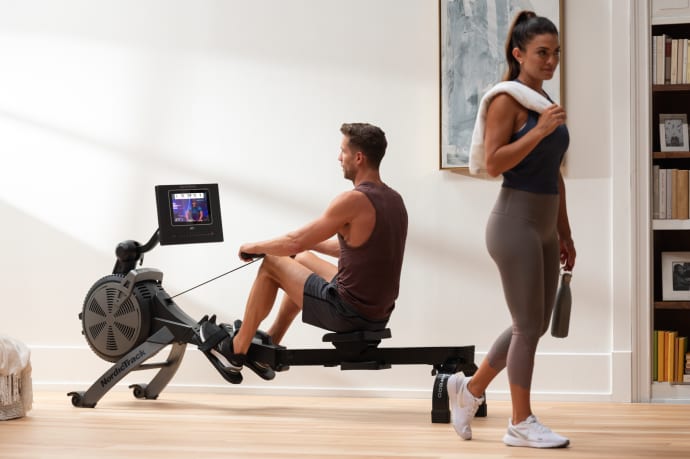 The RW600 might be the entry-level rower in NordicTrack's range, but it's far from an entry-level rower. 
Combining the ironclad build quality, solid features list with the iFit membership, and the price, this rower is best for people who expect to put a lot of hours into their purchase and could potentially see themselves also exercising through iFit off the machine as well as on it. 
RW600 Key Features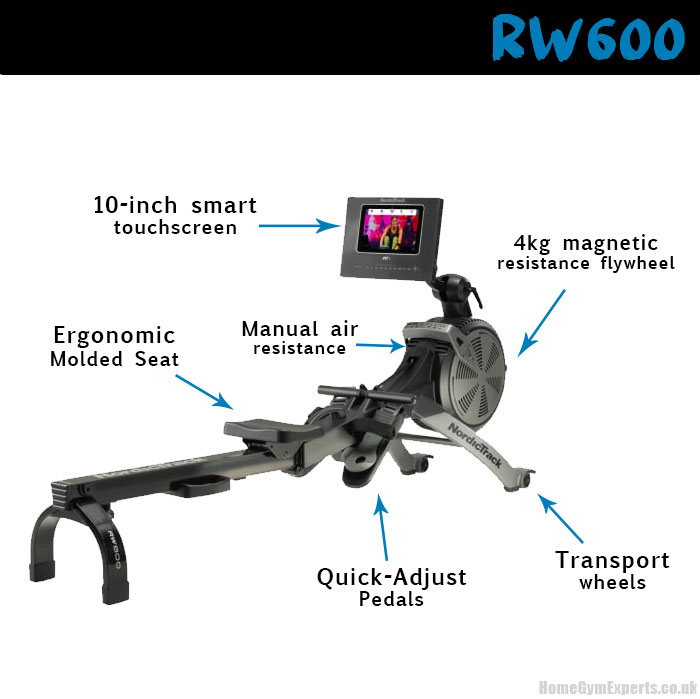 4kg magnetic resistance flywheel
26 resistance levels
10-inch smart touchscreen
115kg (255lb) max user weight
44kg (97lb) unit weight
Built-in transport wheels
5-year frame warranty, 2 years parts
---
Related Guides
---
What's the difference between this and a cheaper rower?
Having reviewed everything from a rower that costs a mere £100 (spoiler alert, it wasn't incredible) up to the Concept 2's of this world, we're in a good position to spill the beans on why this machine costs more, and if it's worth getting this one or a cheaper model.
Are you just paying for the brand?
The old adage you get what you pay for is true here but are you just paying for the NordicTrack brand? I'd have to say not. Even if this machine had a label on it I'd never heard of, the quality up for grabs here is a lot different to the cheaper rowers out there.
Stability and overall quality are better
A rowing machine pushing up to a grand might scare the pants off some people, but the defects we've seen in some of the budget rowers (including support stands literally breaking at the weld) are a good enough reason to pick up something like the RW600.
It's going to last a long time. The frame here is guaranteed for 5 years.
Things like the foot straps, which you might not think is a big thing are also better here. They're solid and look like they'll last a long time too.
It's got a different feel
Another big plus with this machine vs the cheaper ones we've seen is down to how it feels. A lot of the cheap machines look really good in the pics but have issues with noise levels, a rough feeling when you row, or simply don't give you a smooth quality feel.
---
Should you get the RW600 or a Concept 2?
If you ask on any forum or group whether you should get a Concept 2 rowing machine or another brand and make, the answer will always be the same: Buy the Concept 2! But there are lots of decent C2 alternatives to this machine and it's not always the best choice for everyone.
The RW600 is likely going to be a better choice for home users, especially if you like the idea of iFit integration (which is awesome). You can of course connect the C2 to other apps but the all-in-one nature of the RW600 will appeal to a lot of new rowers.
Review: What we like about the NordicTrack RW600
NordicTrack Build Quality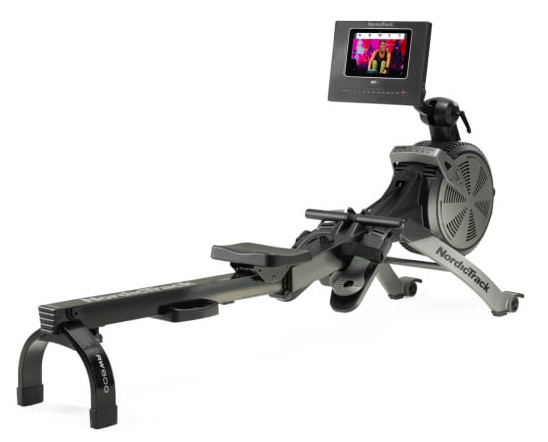 Every NordicTrack exercise machine is an absolute beast of a machine, built to exacting standards with an eye for care and ease of use, and despite being the least of the range, the RW600 is no less impressive. 
Overall use and comfort is top quality, with a pair of large, oversized pivoting petals that cling to your feet but are simple to get in and out of using the quick release straps.  
The seat is oversized and incredibly comfortable, with SoftTouch handles that take a lot of the strain off of your hands, essential when you're putting in long workouts. 
The touchscreen is reasonably small, at only 10 inches, but the screen clarity is very good, with easy to understand controls and a well laid out fitness app. 
When it's not in use, the RW600 is simple to store, with a space-saving design that folds up vertically, and scoots around lithely with its two storage wheels and 44kg weight. 
Finally, the connectivity features are impressive, with a pair of responsive 2-inch speakers, backed up with an aux port and full Bluetooth connectivity.  
Silent Magnetic Resistance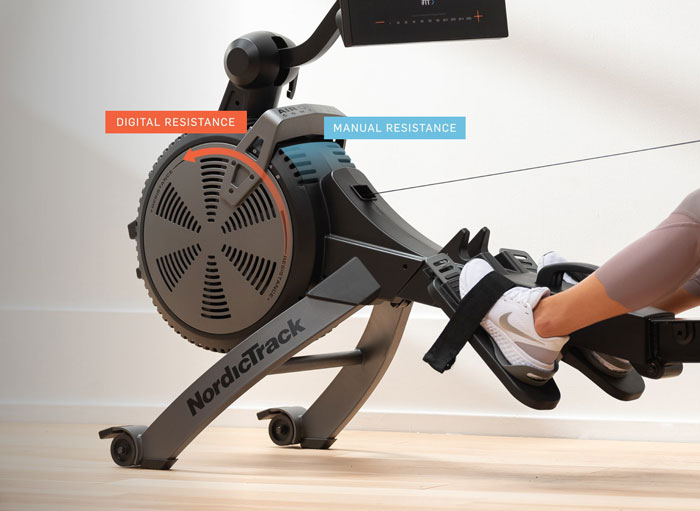 Despite being at the lower end of the expensive range, the RW600 packs two kinds of resistance into its compact frame. 
The flywheel is an inertially enhanced 4kg, that uses a silent magnetic resistance system to provide its resistance. SMR is the pinnacle of resistance in rowing machines, delivering a much smoother and more even experience, especially at higher speeds. 
This is backed up by a secondary airflow resistance system, that can be adjusted on the fly and provides another level of physicality. 
All of this comes together to provide 26 resistance levels that are easily switched, even in the middle of workouts. 
The iFit Membership
Deleted: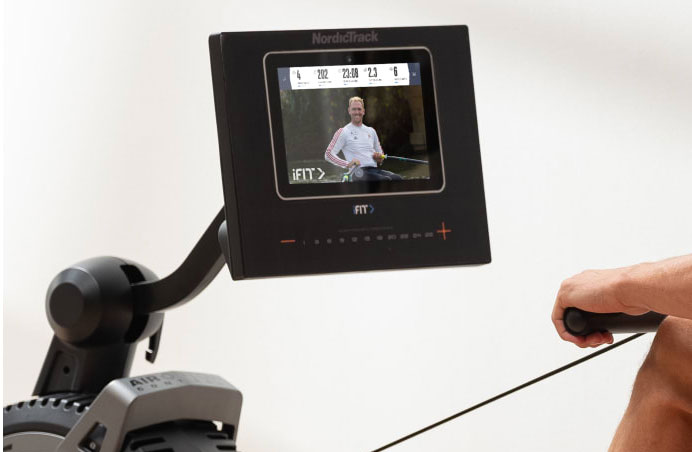 We say this every single time, but the next few years are going to see a major turn up in how gyms and fitness are delivered to people like you and me. 
The lockdowns of 2020 only pushed forward a trend that was already in motion, of a shift from big, expensive health clubs and gyms to bespoke training streamed directly into your home. 
iFit is NordicTrack's premium level fitness app. We have a full guide on the service, which can be found here, but in short, it offers:
Thousands of tailored workouts led by world-class trainers
New workouts added weekly
Multiple family profiles
Full metrics and stat tracking
It's also worth pointing out that, unlike some other major brands, NordicTrack machines come with a 1 month membership free as part of their package, meaning you can test the benefits for yourself at no extra cost. 
The Monstrous Warranty
NordicTrack products have market-leading warranties that are the match of literally anything else out there, and the RW600 is no exception. 
With 5 years on frame, and 2 years on parts and labour, you're covered, no matter what goes wrong, and at this price range, that's essentially unbeatable.
NordicTrack support has been great
 Although I've never had a major incident with a NordicTrack produce that required it to be returned, both the email support and live chat support (available on the website) have been extremely reliable.
I'm normally able to get a question answered in a few minutes via chat and the people I have spoken to over time have been friendly and helpful.
---
What we don't like about the NordicTrack RW600
The Small Screen
As the most budget-friendly of the range, the RW600 has to cut costs somewhere, and a big screen eats up a lot of cash. 
The 10-inch touchscreen on the RW600 is easily big enough for what you need it to do, and for the rowing feature, it's basically perfect. 
If you desperately need a larger screen, the RW700 has a 14-inch screen that's also set on a rotating mount, making it much easier to use both on and off the machine, and is currently around £300 more expensive. 
There's no Heart Rate Monitor in the box
The RW600 doesn't come with a heart rate strap, which is a shame as there's no way to measure your pulse without one. Heart rate straps connect to rowing machines vial Bluetooth and wrap around your chest to track your pulse.
They're a lot more reliable than the metallic strips you have to touch on some gym machines.
Sadly the RW600 hasn't got one in the box. This is another cost-cutting venture. In our opinion, the fact that there's not a heart rate sensor included in the box is actually a smart play. Our feeling is, for a lot of the user base, it's something that would be used once or twice as a curiosity, then discarded, so saving the money makes sense. 
Heart rate monitors are available to buy fairly cheaply (under £40 usually). A good one to go for is the Wahoo HR monitor which you can pick up on Amazon. This, along with just about any other Bluetooth HR monitor will work with the RW600.
---
---
Final thoughts: Is the RW600 worth it?
The RW600 knows exactly what it wants to be. 
It's an entry-level rowing machine that provides all of the NordicTrack benefits, without having to drop two grand on a monster system.
It might not have all of the same flashy add-ons as some of the more expensive models, but it performs where it matters; the big, heavy magnetic flywheel and full iFit functions on its touchscreen.  
If you're looking for a good, solid rower with impressive performance and a that's going to last many years, the RW600 comes well recommended. 
If iFit is something you're interested in, this machine is also well worth it with the built-in screen and over 150 programs for rowers.
Comparison of NordicTrack's 2023 Rowers
| | | | |
| --- | --- | --- | --- |
| | | | |
| | Live interactive training | The RW600 comes with a 10" screen and iFit ready to use. The design and quality of the machine are excellent. | |
| | | A good budget option for anyone not looking for a rower with a built-in screen. It's powerful, portable and has all of NordicTrack's tech and quality at a lower price point. | |
| | Live interactive training | This is NordicTrack's top rowing machine and features a huge 22" colour screen - giving the best performance for iFit. | |
---
RW600 FAQs
How easy is this rowing machine to move around?
This machine is not too heavy, at just under 45kg. There are also some wheels that you can use rather than picking it up and carrying it between rooms.
It's worth taking extra care with this rower though as it has a fixed screen that can be easy to knock if you're not careful. In short, it's simple to move and one person can do it easily.
How many rowing programs are there on iFit?
It's worth noting with iFit that the service is shared across all their fitness gear, from treadmills to ellipticals to rowing machines. If you're wondering what the content is like specifically for rowing machines, there are currently around 150 live workouts for rowing machines.
Can you stream iFit content to your TV?
The RW-600 comes with a pretty decent HD screen but if you're looking to really upscale the experience, and you've got a smart TV that can do it, you can indeed get your iFit content on the larger external screen.
Here's the process you'll need to use to connect your RW600 to a bigger TV.
Access NordicTrack Privileged Mode (see the video below).
Tap the screen and enter the rower's desktop.
From there, you'll find a mode to cast the content to your television.
Here's a quick video showing you how to get into privileged mode on any iFit screen.
---
NordicTrack RW600 Full Specs
Brand
NordicTrack
Model
RW600
Resistance type
SMR - Silent magnetic resistance
Resistance mechanism
Air & Magnetic
Resistance levels
26
Display
10" Smart HD Touchscreen
Training type
Interactive Personal Training
Trainer controlled resistance?
Yes
Flywheel
Inertia Enhanced Flywheel
Foldable
Yes
Assembled Dimensions
221L X 56W X 119 cm
Product Weight
44kg
Warranty
2 Years parts and labour;
5 year frame guar
Memberships included
1 year family iFit
Rail type
Oversized Steel Seat Rail
Pedals
Oversized, Pivoting Pedals
Seat
Ergonomic, Molded Seat
References & Further Reading