Welcome to this in-depth review of the JTX Cyclo 3, A low-priced indoor racing bike from JTX Fitness.  This guide will cover everything you need to know about this bike and help you decide if this is the right bit of kit for you. As always, we'll cover the good… and the bad.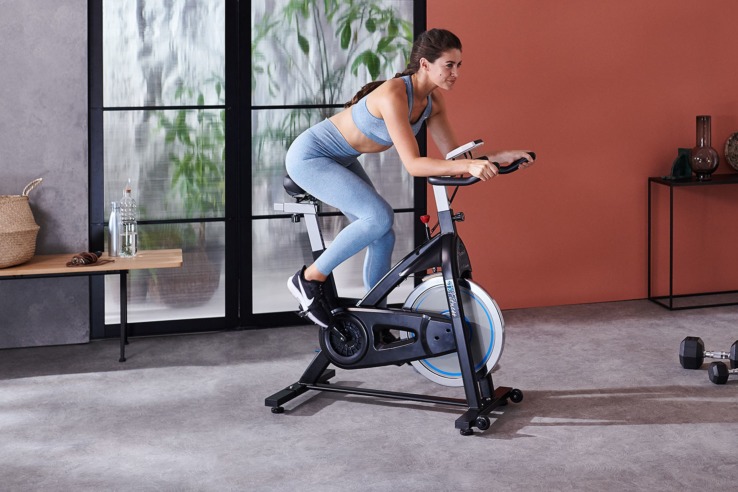 JTX Cyclo 3 Best price & full guide
The Cyclo Bike at a glance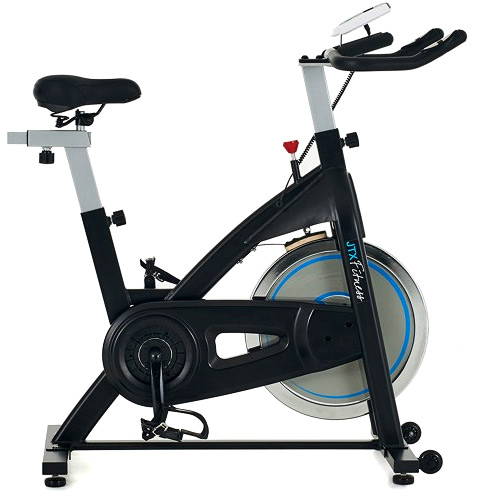 A quick overview of this exercise bikes features
Indoor racer bike
Infinity resistance via a dial
Ideal for cardio fitness and weight loss
20kg flywheel
Pulse sensors
Adjustable to all body sizes
Cushioned seat & handlebars
3 piece crank
---
What is the Cyclo 3?
The JTX Cyclo 3 is a high-quality exercise that gives the same experience you'd get in a spinning class, in a commercial gym. JTX actually make racing bikes for commercial gyms and they took those qualities and turned them into a home version.
What's different? This bike has a more home-friendly size. The frame is noticeably less bulky. There's nothing 'mini' about it though – it's ideal for all you 6 '½ foot'ers out there. Weight has also been reduced here (some commercial bikes are seriously heavy). You won't blow a gasket moving this bike around at home.
The rest of this review and guide will dive into some more depth about JTX's Cyclo bike and help you decide if it's for you… or not!
---
Who are JTX Fitness?

The JTX Cyclo 3 is an exercise bike from fitness company JTX Fitness. Not familiar with JTX? They design and build high quality commercial standard fitness equipment such as rowers, running machines and cross-trainers. They're known for their customer service and machines with high-quality components, build quality and aesthetics.
If you have any problems with your new bike, or any of their machines, they send engineers out to your home to fix it quickly, which is very rare and something we love.
You can find out more about the JTX Cyclo III, and different exercise bikes on the JTX website.
One thing that you'll read a lot about, if you research into JTX, is how good their customer support is.
---
Benefits to training with an upright bike like the Cyclo 3
Build cardio fitness – good for intense exercise
Tone up legs and core muscles
Lose weight – spinning is incredible at burning off calories *
* A recent study found after just 6 weeks using a spin bike, for 3 times a week, the people in the test moved from overweight to normal weights.
Watch the video below for a good overview of the Cyclo and all its features.
---
What's all this 'Infinity Resistance?' then?
Who doesn't like the sound of Infinity Resistance? While it sounds like a new series on Netflix, it actually refers to one of the way you adjust difficulty on the Cyclo 3. But what is it and does it matter?
It just means you've got a large control on the bike that you twist to increase resistance. Half a turn will simulate hill riding, It's the same thing you get on all gym bikes and it's a quick and easy way to add or reduce your work.
7 Things We Love About the Cyclo 3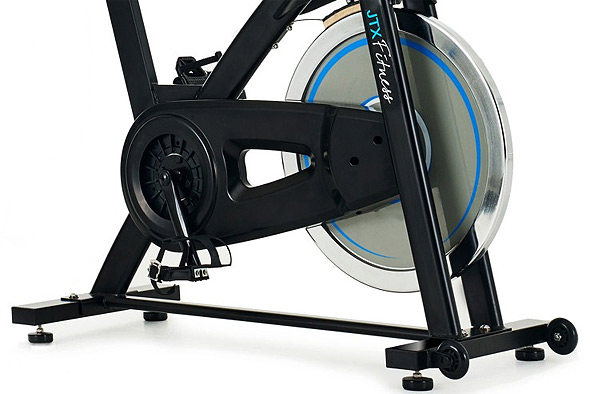 Whopping 20kg flywheel – One problem we've seen a lot with cheaper spinning bikes comes in the form of a light weight flywheel that's not going to provide much of a challenge. JTX's Cyclo thankfully has a substantial 20kg fly that's going to fight back even if you're a bit of a cycling legend.
You can tell the difference in quality – Based on the JTX products we've reviewed on Home Gym Experts, the one thing they do best is the build quality and the engineering in these machines. The Cyclo 3 has premium quality stamped all over it. It feels luxurious and like it will last a long time.
It's LIGHT! This bike comes in at a surprising 44kg. While you'll likely not be hoisting it up on your shoulders like some strapping lumberjack, it's definitely light work moving it to another room, or at least out of the way when you're done.
It's smooth – A combo of good quality engineering, the belt drive make for an impressive slick ride on the Cyclo 3.
Solid and robust frame – If you're taller or heavier than some, you might have struggled on some indoor bikes. One good thing with JTX's exercise bike is how solidly built it is. Pretty impressive for the weight they've got it down to. You can give this bike some stick, standing up, sprinting – all solid and stable.
Easy to put together – Not the most interesting detail but for anyone who hates assembling gym gear (count us in that group) this bike is really simple to put together. JTX are usually good when it comes to this and the Cyclo 3 comes mostly pre-assembled.
Comfort – Comfort is a huge thing for indoor bikes. Here, the seat is a good quality with foam padding. And the handlebars are also padded. There's the standard adjustments for height on the handlebars and the usual up/down and forward/back on the seat. Overall, surprisingly comfy for a spin bike.
---
Using the Cyclo 3 with Kinomap & other apps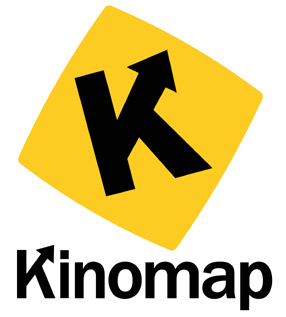 Is the Cyclo 3 compatible with online racing and apps like Kinomap?
If you're If you've never heard of this before, you use your tablet's or phone's screen along with an exercise bike (although it also works with things like rowing machines).
Once connected you do some of these cool things:
Race along famous cycling routes
Compare times and speeds with others
Do LIVE online races and events
Get trained by a proper instructor
The Cyclo 3 can't be used with Kinomap without a third party gadget to send data to an app. That sounds more complicated than it actually is. If you like the Cyclo spin bike but also want to do virtual races and track progress on your app, you'll need to buy a bluetooth device to track when the pedal moves.
You can typically buy these cheaply and then be able to use any fitness app you want to. Expect to pay around £30. A good one is the Wahoo RPM Cycling Cadence Sensor (Available on Amazon).
Here's a quick video showing some of the things you can get up to:
Reception of this exercise bike
What are the reviews like for the JTX Cyclo Bike?
One of the 3rd party independent sources for reviews on this fitness bike is Trust Pilot. The Cyclo 3 currently sits at 4.7 stars. At the time of writing, there's a good number of reviews of this product.

Here are some opinions from users of this upright bike:
"Great bike solid and stable suitable for a 6ft 2 16 stone man" 
Mrs Christine Millard
"Good basic spin bike. Works well and feels robust. We are using if with les mills on demand RPM and virtual spin class." 
Mrs Catherine Moodley
"Love this bike, using it several times a week now. It's very sturdy and was fairly simple to put together." 
Sarah Proctor
---
Why is this machine a higher price than a budget spin bike?
You can get an exercise bike for under £100 pretty easily. So what does JTX's bike have that makes it 3x more expensive than those models?
Better build quality
While cheaper bikes might look comparable in the photos, the Cyclo 3 is definitively made from sterner stuff. Everything from the frame, handlebars and other parts you see, to the inner workings are on another level to cheaper machines.
JTX Customer Service
I don't normally list customer service as a plus point but in the case of JTX it's worth mentioning. You'll be hard pushed to find anyone with a bad thing to say about them. Check out JTX's Trust Pilot rating here.

---
What's the console like on the Cyclo 3?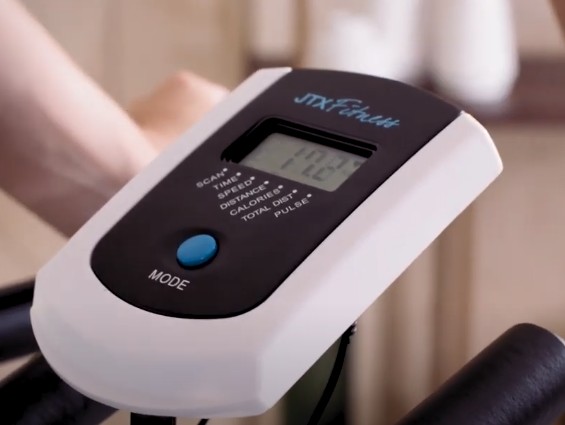 A simple, stripped back display
For the lower price of the Cyclo 3, the display is around what you'd expect. There's a single, small, but easy-enough-to-read LCD panel which will display:
Time
Speed
Distance cycled
Calories burned this session
Pulse
Or you can do the usual 'scan' between all of them. It's really good to have pulse sensors at this price range and the display gives you the basics. It's not flashy or sexy but for a spin bike at this price point, it will do.
---
Smaller stuff we like about the JTX Cyclo 3
Emergency stop – Hopefully you'll never need it, but the Cyclo 3 has the stop function that will give you peach of mind, especially if you're using toe clips.
Sitting pretty – The actual quality on the seat, from the material to the stitching (we really do check everything) looks set to last a long time. The seat is even spring loaded and one of the more comfy rides available.
---
Where can you get the best price for the JTX Cyclo 3?
While you can buy the Cyclo from third party places like Amazon, you can order it directly from the good folks at JTX. One thing you'll find with them is they've got seriously good customer service. Whether you've got a problem, or need to know how to use your machine, they've got a very good customer rep.
---
What are the negatives to the Cyclo 3 exercise bike?
No bottle holder
One strange omission with the Cyclo 3 is a bottle holder. Technically you could find some way to attach a bottle holder, but for such a sweaty exercise, it would have been better to have somewhere to store your bottle for a quick drink.
Doesn't connect directly to online services like KinoMap
One thing that would have been good with the Cyclo 3 would be a direct way to connect to your phone or tablet so you could use apps for virtual races, share your progress and track data within the apps. Sure, you can do it with extra third party gizmos, but it would have been great to see app integration, like the Cyclo 5 has.
The display is more basic than some other JTX bikes
The lower price
---
Full Cyclo V Specs
| Resistance | Electro Magnetic |
| --- | --- |
| Computer Console | 5" Colour LCD |
| Heart Rate Training | Via hand sensors, or heart rate strap |
| Bluetooth | Yes |
| Workout programs | 19 |
| Flywheel weight | 17kg |
| Pedals | Oversized, self-balancing |
| Seat | Cushioned saddle |
| Crank | 3 piece crank |
| Transport wheels | Yes |
| Dimensions | 128(l) x 61(w) x 152(h) cm |
| Boxed dimensions | 126(l) x 37.3(w) x 77.5(h) cm |
| Max user weight | 150kg |
| Free Accessories | Water bottle |
References and sources
The official JTX Youtube channel is packed with high quality videos of their products, if you'd like to check out other rowing and fitness machines.
Need more advice on which indoor racer to go for? The Cycling UK Forums are a great resource.
Find out more about what you can do with KinoMap here
If this is your first exercise bike, take a look at the NHS's cycling guidelines before you get started
Contact JTX on their website, or using the email info@jtxfitness.com
You can also contact them for help or any other queries on the JTX Cyclo 3 on 01273 453855
How good is JTX's customer service? Check out their Trust Pilot company reviews here. Spoiler alert: 4.5 / 5 stars.
Are you up to it? Check out the Live well website on NHS before you dive into your new exercise bike.