Welcome to our JTX Sprint 7 review, a look at the popular, mid-priced treadmill from UK-based JTX Fitness. If you're interested in buying this running machine and want to know if it's worth the money, or are looking for a decent treadmill at this price, this review is for you. We'll dive deep into absolutely everything you need to know it, and give our opinion on whether this is a good buy or not.
What is the JTX Sprint 7?
The JTX Sprint 7 is a motorized treadmill designed and manufactured by JTX Fitness. It has a motor that gives you a speed of up to 20kph which is powerful enough for beginners and more experienced runners. It's a good quality machine that features a powered incline, a high number of programs and can be connected to online running apps.
Here's a video of this running machine in action
It is sold at a competitive price and comes from a family of Sprint machines. Other models in this range are:
---
Where can you buy this treadmill at the best price?
Features at a Glance
Here are the main features you're getting with this treadmill: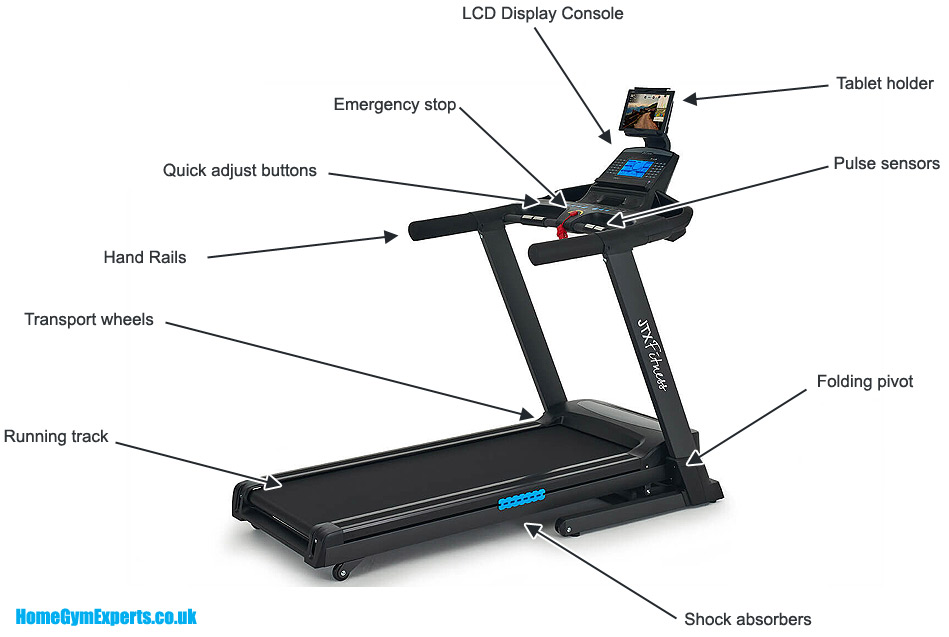 2.5HP motor
20 kph top running speed
15 levels of inline
Hand Pulse Sensors
43 Pre-set programs
Cushioned-step Running Deck
Free Tablet Holder
Simple folding design
Large LCD Monitor
Kinomap & Zwift Integration
Built-in Speakers
28 day money back guarantee
3 year in-home warranty
Max user weight: 130kg
---
Who are JTX Fitness?

The JTX Sprint machines are treadmills manufactured by UK based JTX Fitness.
Not familiar with JTX? They design and build high quality commercial standard fitness equipment such as rowers, bikes, running machines and cross-trainers. They're known for their customer service and top engineered machines with high quality components, build quality and aesthetics.
If you have any problems with your new treadmill, or any of their machines, they send engineers out to your home to fix it quickly, which is very rare and something we love.
You can find out more about this gym gear, and different treadmills on the JTX website.
One thing that you'll read a lot about, if you research into JTX, is how good their customer support is.
What do JTX Fitness get right?
There's a few things that JTX are doing right at the minute:
28 day easy returns – don't like your new treadmill? Not what you were after? You can send it back.
Free delivery – Nice seeing a company offering free delivery when many are charging a premium for larger machines.
In-home repair – This part of the warranty means someone will come to your home and fix your machine if there's an issue.
Good customer reviews – There's no hiding on places like Trust Pilot. And JTX have managed to maintain a good 4.6 star rating there.
---
Sprint 7 vs Sprint 5: what's the difference?
Before we get to the review, let's compare this machine to the next model below it. The sprint family step up in several main areas as the model number increases. The 7 builds on its cheaper sibling, the Sprint 5,  in several ways. It's also more expensive. Is the price hike worth the extra features? Let's look at what's actually being improved on here:
More powerful motor  – The improved version takes gives you an extra power boost over the sprint 5's motor. This equates to a bumped-up 20kph top speed over the 18kph on the 5.
High user weight and treadmill weight – The 7 is a heftier machine and allows for a 130kg max user weight, as opposed to the five's albeit respectable 120kg upper weight limit.
Overall, this treadmill offers a faster, sturdier machine than the 5 model. You'll have to balance up a) if you need that extra power, and user weight capacity and b) if it's worth the extra money. The 7 is a better machine but might be overkill if you're just going for light to medium-intensity running.
---
8 Things You Might Love About The Sprint 7
Good-sized, well cushioned deck – The JTX Sprint 7 has a large 145 x 51cm running surface which means users with longer legs won't feel cramped. The running surface has a good, bouncy feel thanks to Cushion step Technology that reduces the joints' impact by up to 30%.
Speed  – The treadmill is powered by a 2.5 HP motor. This power can let it speed up to 20 kph, which is high enough for even elite runners.
12% incline – The JTX Sprint has 15 inline levels that can lift it up to 15 degrees. It is designed to incline as smoothly as possible without interrupting your running session.
Measuring Your Heart Rate  – It comes with built-in hand pulse sensors that will measure your heart rate accurately and display it on the LCD monitor. It is a good option for stats lovers and those who want to keep an eye on the calories they burn. It's also polar strap compatible and well worth a buy if you find this is a feature you like using.
Wide range of programs and lots of 'em  – This treadmill comes with 43 different pre-set programs for all family members to choose from. It also allows you to customize your own program with your preferred speed and inclination.
Staying Hydrated  – Staying hydrated is essential to stay healthy and energized, especially during working out. You're getting two bottle holders to allow you to keep your drink by your side. You can drink without interrupting your workout.
Entertainment & Online apps  – Besides the large LCD monitor, there's a decent tablet holder that lets you watch your own media on your tablet while running. The machine is also compatible with the Kinomap app that lets you run on terrains from all around the world in the comfort of your home.
Saving Space – This runner has space-saving dimensions for home usage. It is also easily folded and it comes with built-in wheels that let you move it around the house with ease.
---
Where can you get the best price for the JTX Sprint 7?
While you can buy the Sprint running machine from third party places like Amazon, you can order it directly from the good folks at JTX. One thing you'll find with them is they've got seriously good customer service.
Whether you've got a problem, or need to know how to use your machine, they've got a very good customer rep.
---
Who is The JTX Sprint 7 Perfect For?
Powerful enough for experienced runners
This treadmill is a good buy for beginners and more experienced runners who need more power. It's capable of speeds up to 20 kph, which should keep pretty much everyone happy. This machine is suitable for you no matter what your fitness level is.
For anyone looking for a challenge
If you want an intensive cardio workout, the Sprint 7 offers you 15 hill running levels for those intense steep training sessions. Whatever level you're at, powered incline can help you improve your strength, endurance, and stamina, so don't be afraid to try it out.
If you haven't got loads of free space…
It's also a practical treadmill that you can set up anywhere in your house and fold up easily. It has fairly compact dimensions that won't hog too much space, folding up to 84(w)x 180(l)x 159(h)cm. It is also provided with built-in wheels that allow you to relocate the machine wherever you prefer. However, it is around the 85kg mark so it's not exactly portable.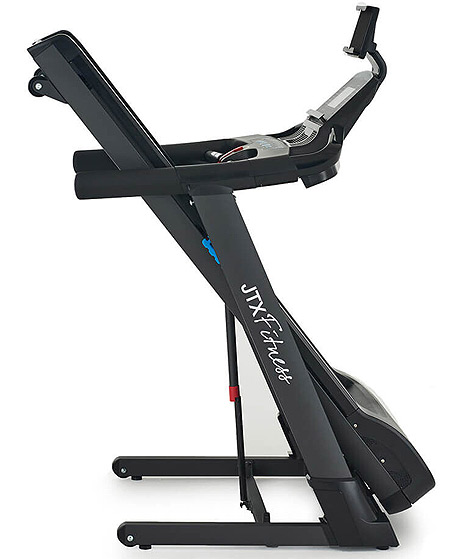 If you need something to keep you engaged
Long workouts can get boring, but the Sprint 7 offers you a wide variety of entertainment options. You can play your favourite music on the built-in speakers or place your tablet in the tablet holder and enjoy your own media. Additionally, it is compatible with the Kinomap app.
The Kinomapp app can let you enjoy an interactive and immersive workout experience by making you run on terrains from around the globe. It can control the speed and inclination of the treadmill to match that of the terrain, making for some very interesting workouts.
If you need something more than one person can use
Just like most JTX Fitness products, this running machine is a durable machine that is made of high-quality materials. It is solid enough to withstand intense and serious workouts.
---
Using
Using with Kinomap & other apps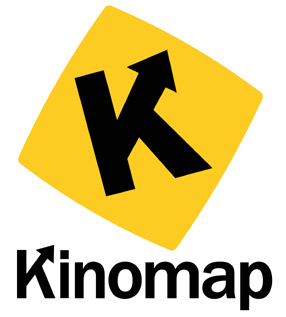 Is the Sprint running machine compatible with online racing and apps like Kinomap?
If you're If you've never heard of this before, you use your tablet's or phone's screen along with your treadmill (although it also works with things like rowing machines).
Once connected you do some of these cool things:
Race along famous cycling routes
Compare times and speeds with others
Do LIVE online races and events
Get trained by a proper instructor
The Sprint is compatible with Kinomap and other apps, and the free tablet holder that comes with the Sprint machine is actually really good. You can set your iPad, or Android tablet just where you need it to be to use online running apps.
Here's a quick video showing some of the things you can get up to:
---
Who Might Not Like the JTX Sprint 7?
There's no getting around the fact this machine is on the heavy side. If you want a light treadmill, this might not be your perfect option. However, you can move it around easily enough with the built-in wheels. Weight isn't a problem on the assembly side either; it also arrives 99% assembled.
If you don't want to pay for KinoMap
Kinomap is a subscription app. So if you prefer to not pay extra charges for the app, you will not enjoy the full experience. However, Kinomap has a lifetime subscription, so if you prefer that over a monthly subscription, it could be worth it.
---
Our Review: Is this treadmill any good?
The Sprint 7 is similar to the other machines in this product range and has some excellent features to offer.
Of course, no machine 'has it all' and there a few things that it could do better.
So here's the pros and cons to this machine and whether or not we think this treadmill is worth the asking price.
What we liked about the JTX Sprint-7
It's Comfortable and Durable
When you are investing in an expensive treadmill machine, it is the quality and durability that matters.
JTX Sprint 7 has a durable and strong steel frame. Due to this, it can handle heavy weight, along with providing stability to the user. The running track is also known to last 50% longer than other treadmills.
Additionally, the running area has proper cushioning. This allows you to run and sprint at any speed without damaging your knees. You can also hold onto the front handles comfortably due to their ergonomic placing.
This comes at a cost however and this is definitely not a budget running machine. Check out our guide to the best treadmills under £500 for that.
Plenty of programs to get stuck into
Ever have a machine, or use one at the gym with 12 programs that get old fast? This machine comes with a whopping 43 programs that tackle everything from calorie burning to kill climbing and a lot more. The pre-sets are all clearly laid out on the display and each have their own flavour.
In addition, you can adjust the level of difficulty yourself.
If you prefer incline-based workouts, then this treadmill is an ideal option. It allows up to 12% inclination. Additionally, it has a speed limit of 20 km/h which is perfect for both beginners and athletes for working out.
Assembly and Usage
When it comes to JTX Sprint 7, you do not have to worry about assembly.
It arrives mostly assembled, with a simple-to-follow guide to help you do the rest. In fact, 99% of it is already assembled. The rest 1% does not actually take more than ten minutes.
Once assembled, it is easy to use. This treadmill comes with a hydraulic lift and folding mechanism to close it easily and save up space. It also comes with a safety key that can stop the treadmill immediately during any emergency.
Great Technical Features and Other Accessories
Unlike the previous JTX Sprint models, it comes with some additional and advanced technical features for your ease.
The LCD monitor screen is seven inches, and shows the essentials in a clear, simple fashion. It's also back-lit so you use it in all lighting conditions. The pulse sensors included can give you details about your heart and pulse rate. These are never as good as a chest strap, but the Sprint 7 has a built-in receiver for this too. Although you'll have to fork out extra cash for the strap.
If you want to, you can connect your phone or tablet with the Kinomap app. This app has great features to make your workout sessions more fun. Additionally, you get to track your performance and gauge your workout efficiency.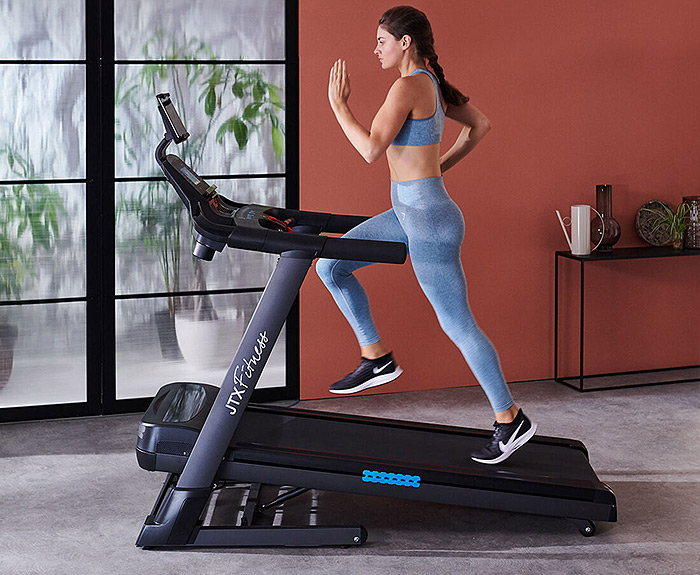 Customer Service
If you're facing any issue with your treadmill, you've got a rock-solid 3-year warranty here. The warranty period is for three years, a year more than previous JTX Sprint models.
Apart from your treadmill, the treadmill motor also gets its own ten years warranty.  If you are facing problems specifically with the motor, you can get it changed too.
And there's a no questions asked 28 day money back guarantee, where JTX will come collect the machine if you're not getting along.
---
What Could Be Better?
Some of the things we think need some improvements are:
Excess Weight
One common limitation seen in almost every JTX Sprint model is the excess weight.
This is not a huge issue. Indeed, a bit of heft in any gym gear can add to stability. However, if you are planning to keep it on the second floor, you may require the help of more than two people.
Incorrect Readings
Certain users have complained about incorrect readings on the console when it comes to incline and manual speed.
---
Our Final Verdict: Is JTX Sprint 7 Home Treadmill Worth a Buy?
The Sprint family of running machines are all made to a high standard and exceed what you might get in budget machines. It's also sturdy, comfortable and easy to use. The motor is quiet and powerful enough to hit a consistent 20kph.
Whether you're looking for a runner you can jump on and hit a quick-start speed button, or you're looking for something you can use for online running apps, this machine is going to keep you busy for years to come.
This is definitely not the cheapest running machine out there, but the quality JTX pack into their machines makes it well worth the price.
Highly Recommended
Full Sprint Treadmill Specs
Brand
JTX
Color
Dark gray / Silver / Light blue
Treadmill weight
85kg
Model
Sprint 7
Motor
2.5HP
Incline type
Automatic powered incline
# Preset programs
43
Incline level
0 - 12%
# incline levels
15
Running belt
Black diamond running belt
Console functions
Time
Pulse
Speed
Distance
Calories
Scan Mode
Incline
Pulse sensors
Built-in hand sensors, or via heart rate strap (sold separately)
Speed Range
0 - 20 kph
Max user weight
130kg
Frame material
Steel
Deck cushioning
8 Point shock system
Running track size
145(l) x 51cm(w)
Warranty
3 year in-home warranty
28 day money back guarantee (includes collection)
Tablet holder
Yes
Transport Wheels
Yes
Connectivity
Bluetooth
Integrated speakers
Yes
Polar chest strap compatible
Yes
Dimensions
84(w)x 180(l) x 159(h)cm
Folded Dimensions
84(w)x 120(l)x 159(h)cm
References and sources