Welcome to this review of the JTX Sprint 5. We'll be taking apart this home treadmill, learning what it does well, and giving our opinion on whether or not it's worth the asking price.
We'll cover the good and the bad with the Sprint 5.
What is the JTX Sprint 5?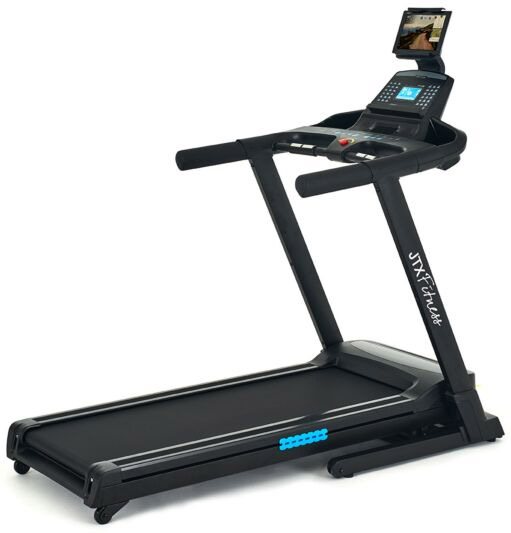 The JTX Sprint 5 is a motorized treadmill designed and manufactured by UK-based JTX Fitness.
This running machine offers a powered incline along with 43 workout programs. The 2.5HP motor is capable of speeds of 18km/h. The Sprint 5 has an LCD display panel but also comes with a tablet holder and can be hooked up to 3rd party apps such as Kinomap.
JTX Sprint 5 Best price & full guide
---
JTX Sprint-5 – At a Glance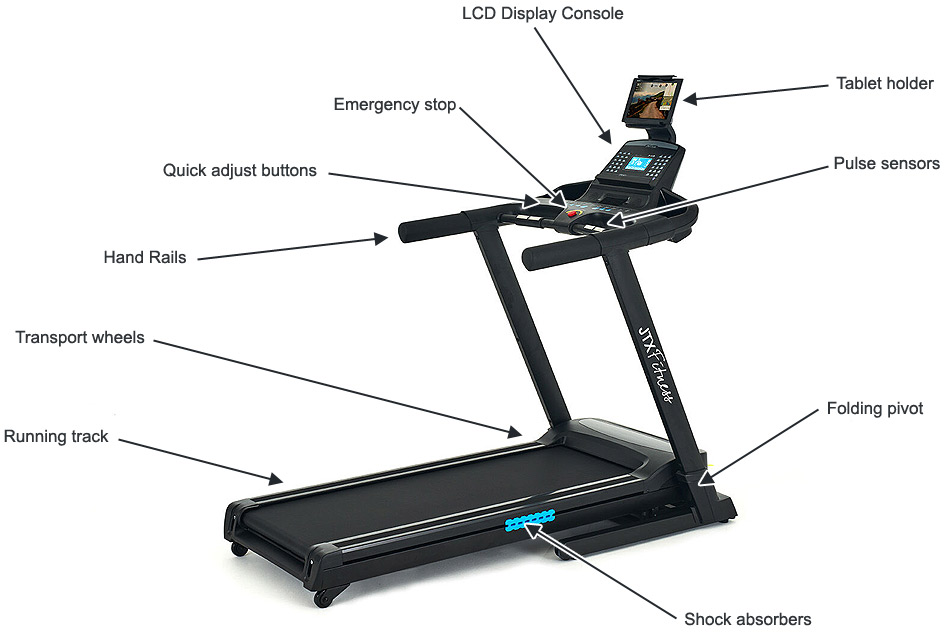 Here are the main features of the JTX Sprint 5.
18 kph Top Speed
12 Inclination Levels
43 fitness programs
Large Running Area
Easily Folded
Built-in Speakers
Cushionstep Running Deck
Large LCD Display
Noise Reduction Technology
Hand Pulse Sensors
Tablet Holder
---
The full family of treadmills in this range are:
---
8 Things We Loved About the JTX Sprint 5
Good sized running platform – A huge thing to be wary of when choosing a treadmill is the actual track size – the actual dimensions of the belt. The JTX Sprint 5 gives you a generous running area of 140cm x 48cm – wide enough to give you a comfortable running session. You don't have to worry about stumbling or losing balance, even if you're on the tall side.
High Speed – The 2.5 horsepower motor isn't the most powerful we've seen, but the JTX Sprint can reach a speed of 18kph, which will likely prove more than enough for all but the most hardcore runners. (It's fine for people newer to running too – you don't have to go that fast…)
Powered incline – The Sprint 5 has twelve levels of powered incline, which goes up to a twelve degrees slope. This uphill workout is good enough to increase your stamina and burn calories at a higher rate. We'd never buy a treadmill without decent powered incline and it's implemented well here.
Variety of Programs – This treadmill comes with 43 different programs to choose from. This is one of the higher numbers we've seen on a treadmill. While the difference between some of them may be marginal, there's still a lot of variation here to give you something different to try each running session.
Good display and tablet holder – When it comes to both displays and tablet holders, we could write for hours about the machines out there that fall flat on their faces on this front. Not so with JTX's machine; Here you get a backlit display that's packed with important stats, and a tablet holder that's at just the right height.
Built to last – If you've not seen any other JTX treadmills, or other machines, they're not the cheapest on the market but their gym gear is definitely built to last. Following this trend, the sprint can take some punishment and has a good, sturdy design and feel.
Simple buttons if you don't want anything fancy – Sometimes you don't want to connect to an app, or even dive into a training program. Sometimes you just want to press 'GO'. The Sprint has a good selection of simple 'quick start' buttons for both incline and speeds. If you just want to have at it, it's super-easy to get started with this runner.
Safety – The machine comes with a safety key that will help you stop it at any moment. This is important to keep you safe and prevent injuries.
---
Who are JTX Fitness?

The JTX Sprint series are a family of exercise bikes from UK based JTX Fitness.
Not familiar with JTX? They design and build high quality commercial standard fitness equipment such as rowers, bikes, running machines and cross-trainers. They're known for their customer service and top engineered machines with high quality components, build quality and aesthetics.
If you have any problems with your new treadmill, or any of their machines, they send engineers out to your home to fix it quickly, which is very rare and something we love.
You can find out more about the JTX Sprint 5, and different exercise bikes on the JTX website.
One thing that you'll read a lot about, if you research into JTX, is how good their customer support is.
---
Who is The JTX Sprint-5 Perfect For?
The JTX Sprint 5 is a powerful treadmill that runs up to 18 km/h. While most beginners cannot reach this speed, there's enough power here for those who want to step up the challenge.
It is also a great option for uphill workout lovers. It has 12 incline levels that can give you a very intense cardio workout. Inclination at a high speed can be very tough, but it will indeed enhance your endurance and stamina. No used incline before? Take it easy – it's one of the more tough workouts you can get.
The LCD can keep you entertained throughout your entire workout, especially with Kinomap and Zwift. These interactive apps offer a more engaging way to enjoy your exercise.
If you connect your treadmill to these apps via Bluetooth, the app can adjust the inclination degree of the treadmill to match the inclination of the terrain you are watching on the display. It's a great way to stay entertained while running and get some important stats on how you're progressing.
It is also a great option for those who are looking for a durable machine that can withstand intense workouts without breaking or wearing down over time. This machine can work for people below 350 pounds.
The JTX Sprint 5 is for you if you are looking for a practical, high-quality machine that does not take a lot of space in your home. It is easy to fold and store anywhere. It also has wheels that can let you move it around easily.
---
Where can you get the best price for the JTX Sprint 5?
While you can buy the Sprint running machine from third party places like Amazon, you can order it directly from the good folks at JTX. One thing you'll find with them is they've got seriously good customer service.
Whether you've got a problem, or need to know how to use your machine, they've got a very good customer rep.
---
Who Might Not Like the JTX Sprint 5?
If you weigh over 350 pounds, then this treadmill is not made for you. It can start shaking and become wobbly.
The machine does not come with clear instructions on how to assemble it. So, it might need some time to figure it out. If you cannot assemble it, the company offers good customer support that can help you out.
The Kinomap app is purchased. So if you would not like to pay extra charges, you will not enjoy the full experience of the treadmill.
---
Using the JTX Sprint 5 with Kinomap & other apps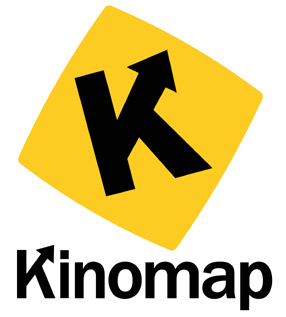 Is the Studio compatible with online racing and apps like Kinomap?
If you've never heard of this before, you use your tablet's or phone's screen along with a running machine (although it also works with things like rowing machines and, more commonly, cycles).
Once connected you do some of these cool things:
Race along famous cycling routes
Compare times and speeds with others
Do LIVE online races and events
Get trained by a proper instructor
Unlike some machines, the Sprint treadmill can be used with Kinomap without the need of a third party gadget to send data to an app. There's also a respectable tablet holder built into the Sprint 5 that's way better than the bog-standard shelf we've seen other runners opt for. (Or just no tablet holder at all – which is also common!)
Here's a quick video showing some of the things you can get up to:
---
Review: What We Liked About The JTX Sprint 5 Treadmill
If you're willing to buy the JTX Sprint 5 treadmill, there are certain things you may want to know before laying down the cash.
According to us, this treadmill has some great features to make your workout routine fun and productive. However, there are also certain things that JTX could have improved upon.
Keep reading and decide whether it fits your criteria or not.
---
Easy Assembly and Usage
This definitely can't be said for all treadmills but assembling your JTX Sprint is not complicated at all. There's very little to do, as it happens.
The assembly just takes about 10-15 minutes or a maximum of half an hour. You won't need a separate person to assist you in the treadmill assembly. And should you get stuck, JTX are one of the better companies support-wise and are a phone call (or live chat) away.
Comfortable to Use For Everyone
The JTX Sprint 5 has a decent upper weight limit of 120kg – a huge capacity compared to other treadmills of this price range, or budget machines.
Talking about comfort, this treadmill has an expansive running deck that can give you a free area to walk or sprint without any trouble. The speed settings make it an ideal treadmill for both beginners and athletes.
Additionally, the running area has some seriously impressive cushioning. Such cushioning can prevent jerky motions to your knees that can cause long-term damage. While it's not going to absorb all the shock, it's doing a good job and makes for a more 'bouncy', less 'thuddy' run.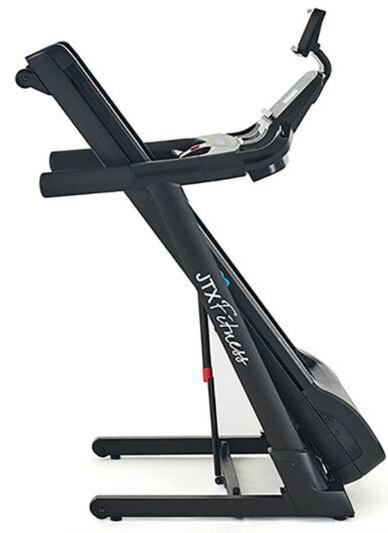 Great Design and Workout Options
JTX Sprint 5 treadmill has an excellent design that is based on ergonomics. It ensures your comfort along with the proper balance for more efficiency. This treadmill has a chunky, heavy steel frame that makes it durable and stops it jiggling around when you get up to any kind of speed.
The treadmill motor here uses something called the SmoothDrive system feature that offers its users a smooth and easy-going treadmill experience.
It offers variations in your workout routine by offering an excellent speed. If you want to ramp up the incline, it allows you level-by-level increase so you can find just the right level.
Another great workout feature the JTX machine does a good job of is the heart rate-based programs. This treadmill allows you to keep track of your heart rate and pulse. There are 43 custom made heart rate workouts to enhance your health and fitness.
If you are interested in measuring your heart rate, you're better off getting a polar chest strap further down the track as the Sprint 5 has the receiver built in. They're not expensive and offer a far more accurate measurement.
Good Treadmill and Motor Warranty
Another great thing about this treadmill is its warranty and the brand's customer services.
If you do not like the treadmill or hit any difficulties, you've got a sound warranty here. The JTX Sprint 5 treadmill offers a warranty period of two years.
If there is any problem with the treadmill motor, you do not have to pay extra because there's a warranty period of ten years on it. This warranty also includes the costs of treadmill parts.
JTX have highly-trained workers and engineers that can assist you with any treadmill-related issue. So, you can contact their customer help and get the repair carried out effortlessly.
Advanced Technology and Other Accessories
Apart from physical and workout features, JTX Sprint 5 Treadmill has other technical features too.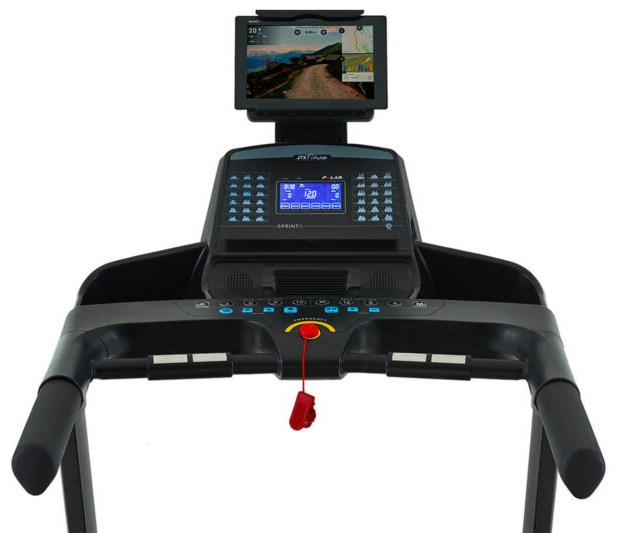 If you love training to your music to keep you motivated, this treadmill comes with good-quality MP3 speakers you can blast your training playlist through.
You can also connect your treadmill to your phones or tablets and get to track your personal workout data. This can help you in analysing your performance.
Other accessories include one of the best tablet holders we've seen for a treadmill, that's set at a proper position where you can stream YouTube videos or follow workout routines, and third party apps.
---
What Are The Down Sides To the JTX Sprint Machine?
There are only a few things the Sprint 5 treadmill can improve upon. Some of these cons are given below.
Extremely Heavy to Carry Alone
One difficulty you might face after getting this treadmill is its enormous weight. We like heavy here at Home Gym Experts. Heavy is sturdy! Just don't expect to carry this treadmill on your own. In fact, you may require more than two people to move it.
Not Self-Lubricating
Another issue people face is that this treadmill is not self-lubricating. You'll need to make sure you oil it at regular intervals to keep that silky smooth belt movement.
---
Our Final Verdict: Is JTX Sprint 5 Home Treadmill Worth a buy?
As mentioned, JTX Sprint 5 has excellent weight capacity, heart-rate based workout options, easy assembly, ergonomic design, and good warranty service.
It's a cut above many machines under and in this price range, and has JTX's now trademark level of quality. There's power here – enough for new comers or experienced runners a like. And both the 43 pre-set workout programs on the Sprint, and the tablet holder and Kinomap integration open up lots of training possibilities.
Overall this treadmill is definitely worth buying if you're looking for a solid machine for your home or gym.
Highly Recommended
---
Full Sprint Treadmill Specs
Brand
JTX
Color
Dark gray / Silver / Light blue
Treadmill weight
78kg
Model
Sprint 5
Motor
2.5HP
Incline type
Automatic powered incline
# Preset programs
43
Incline level
Up to 12%
Running belt
Black diamond running belt
Console functions
Time
Speed
Distance
Calories
Scan Mode
Incline
Pulse sensors
Yes
Speed Range
Up to 16kph
Max user weight
120kg
Frame material
Steel
Deck cushioning
8 Point shock system
Running track size
140cm x 48cm
Warranty
Tablet holder
Yes
Transport Wheels
Yes
Connectivity
Bluetooth
Integrated speakers
Yes
Polar chest strap compatible
Yes
Dimensions
72(w)x 162(l)x 150(h)cm
Folded Dimensions
74(w)x 105(l)x 150(h)cm
References and sources
The official JTX Youtube channel is packed with high quality videos of their products, if you'd like to check out their other treadmills
Need advice getting started running? The NHS running for beginners has you covered.
Find out more about what you can do with KinoMap here
Contact JTX on their website, or using the email info@jtxfitness.com
You can also contact them for help or any other queries on the JTX Sprint 5 on 01273 453855
How good is JTX's customer service? Check out their Trust Pilot company reviews here. Spoiler alert: 4.5 / 5 stars.
Are you up to it? Check out the Live well website on NHS before you dive into your new running machine.