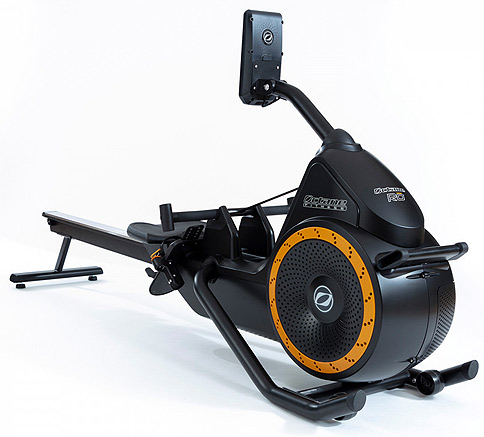 What is the Octane Ro
Designed as part of Octane Fitness's trifecta of workout systems, the Octane Ro is a sleek, modern and powerful gym quality rowing machine with a huge amount of reasons to recommend it.
Packed with features like its dual resistance system, in-built fitness plans and a whole bunch of smart comfort and usability choices, the Ro is easily the equal of the systems that you'll find in expensive gyms and fitness centres, at a surprisingly reasonable price point.
Who are Octane Fitness?
What do you get from training on the Octane Ro
Rowing machines are an excellent form of cardio, and one of the best single cardio machines you can choose to use, especially if you only have the option to choose a single one.
Compared to a lot of cardio machines, especially treadmills and bikes, rowing machines hit a lot more of your body; up to 85% of your major muscle groups, including the back, arms and core as well as the legs. Rowing machines aren't just for cardio, either. Quick high intensity interval training (HIIT) programs can also provide serious strength training benefits.
But despite the fact that you can perform hugely intense workouts on a rowing machine, they're really low impact on your body. The chances of injuring yourself on a rower is so much lower compared to a treadmill, so you can push harder, and hit your goals faster.
Lastly, rowers like these are versatile. With most cardio machines, they basically do the one thing, and that's it. But you can switch up the Octane Ro, using different motions to target various muscles, including your back and arms, because of it's innovative handle design.
---
Key features
Dual air and magnetic braking resistance
Multi-grip handlebar and oversized catch
7 inch backlit LCD display
6 workout programs and calorie burn meter
Max 14 interval training program
10 levels of dual resistance
Quick release foot straps
350lb (160kg) max user weight
Mobile storage point
Tilt up storage
10 year frame warranty, 3 years parts, 1 year labour
Who is this best suited for?
As one of the staples of cardio exercise, rowing machines are are great choice for home gyms, especially considering the list of training benefits we've already mentioned.
The Octane Ro is a powerful and effective home workout station. It doesn't have the flashy features of competitor systems. Instead, it focuses on delivering a powerful, effective workout with solid, effective, incredibly quiet resistance.
The Octane Ro is perfect for people looking for a gym-quality rowing machine without any flashy electronic features that's simple to set up, robust and reliable.

What we like about the Octane Ro
Exceptional resistance
The single best thing about the Octane Ro is the dual resistance system it's built around.
Cheaper rowing machines generally use an air resistance system. There's two downsides to these.
One, as the resistance goes up, the movement tends to get choppy, throwing you off your rhythm and making the exercise much less effective.
Two. At high resistances, they're ridiculously loud.
The Ro eliminates these issues with a dual resistance magnetic and air system. As you scale up the resistance, it's provided by magnetic brakes acting against the flywheel. Because there's no physical contact, the action stays smooth, even at the highest levels of resistance. And because you're not fighting against the air and forcing it through the front turbine, the whole thing is much quieter.
The Ro is also belt rather than chain driven, which makes the action even smoother, even when you're at the top end of it's 10 resistance levels.
Innovative multigrip handlebar
Most rowing machines can only be used in a single range of motion, the regular two hands to chest pull back. But the Octane Ro has been built around multiple ranges of motion, which gives you several different ways to use this.
The multi-grip handlebar is incredibly comfortable when used from the standard position. But you can just as easily switch to a side rowing posture, which looks and feels like you're rowing a canoe or kayak.
It's hard to overestimate the effectiveness of this. Switching the movement completely changes the focus of the exercise, and allows you to target entirely different sets of muscles. While this is obviously perfect if you compete in any sort of rowing sport, it's also awesome if you've been looking for a new way to blast your back muscles, and it's great for both general strength and endurance.
The toe straps are brilliant
While this sounds like a strange thing to list as a pro on any rowing machine, the Octane Ro nails a problem that so many rowing machines have: how you strap your feet in.
One issue we've seen with even some of the more expensive rowers, including the Concept to, especially after prolonged use, is with the straps going slack. They're also a bit fiddly when you think about it.
Octane's rower has an innovative system where you simply put your foot in and pull on a tightening loop. While a simple button releases the strap. You don't realise how good it is until you see it in action and although a small detail, it saves time and is really fast to get onto the machine with these straps.
Of course, the same can't be said for the vertical adjustment on the pedals. This is as clunky as it is with other machines, opting for the dual holes, with the pegs where you have to 'hop' the pedal down to find the right setting.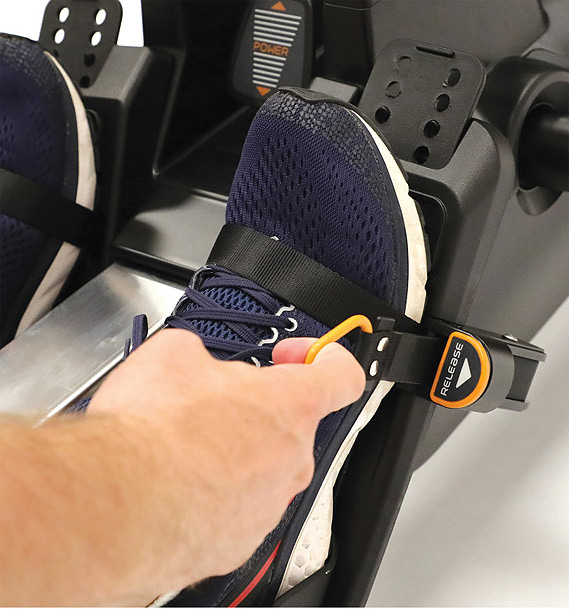 Incredibly easy to use
For beginners, setting up a modern piece of exercise equipment can be an odyssey.
The Octane Ro is designed with beginners in mind. It's as simple as sitting down, hitting the 'Quick Start' function, sliding your feet into the patent pending easy fit straps, and getting started. Once the machine is assembled, even if you've never used a rowing machine before, you could be up and running in literal seconds.
Decent variety of workout plans
While it might not have an interactive touchscreen, the 6 built in workout plans that come installed in the machine offer a great amount of variety, whether you're just starting out or a seasoned pro.
As we already mentioned, there's a quick start mode that lets you just sit down and get started.
On top of that, Octane Fitness included their popular Max 14 Interval training protocol. This is a scientifically backed HIIT workout that only takes 14 minutes to complete but delivers serious results.
The backlit LCD display is simple to use, and gives you a constantly updating stream of information, including:
A dynamic calorie meter
Your personal best and current effort
Real time performance stats
Strokes per minute
Watts output
Distance
Time
Heart rate (with heart meter attached)
Great construction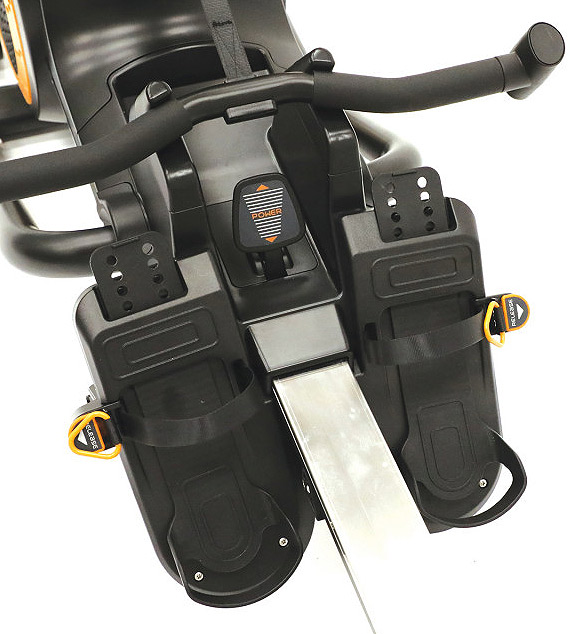 From top to bottom, it's hard to find fault with the Octane Ro. The frame is sturdy and robust, weighing in at 129lbs (59kg.) For a rower, it has a pretty large footprint that gives it huge stability, but despite the bulk it's actually really easy to move and store by tilting it upwards and rolling it around on the built-in wheels.
The max user weight is a huge 350lbs (159kg,) and the included seat with ergonomic contours is comfortable, even at the end of long sessions for heavier users.
This is all backed up by a fantastic warranty. 10 years on the frame, with 3 years on parts and 1 on labour. That's a match to most other industry leading warranties, and gives you a little bit more peace of mind regarding your investment.
What we don't like about the Octane Ro
Problems with assembly
While it doesn't happen often, some buyers have mentioned issues with alignment on bolts, or certain parts coming with imperfect moulding.
However, the whole thing is covered with a bulletproof warranty, and Octane Fitness have great customer service, so any issues like these are always going to be resolved quickly and without problems.
The control system could be better
This is our main issue with the Octane Ro. With systems at this price point it's usual to see a multimedia touchable set up for the controls, generally in the shape of a touchscreen or detachable tablet.
The Octane Ro … doesn't have that. Instead, you get a relatively old fashioned LCD style display, which is only adequate for the cost. While the simple design does exactly what you need it to do, you aren't going to have the option for interactive training, like the iFit program you might find on machines by NordicTrack or other competitors.
There's no heart rate monitor included
This is a minor quibble, but this machine doesn't come with a heart rate monitor, which could easily be included. Which is a shame, considering the price you're paying, and the minor added cost of a heart rate band.
On the upside, it comes ready to plug any existing heart rate monitor into it. Whether you've already got one, or you pick one up at the same time, it's simple to set up and works perfectly.
Final thoughts
What the Octane Ro does, it does incredibly well.
The entire machine is solid, from start to finish. A wide range of resistance levels delivered by twin methods. The magnetic resistance is powerful, and makes the machine so much quieter than standard rowing machines, and the performance across the board is great.
The flip side to this is the lack of multimedia systems or live training programs. If that matters to you, look elsewhere. If you're just looking for a powerful, effective rowing machine that's going to last years, the Ro is a great choice.
References & Further Reading