Today we're taking a look at the SportsTech F31 treadmill in a new review for 2023. This is a new treadmill from the German company and offers a mid-priced treadmill available that's available on Amazon UK today.
What's this running machine got to offer? Is it worth the price and where does it fall short? Read on and let's find out if this online treadmill is actually any good.
What is the Sportstech F31 Treadmill?
This is a mid-priced home treadmill from German-based gym gear manufacturers, SportsTech. This running machine is a low-noise, powerful portable home exercise machine with a host of features to make training fun.
The F31 is 'app compatible' and can be used with Apple and Android fitness apps to enhance your training experience. It has all the features you'd get from a commercial gym treadmill including powered incline. The motor in this machine is 4HP.
The self-lubricating technology means that you don't need to handle messy oil to keep your treadmill running smoothly, and the F31 delivers an impressive 4hp peak power in a stylish and compact frame. The F31 provides a spacious, 6-layer high-tech running surface of 120cm x 42cm to suit a variety of user stride lengths.
The six-zone cushioning system provides a joint-friendly surface for your training with speeds up to an impressive 16km/per hour (9.94 mph). You have the option of 12 onboard training programs to enjoy music through 2 high-quality stereo speakers. You also have the option of AUX and MP3 to play your chosen tracks to boost your mood.
Your tablet fits comfortably on a designated holder, and you can use Kinomap for a variety of round the world virtual trails.
---
 The Sportstech F31 Features at a Glance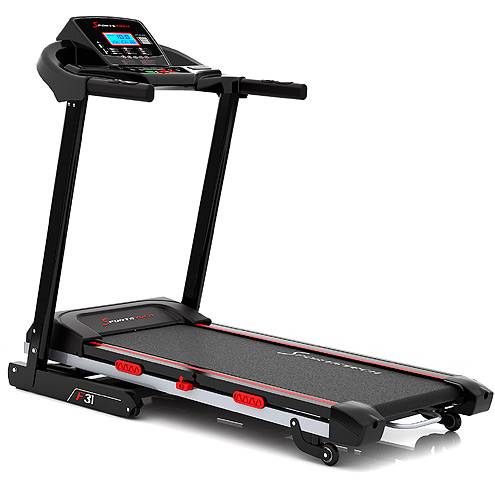 Powerful 4hp continuous power and 4hp peak power motor
Low noise operation of below 75dB
App compatible multimedia console that supports Kinomap
Tablet holder provided
2 AUX and MP3 compatible stereo speakers
5.5″ LCD monitor with clear stats such as time, distance, calories, and speed
6-Zone cushioning system to protect knees and joints
5 Layer high tech running surface of 1200x420mm
Self-lubrication technology for easy maintenance
Slope adjustable up to 15°
Unique foldable design with 2 inbuilt castor wheels
Pulse belt included
195 x 89 x 36 cm dimensions
84.5 Kilograms
User max 120kg
Check Current Amazon UK Price
---
Who are Sportstech and are their treadmills any good?

While not as well known as your NordicTracks, Reeboks or Marcys of the fitness world, Berlin-based Sportstech is a big sports brand and seem to have really increased their gym gear over recent years and make a name for themselves.
Sportstech has a wide range of fitness machines, to suit different budgets. And their treadmills, bikes and rowers are good quality, and they seem to be more focused on more futuristic tech like online connectivity, built-in.
We've seen products from them such as rowing machines, exercise bikes and of course, treadmills. They tend to review well, have good customer service, and get around 4 – 5 star review, on average. You can read user reviews on Amazon here.
Check Current Amazon UK Price
---
What you'll get training with a treadmill like the F31
Burn Calories and Lose weight
The main reason most people will buy this machine is to lose weight and get in shape, AKA work on their cardio fitness. Treadmills are the go-to machine for both of these. I'm an avid runner myself and have used treadmills for as long as I can remember. Combined with a bit of discipline, you can totally transform your body and fitness with this machine.
According to your weight and speed, you stand to burn considerable calories when using a treadmill for exercise. For example, a 155-pound person running at 12 minutes a mile can burn 298 calories in only 30 minutes, and a 185-pound person will burn 355.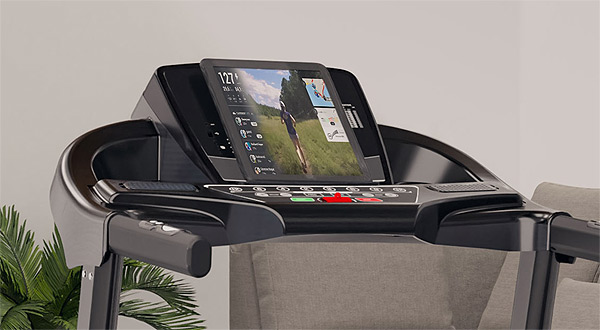 This high-calorie burn rate makes an indoor treadmill such as the F31 a practical and portable solution that can help you lose weight.
Improve Your Heart Health
Regular aerobic training on your indoor treadmill will improve your blood circulation, reduce your blood pressure, and reduce your chance of heart disease. Treadmill training lowers low-density lipoproteins or bad cholesterol and raises your high-density lipoproteins (good cholesterol), which reduces the chance of blood vessel disorders.
The F31 provides a pulse belt so that you may measure your heart rate to optimize your performance. The LCD display has clear, backlit information so that you may measure your progress easily on the built-in console.
Builds Your leg Strength
Running on a treadmill is an efficient way to build up your leg muscles, including your:
Quadriceps
Hamstrings
Calves
Hip flexors
Glutes (your bum!)
You may use the Kinomap app to integrate upper-body training into your exercise routine to compliment your lower body focus while running on your treadmill.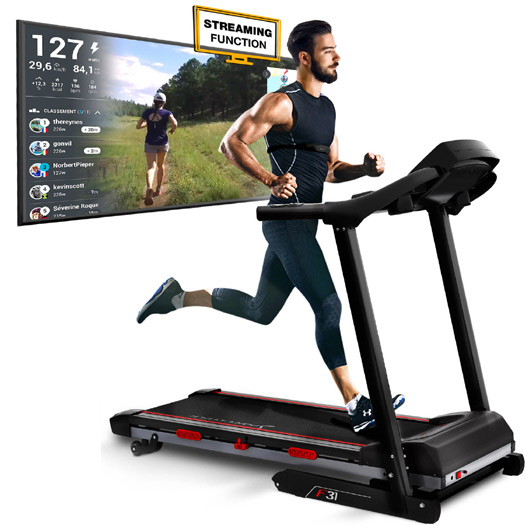 Versatile Use
A home treadmill can be used at any time and hour and provides a convenient and safe means to exercise without leaving your home. Treadmills give the user control over their workouts and adapt themselves to all levels of fitness.
The impressive range of 16 km per hour suits those with high fitness who enjoy a brisk run, while those who are building up their endurance have various walking speeds from which to choose.
---
Who is this treadmill perfect for?
With a slew of similar-looking running machines on the market, who will get the most out of this one?
The Sportstech F31 is excellent for those who require light to moderate aerobic exercise from their home's comfort. The F31 adapts well to households with several users who may take advantage of the extended range of speeds and incline features.
People who find themselves working odd hours or too busty for the commute to and from costly gyms would benefit from the F31 portability and can choose to work out when it suits them.
Fun to share
The F31 is also fantastic for those in multiple occupant households with low noise technology that will not disturb other household members while training occurs.
Aerobic exercise on a treadmill has been proven to provide a host of health benefits such as heart health, reduced stress, and improved sleep patterns. The F31 treadmill suits those who wish to increase their physical stamina and health from the safety of their own homes.
Who should avoid the F31?
The Sportstech F31 will not suit users over the weight of 120 kilograms due to the manufacturer's weight restriction.
---
Review: What we Liked about the F31 Treadmill
Compact and easy to store
We really liked the sleek lines of the unit once we had it assembled. The clean black and red lines look stylish but are quite solid and sturdy. The unit is on the heavier side, and as a woman, I could not carry the 84.5 kg unit and needed assistance.
However, the foldable design makes it easy for a lighter person to move the unit on its caster wheels from room to room without difficulty. You're still getting a respectable 120cm run length and the width of the track is just over 42cm. A good size surface and a compact design.
Comfortable and Smooth running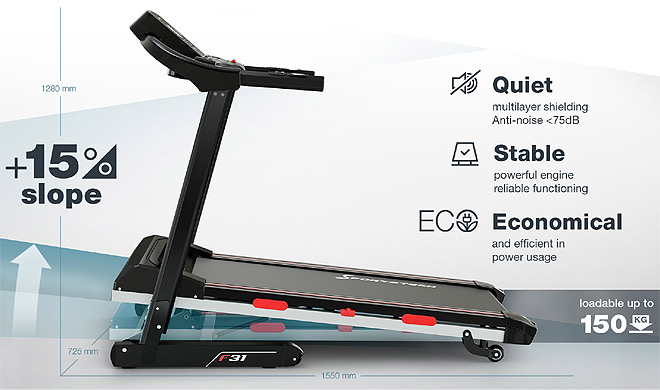 One of the things that varies a great deal between treadmills is how bouncy (for want of a better term) the running track is. And this is important as it will absorb a lot of the impact your knees would otherwise have to take.
The cushioned surface on this F31 is way better than what we've seen on the ultra-budget machines and really makes for a more gentle, less 'juddery' run. Even over extended runs, the F31 provides a softened impact that is kind on the knees and joints.
You'll really like Kinomap
One of the main selling points for this treadmill is its ability to use online apps like Kinomap. Getting this up and running is dead easy here. You'll connect the machine via Bluetooth, download Kinomap app to your tablet and you're good.
As well as more detailed stats on each run, you'll be able to enjoy a host of runs from locations all over the world.
Kinomap is an app that builds exercise routes around a Google Maps route that you specify. This means you have a functionally infinite amount of runs you can take because you're never going to be able to run the entire world!
Apps like these are becoming an increasingly popular way to exercise, and all of the big brands are adopting it, so seeing it here is a welcome addition.
On top of these, the treadmill also has the option to link via Bluetooth, USB, or MP3, letting you run your own music or shows through the screen.
Nice quiet operation
So many treadmills sound like a herd of buffalo crashing across the savannah, so we liked the sound control feature of the F31. Once in operation, we could barely hear it in the next room beyond the sound of footfalls, ubiquitous on home treadmills.
Check Current Amazon UK Price
---
What Could Have Been Better?
The 5.5″ LCD screen is a bit small and looks relatively cheap
With so many brands offering larger digital screens, we would have liked a more updated display feature. The display console, on the whole, is functional – it shows what you need and there's a decent selection of gym-style programs that anyone familiar with a treadmill will feel at home with. But the presentation here has a budget feel to it.
Thankfully most people will be adding their tablet over the top of this so it's not exactly a deal-breaker. We've seen worse built-in displays but it could have been better at this price point.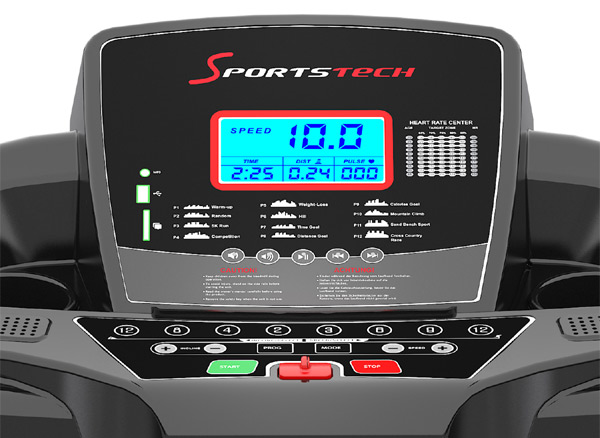 The unit does not have a pause function
You need to reset your training if you have to step off the treadmill, which can be a tad irritating to some users. Personally, it's not something I have ever used but I know some people like to be able to stop and start their runs easily.
Conclusion: Is this treadmill actually worth it?
The Sportstech is good value for the price and is a sturdy machine with enough power to suit most exercise needs and fitness levels.
The controls are intuitive and user-friendly, and the unit folds up neatly for space-saving.
The self-lubricating track system saves the hassle of maintenance, and the unit is a solid buy for those seeking home exercise.
If you like the sound of what Kinomap has to offer, then definitely go for it. This is a solid running machine that should last a long time, and the online stuff really does keep you motivated in your training program.
Check Current Amazon UK Price
---
Sportstech F31 Full Specs
Brand Name
Sportstech
Model
F31
Color
Black with red trim
Display type
LED console
Console functions
Time
Speed
Distance
Calories
Scan Mode
Pulse
Via wireless pulse belt, included
Speed Range
Up to 16km/h
Max user weight
120 kg
Incline
15% incline
# Preset programs
13
Deck cushioning
6 zone cushioned running surface
Running track size
120cm x 42cm
Built in speakers?
Yes
Machine weight
85kg
Horsepower
4HP DC motor
Lubrication?
Self-lubricating system
Folding design?
Yes
Kinomap compatible?
Yes
Tablet holder
Yes
Accessories
Pulse belt
Video assembly instructions
Yes
App integration
Yes
Warranty
12 months on parts
---
References and further reading