Welcome to our NordicTrack S22i review. In this guide we'll be taking an in-depth look at this home exercise bike and finding out what it gets right, and where it falls short.
What is the Nordictrack Commercial S22i?
The NordicTrack S22i is a very high-quality exercise bike that comes with interactive features that make working out exciting and fun.
The S22i comes with a one-month iFit family membership that accepts five different user profiles for a customized experience. The iFit allows users to engage in live, studio, and virtual global locations for which iFit is famous.
One of the main stand-out features is it's giant 22'' interactive HD touchscreen. This streams your iFit workouts seamlessly and displays your stats. It also has a clever pivoting system where it can rotate a full 360°, allowing for off-bike exercise classes too.
Another thing we don't see often on gym bikes is the -10 to +20° incline. This gives users plenty of scope to up their endurance along with 22 digital resistance levels of whisper silent magnetic resistance.
The S22i comes with a host of features that make it stand out from its competitors with an iPod compatible speaker system and two high-quality 3lbs dumbbells for increased upper body strength. This machine comes with NordicTrack's meaty 10-year warranty on its frame, 2 years on parts, and 1-year labour warranty.
We'll get deeper into the features in the rest of this article, along with our review of whether or not they're any good.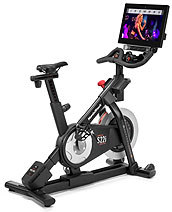 The NordicTrack s22i is a luxury home exercise bike that's built like a tank and offers excellent online training facilities.
Nordictrack S22i Features at a Glance
Online training and classes – On-demand cycling classes and virtual global location-based training through iFit with a one-month family membership for free
Instructor controlled stats – both live and recorded classes can adjust the bike's resistance on-the-fly
22 inch HD touchscreen – on a 360° rotational pivot. Full colour, HD.
22 difficulty levels – using silent magnetic resistance
Adjustable level feet – and transport wheels to move around
-10% t0 +20% incline and decline – Add extra difficulty to vary your workout
2 x 3lbs dumbbells provided – Some classes use hand weights too
iPod integrated speaker system – high-quality dual speakers
Easy-adjust seat and seat post – quick-adjust knobs for height, forwards and back
350lbs / 158kg – user weight capacity
The fan system – is easy to reach and well placed below the console
10-year frame warranty, 2-year parts, and 1-year labour
Dimensions –  59" x 22" x 60"
---
Who are NordicTrack?

NordicTrack are a long-running luxury exercise machine brand, known for pushing boundaries and advancing the idea of what technology can be used for when it comes to home exercise.
While anyone into treadmills will likely have heard of them, you'd be forgiven for not knowing Nordic have a line of rowers (and other gym gear) on the market.
---
Benefits to Training with the NordicTrack S22i
Lets take an in-depth look at what the real benefits to training with this bike are, over other uprights on the market.
Makes training … fun
After the initial interest in any new fitness gear you buy has passed, it's easy to get really bored and demotivated. If there's one thing the S22i does better than pretty much any bike we've seen is, it keeps you seriously invested in your training. As long as you use the iFit service (you get 1 month free membership) you'll never be stuck for a new workout, or something to pass the time.
Works Out the Whole Body
Unlike so many home exercise options, NordicTrack's S22i provides engagement to the upper body as well as the lower body. You'll be working pretty much every muscle:
Quadriceps
Hamstrings
Glutes
Chest
Back
Triceps
Biceps
Core
The swivel screen is also there for a reason: you're free to turn it towards a nearby workout space and try one of the thousands of non-bike related exercise classes. Even if you're buying this machine for the cycling aspect, we'd encourage you to check out what's on offer. You might find an awesome new class that will surprise you.
Burns Calories and Reduces Excess Weight
Upright cycling is an excellent way to shed those extra kilos. Depending on your weight, home cycling can burn between 250 to 400 calories in only half an hour. Because the S22i has 22 magnetic resistance levels, you can increase your calorie burn by increasing your workout intensities as your endurance increases.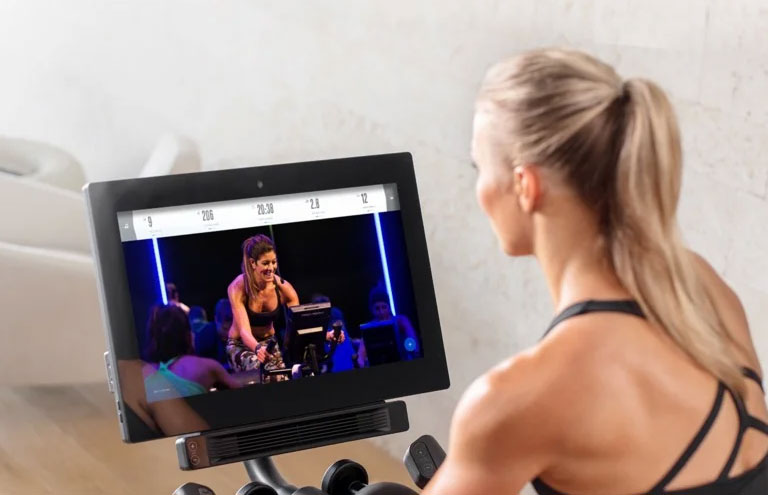 Suits All Levels of Fitness
The NordicTrack S22i will benefit those in multiple-person households where there are a variety of fitness levels in one home. The large scope of resistance of the S22i means that each person may choose their intensity to suit their individual needs.
Make no mistake, this is a solid, powerful bike that has plenty of resistance for proper athletes looking for a challenge, but it's also a perfect starting point for anyone looking to start their fitness journey.
---
Who Is the NordicTrack S22i Aimed at?
Perfect for anyone looking to get back into shape
The NordicTrack S22i is a versatile exercise machine that offers benefits to a wide variety of user fitness levels.
Those seeking a gentle way to burn calories while protecting their joints or recovering from injury will find the S22i a great low-impact option. On the other extreme, those seeking high-intensity training that engages the full body will find plenty of scope in the S22i.
Anyone who has struggled to keep to an exercise program in the past
We've all done it. You start a new class, a new workout program or get a new bit of gym gear. But it falls by the wayside and you're looking for something else.
Because the S22i comes equipped with all the interactive features of iFit, the bike will suit those looking to engage with other users and trainers for an engaging virtual experience from their own home.
Home exercise can become entirely redundant, mostly due to isolation. The S22i provides a generous 22 inch HD portal to the world of iFit users, trainers, and remote virtual destinations.
Anyone looking for an efficient way to lose fat
The NordicTrack elliptical offers a high-calorie burn, so it suits those who seek to improve their heart health and lose excess weight from the safety of their home. The neat dimensions of 59" H x 22" W x 60" L means that the unit can fit comfortably into your home and provide the opportunity to increase your fitness at any time of the day.
The S22i has a user weight capacity of around 158kg, so it is not suited to those whose weight exceeds the recommendation.
---
Review & opinion: What We
Liked

About the NordicTrack S22i
Ridiculously sturdy
At this point, it seems like an obvious thing to say when talking about a NordicTrack product. They're easily among some of the most stable, well made machine's we've seen. You can see from the pictures that the frame is way thicker than the cheaper machines you'll find online.
But it's also worth taking a moment to appreciate how robust the S22i actually us. It doesn't wobble, even when you're up  on the pedals. This is an absolutely rock-solid home bike that puts the cheaper ones in the shade.
High-Quality Screen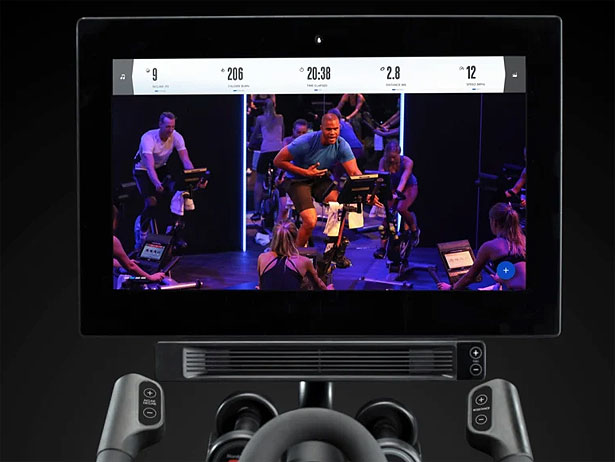 Many high-end bikes seem to lose the plot when it comes to lame 5'' LCD screens that look like they came straight out of the 70s. The logic seems to be that users will use their own tablets for interactive workouts. The generous 22'' inch HD touchscreen is gorgeous and offers crystal bright imagery without the need to provide your own display.
There's just no comparing the level of detail, clarity and information you'll get from this massive screen. This bike is by far not the cheapest machine we've seen but this screen is just on another level. Classes are huge and vibrant, google street view looks fantastic. This will definitely keep you coming back years into the future to try something new.
The Incline Decline Feature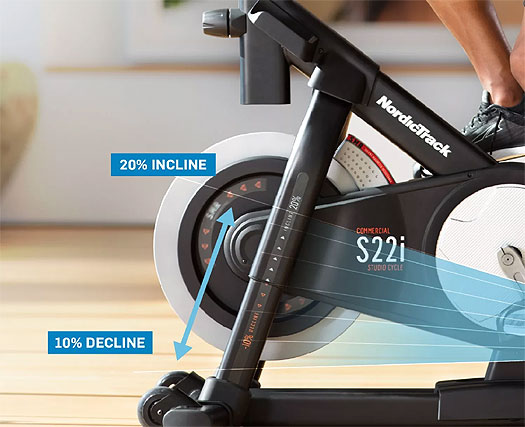 We really loved the incline decline feature that gave so much authenticity to the interactive riding experience. When engaging in virtual workouts, particularly the virtual trail, the automatic incline and decline considerably heightened the virtual experience.
We also found that the incline/decline engaged the arms and core automatically when stabilizing our bodies during the ride. It all feels incredibly smooth and swapping between inclines will ruin you for all other exercise bikes you try in the future. A brilliant feature!
Compact and Well Organised
We loved the generous fan placing below the console that cools the body exactly where you need it from the front. The dimensions are neat as well, and my larger 6' colleague did not feel cramped at all. The seat post is easy to adjust between users, and the dumbbells are a nice touch and conveniently placed easily in reach confront of the handlebars.
Delivers an Intense Workout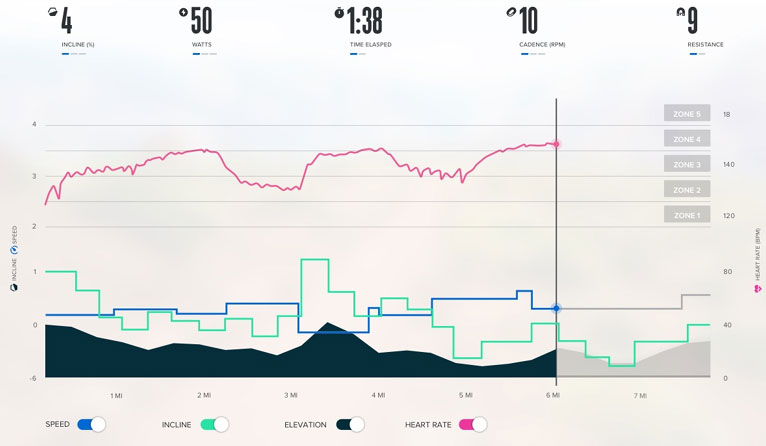 The silent magnetic resistance is impressive in its upper register, which delivers a smooth and powerful resistance with excellent feedback during intense sprints. The S22i provides enough powerful counterforce to suit the most energetic of users and offers plenty of scope to up your game endurance wise.
Seamless Integration
The s22i is made to integrate with iFit in a smooth and glitch-free manner with a responsive touch screen with intuitive, well-spaced controls. The stats show up clearly without having to toggle, and everything is placed at your fingertips for a great user experience.
The virtual trails are realistic and well-detailed and, combined with the incline/decline, provide unparalleled realism to your virtual ride. As far as an interactive experience, the s22i ticks all the boxes and really stands ahead of its competitors (even Peloton.)
Check the price at NordicTrack
---
What Could Have Been Better with the S22i?
The Incline/Decline Feature is Noisy
As much as we loved the incline/decline feature, the motor that operates the incline is quite noisy. It defeats the object of the silent resistance (which is very quiet) to have the motor kick in quite loudly whenever your incline or decline changes. The noise is not tractor loud, but it is fairly noticeable on such an otherwise silent machine.
The Pedals Have no Clip-in Option
Although the Nordictrack s22i offers both the adjustable cage option and flat pedal, they do not provide a clip in function for cycling shoes. For such a high-end kit with such scope for high-intensity training, it was a disappointment not to have the option for clip in workouts.
This is not a cheap option
The S22i makes no attempt to cut costs or do things on the cheap. At a hair under £2000, this is one of the more expensive bikes on the market.
This is an iFit bike
We've been singing the praises of iFit but let's not forget this is not a free service. You'll get a month's free membership with the S22i but, after that, you're on your own. You'll have to fork out the £349 / year for your membership. That boils down to around £29 a month – comparable to a gym membership and not an insubstantial amount.
---
Conclusion: Is the S22i Worth A Buy?
Make no mistake, the S22i is one of the best bikes on the market. It's incredibly solid and well-made, easy to use and has a silky smooth resistance that really will suit all levels.
The built-in screen is an absolute blast to use and makes getting back on the bike easy, even if you know there's a tough workout to come.
iFit is just a joy to use and there's a wealth of content to explore. if you like the sound of iFit, this is the bike for you. Conversely, if you're not interested in iFit, there are better options for you.
Although the pricing is at the higher end of the spectrum, the S22i has many great features that set them apart, and the S22i earns its keep in our opinion. Any lucky owner of one of these machines will find a machine which will help them hit their goals way better than other non-interactive bikes.
Highly recommended!
Check The Latest Price at NordicTrack
S22i Full Specs
| Resistance | SMR™ Silent Magnetic Resistance |
| --- | --- |
| Touchscreen | 22" HD colour |
| Memberships included | 1 year family iFit subscription |
| Music | Two 2" Digitally Amplified Speakers |
| Saddle | Ergonomic Padded Saddle |
| Flywheel | Inertia-enhanced Flywheel |
| Water bottle holders | Dual Water Bottle Holders |
| Seat Adjustment | Vertically and horizontally |
| Handlebar adjustments | Vertically and horizontally |
| Handlebar grips | Multi-position handle bars, sit up right or lean forwards |
| # Resistance levels | 24 Digital Resistance Levels |
| Frame | Commercial grade steel |
| Max user weight | 150kg |
| Dimensions | 140 L x 55 W x 146H cm |
| Coating | Enhanced Corrosion Resistance |
| Incline level | 20% incline |
| Decline | Yes, 10% |
| Warranty | 2 Years parts and labour; 5 year frame guarantee upon warranty registration within 28 days of purchase. |
| Cooling | AutoBreeze™ Workout Fan |
| Brand | NordicTrack |
| Model | s22i |
References & Further Reading