Review Summary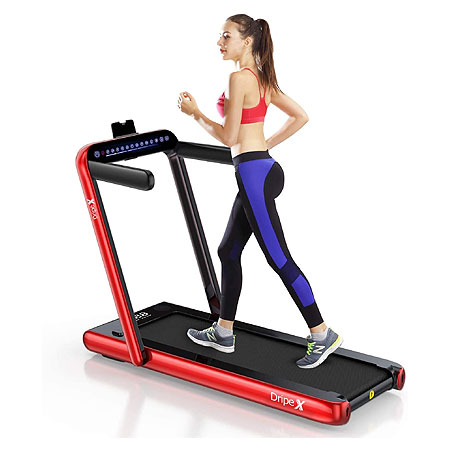 Dripex 2
Good quality motor
Robust and well-made
Folds seriously flat
Zero assembly
No online connectivity
"The Dripex is a good choice for anyone looking to get into some walking and light running at home. Don't expect to sprint on this thing, but it's space-saving design wins it extra points."

There have been a number of these ultra-compact machines popping up for sale on Amazon and other retailers over the past year or so. In this guide, we're checking out one of the more popular walking and jogging machines: the Dripex 2-in-1. We'll go into depth on what it is, who it's best suited to and what we think its best and worst features are.
What is the Dripex Folding Treadmill all about?
In a nutshell, what you're getting here is a folding treadmill that's designed for running and jogging at home. It's got a compact footprint and a running deck size of around 40cm x 100cm.
The key mechanic with this machine is that the side 'arms' fold down completely flat, leaving it at a height of just over 15cm.  It's also lightweight and easy to move around.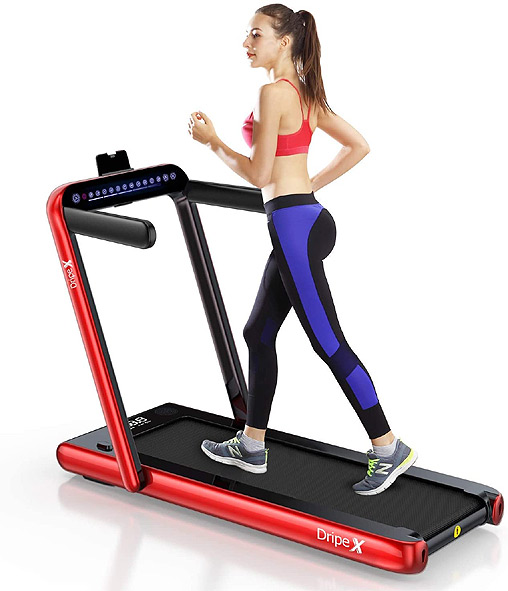 You're looking at a footprint of around 67cm wide x 125cm in length and this treadmill is about balancing performance with a compact size. It's aimed squarely at anyone who wants to get the benefits of running, jogging or walking in a home or flat where you'd normally have trouble fitting a full-fat machine in.
---
Dripex's Folding Treadmill: What you need to know
Here's some speedy facts about this treadmill, if it's the first time you've come across it.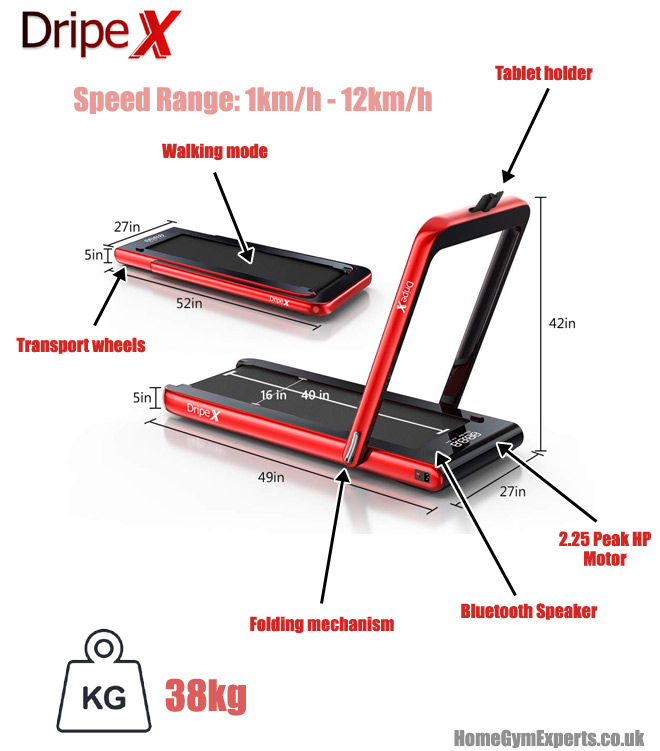 Walking speed of 4kph (2.5mph)
Running speed of 12kph (7.5mph)
Running surface: 40cm x 100cm
33kh (74lb) unit weight
120kg (265lbs) maximum user weight
5 layer shock-absorbing belt
2.25 HP brushless motor
Built-in Bluetooth speakers
Phone holder
Front-mounted transport wheels
Safety clip
Check Current Amazon UK Price
---
Related guides
---
What will you get from training with this machine?
You're going to be jogging, walking or a combination of both with this treadmill. Here are some of the benefits you'll nab so long as you stick to a regular training regime on the Dripex.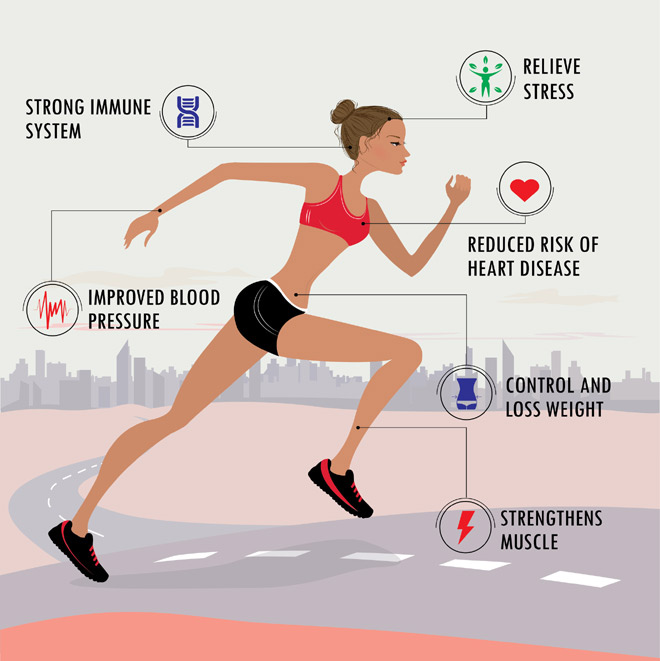 Treadmills have been one of the most popular forms of cardio since their invention in 1817, mostly because they're just so simple. Almost anyone can use a treadmill, and it's easy to scale up the intensity and effectiveness of your workouts as you get fitter.
Another big plus with this treadmill is that it performs admirably a walking treadmill. And let's not understate the benefits of a good walk. According to Havard, walking alone has some incredible health benefits that have been proven in many studies.
With that in mind, the single biggest thing the Dripex treadmill has going for it is the fact that it's dual-use. With the stabilising side arms raised, it's a solidly impressive running model, with a decent top speed of 12km/h (7.5mph.)
But with the side arms down, it's a whisper-quiet walking deck that can comfortably sit under a desk or in the middle of a room, with a speed of 4km/h (2.5mph.)
Factor in the impressive construction and overall good quality, and you've got a treadmill that's equipped to deal with almost any situation.
---
Who will likely love the Dripex?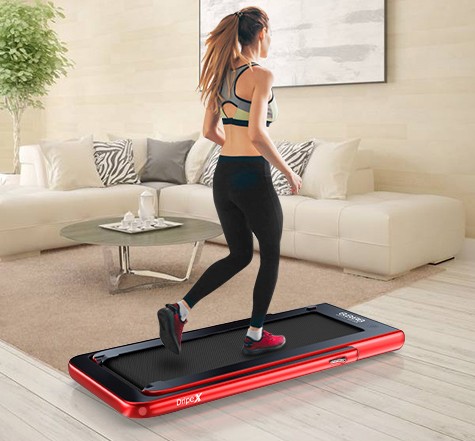 Anyone desperate to jog or run but lacking in space
Whether you want to brave the great British outdoors or not, many people love the convenience of walking or jogging at home. But if there's one thing we can say about most treadmills is that they're absolute space-hogging beasts. Most have decks that flip up a bit but they're just not an option if you're short on space. This machine is.
Just looking to lose some weight
In our opinion, the Dripex is a better walking treadmill than a runner. It's perfect for anyone who needs a treadmill that offers both features, but perhaps only plans on running occasionally, rather than someone training for an intensive event like a triathlon.
Sitting at a very reasonable price for its features list, the Dripex machine is also a really good way for anyone looking for a general, day to day treadmill to outfit a home gym.
Proud owners of smaller garage gyms
Even with the best of intentions, previous workout space can easily be eaten up with anything from old boxes full of baby clothes to old computers and any other 'junk' you can't exactly chuck out. With its relatively teeny footprint, most people should be able to shove a few things out of the way and make room for this mini-treadmill.
If you're looking for something to plonk in front of the TV
Personally, I prefer to practice for the luge when watching my Netflix after work, but if you're super-disciplined and don't mind sacrificing a bit of slouch time, you can put the Dripex treadmill down in front of the telly and stroll your way to fitness while your mind has something fun to keep it occupied. This machine is a doddle to move around and even has some secret wheels to make it easier.
---
Who probably won't love it?
Anyone tall or with a longer stride
So let's get real here. This is a compact machine with a deck size of 40cm x 100cm. Do our old trick and measure it out on your floor with a tape measure and some tape. Get a feel for it. It's hard saying that it's suitable for a certain height as people have different stride lengths.
Realistically, if you're a 6-footer, or above, this machine is likely going to be a wee bit on the cramped side. But maybe not! Just be aware that the compact deck size will be a limiting factor for many!
Sprinters might need to look elsewhere
Make no mistake, Dripex's folding machine is no slouch on the power side of things. That 2.25 HP motor (that's peak performance mind you…) is capable of some decent speeds. around the 12km/h mark. But combined with that smaller deck size, don't expect to get the same workout you can from a bigger machine. You'll be disappointed.
---
Opinion time: What we like about the Dripex Folding Treadmill
A respectable motor with plenty of traction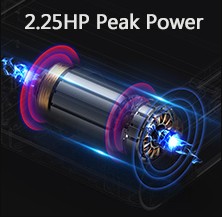 For a small treadmill, the motor in the Dripex 2 in 1 is deceptively powerful. It's a 2.25 horsepower unit capable of putting some power behind the belt, with a maximum running speed of up to 12kph (7.5mph.)
That's easily fast enough for a comfortable jog and more than adequate for jogging and walking.
Then, when you want to use this as a walking treadmill, just fold the support arms down and step on board, with a maximum speed of 4kph (2.5mph.) Simple.
The slowest you can walk is around 1km/h which is a shuffle, so it should be good for anyone to start out on.
The construction is spot on
Across the board, the construction of this treadmill is great. It's steel-framed, tough, and hard-wearing. Everything is solidly built, with a 5 layer running deck that's got built-in shock absorption for more comfortable running and less impact on your joints.
The controls are simple, both the onboard controls and the remote with speed functions, and everything can be linked up to your phone with Bluetooth, which can use the built-in speaker for music or TV.
Although it doesn't hold a candle to the cushioning on full-size treadmills, this definitely doesn't feel like an especially hard surface to run on. The deck has some bounce to it and is pretty good considering the size of this thing.
Overall, happy with the build and it has a good expensive sort of feel about it.
It folds flat – like really flat
When it's not in use, everything folds down to a tiny 5 inches, making it small enough to store under a bed or a reasonably high sofa. That's assuming you live in some utopian home where every available space isn't already plugged with junk you want to hide out of the way. (Like mine is!)
You can scoot this machine around fairly easily. It's not light but tilting it up and using the front-mounted transport wheels isn't exactly difficult. If you're not pegging out a permanent space for your Dripex, don't stress over it because it's designed to be moved around easily.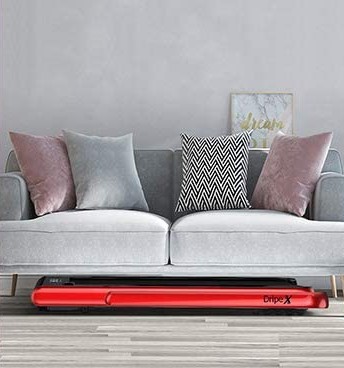 Yes! Hardly anything to assemble
Finally, it comes almost fully assembled. All you have to attach are the support arms and phone holder. You could have this up and running literally minutes after delivery. A blessing for anyone who has had the full-day experience of something like a multi-gym.
There are a few bags and some polystyrene to get shot of, but the packaging is kept to a minimum.
It's very quiet
Especially when set to walking speeds, the Dripex 2 in 1 is very quiet, because of the brushless design of the motor.
This means that you can safely use this while doing other things, including working, watching TV, and more. Perfect for a walking treadmill.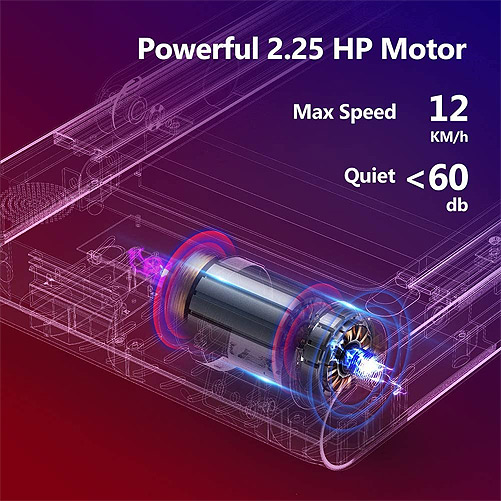 Good controls and it's easy to use
Some exercise equipment can be surprisingly complicated to use, with multiple systems and buttons that need an entire book of instructions to work through.
The Dripex 2 in 1 doesn't need any of that. The controls are incredibly simple and easy to understand, even for first-time users. All of your relevant stats are shown on the dual screens, and switching between walking and running functions is as simple as lifting up the arm supports!
There's a nifty if basic remote control which you'll need when you're walking as there's nothing else to press once the arms are folded down.
Check Current Amazon UK Price
---
Where does it stumble?
No multimedia training options
Unfortunately, there aren't any provisions built into this treadmill to let you train online, or with subscription-based courses.
While they're not essential, we love services like these because they really help with enthusiasm for exercise and meeting your goals. Obviously, because you can link your phone to the treadmill, you could use a separate service, but it would have been nice to see something built-in.
There's no incline
Don't hop on this machine expecting to find manual or automatic incline (a slight slope that's commonplace in full-sized running machines).
It's easy to see why it's not here – adding it would have drastically increased the form factor, not to mention the price. And the target market for this walking-friendly machine will likely not want to have it installed by default.
Having said that, it's a shame there's no way to elevate the machine as it would have given a bit more oomph to the machine and made for some tougher workouts.
---
Final thoughts: Buy it or jog on?
The Dripex 2-in-1 is a fantastic walking treadmill that can also double up as a decent little runner in a pinch.
It shouldn't be bought as a running model outright, because of a slightly smaller deck than we'd like to see, but every other thing about it is fantastic, from build quality to features, to how it feels and sounds when it's in use.
It looks good and it works extremely well. The compact size is its greatest strength, but also its most limiting factor if you're on the tall side. For anyone under 6 foot, short on space, you'll likely fall in love with this machine.
Highly Recommended
Check Current Amazon UK Price
---
Full specs for this treadmill
Brand
Dripex
Model
2 in 1 Folding Treadmill
Color
Gloss black and red
Audio
Bluetooth speaker
Remote control?
Yes
Display
LED
Modes
Walking / Jogging
Speed range
1km/h - 12km/h
Folding
Sides can be folded down for flat storage
Motor
2.25HP (peak power) brushless motor
Frame material
Steel
Belt
Multi-layer, shock-absorbing belt
Tablet holder?
Yes
Storage height
13cm
Transport wheels
Yes
Product weight
38kg
Running track size
101cm x 40cm
Warranty
Frame: One year
Drive motor: Three years
Plug
3-pin UK Plug
Requires oiling?
Yes. Comes with 2 tubes of lubricant and instructions.
Incline?
No
Store on side?
No
Handlebar height
88cm
Dripex Treadmill FAQs
How can I get a longer power lead?
If you're finding that the power cable that comes with the Dripex machine is too short (and I know a lot of people have!) you can't actually replace it. It's fixed into the machine. Your best bet is to order a simple extension lead from Amazon. You don't need anything fancy; something like this one will give you nearly an extra 6 feet to play with.
---
References & Further Reading