Review Summary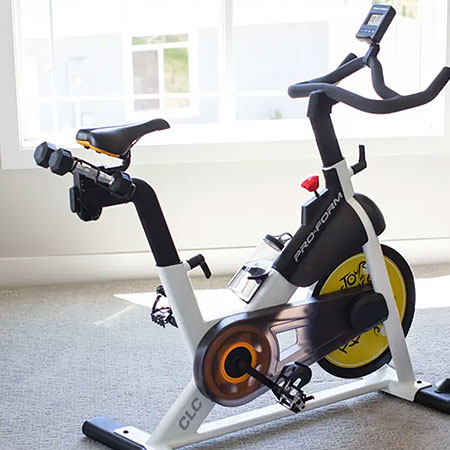 TDF CLC
Excellent design & aesthetic
Sturdy and wobble-free
iFit is a lot of fun
Comfy, even on longer rides
Not enough resistance for hardcore cyclists
"There's no doubt about it; Proform's indoor CLC is an extremely good quality indoor bike. It integrates easily with the iFit service and is good value for money."
Thinking of picking up ProForm's stylish Tour de France? In this review, we'll cover everything you need to know about this upright bike including what it does well, and some of the things it could have done better. Let's hop on and take a tour through the country roads and see how she fares.
What is the Proform Tour De France CLC?
The Proform CLC is a stationary bike that's designed to give the feel of a 'real' bike. It's compact and powerful, with enough features to make your training customized and challenging.
As expected with a ProForm machine, you've got iFit integration to your tablet or smartphone, which  allows you to take advantage of on-demand coaching, pre-recorded classes and an almost bottomless amount of video content to take part in. (You get a full month free, but need to pay for it after that).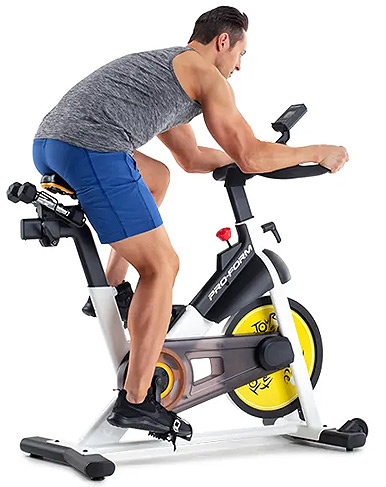 The CLC has handlebar shifters on both left and right handlebars to mimic your road bike and offers 16 different resistance levels to adjust your bike to your training requirements. Intelligent wind resistance automatically adjusts your resistance levels to your weight and height based on your wind profile for enhanced realism in your indoor cycling.
The TDF CLC footprint is 145cm in Length, 56cm in width, and 86cm in height.
The Proform CLC has an inbuilt power meter to measure your wattage and RPM on the console as you train with real-time feedback on your output. The CLC also features an interplay music port where you can while away the calories to your favourite tracks using the built-in sound system.
---
Proform CLC at-a-Glance Features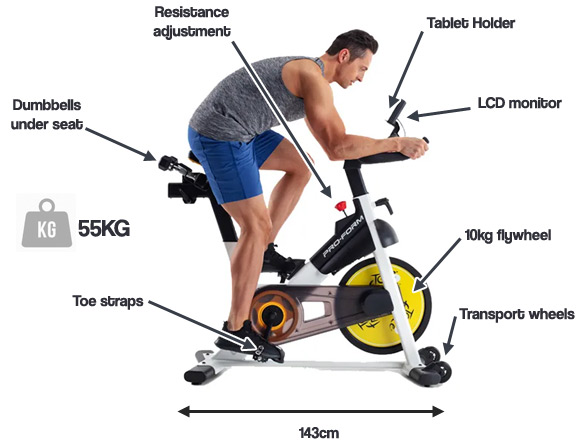 Inertia enhanced 10kg Flywheel (22lbs)
16 digital resistance gear controls
Intelligent Wind Resistance factors take into account weight and height
iFit Coach BLE enabled (1 month free membership included)
Integrated tablet holder and water bottle holder
Ergonomic pedals with toe cages and easy-adjust straps
Vertical and horizontal seat adjustment
Adjustable levelling feet
Front-mounted transport wheels
LCD: Speed, pulse, calories, resistance, RPM, time, distance, scan mode
Dimensions: Length=143cm (56.3''), Width=56cm (22''), Height=139cm (54.7'')
Weight: 55kg (121.2lbs)
Warranty: 2 years frame, parts, and labour.
---
Main 5 benefits you'll get training with this bit of kit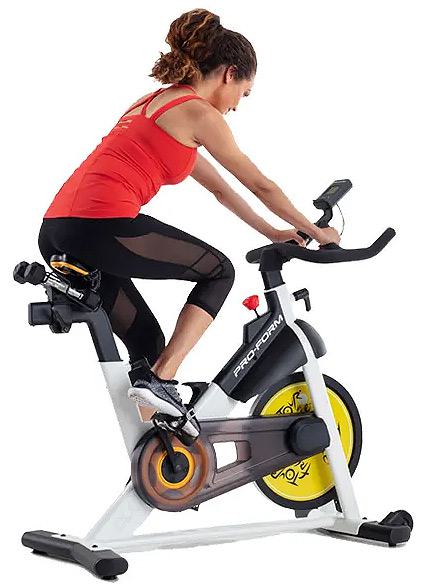 #1 – Lose Weight and Burn Fat
Stationary bikes are a great way to burn calories and lose weight from the comfort of your home. Depending on the intensity of your training, you can burn more than  600 calories an hour.
The 16 levels of magnetic resistance allow users of any fitness level to challenge themselves and efficiently achieve their weight loss goals. In fact, Harvard health estimates that a 185 lbs person can burn over 800 calories an hour with vigorous stationary bike training, which is an impressive figure.
#2 – Physical Fitness and Heart Health
Cardiovascular workouts such as stationary bike training strengthen your heart, lungs, and muscles for improved fitness and health. Cardiovascular exercise has been proven to lower blood pressure, bad cholesterol, and regulate blood sugar levels. Stationary bicycle training can also improve your mood and improve your sleep.
#3 – Provides Low Impact Training With High-Calorie Burn
Stationary bicycles such as the Proform CLC offer a low impact cardio workout that strengthens your body and bones without excess impact and pressure on your joints. Training such as outdoor and treadmill running may put undue pressure on joints and bones due to the running action's repetitive impact.
#4 – Motivation and fun training options
Long after that initial surge of motivation to hop on the new bike has waned, iFit will keep you coming back for more. There's an absolute wealth of stashed online content to play around with, from classes to virtual ride-alongs. As well as some live classes, if you want to share a sweaty ride with others. It's highly engaging stuff (albeit at a price once your free month has run out).
#5 – It's kind to your joints
Stationary bikes deliver the calorie burn without unnecessary stress on your bones and joints. This advantage makes bikes like the CLC a safer training option for those beginning their fitness adventure or suffering from sports injuries in the past.
---
Who will get the most out of the Proform CLC?
Anyone looking to get back into shape
The Proform CLC (or any decent upright bike!) is a brilliant way to really build up your fitness, lose weight and just get in shape overall. Riding alone is one way to do it but jumping into an online class definitely makes for easier work and takes your mind off what is, when it comes down to it, repetitive, hard work.
If you're already short on space
The CLC has neat dimensions, which means it fits well into most sized homes without taking up valuable space.
If you get bored quickly!
Most people can relate to that big of exercise gear that gathers dust in the corner. The CLC will likely never sink to that status, thanks to it's integration with iFit. It takes the tedium out of repetitive training by opening users up to the interactive experience of coach-led training and Google maps driven locations from all over the globe.
Often people become bored and unmotivated in-home training apparatus because of the isolation and lack of stimulation. The CLC has full iFit integrations to bring the world into your home.
If you need something a bit quieter than other bikes
If you're in an apartment or plan to get up before everyone else in your house, you'll likely be tickled pink by how quiet this bike is. The magnetic resistance is well implemented here and won't wake anyone else up unless you forget to plug your headphone in.
The CLC's controls mimic a real road bike's shifters and are placed on the left and right handlebars for enhanced realism in your training.
---
Who might want to avoid this bike?
Anyone over 115kg is out
Due to the weight restrictions of 115kgs (253.5lbs), the Proform CLC is not suited for larger riders due to the manufacturer's specifications. The 10 kg flywheel delivers impressive resistance but may not suit professional riders seeking maximum intensity training.
---
Opinion: What We Liked About the Proform CLC
It has to be said, this is one of the better-looking bikes we've seen
This one's completely subjective, but it has to be said there's a bit of flair about this bike. While this is a superficial point, you won't want to scoot this bike out of the way in a hurry when friends come round.
The bold yellow flywheel proudly flys the Tour de France logo, and everything from the colours to the shape and design of the frame makes it a really good-looking option. Not like some of the drab run-of-the-mill bikes we've reviewed over the years.
A good quality bit of kit
Like NordicTrack, there's no issue with the quality of this bike. Everything from the welding and bolts up to the saddle and buttons on the display are so far above what you'll find on the budget bikes. For the price, the build quality and components are definitely above average and everything is chunky, solid and built to last.
Easy to Assemble and Adjust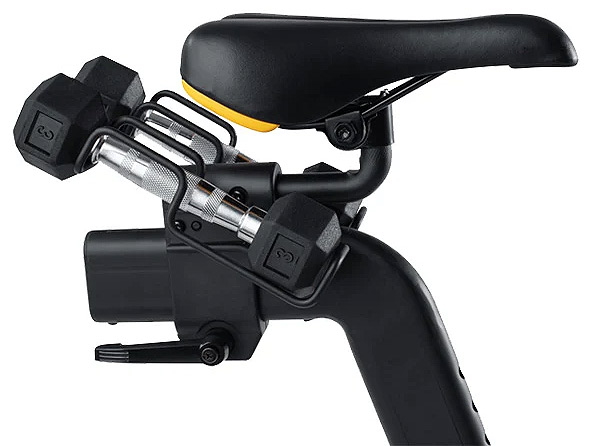 The proform CLC is easy to assemble with straightforward instructions (for a change) that makes setup a breeze. Most people will have the kit up and running in just over 35 minutes, and the CLC integrates with iFit without any issues.
You've got the standard adjustments you'd expect to see; the seat adjusts on both vertical and horizontal axis, making it easy to adjust between users, so different users can find a setting that's right for them. The bike looks like it's been designed to be quickly adjusted between cyclists too – so it's a good choice if you're buying to share.
Comfortable over long periods
The ProForm CLC feels great too – with comfy, wide handlebars that you can grip and lie on a number of ways – at least three we could find.
Quiet and Compact
While this is not 'silent' operation, you're not going to make any enemies in the early AM either. As mentioned earlier, the noise output is on the low side.
Great iFit Integration
Unlike some home exercise apparatus, the Proform integrated with iFit seamlessly, and we loved the free one month membership. The CLC works excellent with my tablet, and you can incorporate your sound through their system if you wish. The realism of the CLC is what puts it ahead of its competitors, and it comes to life on simulated training and trails.
Suits a Variety of Fitness Levels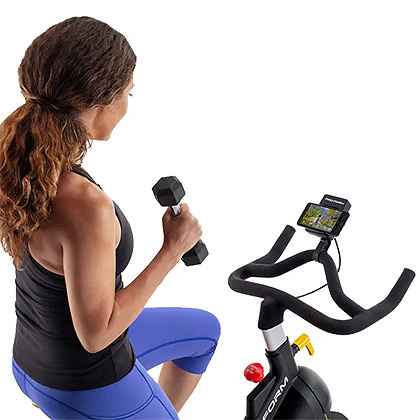 The Proform CLC has 16 magnetic resistance levels on its realistic handlebar placed shifters to accommodate a variety of fitness levels. Due to stationary cycling's low impact nature, the CLC is excellent for those building up their fitness slowly and those who seek challenging training.
---
What Could Have Been Better?
The LCD Screen Is Sub Par
The 3.5″ LCD is tiny and pokey and brings down the whole look of the otherwise professional CLC. Even though it is tablet integrated, the small old fashioned screen is not an impressive feature of the bike.
Another little pet peeve is the tablet holder. It's actually more of a phone holder and it would have been great to see this thing extended out to have a wider shelf for the large displays.
Pro cyclists might need something more challenging
The 10kg flywheel provides an excellent workout for those with moderate training needs, and it certainly provides a steady workout. For those lured in by the Tour de France training endorsement, it is not a bike for professional race training for cyclists who require the highest intensity training.
That being said, it has a good range for those who seek improved health and fitness.
---
Conclusion: Is the CLC bike any good?
The awesome-looking Proform CLC has some great features and an enhanced realism of true cycling action.
The bike works really well with the iFit app and provides excellent moderate-intensity home training.
The CLC is sturdy and compact and is an excellent choice for those seeking an interactive and fun way to cycle their way to that fitness goal from home.
If you're looking for a sturdy, good quality indoor bike, there's a lot to love about ProForm's Tour de France.
---
CLC Full Specs
Brand
ProForm
Model
TDF CLC
Category
Indoor cycle
Resistance levels
16
Resistance
SMR™ Silent Magnetic Resistance
Display
LED display
Tablet holder
Yes
Extras
2 x 1.4 kg Dumbbells Included
Memberships
1 year iFit included
Pedals
Pedals with Toe Cages and Straps
Transport wheels
Front-Mounted Transport Wheels
Water Bottle Holder
Yes
Stats tracked
Speed
Distance
Calories
Time
Pulse
Scan between
Incline
No
Handlebars
Multi-position handlebars with dipped grips
Seat
Ergonomic padded saddle
Online training
Yes
Flywheel
10kg
Cycle standing up?
Yes
Pedals
Anti-slip petals with toe clips
Max user weight
115kg
---
References and further reading