We love treadmills. They're a great way to get in shape and avoid the perils of UK weather, especially in the winter months. My little gym has an incline type treadmill in the corner and it's proved to be a great addition to my home gym.
Do you need to spend a fortune to get the benefits of your own running machine? We wanted to find out what was out there for several budget price points: £200, £300, and £400. Here are the top cheap treadmills on the market at the moment.
Update 2021: Wow, there's been some demand on treadmills (and all other gym gear) lately. We've updated this guide with some hopefully in-stock running machines that will suit your budget. While the guide used to be about treadmills under £200, there's nothing to be had in this price range. In this updated guide, we're upping our budget to the price points mentioned above. Happy hunting!
What we look for picking killer budget treadmills
The options to be on the look out for on a cheaper running machine aren't all that different to budgets of £1000 and over. Although some trade-offs have to be made at this lower price point, there are still some good machines up for grabs at the different price points we're looking at.
Let's briefly peer beneath the glossy photos and product specs and scour out the important and often hidden bits of info that really matter. Here's a quick overview of what we are looking at when picking 'good' treadmills.
What's the running track like? One of the things that get pushed to the side in the lower price point machines is usually the actual running track size. Bigger is better, especially if you're tall or heavy and a larger surface gives you a bit more 'wiggle room' when you're running.
Frame quality – Really hard to gauge from the photos or the specs. Cheaper machines normally have lighter frames that may be easier to move but could also be less stable when running. A good bit of heft on a treadmill never hurt anyone. Well, maybe the delivery driver's back.
Has the motor got a bit of oomph to it? Another biggie in the budget treadmill market is the motor. The Horse Power (HP) is a guide to how powerful the motor is and governs everything from how smooth it will be, how noisy it will be, and whether or not it will be able to keep up with you when you do some serious running. See our treadmill motor guide for more info.
Is the console dull and featureless? – Another area that takes a bit of a beating when it comes to the more wallet-friendly machines is definitely the display console. At the lower price points, the displays can get a little too old-school for our liking, with simple gray calculator style displays and simple stats. We always look for the best we can get in each price bracket.
Hill climbing goodness… or not – The incline on your treadmill can have a huge impact on how hard it makes you work. Running on a 'flat' treadmill is definitely too easy for anyone who's jogged a few miles in their time. The super-budget machines likely won't have auto-incline but it's something we're looking for on all machines, where possible.
Best Budget Treadmill for around £300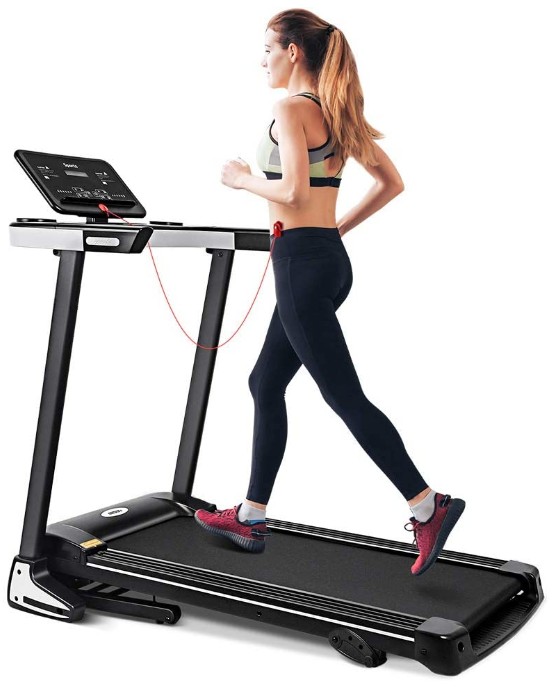 Finding a decent treadmill for under £300 is no mean feat. Finding a solid build with a proper motor AND a running track where you won't have to run like a ballerina to fit on the belt is a tough as for three hundred quid. Thankfully there are a few diamonds in the rough.
OneTwoFit's machine comes with a not-tiny running surface of 122cm x 40cm, which is a good bit wider than what we'd expect in this price range and every cm counts here.
There's a 2HP motor that puts out a respectable 8km/h. Not perfect for sprinting but fine for an average sort of running speed. On top of that, there is an incline here but, as expected at this budget price, you'll have to set it manually, rather than have the console manage it for you.
The frame and construction are fairly thick and the upper recommended weight limit is around 120kg. The display is a simple affair but there's a good tablet stand here you can put your iPad or phone on.
Verdict: This one surprised us in terms of what you can get for under £300. The OneTwoFit has respectable performance and running track for this price and it's chunkier than we've come to expect for machines in this price bracket.
Doesn't hog too much space
Sturdy
Fairly powerful motor for the price
Good value for money
Easy to assemble
Not a well-known brand
No auto incline
Simple display
---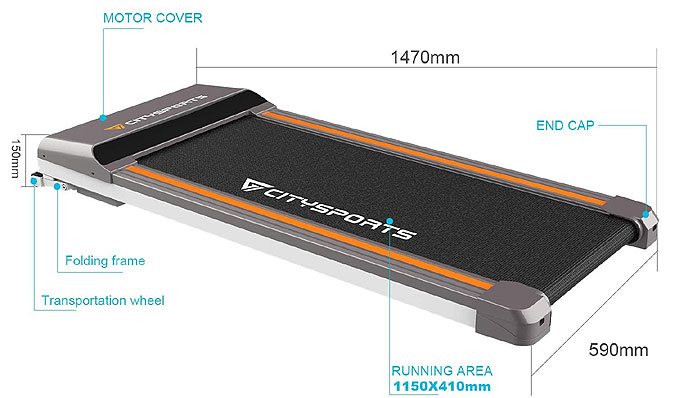 Citysports 'no-sides' treadmill really impressed us when we got the chance to check it out recently and, once you get around the idea of not having and rails on the side of your running machine, there's a cracking-good treadmill here for a budget price.
Taking up the same space as one of those 'manual' machines, this is a fully motorized machine that's great for home exercise on a budget.
There's some impressive reviews on Amazon for this machine too.
Ideal for walking, jogging and getting back into shape
As there's a greatly reduced frame here, this treadmill is one you can plonk down, do your exercise and then literally carry away when you're done. You can store it vertically so it takes up probably the smallest stored footprint we've seen on a treadmill.
This machine is good for anyone looking for lighter exercise – walking and light jogging as the top speed hits around 6km/h.
If you're wondering 'where's my display console!?' It's cleverly integrated into the base. Large (very cool!) LED letters show your speed, calories and other important specs that you'd normally have on the upper console.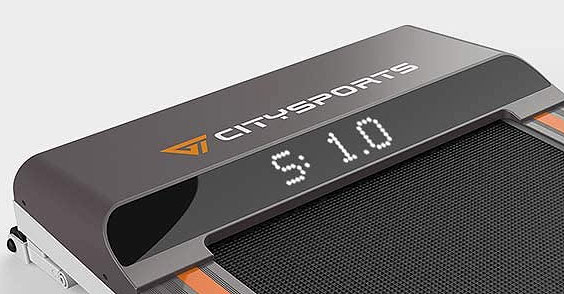 This means you're fully hands-free. Although we do miss somewhere to put our bottle!
Verdict: For anyone looking to get in shape, especially those looking for a cheaper way to start exercising after a long break, ths Citysports treadmill is well made, hyper-portable and works really well. And for the price, it's a top-notch machine.
Happy running!
Takes up a teeny storage space
Good brand and very well made
Super-easy to use
Zero assembly
Ideal for walking and light jogging
Nowhere to put your drink
The no-sides design won't be for everyone
---
Best Treadmill For A Budget of Around £400
OK so let's jump up in price a bit. If you can stretch to around four hundred pounds for your new running machine, you'll get a decent bump in terms of quality, features and the things your machine can do. Here's some recommendations for that price: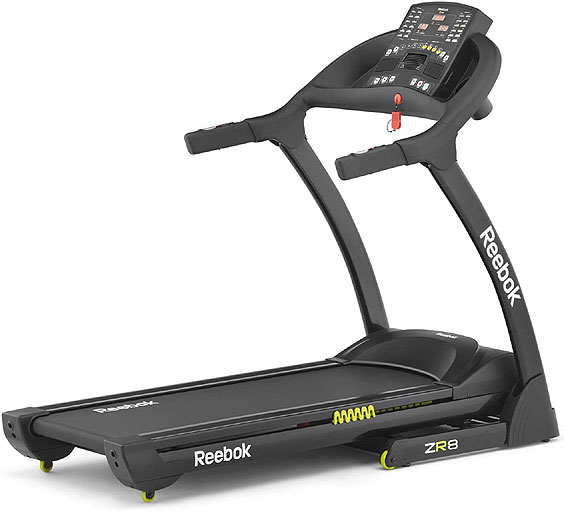 Reebok's ZR8 was a pleasant surprise when we reviewed it and it's also been a popular seller on Amazon UK for a while too. So, aside from a known brand, what's it got going for it?
Let's start with the running track. There's a respectable 126cm x 41cm here which means this machine is good for running as well as lighter use. Unlike some of the super cheap treadmills, this one lets you open up and run properly.
Good motor and top running speeds
That's backed up with a 2.0 HP motor that will take you up to around 16kmph (or around 8 mph).
Speaking of the motor, it's covered by a 10-year warranty too. The frame itself has a lifetime warranty (although we've yet to see one drop to bits on any treadmill) and everything else has 2-year protection.
Powered incline
Not always common at this price point, the ZR8 has 12 levels if incline so you can get push yourself with some gym-style pre-programmed workouts too.
Anything else?
For a budget runner, this is well made – and heavy (in a good way). The display isn't amazing; there are 3 basic LED windows – but it's serviceable and gives you the info you need. It's not especially noisy, as far as treadmills go and it's quick to get up and running.
Verdict: OK it's over £400. But the ZR8 earns its place in our budget treadmill round-up. It's smooth, sturdy and has plenty of power for those looking to get stuck into some proper running. A great value machine.
Powered incline
Known brand
Well made and robust
Powerful enough for regular runners
Good value for money
No fancy online connectivity
Speakers aren't Bluetooth
Teeny bottle holder
---
Best portable treadmill around £400
Another budget treadmill that's worth considering in the wallet-friendly zone of around £400 is this one from Bluefin Fitness. The Kick 2 impressed us when we reviewed it, with its compact design and app compatibility with Kinomap and Zwift.
The treadmill itself measures just 66cm by 136cm long and it's designed to be folded You can get up to around 12km or 7½ miles an hour.
It has a quiet motor and the incline can be set up to 18% – although it involved manually messing around with the feed to set it yourself. It's not controlled by the display.
The console is another area that's worth mentioning. For a budget machine, there's a bold, bright display that's easy to read and shows multiple bits of info all at the same time.
Good cheap treadmill
App connectivity
Light weight and compact
Less than 30 minutes setup time
Decent display
No manual incline
Smaller running track than some other treadmills
---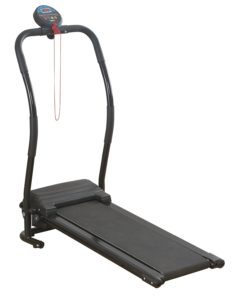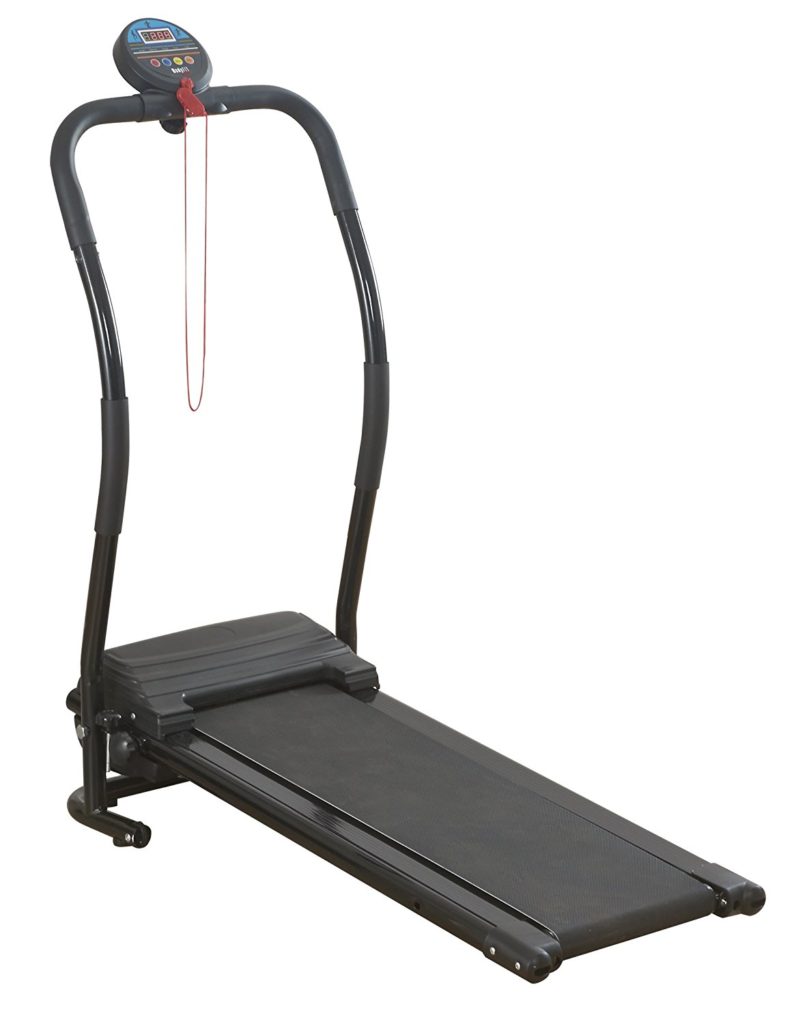 Talk about compact. If you're really strapped for space then this might be the running machine you're looking for. It folds down to just 28cm x 51 cm. It's quick and easy to fold down.
It has a clear, easy-to-read display that shows speed, time, distance and calories.  I personally only use calories but the others are there too.
Ideal for anyone up to 16.5kg and perfect for walking or light running. If you're a serious gym head, you might want to look for a more robust / larger model though.
And at just under £125, this is the cheapest treadmill we were able to find. Well, motorized ones in any case! Comes with a 12-month manufacturers guarantee too. Handy.
Excellent support from Clifford James
Folds away to save space
Small wheels make it easy to move around
Great for walking or running
Perfect for elderly
Compact unit, not suitable for tall people
Not robust enough for serious runners
£179.99 at Amazon
Price last checked: Saturday 16th October 2021 - 00:01 am
---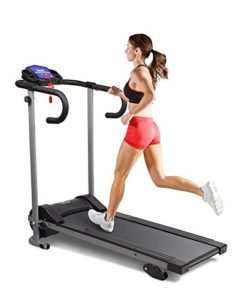 This running machine is a great bit of equipment with a solid feel and 10km/h top speed. There are also 3 programmable modes. Surprisingly, for the price, it's also got an incline setting. This is manually adjusted, but still welcome addition.
As a lot of the treadmills on this page are, this unit folds away to save space, or to clear the floor for your other exercises. You've also got a handy calorie counter and a stop cord. I've never really used my stop cord but it's there if you need it. * TIP * Don't forget to place the disc on the treadmill or it won't start.
Quick n easy to put together – you only need to add the handles on – and you're good to go.
At under 150 quid, this treadmill sits at the budget end of the scale is a steal for the price.
Solid build
Folds away easily, very compact
Easy to assemble – just insert handles
Great for walking or running
Not suitable for anyone over 5 and a half feet
Instructions on using programs could be better
---
Super Budget Corner: Best treadmills for around £200
Let's be honest, £200 is a super low budget for a treadmill in 2021! But there are some motorized machines around for sale at this price point.
It's worth mentioning that at this reduced price, there will be compromises in terms of the display, quality and likely the speed of the machine too.
Having said that, here are some machines that might be worth considering.
If you're on a budget of around £200, you could do a lot worse than this one from Fit4Home.
With a top speed of 10km/h, it's not ideal for anyone looking to sprint or training for a marathon. If you're on the hunt for a decent little machine to do walking and jogging on then the JK-04 has plenty to offer at a budget price.
Again, the incline here has to be set by hand by altering the rear 'feet' which is a bit of a hassle but it's worth doing as it will make for a tougher workout, and make the lower speeds on offer here count for more.
The display here is actually good too. Eschewing the grey LCD we'd expect to find on a 200 quid machine, Fit4Home's machine has a bright backlit display that shows off your time, distance, calories and more. With pulse being taken via the silver strips on the side rails.
On the downside, the running area is narrow compared to more expensive treadmills, coming in at 36cm x 100cm. The machine is a bit on the noisy side too. There's also no built-in fan and the cup holders are far too small to fit all but the slimmest of bottles.
Verdict: One of the cheapest treadmills up for grabs at the minute in the UK and despite a few flaws, it's hard not to be impressed by what you get for the money. Fit4Home's budget runner won't win any awards but it gets the job done.
Super-cheap treadmill
Good quality display
Fine for jogging and walking
Easy to move and has wheels
Simple to assemble
Clunky manual incline
Lighter frame and less stable than larger machines
Lowish max user weight of 100kg