Notice
: Use of undefined constant REMOTE_ADDR - assumed 'REMOTE_ADDR' in
/web/sites/dusker/affiliateCode/amazon-shortcode.php
on line
3
Notice
: Undefined variable: amazonTest in
/web/sites/dusker/affiliateCode/amazon-shortcode.php
on line
13
Notice
: Undefined variable: test in
/web/sites/dusker/affiliateCode/amazon-shortcode.php
on line
100
Notice
: Use of undefined constant Price - assumed 'Price' in
/web/sites/dusker/affiliateCode/amazon-shortcode.php
on line
108
Notice
: Use of undefined constant SalePrice - assumed 'SalePrice' in
/web/sites/dusker/affiliateCode/amazon-shortcode.php
on line
109
Notice
: Use of undefined constant LowestNewPrice - assumed 'LowestNewPrice' in
/web/sites/dusker/affiliateCode/amazon-shortcode.php
on line
110
Notice
: Use of undefined constant page - assumed 'page' in
/web/sites/dusker/affiliateCode/amazon-shortcode.php
on line
111
Notice
: Undefined variable: test in
/web/sites/dusker/affiliateCode/amazon-shortcode.php
on line
162
Notice
: Use of undefined constant HTTP_HOST - assumed 'HTTP_HOST' in
/web/sites/dusker/affiliateCode/amazon-shortcode.php
on line
213
Notice
: Use of undefined constant REMOTE_ADDR - assumed 'REMOTE_ADDR' in
/web/sites/dusker/affiliateCode/amazon-shortcode.php
on line
3
Notice
: Undefined variable: amazonTest in
/web/sites/dusker/affiliateCode/amazon-shortcode.php
on line
13
Notice
: Undefined variable: test in
/web/sites/dusker/affiliateCode/amazon-shortcode.php
on line
100
Notice
: Use of undefined constant Price - assumed 'Price' in
/web/sites/dusker/affiliateCode/amazon-shortcode.php
on line
108
Notice
: Use of undefined constant SalePrice - assumed 'SalePrice' in
/web/sites/dusker/affiliateCode/amazon-shortcode.php
on line
109
Notice
: Use of undefined constant LowestNewPrice - assumed 'LowestNewPrice' in
/web/sites/dusker/affiliateCode/amazon-shortcode.php
on line
110
Notice
: Use of undefined constant page - assumed 'page' in
/web/sites/dusker/affiliateCode/amazon-shortcode.php
on line
111
Notice
: Undefined variable: test in
/web/sites/dusker/affiliateCode/amazon-shortcode.php
on line
162
Notice
: Use of undefined constant HTTP_HOST - assumed 'HTTP_HOST' in
/web/sites/dusker/affiliateCode/amazon-shortcode.php
on line
213
Notice
: Undefined index: tracking_id in
/web/sites/dusker/affiliateCode/custom-shortcodes.php
on line
11
Notice
: Use of undefined constant REMOTE_ADDR - assumed 'REMOTE_ADDR' in
/web/sites/dusker/affiliateCode/amazon-shortcode.php
on line
3
Notice
: Undefined variable: amazonTest in
/web/sites/dusker/affiliateCode/amazon-shortcode.php
on line
13
Notice
: Undefined variable: test in
/web/sites/dusker/affiliateCode/amazon-shortcode.php
on line
100
Notice
: Use of undefined constant Price - assumed 'Price' in
/web/sites/dusker/affiliateCode/amazon-shortcode.php
on line
108
Notice
: Use of undefined constant SalePrice - assumed 'SalePrice' in
/web/sites/dusker/affiliateCode/amazon-shortcode.php
on line
109
Notice
: Use of undefined constant LowestNewPrice - assumed 'LowestNewPrice' in
/web/sites/dusker/affiliateCode/amazon-shortcode.php
on line
110
Notice
: Use of undefined constant page - assumed 'page' in
/web/sites/dusker/affiliateCode/amazon-shortcode.php
on line
111
Notice
: Undefined variable: test in
/web/sites/dusker/affiliateCode/amazon-shortcode.php
on line
162
Notice
: Use of undefined constant HTTP_HOST - assumed 'HTTP_HOST' in
/web/sites/dusker/affiliateCode/amazon-shortcode.php
on line
213
Notice
: Undefined index: tracking_id in
/web/sites/dusker/affiliateCode/custom-shortcodes.php
on line
11
Notice
: Use of undefined constant REMOTE_ADDR - assumed 'REMOTE_ADDR' in
/web/sites/dusker/affiliateCode/amazon-shortcode.php
on line
3
Notice
: Undefined variable: amazonTest in
/web/sites/dusker/affiliateCode/amazon-shortcode.php
on line
13
Notice
: Undefined variable: test in
/web/sites/dusker/affiliateCode/amazon-shortcode.php
on line
100
Notice
: Use of undefined constant Price - assumed 'Price' in
/web/sites/dusker/affiliateCode/amazon-shortcode.php
on line
108
Notice
: Use of undefined constant SalePrice - assumed 'SalePrice' in
/web/sites/dusker/affiliateCode/amazon-shortcode.php
on line
109
Notice
: Use of undefined constant LowestNewPrice - assumed 'LowestNewPrice' in
/web/sites/dusker/affiliateCode/amazon-shortcode.php
on line
110
Notice
: Use of undefined constant page - assumed 'page' in
/web/sites/dusker/affiliateCode/amazon-shortcode.php
on line
111
Notice
: Undefined variable: test in
/web/sites/dusker/affiliateCode/amazon-shortcode.php
on line
162
Notice
: Use of undefined constant HTTP_HOST - assumed 'HTTP_HOST' in
/web/sites/dusker/affiliateCode/amazon-shortcode.php
on line
213
Notice
: Undefined index: tracking_id in
/web/sites/dusker/affiliateCode/custom-shortcodes.php
on line
11
Notice
: Use of undefined constant REMOTE_ADDR - assumed 'REMOTE_ADDR' in
/web/sites/dusker/affiliateCode/amazon-shortcode.php
on line
3
Notice
: Undefined variable: amazonTest in
/web/sites/dusker/affiliateCode/amazon-shortcode.php
on line
13
Notice
: Undefined variable: test in
/web/sites/dusker/affiliateCode/amazon-shortcode.php
on line
100
Notice
: Use of undefined constant Price - assumed 'Price' in
/web/sites/dusker/affiliateCode/amazon-shortcode.php
on line
108
Notice
: Use of undefined constant SalePrice - assumed 'SalePrice' in
/web/sites/dusker/affiliateCode/amazon-shortcode.php
on line
109
Notice
: Use of undefined constant LowestNewPrice - assumed 'LowestNewPrice' in
/web/sites/dusker/affiliateCode/amazon-shortcode.php
on line
110
Notice
: Use of undefined constant page - assumed 'page' in
/web/sites/dusker/affiliateCode/amazon-shortcode.php
on line
111
Notice
: Undefined variable: test in
/web/sites/dusker/affiliateCode/amazon-shortcode.php
on line
162
Notice
: Use of undefined constant HTTP_HOST - assumed 'HTTP_HOST' in
/web/sites/dusker/affiliateCode/amazon-shortcode.php
on line
213
Notice
: Undefined index: tracking_id in
/web/sites/dusker/affiliateCode/custom-shortcodes.php
on line
11
Notice
: Use of undefined constant REMOTE_ADDR - assumed 'REMOTE_ADDR' in
/web/sites/dusker/affiliateCode/amazon-shortcode.php
on line
3
Notice
: Undefined variable: amazonTest in
/web/sites/dusker/affiliateCode/amazon-shortcode.php
on line
13
Notice
: Undefined variable: test in
/web/sites/dusker/affiliateCode/amazon-shortcode.php
on line
100
Notice
: Use of undefined constant Price - assumed 'Price' in
/web/sites/dusker/affiliateCode/amazon-shortcode.php
on line
108
Notice
: Use of undefined constant SalePrice - assumed 'SalePrice' in
/web/sites/dusker/affiliateCode/amazon-shortcode.php
on line
109
Notice
: Use of undefined constant LowestNewPrice - assumed 'LowestNewPrice' in
/web/sites/dusker/affiliateCode/amazon-shortcode.php
on line
110
Notice
: Use of undefined constant page - assumed 'page' in
/web/sites/dusker/affiliateCode/amazon-shortcode.php
on line
111
Notice
: Undefined variable: test in
/web/sites/dusker/affiliateCode/amazon-shortcode.php
on line
162
Notice
: Use of undefined constant HTTP_HOST - assumed 'HTTP_HOST' in
/web/sites/dusker/affiliateCode/amazon-shortcode.php
on line
213
We love treadmills. They're a great way to get in shape and avoid the perils of UK weather, especially in the winter months. My little gym has an incline type treadmill in the corner and it's proved to be a great addition to my home gym.
Do you need to spend a fortune to get the benefits of your own running machine? We wanted to find out what was out there for under £300. Here are the top cheap treadmills on the market at the moment.
Update 2021: Wow, there's been some demand on treadmills (and all other gym gear) lately. We've updated this guide with some hopefully in-stock running machines that will suit your budget. While the guide used to be about treadmills under £200, there's nothing to be had in this price range. In this updated guide, we're upping our budget to £300.

#1 – JLL T450 Digital Folding Treadmill
Plenty of power and features we'd expect on a more expensive machine
Diving in with our first sub-£300 bargain and it's the JLL T450. This is a motorized treadmill that's definitely punching above it's weight, to use a boxing expression. It combines a decent feature set with a sturdy design and durable quality.
Plenty of power and features we'd expect on a more expensive machine
This machine beats a lot of the more expensive treadmills we've seen and comes with a respectable 4.5 HP motor, powered incline and 20 programmes to get stuck in to.
JLL is also a well-known brand with a good reputation for customer support.
This cheaper running machine is a compact treadmill so it's a good choice if you've not got tons of space to spare. This comes at the cost of some width however and it's narrower than commercial treadmills.
Good display for the price
While the display or onboard computer might sound like a small thing, there are some really cheap and nasty ones on some budget treadmills out there, and you'll spend a good amount of time looking at them. This one is great though; you can see calories, time, distance and a lot more all on one screen.
Not only that, the touchscreen buttons work perfectly and feel a lot better than those cheap push-in ones we've seen.
Good level of incline, fully automatic
Another good reason for increasing your budget to £200 is that you get a powered incline which is controlled by the computer, rather than some manual affair where you have to set it manually. This machine does a brilliant job with it's powered incline and adds a lot to how tough your workout can be.
The machine itself is surprisingly sturdy for a budget treadmill, with a chunky tubular steel frame.
Some welcome little touches
This machine comes 99% assembled. No messing around for hours figuring out what goes where. Having said that, the instructions could use more depth and clarity. But you shouldn't have any problems putting this thing together.
Another thing we like about this machine is the two cup-holders (hey, they're handy!) And you currently get a free Bluetooth fitness tracker with it. Nice!
Fact: This machine has a top speed of 16 km/hour!
Verdict: This is a fab, compact treadmill that's easy to use and easy to store. There's blissfully little assembly required and the computer and display are good for the price. A powerful motor and 16km speed, combined with powered incline? Yeah, we're happy. Highly recommended at this price point.
Good brand
Really good motor at this price point
High top speed
Powered incline
Easy to use and maintain
Bargain price
More narrow than commercial gym running machines
Instructions could be clearer
£699.99 at Amazon
Price last checked: Monday 14th June 2021 - 09:06 am
---
there's a cracking-good treadmill here for a budget price.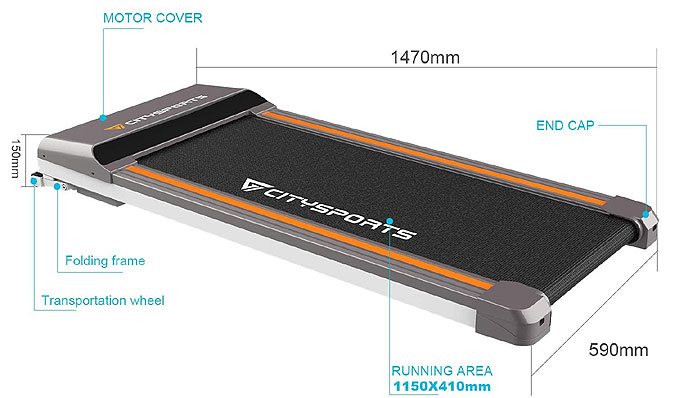 Citysports 'no-sides' treadmill really impressed us when we got the chance to check it out recently and, once you get around the idea of not having and rails on the side of your running machine, there's a cracking-good treadmill here for a budget price.
Taking up the same space as one of those 'manual' machines, this is a fully motorized machine that's great for home exercise on a budget.
There's some impressive reviews on Amazon for this machine too.
Ideal for walking, jogging and getting back into shape
As there's a greatly reduced frame here, this treadmill is one you can plonk down, do your exercise and then literally carry away when you're done. You can store it vertically so it takes up probably the smallest stored footprint we've seen on a treadmill.
This machine is good for anyone looking for lighter exercise – walking and light jogging as the top speed hits around 6km/h.
If you're wondering 'where's my display console!?' It's cleverly integrated into the base. Large (very cool!) LED letters show your speed, calories and other important specs that you'd normally have on the upper console.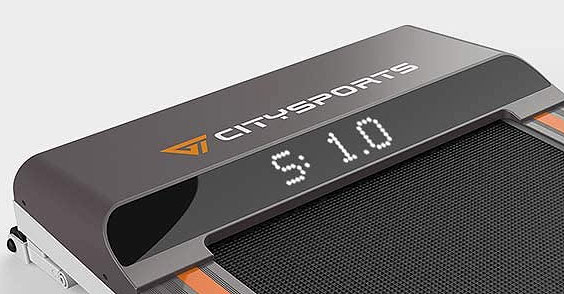 This means you're fully hands-free. Although we do miss somewhere to put our bottle!
Verdict: For anyone looking to get in shape, especially those looking for a cheaper way to start exercising after a long break, ths Citysports treadmill is well made, hyper-portable and works really well. And for the price, it's a top-notch machine.
Happy running!
Takes up a teeny storage space
Good brand and very well made
Super-easy to use
Zero assembly
Ideal for walking and light jogging
Nowhere to put your drink
The no-sides design won't be for everyone
£299.00 at Amazon
Price last checked: Monday 14th June 2021 - 09:02 am
---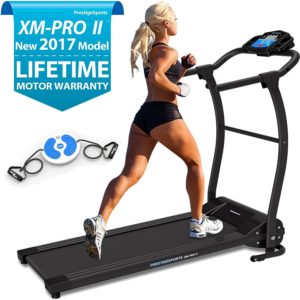 One of the best treadmills for under £200 at the moment might look like any other machine, but the Prestige Sports XM-Pro 2 has some interesting differences and cool features that make it a worthy contender.
The 1 horsepower motor comes with an impressive lifetime warranty and the other parts (including frame) come with a two-year warranty. It's good to have peace of mind when you're buying any machine but this is very welcome.
The display panel is simple but shows everything you need – speed, distance, calories and the controls are large enough you can hit them pretty easily when running. There are drinks holders and a towel holder. Hey, the little things add up too.
One downside is that the incline is fixed to 10%, but we did like the 8 auto programmes available. They do things like alternate between high and low intensity. This helps tone and get in shape quicker, so they're worth playing around with.
One of the things that's surprising about this treadmill is that it's a folding design, but its solid appearance might have you fooled. This isn't some flimsy treadmill – this one can take a serious pounding. Don't worry if you're in a flat or have neighbours, this is a nice quiet treadmill. And if you're an older user, the speed can be reduced easily to 1km.
In short, great build, good value for money, an excellent guarantee and very easy to move around.
Great fold-away design
Simple installation
Sturdy construction
Straight forward controls
Takes up minimal space
No way to adjust incline
Slightly narrow if you have wide running stride
---
If you're looking for the best treadmill for under £200, and get fit from the comfort of your own home, it's worth checking the Homcom range. In particular, we'd like to show you this model, currently from around the £160 mark (with a larger version available).
At the time of our review, this treadmill has a very high rating on Amazon, from over a hundred and sixty reviews. Pretty good! So what do people like about this machine so much?
You've got a treadmill here offering a range of speeds from 1km to 10km per hour. So it's suitable for all levels. There's a nice bright LED screen to keep track of how you're doing (speed, time, distance and calories). And there are three programmes to help get your fitness up to scratch.
This is also another space-saving running machine that will fold away when you're not using it. The small wheels make it easy to move out of the way too. There's no shame wheeling it in front of the TV and watching your favourite box sets at the same time.
Unlike a number of running machines, installation is not complicated.
Cheap treadmill
Simple installation
Sturdy construction
Straight forward controls
Takes up minimal space
Instructions could be better written at the start
Slightly narrow if you have a wide running stride
---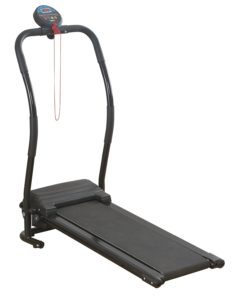 Talk about compact. If you're really strapped for space then this might be the running machine you're looking for. It folds down to just 28cm x 51 cm. It's quick and easy to fold down.
It has a clear, easy-to-read display that shows speed, time, distance and calories.  I personally only use calories but the others are there too.
Ideal for anyone up to 16.5kg and perfect for walking or light running. If you're a serious gym head, you might want to look for a more robust / larger model though.
And at just under £125, this is the cheapest treadmill we were able to find. Well, motorized ones in any case! Comes with a 12-month manufacturers guarantee too. Handy.
Excellent support from Clifford James
Folds away to save space
Small wheels make it easy to move around
Great for walking or running
Perfect for elderly
Compact unit, not suitable for tall people
Not robust enough for serious runners
---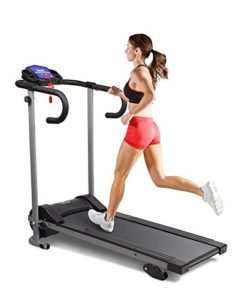 This running machine is a great bit of equipment with a solid feel and 10km/h top speed. There are also 3 programmable modes. Surprisingly, for the price, it's also got an incline setting. This is manually adjusted, but still welcome addition.
As a lot of the treadmills on this page are, this unit folds away to save space, or to clear the floor for your other exercises. You've also got a handy calorie counter and a stop cord. I've never really used my stop cord but it's there if you need it. * TIP * Don't forget to place the disc on the treadmill or it won't start.
Quick n easy to put together – you only need to add the handles on – and you're good to go.
At under 150 quid, this treadmill sits at the budget end of the scale is a steal for the price.
Solid build
Folds away easily, very compact
Easy to assemble – just insert handles
Great for walking or running
Not suitable for anyone over 5 and a half feet
Instructions on using programs could be better