Choosing exercise equipment for your home gym can be hard. Not only do you have to find something that does everything you need it to do, it also has to fit into your home and fit into your budget.
When it comes to something like a rowing machine, it gets even harder, because at first glance all standard rowers basically look the same. Which is why we've written this guide.
About ProForm
ProForm has a 30-year heritage in making some of the most well-regarded exercise systems on the market.
They're a subsidiary of ICON health and fitness; a US-based company and the biggest fitness manufacturer in the world. They've been operating since 1977, and also own some of the other biggest names out there, including NordicTrack, Gold's Gym, and the interactive fitness app iFit.
What's in ProForm's rowing machine range?
ProForm currently sell three different rowing systems. The 440R, R600 and 750R.
We'll be looking at all three, including how they differ and who should consider buying them.
You can see the range on their website here.
Compare Proform's Rowing Machines
The ProForm 750R
"High-quality features, without breaking the bank"
Specifications
Dimensions: 218 x 55 x 116cm
Resistance: Silent magnetic resistance
Monitor: 5-inch multicolour display
iFit: Yes
Max user weight: 115kg (250lbs)
Folding design: Yes
Railing Material: Steel
750R Rower Details
The best rower in ProForm's general range, the 750R packs a lot of tech into a reasonably well-priced chassis and has a lot to offer for prospective buyers.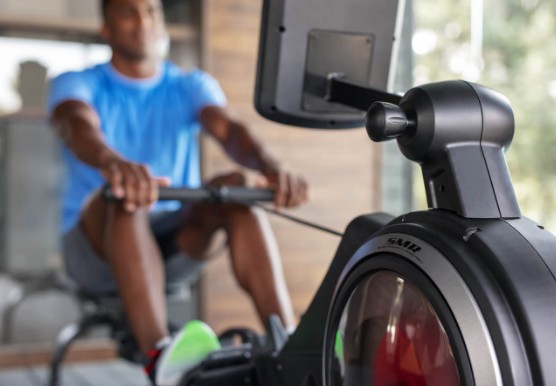 To kick things off, unlike the other models in ProForm's range, the 750R is built around the same style of silent magnetic resistance you'd find on commercial-grade rowing machines that cost upwards of four figures.
Compared to traditional, physical resistance methods, SMR is an entirely different game. It's far smoother to use, with even and consistent resistance levels that don't fade down or wear out as the machine gets older. And as the name suggests, because there's no physical contact, it's basically silent.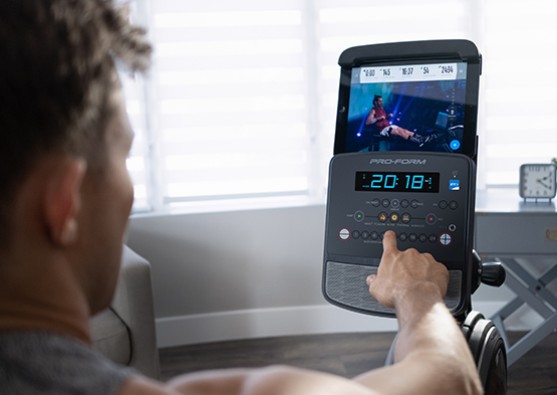 On top of this, the 750R is one of the cheapest ways to get access to iFit, ICON's interactive live fitness program. It's no great secret that we love iFit and other live fitness apps because they give you so many options and ways to train, including virtual rowing. We've written an entire guide on the benefits of iFit, but long story short, if you're serious about your health and fitness, you're going to want to invest in a fitness app like this.
So how does the 750R save money? Simple. It cuts out a lot of the built-in tech that you'd see on more expensive rowers. For example, there is no interactive touch screen, but it has a tablet holder to fit your own devices. There's no heart rate sensor, but the console is decent and shows what you need for basic workouts, as well as having 20 of its own just in case you don't want iFit.
Who is this rowing machine best for?
Coming with iFit makes the ProForm 750R suitable for almost anyone. No matter your fitness goals, iFit will get you there with its thousands of fitness programs and daily classes, led by world-class trainers.
But even without factoring in iFit, there's a lot to love here. A strong frame, the same resistance systems used on top-end rowers, all on a light and easy-to-move body.
Conclusion: Should you buy the ProForm 750R?
For its cost, the ProForm 750R delivers. You're getting a lot of the things that you'd expect to see in a rower two or even three times the cost. It does cut a few corners and lacks a lot of the built-in bells and whistles you'd see on more expensive models, but there's a reason.
In terms of performance, and what it offers, the ProForm 750R is a fantastic system, and a great entry-level way to get access to a machine with silent magnetic resistance and iFit.
---
The ProForm R600
"Solid performance for a mid-range model"
Specifications
Dimensions: 220 x 56 x 65cm
Resistance: Adjustable air resistance
Monitor: LCD
iFit: No
Max user weight: 115kg (250lbs)
Folding design: Yes
Railing material: Aluminium
R600 Rower Details
Simple but well made are the watchwords of the Proform R600. It doesn't have many of the technological wonders shared by commercial level models, but what it does, it does well.
From the bottom up, it's a well made, if simple, piece of kit. The structure is aluminium, which keeps the weight down, but does keep the maximum user weight at a reasonably low 115kg (250lbs.) The workable parts are excellent, with a contoured and adjustable seat, adjustable foot pedals, and an ergonomic handle.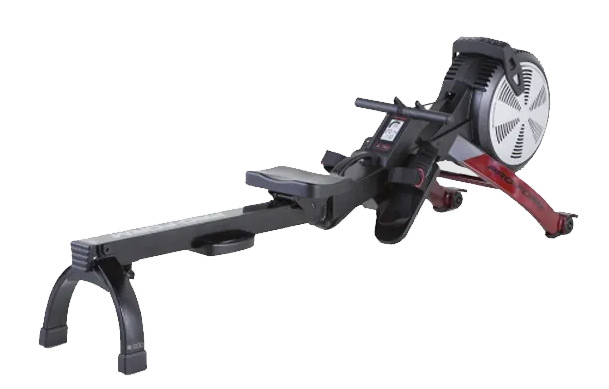 Resistance is delivered through a simple air resistance system. There are no discrete settings, only a slider that opens and closes the air vents. This is backed up with strong manual resistance, so if you're looking for a rock-hard workout, the R600 can give you what you need.
To keep your workouts interesting and help you hit your goals, it comes with workout programs built-in. There's no option for expansion, but what's on offer is decent enough. Especially when paired with the LCD monitor that tracks and delivers all of your stats in an easy to understand and easy to read way.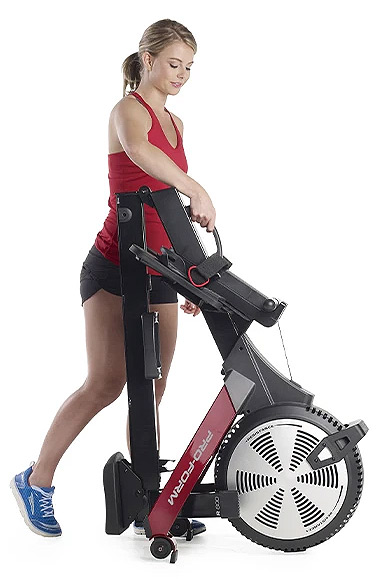 Finally, even though this is a hefty piece of kit, it folds down easily into a much smaller space and can be shuttled around your house on transport wheels. Knowing that something this size doesn't just have to sit in one place is a big help when you're setting up your home gym.
Who is this rowing machine best for?
The R600 is a step up from the standard rowers you'd buy from outlets or sports stores.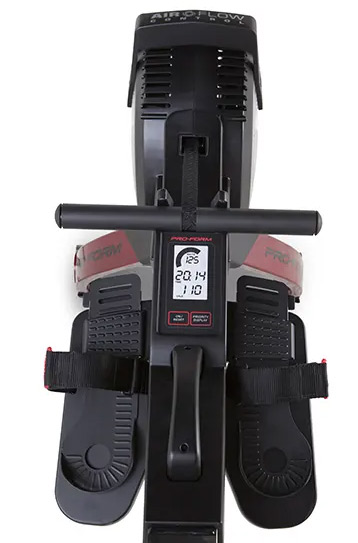 The action is based on air resistance on an inertia enhanced flywheel, rather than the cheaper pure physical resistance, and everything about it, from the build quality to the fittings, is well made. Especially the fact that it collapses on itself for simple storage.
If you're looking for a basic rower that's a little more robust and a step up from the standard, the R600 delivers.
Conclusion: Should you buy the ProForm R600?
While it's never going to match up to the bigger, more expensive models, the R600 invests just enough in what matters. The performance is solid across the board, with just enough flair for it to stand out. There are flaws, sure, but for the money, it's a solid piece of gear that's going to do exactly what you need it to do.
---
Related Rowing Equipment Guides
---
The ProForm 440R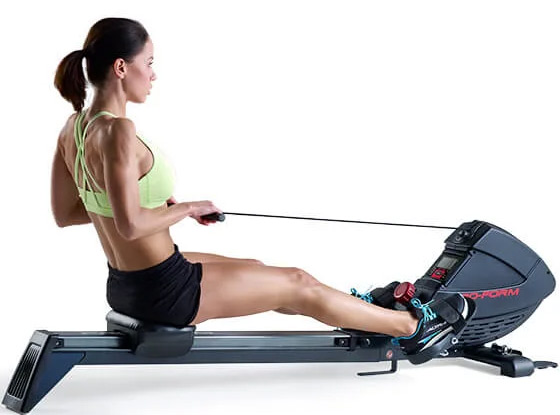 A budget price doesn't mean a lack of features
Specifications
Dimensions: 193 x 58 x 49cm
Resistance: Digital
Monitor: LCD
iFit: No
Max user weight: 115kg (250lbs)
Folding design: Yes
Railing material: Aluminium
440R Rower Details
At first impressions, the Proform 440R actually seems like a budget rower. It's small and looks a little outdated. But don't let that turn you away.
The general construction is decent across the board, with an aluminium main rail and a comfortable rowing position. The footrests are large and easily adjustable, and so is the seat, with a lot of padding, although it's a little small for larger users.
When it's time to put it away, the 440R is designed to work as a SpaceSaver, so it can fold upwards and save a lot of room. Unfortunately, when it arrives, expect to spend an hour putting this together. Even though it's a light, budget model, it comes in a lot of parts and takes a lot of assembly.
The LCD display is great, especially for the price, with a large, easy to read screen that shows all of the essential stats. Resistance is provided with a magnetic system, just like the most expensive commercial models, which is lovely, and resistance can be changed through 8 levels with a simple dial.
Who is this rowing machine best for?
At the price, the 440R is aimed entirely at casual rowers who are only going to use this as a supplement to their workouts.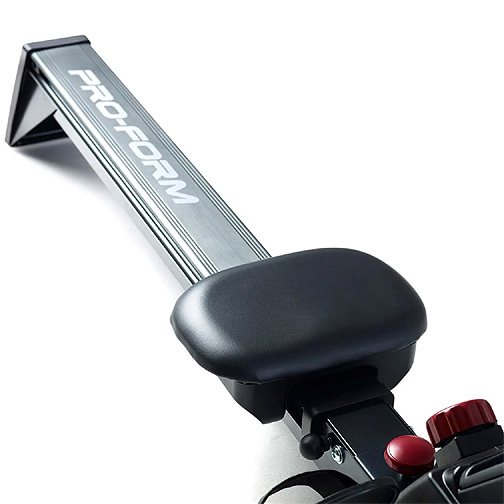 If you're buying a rowing machine for heavy cardio work, or to seriously train, you need something a little bigger.
Conclusion: Should you buy the ProForm 440R?
The 440R doesn't offer anything special, but it's definitely going to get you fit. Despite being the cheapest rower on offer from ProForm, there's a lot to love here. A solid design, with strong, consistent performance, and a reasonable feature base.
Unfortunately, that's balanced out by a couple of key flaws, like the lowish weight limit and limited warranty. If we were in the market, we'd be looking at the other models on offer, especially considering that this is on the high end for a budget model, and the price difference between the 440R and the next model up, the R600, is pretty minor.
---
The Verdict: Which Proform rowing machine should you buy?
In our opinion, ProForm's rower range is decent across the board, but the 750R is significantly better than both of the budget models.
As a way to get access to iFit, the 750R is a relatively cheap way of getting yourself on board, and the overall performance is fantastic as well and comes highly recommended.
Both the R600 and 440R perform well enough, but honestly, for a basic, budget rower, there are better options out there.
Thanks for reading. If we've missed anything, make sure to comment. We love hearing our reader's thoughts and expertise!
See the full Proform rowing equipment range here.
---
References and further reading