Buying a home rowing machine sounds like it should be easy until you actually step back and start looking at the options. There's a dizzying array of machines out there, all with different specs and uses. In this guide, we're taking a look at the best current water resistance rowers up for grabs in 2023.
Bluefin
Fitness Blade
Aqua W-1

"This rower looks nothing short of incredible. It's also incredibly smooth and sturdy. Online coaching and rowing features are top-notch too."

Topiom
Wooden
Rowing Machine

"A good bit cheaper than most water rowers, with all the features and gorgeous design."

Cheaper than other wooden rowers

Sportstech Premium
Water Rower
What we look for when picking a 'good' water-based rower
Some things to look out for when picking your machine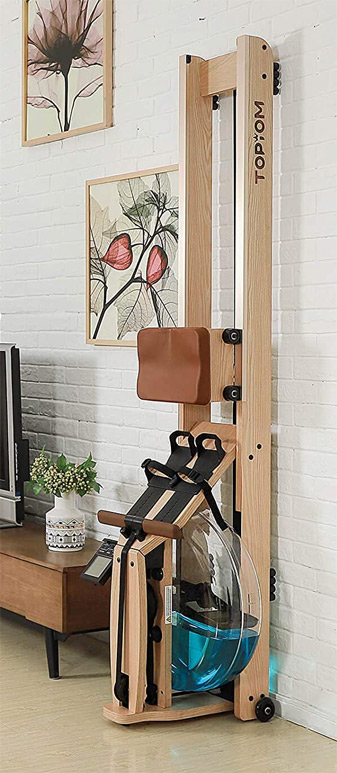 Weight and height limits – While this won't apply to everyone if you have a tall frame, or a heavier body you'll want to check the height limit (a frustratingly difficult spec to find on most websites) and also the max-user weight. Thankfully with water-based machines, they are generally high in both categories. Wooden rowers normally having the best weight limit.
What's the mechanism like? – Pretty much any of the rowing machines on places like Amazon look amazing in the images. Bit the real issue is how well they perform. Do they creak like an old door, or are they buttery-smooth?
Display and console – Water rowing machines generally do a better job when it comes to the display console than a lot of other rowers we've seen. The higher budget allowing for more luxurious displays. But there's still a lot of variance between machines. We'll go into detail on each one.
Sustainability – In the case of wooden rowers, it's good to know where the wood comes from. Thankfully, the majority of machines are from sustainable sources but it's something we check on.
Display & online features – You'll be looking at your rowing machine's display for a long time overall, so it's important it's easy-on-the-eye and packed with the essential info you'll need to make some progress. We also look at online connectivity and whether or not you can use third-party apps. This is an area that water resistance machines have lagged behind in but are catching up!
Is it easy to put together? – Every rower we've seen requires at least some assembly. Thankfully, the products in this category aren't too hard to knock together. You can normally expect to spend around 30 minutes to an hour putting your new rowing machine together.
What's the warranty? – It's not a perfect world and water rowing machines have a lot of moving parts! What if something arrived broken, or goes wrong somewhere down the line? Call us pessimists but we like to know what the warranty and customer service is like when the boat starts to sink.
---
The best current rowing water resistance rower in 2023
Before the buyer's guide, let's go over the current top rowing machines in 2023. Here are the ones we found were actually worth the money, starting with the top pick first.

#1 – Bluefin Fitness Blade Aqua W-1
Style: Wooden
Storage: Folding
Warranty: 12 months
Max User Weight: 227kg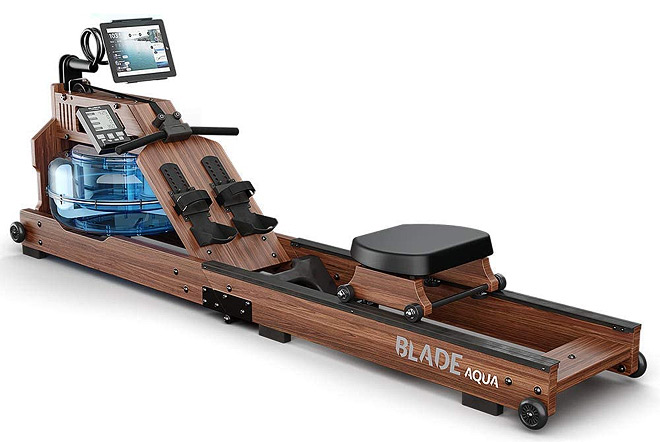 One of the best, if not the best rower we've looked at, the Bluefin Fitness Blade balances the performance of a WaterRower with all of the modern gadgets and app support you would expect from a top gym-based fitness system.
In terms of design, it's superlative. The frame is made from 100% sustainable American ashwood, with looks gorgeous as well as being eco-friendly. The water tank is dual-chambered and strong, and everything else is top class, with comfortable anti-slip pedals, ergonomic handlebars and a soft, cushioned seat.
Getting into online training
It mounts an industry-standard LCD screen that gives you all your essential stats, but unlike a lot of water-based rowers, this also comes with a tablet holder and full Kinomap app functionality.
This is huge, and the single biggest reason why the Fitness Blade is by far the best water rowing machine we've seen. It gives you instant access to thousands of online training videos and online coaching, with flexible streaming and on-demand workouts whenever you need them.
Better storage than other rowers
One 'oh, that's clever' moments we had with this machine was seeing how it folds down. Rather than flipping on it's end, as a lot of other wooden machines go for, this one has a nifty joint mid-way along the frame that folds down to a really compact size. They've made it so it also looks really good when in this position.
Sounds weird, but it looks so good and works really well. Built-in transport wheels make shifting it around much simpler.
An electric water pump makes filling the internal reservoir simple, and everything is covered by a 12 month warranty.
All of this, and the Bluefin Fitness Blade is essentially the same price as any other standard water-based rower. It's actually so good that it's hard to recommend anything else.
Verdict: If you're looking for a wooden rower, this one comes without stamp of approval. It's incredibly easy on the eye but not just a pretty face. There's a stonking good workout here for users of all levels, and a silky smooth stroke.
The wood quality and grain is gorgeous
A seriously tough machine
Online connectivity, if you want it
Very smooth rowing action
Clever folding system
Comprehensive 12 month warranty
Sometimes hard to find in-stock
Check Current Amazon UK Price
---
Style: Wooden
Storage: Stands on end
Max User Weight: 227kg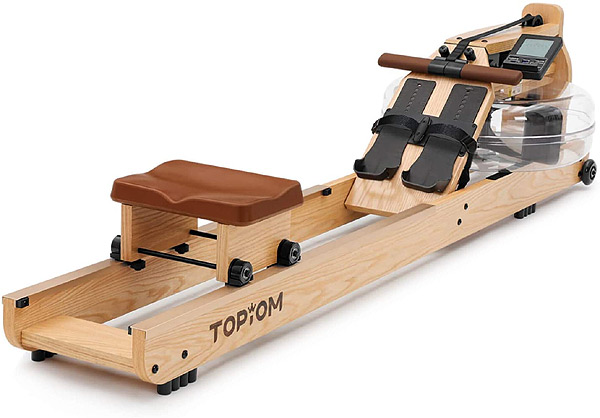 In terms of construction quality, this rower by Topiom is a beast. Hand made from an attractive light ash and run through a barrage of standard tests, it's one of the best rowers in terms of build that we've looked at. Which is why it has a monstrous weight limit of 180kg (over 400lbs!)
Everything else is equally high quality, from the water tank to the adjustable footplates and comfy seat that sits on smooth-running nylon wheels. It's simple to assemble, coming in two boxes and going together in less than an hour, with a 24/7 support team available if you run into any problems.
Controls and stats are delivered from a relatively standard LCD display, but there's also the option for Bluetooth and app controls, which gives you a lot of flexibility and another way to track all the important statistics.
Unfortunately, even though this equals the performance of the Bluefin, it doesn't have any fitness apps built-in. But if that doesn't matter to you, then this is a fantastic choice that's tough enough to last for years if looked after.
Verdict: This rower is beautiful to look at and a joy to use. If you're looking for a water-based rower, this is a great one to go for. It's also substantially easier to find in stock, and a fair bit cheaper than the WaterRowers and a good bit cheaper too.
Solid construction
Good upper height limit for taller rowers
Gorgeous wood finish
Identical to WaterRowers
Lower price tag
Monitor not as good as WaterRowers
Assembly instructions are not easy to follow
Check Current Amazon UK Price
---
Style: Steel & Aluminium
Storage: Folding
Max User Weight: 150kg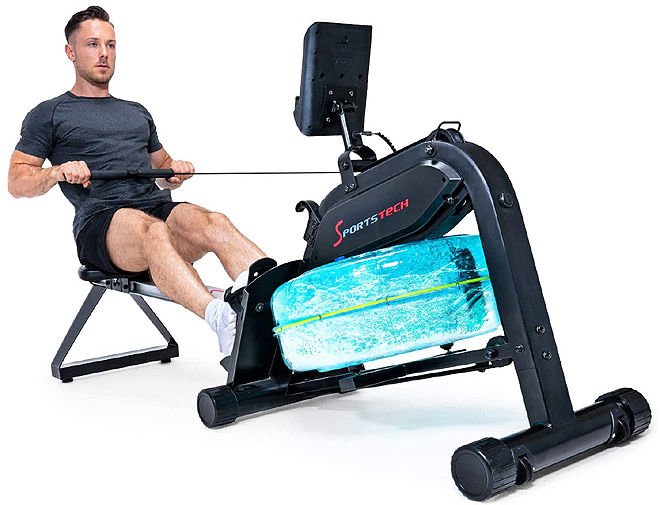 Moving away from traditional wooden rowing machines is the WRX400, from Sportstech. They're a good German brand with an ever-expanding range of gym gear. The stuff we've seen meets a good level of quality. Their water resistance rower follows suit with a sturdy machine that's got good online connectivity too.
If you scan the QR code on your phone, you're taken to a simple setup video. There's not exactly a lot for you to do and one person can complete the setup process without help.
Angled water tank
The water tank is at a different angle to the regular wooden water rowing machines. The idea is that this creates more resistance – a bit like incline on a treadmill.This angle creates a slightly different feel that will get you doing more work in the same time, which is a good thing in our books.
One area where the Sportstech rower isn't up to the level of the wooden rowers above is it's default console. With only one stat displayed at a time, and a somewhat plain aesthetic, you can see your info like calories and distance, but we've seen this done better elsewhere. All is not lost however, as …
You'll likely use the app – which is excellent
Bluetooth connects your phone to the WRX400 and then replaces the default console with whatever size screen you want to slap on there. You'll likely be using Kinomap which integrates easily with the rower. Then it's online rowing, tuition and video courses that make the somewhat repetitive business of rowing a joy.
Verdict: If you want a good rower that isn't made of wood, Sportstech's WRX400 might float your boat. It's sturdy, gives a powerful workout and has excellent online options with Kinomap. The LCD display won't set the world on fire, but other than that this is a fab water-based rower.
Top notch online integration
Tough workout!
Includes the pulse belt
Connects to Kinomap
Simple QR video setup
LCD Console is basic
Not as eye-catching as a wooden rower
Check Current Amazon UK Price
---
Style: Steel & Aluminium
Storage: Folding
Max User Weight: 135kg
Offering a tough chassis and increased resistance over the other rowers on this list, the Yalaxi folding water resistance rower offers the a far harder workout, if that's what you're looking for.
Unlike our other choices, the frame of this rower is strong plastic, with a 5 point design to spread the load and let it carry up to 135kg (300lbs.) The water tank is made from impact and corrosion resistant aviation grade polycarbon, holding up to 18L of water. It's also uniquely mounted at a 45 degree angle, which increases the resistance by up to 20% over a standard horizontal tank.
A folding design and transport wheels make this easy to store, and it's surprisingly light at just 42kg. Controls are also very simple, with a large LCD control panel that gives you all of the important stats, including time, distance, strokes per minute, watts, and pulse.
In terms of training, there's a lot to love here. It's strong, tough, and decently priced. It's just a shame that it doesn't have any multimedia training options.
Verdict: This rower is as solid as they come and seems built to last a long time.
Super-tough poly carbon
Console shows multiple info at a time
45 degree water tank
Bulky when folded
No online capabilities
Check Current Amazon UK Price
---
Final thoughts
There's a reason people are turning to water machines as a home fitness option. The combination of smooth action, easy adjustment and great construction offers a lot when compared to standard rowers, and generally for a really decent price.
Hopefully, our guide has helped you make your choice. Realistically, given the option, in our opinion, there's no reason to choose anything but the Bluefin Fitness Blade. It offers comparable performance to anything else on the market, backed up by live fitness app support that gives you so many options when it comes to picking a workout.
If you've got any hints or tips for our readers, make sure you drop us a comment, and thanks for reading!
---
Going With The Flow: A Quick Guide To Water Rowing Machines
Are there any decent cheaper aqua rowers around?
You definitely don't have to pay full whack and get one of the bigger brand names to get a really good machine in 2023. Take a look at our Best Budget Water Rowing Machines guide for some really good bargains we've found.
Where did this flood of rowers come from?
Being the only wooden rower on the market is great if you're the only seller. I remember seeing the WaterRowers years ago and thinking they were great. But there wasn't exactly a lot of choice for buyers. Other than changing your colour, or picking a different model, you were still limited to the one manufacturer.
It's a great time to splash out on a water-based rower
In 2023, there are many companies creating wooden rowers – wooden and steel frames. And that's a good thing. Rather than being copies, we've seen some innovate with things like online integration and changing the angle of the tank. The great news is that a lot of these other brands offer something not only different but often cheaper too.
But if you know anything about rowing machines, or you've read our best-of lists, you'll know that there's one kind of rower that's consistently solid across the board and loved by everyone who uses them, whether they're an absolute beginner or a seasoned professional.
Fancy a tough rowing session?
One of the best things about them, apart from how snazzy they look, is that there's a simple trick to getting an easier or harder workout.  Adding more water to your tank is a simple way to drastically increase how much work you'll have to do. Modern water resistance rowers will also normally have a simple dial that will let you increase resistance at least a couple of levels too.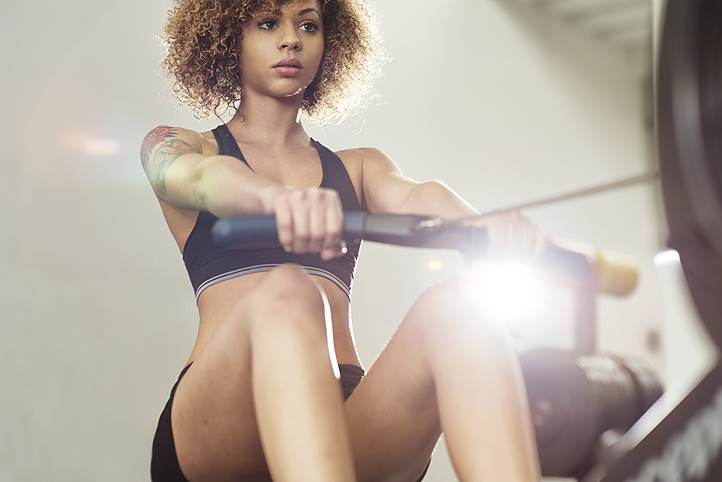 What are the different types of rowers?
There are three different types of rowing machines on the market, with the main difference being the types of resistance; air, water and magnetic.
Air
Air resistance is the most common type of resistance used, and it's the one people probably think of when they're thinking of a rowing machine. These types of rowers use a large mechanical turbine to generate their resistance, which tends to result in a large whooshing sound while it's being used.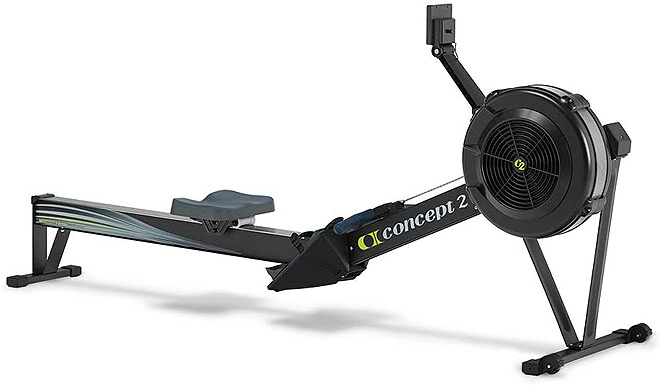 This type of rower tends to be the most budget-friendly, but has the worst performance out of every option.
Magnetic
Magnetic resistance uses magnets (shocking, we know) to generate the resistance. This means that the rower is quieter, and tends to need very little maintenance as there's never any contact between the flywheel and the magnets.
Resistance tends to be high, with gradual adjustments rather than discrete levels, and the action tends to be very smooth and pleasant, but purely magnetic rowers are expensive and bulky.
Water
In a water resistance rowers, the resistance is provided by a large tank of water mounted to the frame of the rower, with increased resistance added by lowing the blades further into the water or adjusting the water level in the tank.
Because of this, it can be harder for beginners to judge the resistance levels on a water-based rower, but once you're used to it, the natural feel and smooth action feels infinitely better than any other type, which is why a lot of professionals swear by them.
Why use a water resistance machine?
There's a lot of reasons to choose a rower that uses water as it's resistance as your cardio method of choice, including:
High calorie burn: You can burn up to 600 calories per hour on a water machine, making it one of the most efficient cardio options available.
A fantastic full-body workout: Rowers heavily work the lower body, but as much as 1/3 of the force is focused in your arms and back, making it a great choice for a full body blast.
Low impact, big results: A rowing machine is an incredibly low impact compared to a lot of cardio options, especially treadmills, meaning that it's a great choice if you have joint issues, or you're looking for a way to exercise when you're in injury rehab.
Very attractive: Water machines are normally built around a wooden frame, so look a lot more aesthetically pleasing compared to more modern, stark, industrial exercise machines.
Meditative: The sound and feel of a wooden rower can't be faked. If you close your eyes, it's as close as you're going to get to being on the water.
Easy to store: Most water-based rowers fold upwards, allowing you to store them up against a wall with a very small footprint. Compared to other rowers, they're much better for smaller home gyms.
---
References & Further Reading