Welcome to our review of the XS Sports SB500 – a budget priced indoor bike that's aimed squarely at the home spinning market. Join us as we filling our water bottle and take this bad boy though it's paces.
As always, we'll cover the best parts and the things this bike doesn't do so well.
Let's dive in!
How does the SB500 measure up in such a crowded market?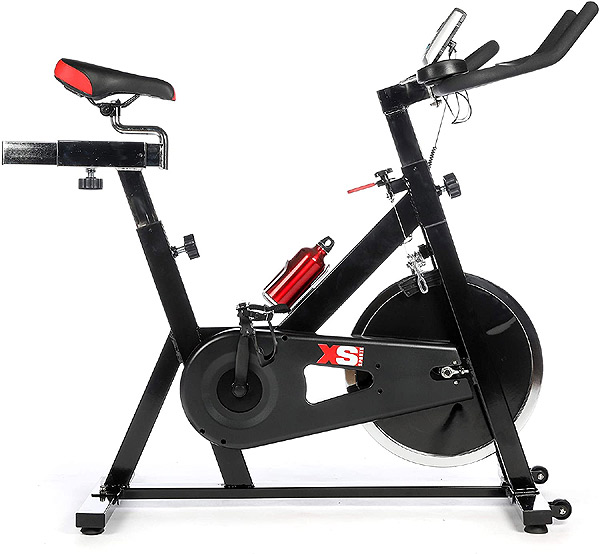 With so many different exercise bike options available on the market today, finding one that suits your needs perfectly – and fits your budget – often feels like a real battle. (See our best budget spin bike guide for more help).
A decent indoor bike has  it's work cut out if it's going to survive and separate itself from the rest of the pack. It has to have the ability to transform the way you work out – as well as your body and your health – and it has to do so while taking advantage of modern construction materials, high-tech engineering approaches, and still remain affordable.
A budget priced bike
The SB-500 is at the lower end of the price scale in the indoor bike market, offering a cheap way to get into some serious spinning without having to go to a class. This is one of the more popular lower-priced cycles and has an impressive amount of reviews on places like Amazon UK.
Check the SB500 Reviews on Amazon
But where have XS Sports had to cut corners?
Below we are going to dig a little deeper into everything that the XS Sports SB500 has to offer. We are going to highlight what makes it so special, what makes it so popular, and why so many people are choosing this exercise bike compared to other options.
We will also touch on the things that we aren't all that crazy about (areas of improvement we feel the XS Sports SB500 could take a closer look at), giving you all the inside information you need to feel comfortable with this kind of investment in your health and wellness.
Check Current Amazon UK Price
---
What is the XS Sports SB500?
The XS Sports SB500 is a budget-priced stationary bike that has borrowed from and been inspired by some of the more exercise bikes on the market. It comes together in a good all-round machine that doesn't cost a fortune.
With a brand-new approach to aero flywheel resistance, a rock solid build quality across the board, and the kind of customization we like to see on a spin bike, the XS Sports SB500 has a lot to offer.
XS Sports SB500 Main Features
Solid, sturdy stainless steel frame – powder coated and carefully welded for extra strength and stability
Careful multi point inspection process – each XS Sports SB500 has been thoroughly checked
The SB500 has a 15 kg aero flywheel – with adjustable resistance levels, designed to match your athletic output and your goals with the ability to change and adjust as you get stronger and more experience
LCD panel – tracks your speed, distances traveled, your post, calories burned, and the duration of your workouts (among other things)
Comfortable and adjustable frame and seating positions – helping you find the right configuration maximum comfort and performance levels
Folding design – folds into a relatively compact unit for effortless storage
Transport wheels – front end wheels for easy transportation
Max user weight – 25kg
Simple, clean aesthetic
The SB500 comes in a standard sort of black and silver that you'll get on the majority of spin bikes out there. While it's nor remarkable, it's clean, minimalist and looks attractive. The chrome-edged flywheel and red trim on the seat, along with the metallic red water bottle make a good first impression.
---
Quick-look benefits of the XS Sports SB500
What this budget spin bike does well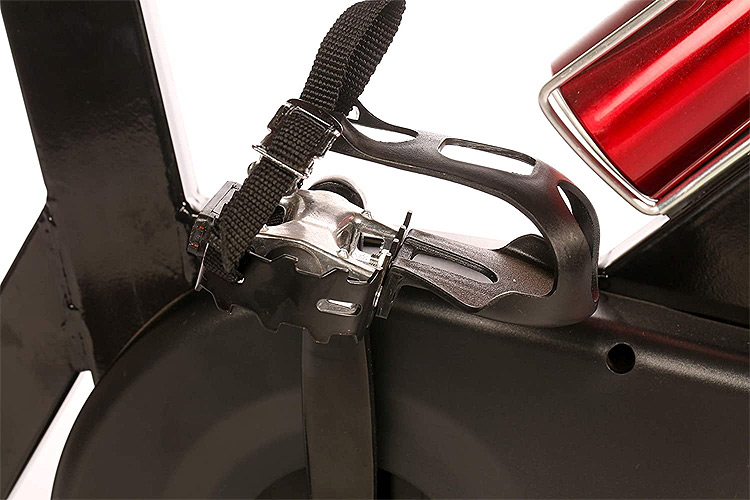 You need to know the exercise bike you are investing in is going to be able to provide you with the kinds of benefits that can change your health, your wellness, and the way you look and feel as quickly as possible.
The XS Sports SB500 has a number of main pros for this price range:
Strong for the price – Crafted from high quality materials (aluminum alloys, stainless steel, and high density but lightweight plastics and synthetics), this bike should last well.
Well engineered – For the price, the designers and engineers responsible for the XS Sports SB500 have done a good job, taking inspiration from the highest quality stationary and exercise bike options on the market.
Condensing what those options did best down while improving on everything that those options came up short on, the XS Sports SB500 is highly advanced and takes advantage of next generation resistance technology to deliver a great workout time and time again
Comfortable – Recognizing that people aren't going to use exercise equipment with any real frequency if they aren't comfortable on it, the XS Sports SB500 has been engineered to be as flexible, as adaptable, and as comfortable as can be.
Smooth – You won't ever have to worry about fighting this bike work pushing through workouts the way you would with uncomfortable options. You can dial in all of the settings and configurations of this bike to get exactly the kind of workout you are after.
Good choice for beginners – Many of the engineers and designers that worked on the creation of the XS Sports SB500 our professional fitness trainers or enthusiasts, experts that understand the ins and outs of this kind of equipment in a way that "laboratory only" engineers couldn't.
Check Current Amazon UK Price
Who is the XS Sports SB500 Best Suited For?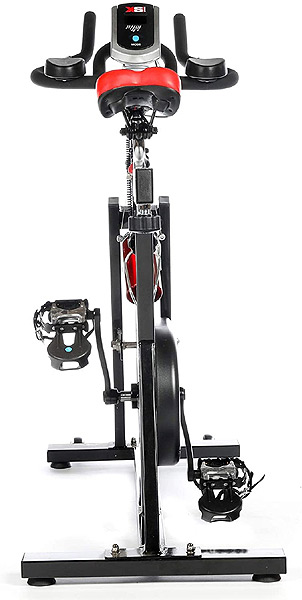 Whenever you are talking about a piece of exercise equipment this advanced there's always a little bit of concern that people new to the world of fitness aren't going to be able to use it as successfully as already experienced athletes might.
That's definitely not the case here.
Just like practically everything else regarding the XS Sports SB500, this exercise bike has definitely been engineered to be perfect for those that are brand-new to working out and to using exercise bikes specifically, but also includes the kinds of top performance features you'd expect from a piece of equipment that you can really grow with.
This bike is selling well on places like Amazon, with the majority of the buyers of the XS Sports SB500 having absolutely zero workout expertise or experience under their belt already and had it transform their lives forever.
A lot of those same people continue to use the XS Sports SB500 on a day-to-day basis, adjusting it the way that it has been designed to be adjusted to grow as they progress.
You'll find this to be a very comfortable to use beginner piece of exercise equipment, but you'll also find pretty quickly that it can adapt and continue to challenge you as you get stronger and more proficient.
There aren't a lot of exercise equipment options out there built around this approach to flexibility. Most exercise bikes are designed for newbies or highly experienced athletes and no one in between.
---
for anyone looking to dip their toe into spinning at home, this is a good choice.
What We Liked About the XS Sports SB500
Impressive build quality for the price
There are a lot of things that we really like when it comes to the XS Sports SB500, but the first thing has to be its overall build quality.
Nobody wants to jump on top of a flimsy feeling piece of exercise equipment, especially if you want to push yourself and really challenge your body to grow and develop. The idea of riding a stationary bike for miles and miles, pushing your body to burn fat or build muscle, without it being strong and stable is insane.
The XS Sports SB500 is very well made, very smartly designed, and comfortable for those long haul exercise session thanks to how easy it is to adjust.
Decent level of resistance
The SB500's resistance flywheel system is super adjustable, taking advantage of nothing but cyclical air pressure to push back against your efforts so that you get a great workout.
You'll be able to build muscle quick, melt fat fast, and dramatically improve your overall strength and endurance levels – not to mention your cardiovascular health – in the blink of an eye with the help of the XS Sports bike.
Lastly, the infinite resistance of this exercise bike really helps increase the resistance turning the usual top-mounted dial.
Seat and handlebars are quick 'n' easy to adjust
Too many other machines are "one-size-fits-all" in their approach, ending up a lot more uncomfortable to use than most people expect. The SB500 can be adjusted in a number of different ways, guaranteeing that you get something that just "feels right" every time you hop on this stationary bike.
The seat and handle bars have simple, easy-grab dials that let you quickly adjust them to your perfect height.
---
What We Weren't Crazy About
Basic LCD, expected at this price point but not ideal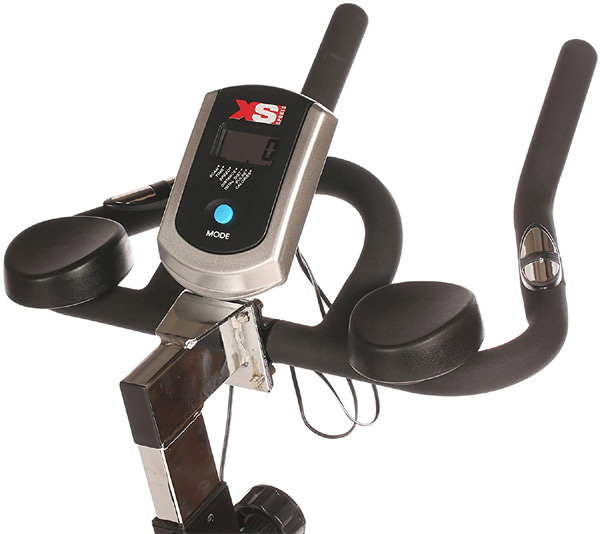 Truth be told, even though the LCD command-and-control center is pretty feature-rich it lacks a couple of options we would have liked to see – especially when it comes to tracking your resistance levels, programming specialty workouts, and things of that nature.
Assembly is a chore
On top of that, putting your SB500 together is going to take a little bit of time, especially if you haven't built and exercise bike in the past. You won't need any special tools or anything like that, but it is going to take at least an hour or two to get this bike up and running.
Don't expect a gym quality spin bike
Let's get real here for a second. For under £300, you're not going to get a bike that's as sturdy as ones at the gym. Those bikes can run into thousands of pounds, so a budget bike like XS Sport's one is going to struggle to keep up!
Keep the noise down!
Another down side to the SB500 is definitely the noise factor. And definitely a problem at this price point that we see on a lot of budget spin bikes. You'll definitely hear the flywheel, even with headphones on so, if you're sensitive to this kind of thing, you might want to look elsewhere.
---
Final Verdict
A few negatives aside, the SB500 bike earns it's place as one of the better budget priced spin bikes out there. For this price range, and especially for anyone looking to dip their toe into spinning at home, this is a good choice.
XS Sports are very upfront and honest about their bike has to offer – a solid budget stationary bike that you can develop and grow on.
It isn't a perfect exercise bike by any stretch of the imagination (we highlighted things we would have liked to see improved above), but it is well worth its price tag. The XS Sports SB500 comes highly recommended.
Check Current Amazon UK Price
Resources and further reading