Review Summary
S1000
Great-looking spin bike
Easy to adjust for different users
A good, solid frame
Good value
Chain drive definitely noisier than belt
"For the price, this is a cracking spin bike that's versatile and well-made. The onboard computer is very basic but other than that it's a good budget spin bike."

In this review, we're taking apart WeRSports' RevXtreme S1000 (available on Amazon UK) – a lower to mid-priced upright exercise bike. It certainly looks the part – but is it worth your money? This guide will cover the good and the bad that comes with the S1000, and help you decide if it's right for what you need.
What is the WeRSports RevXTreme S1000?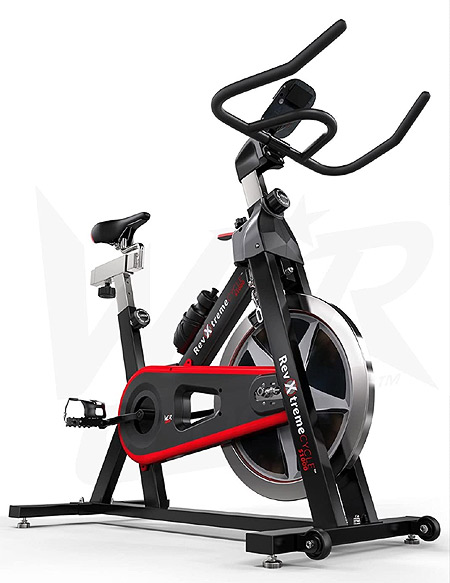 The S1000 is a medium level stationary fitness bike. It's not a budget model; rather a medium level bike that's a good choice for anyone serious about their fitness and those with proper goals in mind.
It has a solid steel construction, a mid-range flywheel that offers up a decent level of resistance for intense workouts, and a few other notable nice touches that we'll get to in a moment.
On the whole, this is a bike for anyone looking for something better than the budget offerings, with some heavy use in mind.
Check Current Amazon UK Price
---
What you get from training on the RevXtreme cycle
Whether you're just starting out, or looking to add some more cardio to the plan, cycling is a safe, effective exercise with a whole bevvy of benefits. Here's some of the main reasons you might want to jump on a bike like the S1000:
Cycling is a top form of cardio exercise – which has a whole host of health and fitness benefits
Cycling is also low impact – it won't hurt your body or joints anywhere near as much as running
Exercise is great for mood – Cycling can especially help with anxiety or depression
It's the perfect choice for fitness and weight loss – burning up to 1000 calories per hour!
An exercise bike can be used from home – and fits into any lifestyle. You can even set it up in your living room and burn calories while watching Netflix and catch up on the shows everyone's been texting you about.
Bikes are quiet and easy to fit anywhere – they won't bother other people and can be used in any size home – whether a smaller flat or palatial mansion.
Who is the RevXtreme Upright Bike best suited to?
The WeRSports S1000 is designed as a general use bike, for people who are a little more serious about their fitness.
The S1000 is built like a spinning bike, with a large, heavy duty front flywheel. It's priced well, but not a cheap model by any means. Instead, this is aimed at people who know what they want and are looking to drop a little bit of cash on something that's actually going to be used, and not as an impromptu clothes horse in the corner of the room.
Is the S1000 bike good for anyone new or getting back into shape?
If the events of early 2023 had a positive impact, it was more people getting serious about their fitness and learning about how and what you can do at home.
One of the best ways to stay fit is cycling. A home exercise is bike is a low impact but highly effective way of keeping healthy and can be done entirely around your schedule, which is why the stationary bike market is only going to grow in the next few years
Despite having enough of a challenge for those who love their cycling, anyone can use the RevXtreme S1000, no matter their current fitness levels.
The bike itself is really well built, with a compact footprint. But it can be quite loud, so might not be ideal if you live close to a lot of other people, either in your home or neighbours.
S1000 Bike Key Features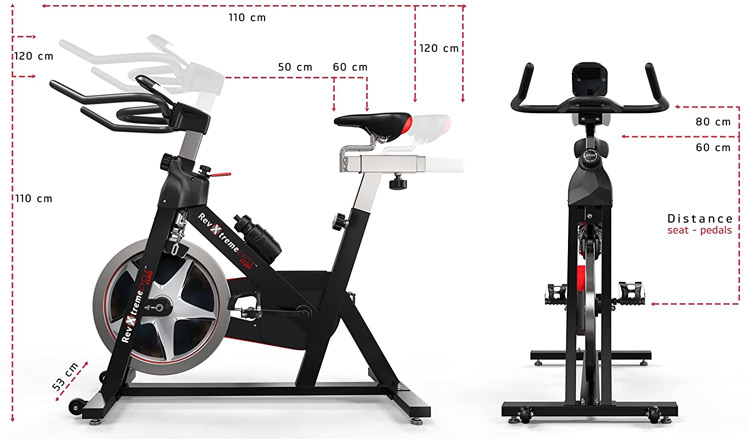 As a mid-range bike, the RevXtreme has all the features we want on a spin bike, including:
Solid flywheel: The flywheel is an average 13kg weight, but the provided resistance is fantastic, and continuous
Handlebar adjustment: 6 positions
Full seat adjustment: 6 horizontal and 10 vertical positions
Anti-slip reversible pedals
Water bottle holder, and provided bottle
Emergency stop system
Onboard ride computer: The 5 function display gives you all the details on your workouts
RevXtreme S1000 Max rider weight: 120kg
Transport wheels: Front mounted, so you can wheel it through your home easily
Self assembly instructions
12 month warranty
---
What we liked about the RevXTreme S1000
Solid build and good construction
Throughout the whole bike, the build quality is excellent. It's made from heavy duty steel, and the body frame is nice and thick, with none of the flex you might feel on a cheaper bike.
With such a solid build, it can take a maximum weight of 120kg. The bike itself is comfortingly heavy, at 38kg. This gives you a stable base to work with, even when you're pedalling hard.
It can make the bike harder to move, but WeRSports thoughtfully provided a pair of front mounted transportation wheels that make shifting it around easier.
You should obviously still try and store this near where you want to use it, because shifting a bike this size several times a week is excessive.
It looks amazing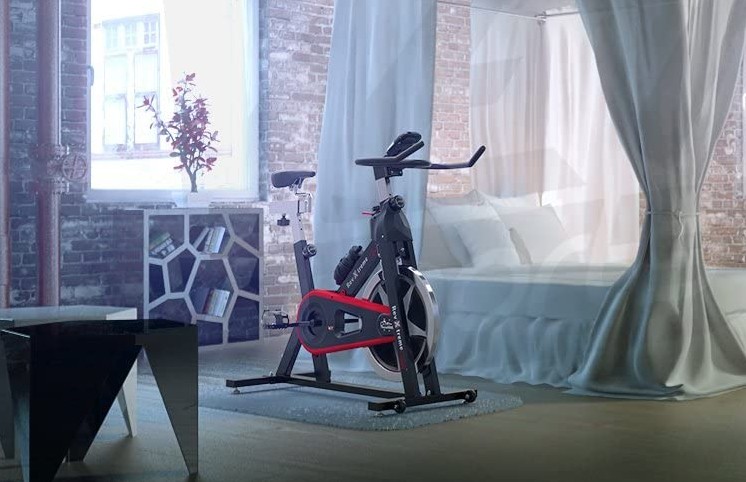 The overall design is sleek and futuristic, with clean lines, a black and silver frame and red accents. In a world of often bland-looking upright bikes, the WeRSports have taken time to design something that's actually going to look good in your home or home gym.
Versatile and adjustable
Like all good bikes, the RevXTreme S1000 has adjustable handlebars and an adjustable seat.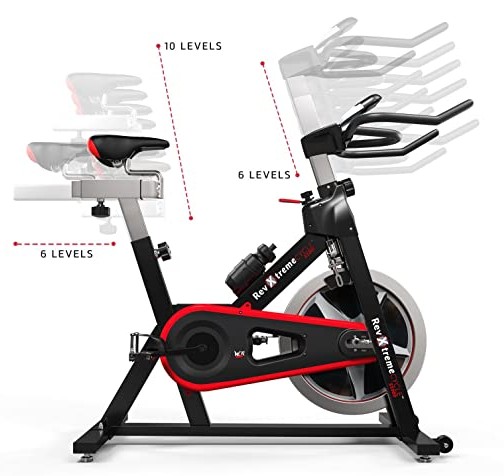 The non-slip handlebars have 6 settings, and the bars themselves are designed to encourage a better riding posture, which cuts down on fatigue and long term aches and pains.
Superb customization for each rider
The real winner is the seat. It has 10 levels of vertical and  6 levels of horizontal variation, which is massive when compared to similar brands.
This guarantees that you can find the perfect riding position, which is important not just for your workouts (but it will make workouts easier and more effective) but it also cuts down on joint strain and reduces chances of long and short term injuries.
The seat was also nice and comfortable. It's made of high density foam with an ergonomic slice that allows it to flex.
The resistance
The S1000 has a chain driven resistance system, so it can be a little louder than some belt driven bikes. But the fact that the resistance settings on the 13kg flywheel are continuous more than makes up for that.
For the uninitiated, that means there are no discrete settings. You can scale your workout up or down to any level you want. This means you get the workout you need, every single time.
Good pedals
Two sided pedals give you options. The pedals have aluminum toe cages to keep your feet locked in place, but if you want a challenge, flip them over to the flat side and get pumping.
It's great value
In our opinion, one of the biggest reasons to choose the S1000 over competitors is the value. It's not a cheap bike, and we wouldn't say that.
But for the price, the bike you get is fantastic. As we've already mentioned, it's really solid and well built throughout, and the focus is on features that are going to increase the quality of your workout sessions.
WeRSports have focused on things that actually matter, rather than flash. That substance over style approach is admirable, and is probably why this is considered one of the best general exercise bikes on the market.
Check Current Amazon UK Price
---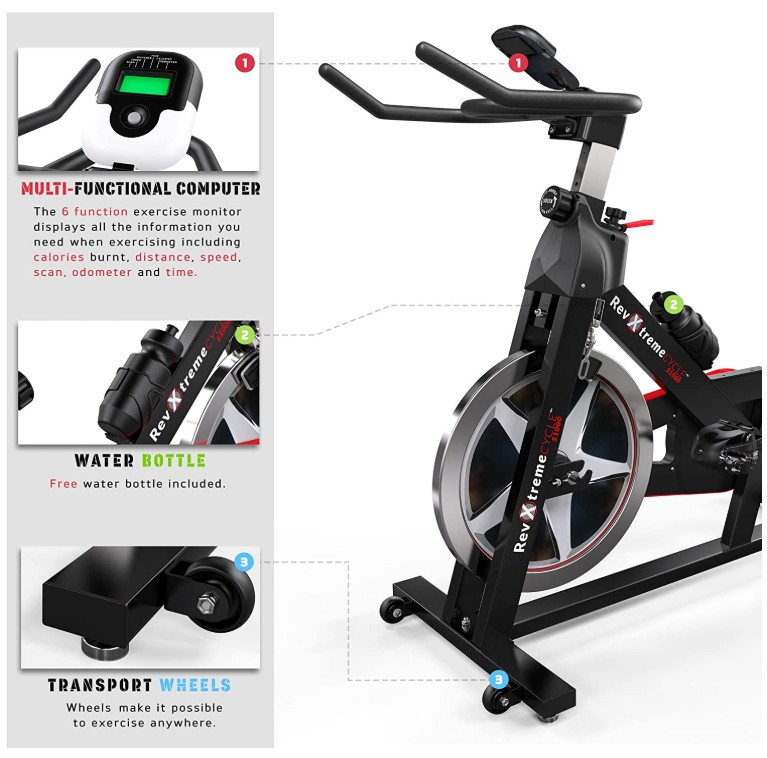 Things that could be better on the RevXTreme S1000
More noise than belt-driven bikes
The big downside of chain driven bikes like the RevXtreme is how loud they are once you hit a level of intensity.
A chain is tough and dependable, but if you have hardwood floors or your workout room is reasonably spacious, you're going to hear this. Headphones and accommodating neighbours are recommended.
Console
The console is simple, but does the job. It's a 5 function system that only communicates the basic stats of your workout, and feels a little cheap.
Realistically, it could be better, which is disappointing, but it's going to do what you need it to do. We also feel this is less of an issue that it used to be. With so many options out there for fitness monitors, you can easily track your progress on a phone or smart watch, and get constant and fine tuned updates.
Still, it would have been nice to see a better console on a bike at this price point.
Conclusion: Is the RevXtreme worth your time and money?
It's easy to recommend the S1000 bike based on it's seriously impressive performance, versatility and build quality. For what you're paying here, this bike represents fair value for money.
There are a few little downsides; it would have been nice to see it belt driven instead of chain driven, and the onboard computer could definitely use some refinement, although it gets the job done.
Quality wins out at the end of the day, with the level of performance you get from the bike itself being fantastic. The RevXtreme S1000 is an indoor bike that's going to give you an effective workout every time you hop on it. It's also going to last, which means dropping this amount of money is less of a downside, and more of an investment in yourself and your health.
Check Current Amazon UK Price
Resources and further reading