Welcome to our SportsTech F37 treadmill review, a mid-priced treadmill available on Amazon UK and other retailers.
What's this running machine got to offer? Is it worth the price and where does it fall short? Read on and let's find out if this online treadmill is actually any good.
What is the SportsTech F37?
The F37 is one of the premier models in Sportstech's range of treadmills. Stable, powerful and durable, it delivers solid performance while keeping costs down by cutting out everything that's non-essential, and focusing on two core principles:
Treadmills are designed for running, so make the running deck as good as possible, and,
The multimedia system is the heart of a treadmill and massively improves the exercise experience, so make sure that your users have a lot of options when it comes to media and exercise programs.
Without spoiling the entire review, it easily delivers on both of these, with the end result being a great treadmill that offers a whole lot for the price you're paying.
See the F37 in action in this video
Check Current Amazon UK Price
---
Key features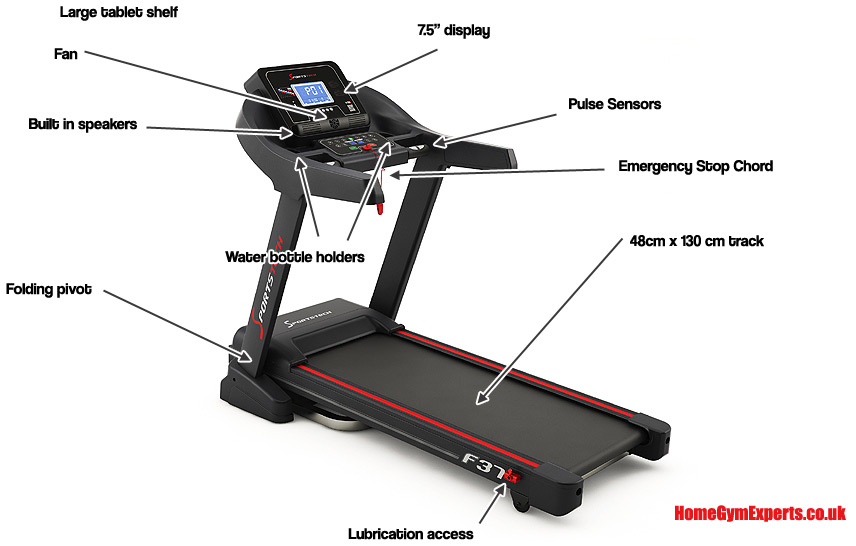 Maximum 12.5mph speed
15% max incline
7 HP motor
51 x 19 inch (6.7 sq.ft.) running deck
5 layer running surface
8 zone cushioning system
Max user weight of 150kg (330lbs)
Quick fold system
Built-in transport rollers
7.5 inch touchscreen console
Bluetooth, USB and MP3
12 built in training programs
Heart rate belt capability
---
Who are Sportstech and are their treadmills any good?

While not as well known as your NordicTracks, Reeboks or Marcys of the fitness world, Berlin-based Sportstech are a big sports brand and seem to have really increased their gym gear over recent years and make a name for themselves.
Sportstech have a wide range of fitness machines, to suit different budgets. And their treadmills, bikes and rowers are good quality, and they seem to be more focused on more futuristic tech like online connectivity, built in.
We've seen products from them such as rowing machines, exercise bikes and of course, treadmills. They tend to review well, have good customer service, and get around 4 – 5 star review, on average, on platforms such as Amazon.
Check Current Amazon UK Price
---
What do you get for training on the SportsTech F37?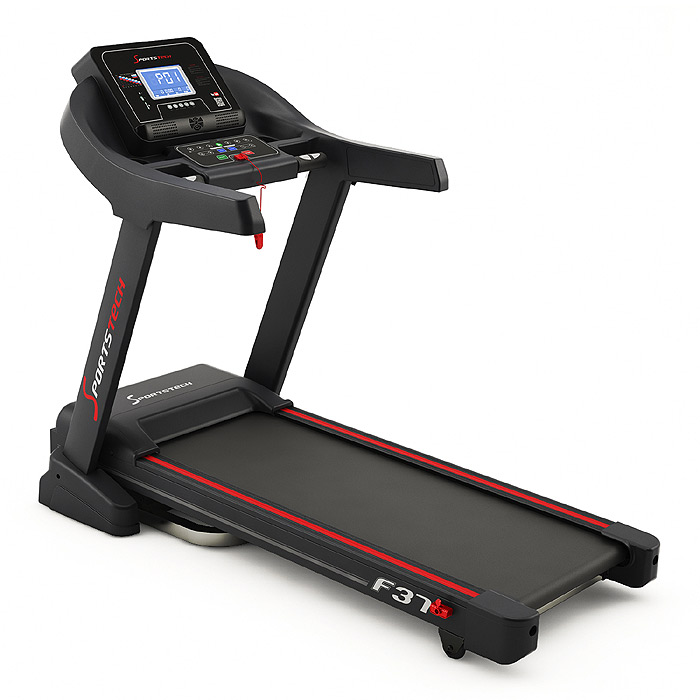 Running on a treadmill is one of the most popular forms of cardio out there, because of the sheer simplicity and ease of use. We all know how to run, and even someone who hasn't exercised for a while can take a nice easy stroll and burn off the calories on a treadmill like this.
Designed around a large running deck and powerful motor, the F37 is great for both newbies and long-distance runners. People new to exercise will appreciate the ease of use and wide range of features that let them get used to regular exercise, keeping it interesting while getting fitter.
Experienced runners will love the well-cushioned running deck that takes a lot of the strain out of running, helping with short and long term recovery, as well as the wealth of fitness options and stat tracking it offers.
And every user will appreciate the Kinomap fitness app functionality, letting you pick and run a route, anywhere in the world.
---
Who is this best suited for?
The F37 isn't a budget treadmill by any means, but it's also not absurdly expensive either.
Considering what you get for the price, the F37 is a good option for almost anyone, though we would recommend it more to experienced runners who are going to get the most benefit out of that large and impressive running deck, and the high top speed and impressive maximum incline.
---
Review: What we like about the SportsTech F37
One of the things Sportstech themselves push about the F37 is how interactive and user friendly it is, and we have to agree.
Great running deck

It's obvious that when this was being designed, extra care was spent on the running deck. It's a decently sized 130cm x 48cm, giving you over six and a half square feet of running space.
Built around a 5 layer system with 8 points of cushioning, it's springy and reactive as you run, taking a lot of the force and feeling a lot more natural than cheaper treadmills, even at high speeds.
Considering that you're going to be spending your time running on this thing, it's certainly nice to see the time and care spent on the running surface itself, and it's definitely something you'll come to appreciate after a few sessions of use.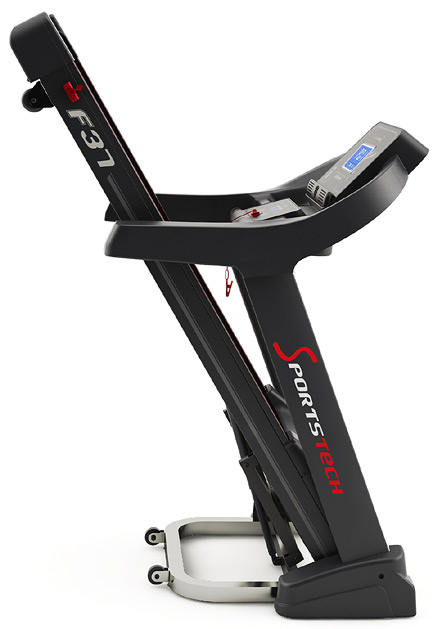 Big, powerful motor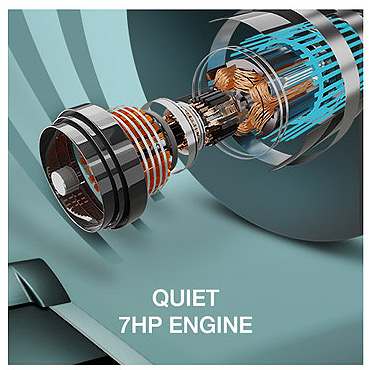 Let's get to one of the core things that you need to look at with any treadmill: the power on offer from the F37's motor.
The F37 is driven by a beefy 7HP motor that gives it a maximum speed of 12.5mph (20km/h), even at the max user weight of 150kg (330lbs.) That's comparable with a lot of higher end treadmills, and it's certainly enough for the vast majority of normal users.
The whole deck also has motorised elevation up to a maximum of a 15% gradient, which, again, is a decently impressive figure that offers a lot to potential runners.
If this is your first treadmill, incline makes running feel a lot more challenging and it's always something I like to run with. It's closer to the difficulty of running outdoors.
This machine is fine for heavier users
The F37 has a respectable max user weight – something you've got to watch out for on some machines. There's a 150kg upper user weight limit here.
It's easy to lubricate
Probably one of the last things on any sane person's mind, when they're looking for a new treadmills, is 'just how easy is this to lubricate?' Well – hear me out – let's just say that some machines are a royal pain in the butt to oil.
Normally, you've got to loosen some awkward screws, mess around with the belt and cover the under-surface properly. Actually, it's not exactly impossible – see our oil your treadmill guide for more help.
The F37 is blessedly simple to maintain
If you want to avoid the hard work of slackening the belt just to oil your machine, look for one that has 'automatic lubrication'. A machine like the F37 that has a simple opening where you pour your treadmill lubricant and it does the hard work for you.
Keeping your belt oiled makes for a better run, and improves your treadmill's life span. It's very easy to do all this in a few seconds with the F37.
Great-looking display that's easy-to-read
Another huge part of any treadmill is tied into the console. It's here that many a machine falls flat on it's face. So how does the F37 fare?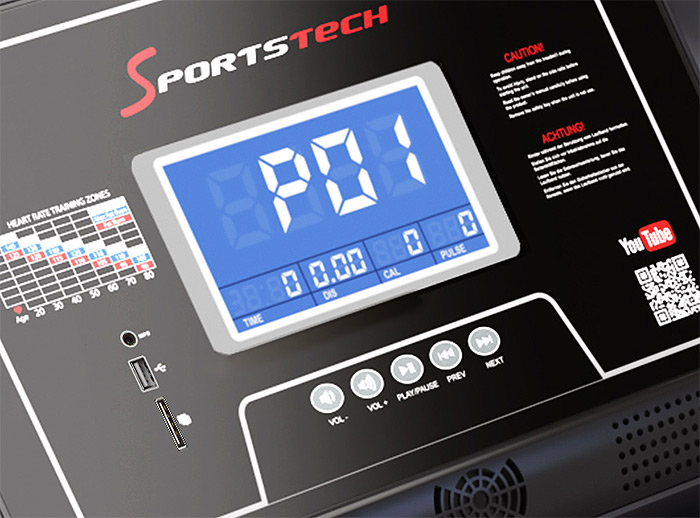 The built-in 7.5 inch multimedia console is simple and easy to use. Everything is well laid out, with large, simple to navigate buttons next to the screen. You have the choice of 12 built-in exercise programs out of the box, and by linking it to your WiFi, you can get the benefits of Kinomap and Sportstech training plans.
Exercise plans and app connectivity

One of the things Sportstech themselves push about the F37 is how interactive and user friendly it is, and we have to agree.
Kinomap is an app that builds exercise routes around a Google Maps route that you specify. This means you have a functionally infinite amount of runs you can take, because you're never going to be able to run the entire world!
Apps like these are becoming an increasing popular way to exercise, and all of the big brands are adopting it, so seeing it here is a welcome addition.
On top of these, the treadmill also has the option to link via Bluetooth, USB, or MP3, letting you run your own music or shows through the screen.
Check Current Amazon UK Price
---
What we don't like about the SportsTech F37
No pause key
While not everyone uses this feature (myself included) I know a lot of people are looking for a treadmill you can pause. The F37 does not have a pause button so your only option is STOP and then restart your treadmill program after your break.
It's more obvious here because the Sportstech machines are some of the more forward-thinking, advanced runners out there today. Not a biggie, unless you're really looking for this feature.
It's hard to move
Despite the fact that it's got built in movement wheels and the capacity to fold upwards, moving the F37 is still surprisingly difficult. It's a big beast, and getting it around the house is not a plan.
There's pics of people moving this around, so it's technically possible. But this isn't the most portable treadmill out there. Many people will be buying this to stay put in one spot, so that shouldn't be an issue.
If you're expecting something you can scoot around, this is not that machine.
Built in speakers are not great sound quality
This is something that's extremely common with treadmills for some reason. Most running machines, like the F37 offer the ability to connect your phone and play music through the built in speakers.
These built-in speakers however don't have a rich sound and, unless your phone is really old, you'll likely get a better sound through that.
It doesn't bother me as I run with my headphones but just don't expect some amazing HD sound from this machine.
Final Thoughts: Is the F37 Worth a Buy?
The F37 is a better than average treadmill that boasts plenty of power and a good-sized running track. It's ideal for say a family, with users of different levels. It's not going to beat the NordicTrack high-end machines but at the price level, it's not designed to. It offers a good level of stability, quality and features for the price.
Online connectivity is excellent here, as it is with the other Sportstech gear we've seen. The German company has had a really good year and they've got some cracking treadmills at the moment. The F37's packed with quality and should last a long, long time.
The F37 is a workhorse treadmill with a great running deck and the option for online streaming exercise sessions. If that's what you're looking for, it's more than worth the asking price.
Check Current Amazon UK Price
---
Full F37 Specs
Here's the more detailed version of the Sportstech running machine's specs.
Brand Name
Sportstech
Color
Black with red trim
Model
F37
Dimensions
171.5cm x 83cm x 138cm
Incline type
Automatic
Display type
7.5" LCD console
Console functions
Time
Speed
Distance
Calories
Scan Mode
Pulse sensors
Yes
Speed Range
Up to 20km/h
Max user weight
150kg
Frame material
Steel
# Preset programs
12
Deck cushioning
Smart Shock System
Running track size
130cm x 48cm
Safety standard
CE/ROHS/EN957 & ISO9001 Quality Control Certified
Frame material
Steel
Horsepower
6HP
Max user weight
150kg
Belt thickness
1.8mm
Continuous horsepower
3.5CHP
Accessories
Twister and made-to-measure treadmill matt
Motor speed
7HP
Transport wheels
Yes
Incline gradient
15%
App integration
Compatible with Kinomap
Fan
Yes
References and Further Reading