Welcome to our Sportstech F17 review (Available Amazon UK). In this in-depth guide, I'll go over every detail of this treadmill, and go over what it does best and where it falls flat. By the end of this guide, you should know if this is the right running machine or not.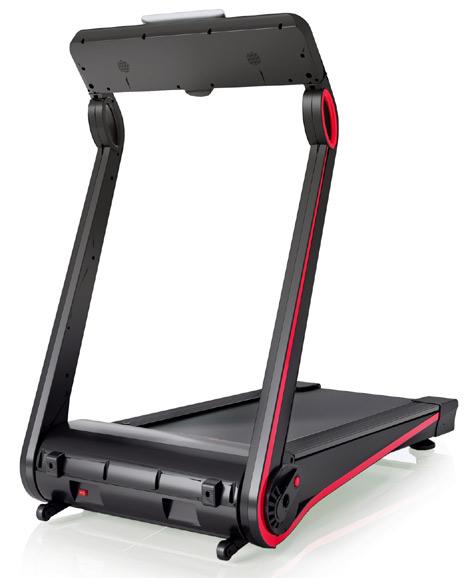 What is the Sportstech F17?
This is a motorized home treadmill that's different from the other machines we've looked at on Home Gym Experts. You're getting a 2.5 HP motor and a running track size of 40cm x 110cm.
As you can see from the pictures, the F17 has a number of core design differences from most other machines such as:
It folds extremely flat
There's no side rails
The display console is a long strip
Built for athletes looking to train, or simply wish to get their daily cardio workout, the F17 treadmill, with its trendy, futuristic build and minimalistic design incorporates comfort and efficiency in one single machine.
Let's take a closer look at the F17 Treadmill and all its features and functions.
Check Current Amazon UK Price
---
Sportstech F17 Treadmill: At a glance
LED display
MP3 function provided
Headphone connection available
Stereo speakers installed
12 pre-installed programs
Pulse-belt included (heart-rate compatible)
Easy-folding system
Transport wheels for easy portability
Self-lubricating system
12 km/h speed ranges
Tablet holder provided
Wide side platforms
Safety function available
Product weight: 46 Kg
Product Dimensions: 144 x 72 x 124 cm
400 mm x 1100 mm large running surface
Maximum user weight 120 kg
Material composition: Silicone
Batteries not included
---
What's in the box?
Treadmill F17 x1
User manual
guide x1
---
The clever sideless design the F17 has means it doesn't just fake folding up, like 90% of machines do.
Who are Sportstech and are their treadmills any good?

While not as well known as your NordicTracks, Reeboks or Marcys of the fitness world, Berlin-based Sportstech is a big sports brand and seem to have really increased their gym gear over recent years and make a name for themselves.
Sportstech has a wide range of fitness machines, to suit different budgets. And their treadmills, bikes and rowers are good quality, and they seem to be more focused on more futuristic tech like online connectivity, built-in.
We've seen products from them such as rowing machines, exercise bikes and of course, treadmills. They tend to review well, have good customer service, and get around 4 – 5 star review, on average, on platforms such as Amazon.
Check Current Amazon UK Price
---
Who is the Sportstech F17 perfect for?
I want a treadmill, but don't have the space
If there is one thing treadmills have in common, no matter how compact or folding their product pages make them sound, it's that they're enormous, clunky beasts.
I've seen a lot of treadmills in my time reviewing them and I have to say, I can count on my hand the ones that would be any good in a smaller flat.
So the first group who will likely love this machine would be anyone really stuck for storage who loves running. The clever sideless design the F17 has means it doesn't just fake folding up, like 90% of machines do. Instead of the track flipping upwards a but, the front panel collapses down to little more than the height of the belt.
It's also designed to be flipped vertically once you've folded it down and has feet on the front that will keep it upright.
It is also a great machine for anybody looking for a decent, sturdy, and durable machine for long-term use to get their daily cardio workout. It is safe for beginners, but with enough features and durability to accommodate the most experienced runners.
---
What we liked about the F17 Treadmill?
It's easy to store and I
love the design
It doesn't matter how fancy or how many upgrades your treadmill has, because, at the end of the day, if what you have is a big hulking machine and with nowhere to put it, then it really doesn't make for a good exercise machine, does it?

The F17 comes in a futuristic, sleek – dare I say sexy design? It's definitely an attractive package, built for easy portability, storage, and use. The easy-folding system makes putting the machine away at the end of your workout easy and painless.
This doesn't mean that the machine is flimsy. In fact, the F17 is built for strong, high-powered, and long-winded training sessions, albeit in a compact and space-saving build. You've got a max user weight of 120kg, which isn't too shabby for a fold-flat bit of gym gear.
Not necessarily a plus, or a minus but the machine is still a reasonably hefty 40kg. While this adds to the solid feel, it adds to the awkwardness of moving it around too. Just be aware you're not going to be running up and downstairs with it unless you've really been hammering your home gym.
Like any treadmill, you'll want to get a nice thick mat to go under it, but one thing I really like with this treadmill – albeit a small one, is the chunky adjustable feet towards the back. It's super-easy to make quick adjustments to get the machine perfectly level on your floor.
Overall, an impressive design that, considering the compact nature, is still sturdy.
Innovative Lubrication System
While how you oil a treadmill is not the most exciting dinner party conversation, it's well worth getting a machine that takes the hassle out of it. Oiling your treadmill keeps them running as they should and prolongs the life of the belt. It's also not always easy to do.
The F17 treadmill comes equipped with a nifty self-lubricating system that releases a silicone-based oil over a period of time, that allows the machine to run smoothly without any hitches in your running experience.
You no longer need to worry about frequent tuning or that annoyingly frequent disassembling and re-oiling process to keep your machine in top condition. The F17 does it for you. (You'll still have to top it up with the right oil, but apart from that – you're off the hook).
Decent speakers, for a change
It is absolutely no fun running without music. Working out to a fast, catchy tune can make all the difference between a normal workout and a great one. While a lot of people like to run with headphones or earbuds, if you like to keep your head free of adornments, the F17 has an OK set of speakers built into it's StarTrek panel.
The built-in MP3 function and two integrated speakers that you can connect to in a few simple steps and play your favourite work-out tunes to amp up your workout session. You can also use the Bluetooth feature available to connect to a device and play music.
The speakers are better than the normal tinny, awful offerings we've seen too many times and are spaced wide enough apart for decent audio.
The display is really nice to look at, and to use
One of the standout features with the F17 is that display. I've no idea why more thought isn't put into other treadmills. It's like there's an accepted norm of god-awful clunky panels. The F17 is leaps and bounds ahead in the design of its console. It doesn't do anything other displays are capable of but the touchscreen and bright characters on the display make it simple to read and easy to use.
With this machine, you're getting an uncluttered, well-organized LED display which in turn offers modern, touch-based pads that allow you to select one of the 12 pre-installed programs to work out to.
You can also alternate between different speeds and incline-levels to get the best possible workout. The LCD screen also allows you to monitor your heart rate, time remaining, distance covered, and calories burned.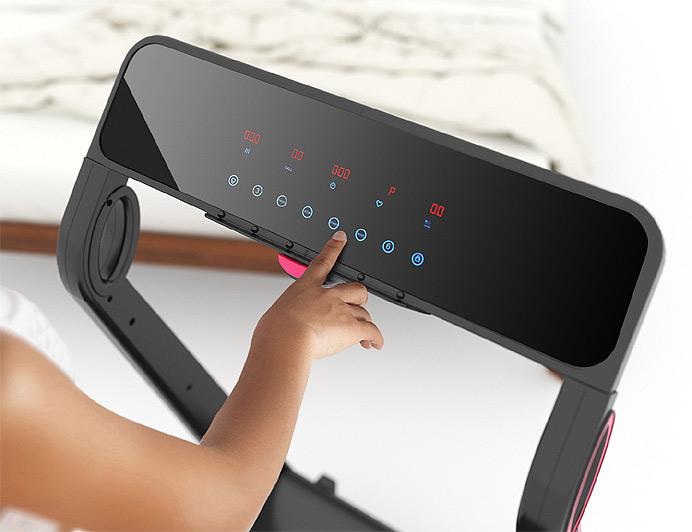 Silent, powerful motor
Equipped with a powerful, low maintenance and surprisingly silent motor, Sportstech's F17 treadmill allows the user to experience a powerful and fully optimized running experience. Even at the maximum speed of 12 Km/hour, the 2.5hp motor functions smoothly and silently.
The F17 also boasts a 5-layered running surface whose dimensions are 1100 x 400 mm and allows for an unencumbered, spacious workout session. It also has a gentle damping feature which relieves pressure on your joints when you run at high speeds.
You get the chest strap!
I really like how Sportstech have been dish out the chest straps with their machines.
You could argue the extra £30 or so it would cost for a decent pulse-belt isn't a huge thing, but it's still good to have an accurate way to check your pulse and it's way more reliable than those awful 'grip-on-for-dear-life-while-you're-running' silver sensors you can get. The pulse belt is comfy and gets the job done nicely.
Check Current Amazon UK Price
---
What could have been better with the F17?
Sadly, not everything with this machine is perfect. Here's all of the things the F17 doesn't do well, in my opinion:
Relatively expensive
While the F17 treadmill offers a wide and varied range of features, it is, however, on the higher end of the spectrum when it comes to how it is priced. To put it in perspective, for an extra £100, you can get the JTX Sprint 5 – another folding treadmill, which has a larger running track, more programs and goes up to 18km/h.
The no sidebars won't be for everyone
I've been running on a treadmill for a long time but every now and then I like to reach down and touch the sides for a bit of reassurance. Especially if I've not done any running for a while. This side-less design definitely takes some getting used to and for some, they just won't like it.
I'd stress you have to give it a try and persist with it as the obvious benefits are the space-saving nature of this sleek little number. After all, I guess we don't have stabilisers outside when we're running. But if you like clinging to your rails, you're likely going to want to look elsewhere.
The running track size is not huge
This is definitely a more compact running machine. The actual running track size is 40cm wide by just over 110cm long. While it's by no means unusable or cramped, you've got to think about hitting the same spot and there's no room for error. You'll likely get used to it quickly. But this is definitely a compact running surface that you'll definitely want to consider carefully if you're a taller runner over 6′.
No cup holder!
If there's one thing that gets me going, it's either a lack of a tablet holder or not having somewhere to put my keys and a drink. In the case of the F17, that lovely, sleek minimalist panel comes at a price. There's nowhere to put a cup holder. You could likely come up with a Frankenstein home-made solution but I don't think it would have hurt the design too much to include a simple bottle holder.
---
Quick recap on this running machine's Pros and Cons
Here's a condensed summary of this treadmill's pros and cons for you to review and keep in mind when choosing the best possible treadmill to buy.
Great running experience
Brilliant display
Good speakers
Includes the chest strap
Folds down super-small
Durable and sturdy
No bottle holder
Reduced running track size
Some won't like the lack of sidebars
Relatively expensive
---
The Verdict: Is the F17 worth getting?
If you are in the market for a durable, sturdy, and long-lasting machine that doesn't hog too much of your home, then Sportstech F17 Treadmill has got you covered.
Its smooth and relatively quiet motor offers enough power for most users and the F17 is so compact and stylish in terms of its build, and this sleek machine is easy to fold and store away.
Design-wise, it's one of the better-looking machines we've seen. The display panel is just awesome and, more importantly, is easy and fun to use.
The downsides are the reduced-size running track and a few silly mistakes, like the lack of a cup holder. And not everyone will love the sideless design.
Sportstech's F17 is a cracking treadmill with a bold, striking design. It's fun to use and isn't a shirker when it comes to power and stability.
Check Current Amazon UK Price
---
Sportstech F17 Full Specs
Brand Name
Sportstech
Model
F17
Color
Black with red trim
Display type
LED console
Console functions
Time
Speed
Distance
Calories
Scan Mode
Pulse
Via wireless pulse belt, included
Speed Range
Up to 12 km/h
Max user weight
120 kg
Frame design
Open-sided, no-rails
# Preset programs
12
Deck cushioning
5-layer running surface
Running track size
40cm x 110 cm running surface
Built in speakers?
Yes
Frame material
Steel
Horsepower
2.5HP DC motor
Lubrication?
Self-lubricating system
Folding design?
Yes
Kinomap compatible?
Yes
Tablet holder
Yes
Accessories
Pulse belt
Video assembly instructions
Yes
App integration
Yes
Fan
No
---
References and Further Reading