Welcome! In this guide, we're diving back into the wonderful world of water resistance rowers. More specifically, First Degree Fitness's Apollo Pro XL (Available on Amazon). It's a premium wooden rowing machine that differs from the other machines they offer in several ways. But is it worth the money? Let's find out.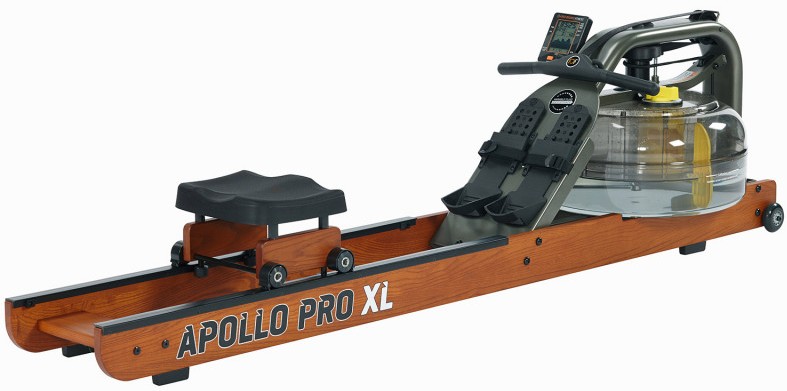 Apollo Pro Best price & full guide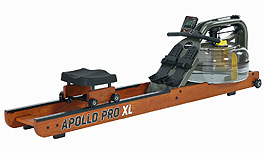 Apollo Pro XL Fluid Rower
at Amazon UK
The Apollo Pro at-a-glance
---
A quick overview of what this rower's features
American Ash wood
Steel frame
Plus XL water tank
Triple blade impeller system
Direct drive
10 levels of auto resistance
Belt drive (maintenance-free)
Multi-level monitor
Ergonomic handle
Vertical storage
Transport wheels to move around
Max user weight: 150kg
---
What is the Apollo Pro?
The Apollo Pro XL is a high-end wooden rowing machine that uses a water tank for resistance. It's made from high-quality solid Ash Wood and has a steel frame for added stability. It uses a belt drive system, rather than a chain, which has a number of benefits, such as not losing resistance at the start of your rowing stroke.
---
What's all the fuss about water?
We saw a massive increase in the number of water rowing machines over just the last few years. So are they a gimmick? What's the benefit of this kind of resistance?
Water-resistance gives a serious workout
While being light enough for new users
The feeling is natural and feels a bit more like rowing a boat
They're quieter, peaceful and you can hear music or TV while using them
A direct drive system means there's no loss of resistance at the start of your stroke
Because of this, they're better for your back
There's no chains – less to go wrong and less noise
---
Who makes this rower?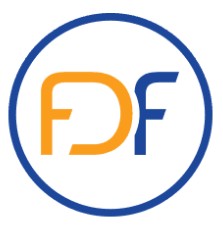 The Apollo Pro is a machine from fitness company First Degree Fitness. One of their slogans is 'Air Blows, Water Rows' (ouch!) They've been designing and developing rowing machines and other fitness gear for over 15 years.
They launched their first fluid rower in 2001 and have since used the water-based tech in a number of other machines, such as the Apollo Hybrid AR.
There are a number of UK sellers and distributors of this product online.
---
The Pro XL is bomb-proof
I know there are some people who don't like the look of wooden water machines, but for the rest of is, they're a work of art. Like the other wooden machines we've seen, the Pro XL is extremely sturdy. These machines can take user weights up to 150kg. Though it's made from wood, there's a steel frame adding to the stability. And things like the foot rests are steel.
The Apollo Pro's foot rests are way better than other rowing machines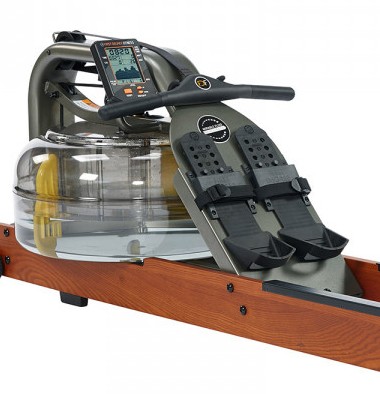 It's a sad sight. Floppy foot rests hanging down on a rowing machine. I've seen it too many times, and not just on cheap rowers either. No. Machines that should know better (not naming any names). When I saw how water-based rowers do their feet rests I couldn't understand why other makers hadn't done something similar.
The Apollo Pro XL has standard wooden rower foot rests. They're part of the machine's frame and you can push all you want on them without any wear, tear or fear of breaking them. They're also adjustable 'vertically' with the system where you lift and slide over 2 pegs. It's something all rowers use. Not a fan myself, but it's easy enough to adjust between users.
The strap on the other hand is worth talking about. It's a proper buckle (albeit a plastic one) that lets you fasten in securely without it slackening off and having to re-adjust it over and over.
---
Apollo rowing machine video
Here's a video of the Apollo Pro XL in action
Enjoy that watery swoosh and find out more about how this fluid rower came about.
How much does the Apollo Pro cost?
If you're looking to get an XL Pro, take a trip to Fitness Superstore. You can read reviews, watch videos and get a great discount on this rowing machine, using the link below.
Why is the Pro XL different to other First Degree Fitness rowers?
FDF have a number of wooden rowers in their range now, such as the lower-priced Apollo Hybrid AR, (not to mention a fair few other cool bits of fitness tech in their catalog too) so what's different about this machine, compared to the others they offer?
Larger water tank
This rowing machine has a much larger water tank than the other rowers in its category. You can get up to 65% tougher resistance than other models so if you're serious about rowing and need a real challenge, this is a good machine to get your oars into.
---
7 things we like about the XL Pro Rower
It's ridiculously sturdy – Wood rowers are in a world of their own when it comes to how chunky and strong they are. And the Pro XL machine has that robust feel. It's tough, solid and won't move around when you're going full pelt on a row.
It's perfect for rowers of all levels – Although a commercial standard rowing machine, and it's got that HUGE water tank, this machine is as well suited to someone who hasn't rowed in their life as it is to someone training for a rowing event. The resistance can be set to an extremely easy level that even new users might find 'too light'.
The dual-track is sturdy and smooth – One of the best bits with wooden machines is the design feature where they have a double track rail system, a bit like a roller coaster (although not quite as exciting). This beats the single track you find on most rowing machines and makes for a smooth ride.
Quite and comfy – If you've ever tried a rowing machine and thought it was a bit unkind to your bottom, you'll be pleased to know the Apollo rowers take a different approach to their seat. It's got some give in it and moulds to your natural shape. Yes, a rowing machine that's pleasant to sit on. And there's some texture to the padding too, so you don't go skidding off.
The LCD display is really easy to read – There's LCD and there's LCD. There's the cheap awful kind and then there are the ones like this. Progress is tracked on a multi-display screen that although just black and white (or shades of gray) it's super sharp, crisp and really easy to get a glance and see what your vitals are.
'Tis a thing of beauty! – It's always strange talking about rowing machines that sexy but the Apollo range are just so pretty. Finished in American Ash Wood, everything about the Pro XL just looks gorgeous.
It flips up and wheels away – When you've finished your workout, you can choose to store the XL rower vertically. Storage is a few-second case of flipping it upwards. There's nothing weird to twist, pull out or bend. And it doesn't fold int he middle like the Concept 2 machine. The footprint is extremely small.
---
Apollo Pro Fluid Rower vs WaterRower
You'd be forgiven for thinking that First degree Fitness machines were the same as the WaterRower machine. (They look similar at first glance). But they're actually two different companies. So what does the Pro XL do differently from the WaterRower? One of the main benefits to this rowing machine is that it has adjustable resistance.
While the WaterRowers will fight back – the harder you work, the more resistance you'll get, the FDF rower does this PLUS it lets you set the resistance. The XL Pro rower has a patented water flywheel which also differs slightly from the WaterRower company's one.
---
Reception of the Apollo
What are the reviews like for this rower?
Here's some opinions from verified buyers of this product:
" I wanted a water rowing machine. Was going to buy one of the WaterRower ones having tried it in John Lewis but came across this and liked the idea of adjustable resistance.
In terms of quality, this is exactly the same – could almost be made in the same factory! Very pleased with my purchase and myself and my wife use it daily." 
---
How easy is it to store this FluidRower?

If you don't have a place to leave your new water rowing machine out for the world to see, fear not – it can be stored vertically simple by flipping it upwards and wheeling it away into a corner somewhere.
If you check out this image, it will give you an idea of the footprint it takes up in it's vertical position. And it's very sturdy and secure when it's in it's storage position as the water is resting to the bottom of the tank.
---
Where can you get the best price for the FluidRower Apollo?
---
What are the downsides of the Apollo Pro XL?
So this review has been very upbeat so far. But let's crash the party and talk about any downsides to the Apollo Pro. What don't we like about it? What are people complaining about out there on the web?
Lack of support for third party apps and software
This is an amazing rowing machine, but if you're looking to use apps like Kinomap now, or in the future, you might want to think again. Checking KinoMap's compatibility page gives a poor showing for the Apollo Pro rower and other FDF products.
Whether or not this will change in the future, who knows. But for now, it's not possible to use this app, or other third-party ones with this rower.
---
FAQs
Is this rower hard to assemble?
No. It's less complicated than a lot of other machines and the setup process should take you around an hour. The manual makes it simple and is worth a read. It also comes with the tools you'll need.
Where can I get replacement parts for the Apollo Pro Rower?
First degree fitness have their own dedicated Service and Spare Parts website where you can order any replacement parts you need. Just enter your rowing machine model into the drop down and you'll be able to get the bit you need.
Can you connect it to do online races?
One of the downsides to the Apollo Pro rower and the FDF rowers is the current lack of compatibility with rowing apps. However you can connect to a PC (not Mac) using a USB cable.
How many levels of resistance are there?
This rower has 10 levels of resistance.
What's the maximum user weight?
This water rowing machine can support weights up to 150 kg (23.6 stone).
What kind of warranty do you get with the Apollo HR?
The home use warranty for this machine is:
5 years for the frame
3 years for any problems with the tank and seals
2 years for all other other parts (includes and labour)
Full FluidRower Apollo AR Specs
| | |
| --- | --- |
| Resistance | Water resistance (fillable tank) |
| Adjustable resistance | Yes |
| # Levels | 10 |
| Connection | USB to PC or laptop |
| Drive system | Belt drive |
| Handle bar | Ergonomic, prevents strain on wrists |
| Self assembly? | Yes |
| Dimensions | 214 x 55 x 54 cm |
| Folding? | Flips up for vertical storage |
| Footplates: | Adjustable height, strap |
| Transport wheels | Yes |
| Stroke length | 21" |
| Max user weight | 150kg |
| Heart rate monitor? | Yes, available separately |
| Performance monitor | multi-level computer displays time, distance, 500m split time, strokes per minute, calories per hour, watts, interval training |
| Warranty | 5 years frame, 3 years tank, 2 years parts and 2 years labour |
References and sources