In this guide we're checking out a rowing machine called the FluidRower Apollo Hybrid AR. This luxury rowing machine is from makers First Degree Fitness and uses water for it's resistance. We'll be digging deep into what's this machine has to offer, and whether or not it's worth your money.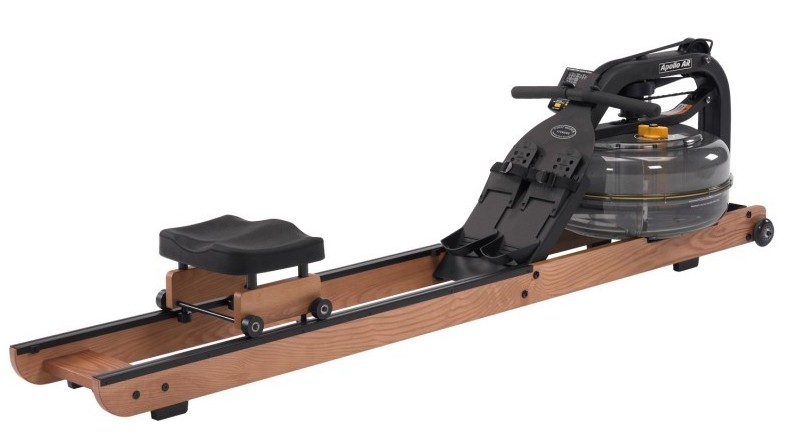 Apollo Hybrid AR Best price & full guide
The Hybrid AR at a glance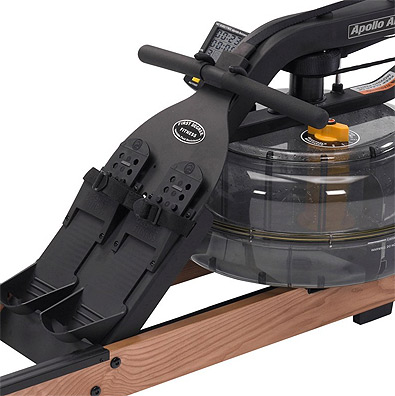 A quick overview of what this rowing machine's features
Uses a water flywheel rather than air or other kinds of resistance
Light resistance up to Olympic levels
Built to last
Solid steel frame
Hand-lacquered American Ash wood
Realistic-feeling rowing stroke
Double track keeps seat more stable
Multi-level monitor tracks strokes, calories
Can be connected via USB to online races
Vertical storage and small foot print
---
What is the Apollo AR?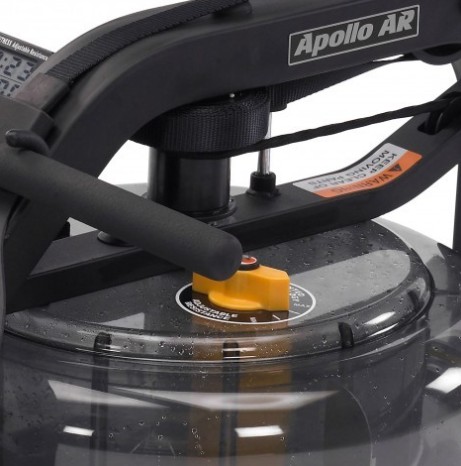 The Apollo is a water rowing machine that's used in spas, studios, gyms and for home use. It is built largely from wood (although it does have a steel frame) and uses a water tank for the resistance. The resistance can be adjusted.
This rower is suitable for users of all levels and is made from high quality components. It features a double rail system for the seat which makes it very smooth to row. The machine can be flipped up and stored vertically.
---
Apollo rowing machine video
Here's a video of the Apollo Hybrid AR in action
How much does the Apollo Hybrid cost?
The list price for this Rower is around £1350. But take that with a pinch of salt. I've never seen one of these machines on sale anywhere near that. You can normally buy this machine brand new for around the £900 mark.
A good rowing machine to improve health, strength and fitness
If you've been rowing for a while, skip this bit. For anyone else perhaps new to rowing, I can't recommend this form of exercise enough.
Who makes this rower?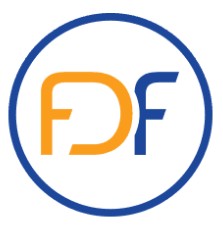 The Apollo Hybrid AR is a machine from fitness company First Degree Fitness. One of their slogans is 'Air Blows, Water Rows' (ouch!) They've been designing and developing rowing machines and other fitness gear for over 15 years.
They launched their first fluid rower in 2001 and have since used the water based tech in a number of other machines.
There are a number of sellers and distributors of this product online.
---
7 things you need to know about the Apollo Wooden Rower
It feels like rowing a boat – Water resistance rowers have a different feel to machines like the Concept 2. That water tank doesn't just sound awesome, it gives the whole exercise a fresh natural feel. Don't worry though; you won't get seasick.
You don't need to be a pro – While wood rowers look like they're designed for people who row for a living, they're actually very easy to use. The Hybrid is a good choice to get started rowing as it can be set to a very light resistance to get you started. Seasoned rowers on the other hand will also find everything they need here. There's a hardcore workout here if you're up for it!
It looks gorgeous – There's some ugly rowing machines out there, some pretty stylish ones (like the Concept 2) and then there are these wooden rowers. They just look (and feel!) so damn good. Definitely something you want to show off and that makes a home gym look good. Everything from the design to the wood grain they pick makes for a luxurious finish.
It's battleship STURDY – Anyone who has tried a machine like this Hybrid FluidRower will know how solid they feel. You can't get much better than a steel frame and solid heavy Ash wood. The chunkiness is part of the design and they're as robust as they look.
The Apollo is comfy! – I mean we're not talking lying on the sofa watching Neflix comfy – this is hard work! But the seat moulds to your shape when you sit on it, and has a nice textured feel that stops you slipping about. The foot plates are wide and can be adjusted to any size too. If you've struggled with the seat on some rowing machines, you'll enjoy this machine.
The Apollo is quiet – While the whirr of an air-based rowing machine won't put everyone off, for home use they can get a bit noisy. If you want something easier to listen to, or a machine that won't drown out your TV, a rower like the Apollo Hybrid AR is just the ticket.
That SWOOSH sound! Ever heard a water rowing machine in action? Maybe relaxing isn't the right word when you're sweating away, but the sound is just so good when you complete a stroke and send the water rushing around the tank!
---
If you want something sturdy but have been put of rowing in the past, rest assured these machines are comfy and stable.
Double track seat on the Apollo is brilliant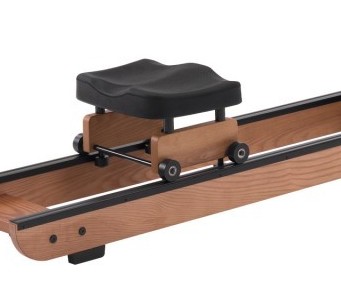 One frustrating thing with a lot of rowers, even really high-end ones, is the way the seat moves back and forth. Regular rowers tend to have a single 'track' the seat slides back and forth on.
While they can work, I've experienced a lot of problems with that single-track system – from sticking and jolting you around, to just not feeling that sturdy.
While it's not unique to the Apollo machine, water rowing machines have a brilliant double track, with a roller-coaster style seat that can't move laterally.
The result is a much smoother stroke. If you want something sturdy but have been put of rowing in the past, rest assured these machines are comfy and stable.
---
Hybrid AR Fluid Rower vs WaterRower
You'd be forgiven for thinking that First degree Fitness machines were the same as the WaterRower machine. (They look similar at first glance). But they're actually two different companies. So what does the Hybrid do differently from the WaterRower? One of the main benefits to the Hybrid is that it has adjustable resistance.
While the WaterRowers will fight back – the harder you work, the more resistance you'll get, the FDF rower does this PLUS it lets you set the resistance. The Hybrid rower has a patented water flywheel which also differs slightly from the WaterRower company's one.
---
Reception of the Apollo Hybrid AR

What are the reviews like for this rower?
Reviews of this rower have been favourable so far, and it currently has a review rating of 4.9 stars on Fitness Superstore.
Here's some opinions from verified buyers of this product:
" I didn't come across any negative comments on this rower when choosing which to buy. I can see why. Fabulous piece of kit, that looks good too." 
---
"The build quality of the fluidRower is excellent and the machine works like a dream. It is easily the best piece of exercise equipment I have ever purchased." 
David R
---
"My wife is extremely happy with the vertical storing (small footprint), very easy to lift and move on the rubber wheels. Very stable when stored vertically." 
Stubz
---
How easy is it to store this FluidRower?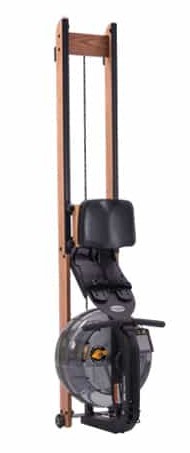 As much as you'll love your new water machine, in it's natural wood loveliness, you might not have the space to leave it set up 24/7.
In case you're wondering, this rower does 'flip up', like the WaterRower ones and can be stored away easily enough.
It takes up a foot print no wider than the water tank and has some handy wheels at the front. You don't need to be an Olympic weight lifter to fold this one up, or move it around your home.
It's safe to store next to TVs, or around children too. The rower is just as stable in it's upright position as it is full size.
---
Where can you get the best price for the FluidRower Apollo AR?
The best place to pick up your FluidRower at the moment is probably Fitness Direct. They often have this machine on sale too.
---
FAQs
Is this rower hard to assemble?
No. It's less complicated than a lot of other machines and the setup process should take you around an hour. The manual makes it simple and is worth a read. It also comes with the tools you'll need.
How many levels of resistance are there?
This rower has 4 levels of resistance.
What's the maximum user weight?
This water rowing machine can support weights up to 150 kg (23.6 stone).
What kind of warranty do you get with the Apollo HR?
The home use warranty for this machine is:
5 years for the frame
3 years for any problems with the tank and seals
2 years for all other other parts (includes and labour)
Full FluidRower Apollo AR Specs
| | |
| --- | --- |
| Resistance | Water resistance (fillable tank) |
| Adjustable resistance | Yes |
| # Levels | 4 |
| Connection | USB to PC or laptop |
| Drive system | Belt drive |
| Handle bar | Ergonomic, prevents strain on wrists |
| Self assembly? | Yes |
| Dimensions | 214 x 55 x 54 cm |
| Folding? | Flips up for vertical storage |
| Footplates: | Adjustable height, strap |
| Transport wheels | Yes |
| Stroke length | 21" |
| Max user weight | 150kg |
| Heart rate monitor? | Yes, available separately |
| Performance monitor | multi-level computer displays time, distance, 500m split time, strokes per minute, calories per hour, watts, interval training |
| Warranty | 5 years frame, 3 years tank, 2 years parts and 2 years labour |
References and sources