Today we're taking a look at GIANT gym wall timers – big wall-mounted digital timers, that normally come in bright red, green or blue (or a mix of those colours). They're used in cross-fit, as round timers, for circuits and much more. This guide will cover everything you need to know about them, what to look out for, and which ones are the best in 2023.
What are the best home gym timers in 2023?
"This is just a beautiful rowing machine, packed with NordicTrack's quality and with iFit ready to go."

"This budget-priced wall clock had huge letters, a remote control and is ideal for home gym HIIT training."

Free-standing or wall mount

BTBSign LED
Interval Timer

"Over 1000 positive reviews so far, this medium-sized gym clock is perfect for home gym use."
Aren't these massive gym clocks overkill?
Owning a whopping wall timer for your home gym or class might seem over-the-top but it's one of those things where you don't realise how useful they are until you try one.
Having to continually stop your exercise, and check your phone is fiddly. And it's frustrating stopping the music while you jump into a timer app.
Having a big LCD display counting down makes working out a lot 'easier' and has a lot of benefits to training at home.
Things we love about over-sized digital gym clocks
Apart from looking awesome and making your home gym look a bit sexier, what are the real uses for these fitness clocks?
Get more out of your training – See how much you've done and how much you have left to go.
Get into interval training – Interval training – exercising and then resting for a specified amount of time is one of the most effective ways to hit your training goals. Buying a decent clock for your home gym is an awesome reasons to get into this form of exercise.
Time your rest in between sets more accurately – Most people don't know how much time they rest between sets. Tie yours properly using an interval training timer. The good news is you'll be finished your workout faster too!
Make better use of time – If you just turn up at your home gym and don't watch time, it's easy to spend an hour doing what could have taken half the time. Less checking email, more SWEAT!
Build huge muscle and real ultimate fitness with little effort *
Try some interval training
* That one might be a lie.
What we look at when comparing large gym clocks
Possible interval structures – We looked into how customisable each clock is and how well it can adapt to different needs – rounds, HITT, home gym use
Functions  – Does it have a buzzer? Can it count up and down?
Remote control – Do you need a degree to use it? What's the range?
How BRIGHT is it? Lots of gyms have strong lighting that can fight with your giant gym timer if it's not up to it
How big are the digits? – Ever ordered something that looked massive but then it arrives and it fits in your hand? No, neither have we. Never.
What are the best gym wall timers?
There's a decent selection of Gym Timers available in the UK in 2023, to suit pretty much any budget. Here's some we think are worth your time and money.
Best budget-prices wall timer
Width: 33cm
Height: 10cm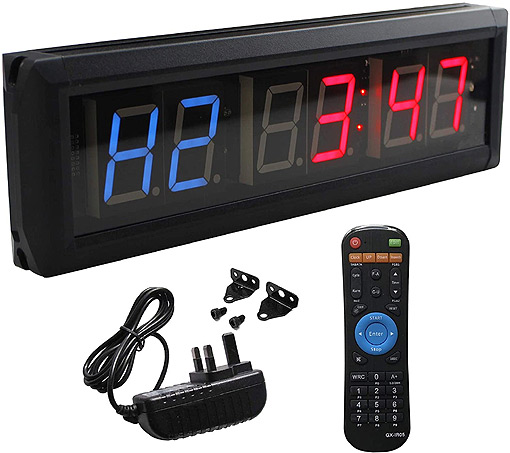 Legital's home gym timer is absolutely brilliant – literally. The bright display is easy to see and the timer offers a stack of functions like interval timing, stopwatch, count down, count up and much more.
This timer is ideal for home gyms
It comes with a simple mounting bracket although you it will stand up on it's own if you have somewhere to put it. The remote works up to 5m away, which is more than enough for garage gyms. And it will store 10 programs so you won't have to program them in each session.
Features
Multiple functions
Count down, up, clock, stopwatch
TATABA & FGB quick access
Remote control with 5m range
Store 10 programs
Large, bright LED digital display
Easy to see and use!
Summary: A cheaper, more compact alternative to the Jordan wall clock that's got plenty to say for itself. It's easy to use, looks bright and is perfect for home gyms.
Check Current Amazon UK Price
---
#2 – Jordan Fitness Digital Timer Clock
Best overall large gym timer
Width: 79cm
Height: 21cm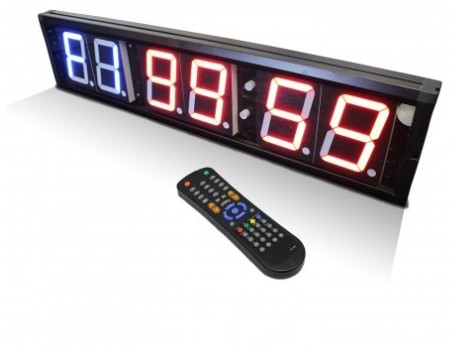 This is the wall timer that a lot of commercial gyms have installed. It uses the newer HD LEDs that make for a bright, clear display that you can get a quick glance at and get back to work. Jordan's led gym clock counts both down as well as up, and offers a broad range of features.
Super-big digits you can see easily
At 21cm, this timer offers a tall digit display, that's in blue and red colour. You can use it for interval training, MMA / boxing, circuit training and any other kind of training. It's also easy to program and has clear audio so you can concentrate on your training.
A large wall timer that's great for home gyms or commercial use
The Jordan clock will time your seconds, has a rest period timer and comes with a remote that's simple to use, with bold colourful buttons that make it obvious what they do. It's ideal for both home gyms as well as larger spaces and classes.
Features
Tough aluminium casing that looks really good too
12/24H Clock
Training time in seconds
Rest period Timer
Remote Control
Start/Stop
Countdown/Count up
Stopwatch mode
Save times and Data
Comes with instructions
Summary: If there was a gold standard of GIANT gym timers, this would be it. The Jordan timer isn't the cheapest but it's an absolute beast that does a great job and is easy to setup and use.
---
Gym Timer Buyer's Guide
What makes a good gym timer… what makes a lousy one?
There's a few things to take seriously when picking a good gym timer or cross-fit clock. While the product descriptions obviously make each clock sound like the best thing you'll ever buy for your gym, there's a lot of little things that can make your gym clock SUCK.
Not bright enough and TOO bright
One weird thing with these clocks is that there is indeed such a thing as 'too bright'. Some large timers are best suited for outdoor use and your poor retinas will thank you for picking a clock that's suited to your indoor gym (if that's what you're after).
Is it hard to program?
Like a TV remote, your new gym wall timer will likely come with a remote that's got more buttons than a jet plane. Seriously – what's that all about?  The best timers are easy to program. We always check on this, and it varies a great deal between products.
Was that the buzzer?
Whether you're doing interval training, need to know how long you've got left, or are doing boxing rounds, your timer should have a decent buzzer, beeper or tone to let you know the time is up. It should be audible over whatever tunes you've got blasting out to train to as well.
It's weird then that some timers have this annoyingly quiet buzzer that's hard to hear over any ambient noise. Pick a timer with a good, clear buzzer or you'll have to watch the clock constantly.
Watch out for the clock's power cord
Another strange problem with some gym timers is the power cord length. Depending on your setup, you'll likely have a socket that's near the floor in your gym. So why do a lot of gym timers have such a short cord? Fine if you're using a shelf, but if you're mounting on the wall at a decent height, it can be a problem.
Who needs a gym timer?
Interval boot camps
Round timers for boxing and martial arts
High intensity training
Home gym'ers
Short workouts
Check the timer's remote range
Another spec that's well worth a look at is the range the remote can work from. Obviously not that important if you're working out in a regular UK garage or home gym, but if this is for a larger space, check the range. A decent timer should have a good 30m range on the remote in any case.
How can a gym timer improve your workout if you train alone?
A lot of people will see a HUGE giant gym clock and think it belongs in a commercial gym or in a class. So is there any point of mounting one of these big timers in your garage gym?
What modes should your gym timer have?
You'll likely already know what you need your timer to do. Ideally, a timer should be able to do at least the following modes:
Stopwatch mode
Real-time clock
Count UP mode
Count DOWN mode
Interval mode with rest
Interval mode for training
What are some FREE alternatives?
If you don't want a monster wall timer in your gym, or feel they might be overkill for you, so what's some alternatives to these?
Apps! There's a lot of brilliant free apps you can download to your phone or tablet, many of which are free.
There's also a good selection of smaller, personal timers you can buy cheaply at places like Amazon.
Youtube also has some interesting gym timers, from plain count downs to more fancy interval trainers. Although you have to obviously pick a preset and can't change the time.
There are a new breed of online services which let you create your own HIIT timer on the fly. Check out IntervalTimer.com for an example.
No-one wants to waste cash on some junk gym timer, whether it's to use at home, or in your own gym. Here's some of the things we've found go into making a decent training clock.
Giant Gym Timer FAQs
Here's some quick-fire answers to some of the questions we've seen so far on wall timers. If there's anything you're stuck on, please shoot us an email, or hit the comments below.
Do you have to mount them?
No. While there's nothing sadder than a big wall timer sitting on the floor, most of the product's we've seen have some kind of 'stand', or will at least stand up on their own.
Over to YOU! Which gym clock do you use?
That's all for this guide. If you've got a wall timer that you like, or have any questions – please use the comments below. It would be great to hear from you!
Reading and further resources