We love treadmills. No wind. No rain. No-one shouting 'get those knees up'. Just a nice safe way to burn off calories and get in shape. Trouble is, not everyone has enough room for a monster treadmill in their home or home gym. Fold-up running machines are a brilliant invention for anyone short on space. And lets face it, who isn't?
Once a flimsy, wobbly and much mocked sector of the treadmill market, folding electric machines have come on leaps and bounds over in recent years. There's now some seriously sturdy, foldable running machines on the market today. This guide will take you through some of the best ones out there on the inter webs.
Lets get started…

#1 Choice: JLL S300 Digital Folding Treadmill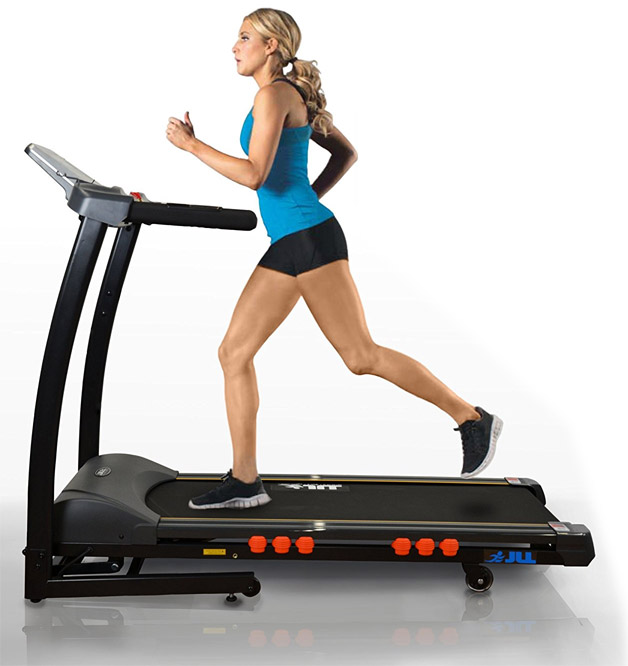 If you want to save a bit of time and skip to the best foldable running machine on this guide, it's the JLL S300. With an impressive 180+ reviews on Amazon and a 4.5 star rating (at the time of writing), we wanted to see what the fuss was about with this machine. So let's jump in and talk about why we rate it top.
Build quality is top notch
There's nothing worse than wobbly, creaky running machines, or ones where the belt slips all over when you're running. Sadly in the fold away treadmill market this is all too common. The S300 doesn't have these problems. You'll get a robust frame, solid feeling belt and an overall smooth run… or walk!
Another thing that sets this machine apart is the shock absorbers on the running part of the frame.  This helps eliminate noise and some of the thudding, and means less impact on your joints.
Good warranty and after sale care from JLL
Buying anything 'big' online can be daunting, even from Amazon. Especially something like a compact treadmill. Good to know that JLL are a reliable company and provide replacements, support and anything you need after buying. Look at the warranties with the S300:
2 Year parts and labour
5 year motor guarantee
Lifetime frame warranty
Plenty of flexibility
The good thing about this folding treadmill is that it's packed with features you'd expect from a 'gym' treadmill. The 20 incline levels are controlled digitally, meaning the 15 running programmes can alter both speed and incline. This makes workouts more interesting and helps get fit faster.
The range of programs, along with the wide range of speeds make this a good treadmill for just about everyone. The top speed is 16kmph, offering a good challenge for anyone up for it.
Easy to assemble and store
Another great thing with the S300 is how easy it is to fold down. A hydraulic arm gives a smooth down motion and saves you hurting your back. It also helps get the tread back up. And there's wheels to help move it around once it's 'flat'.
Verdict: The SL300 has just about everything you'd need from a fold up running machine. It's strong, sturdy and easy to store. There's a good number of programmes that will keep new or experienced runners happy. It also represents good value for money. Highly recommended.

High quality build
Some genuinely useful programs
Covered with good warranties
Powered speakers connect iPod or other mp3s
Easy folding action
'Sprung' treadmill is smooth
Not much to assemble
Good value for money
Old style 'LCD' screen, not a pixel one
Images on instructions could be bigger
£499.99 at Amazon
Price last checked: Sunday 20th September 2020 – 19:05 pm
---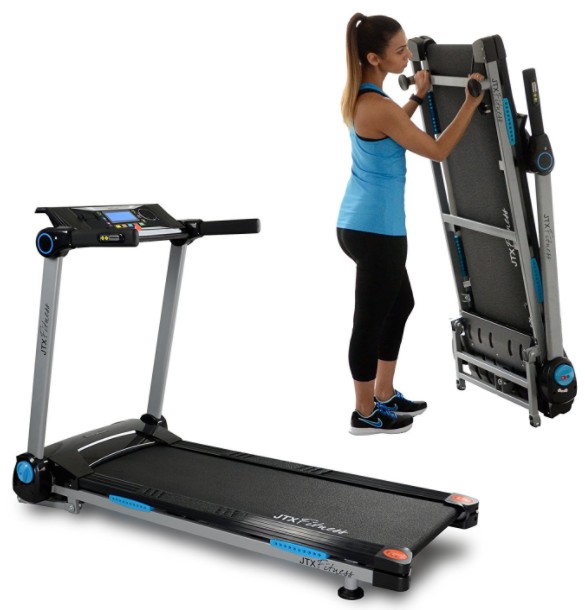 If you want to step up in quality a little and your budget allows, there's a really good fold-up treadmill on the market from JTX. The slim line treadmill isn't the lightest treadmill around but can be folded up easily and stored away in a corner when you're done.
It's nice to know if something goes wrong, there's help available. One of the benefits with this treadmill is that an engineer will come out and fix any problems. This warranty runs for a year.
The display here is a cut above the rest too. A nice clear digital display shows and tracks all the important stats like calories, speed and distance. And there's a good range of programs to get a sweat on. 43 to be exact.
Incline is often a problem with folding treadmills but the JTX running machine pulls ahead here, with the machine altering the 15 levels of incline digitally. No stopping your workout to alter the inline.
Performance-wise, again you're getting what you pay for here. The belt and running area feel softer than some of the cheaper models and this is one of the more solid foldable machines.
Verdict: JTX have a fantastic fold up machine machine here that shows some obvious advantages over cheaper models. If your budget allows, the Slim Line treamill is a sound choice for home running and walking.
Top quality
Feels very sturdy & 'soft' to run on
Top-notch digital display
Engineer will fix any issues
Built-in speakers and phone / iPod holder
More expensive than other budget folding machines
A bit on the heavy side when it comes to moving around
---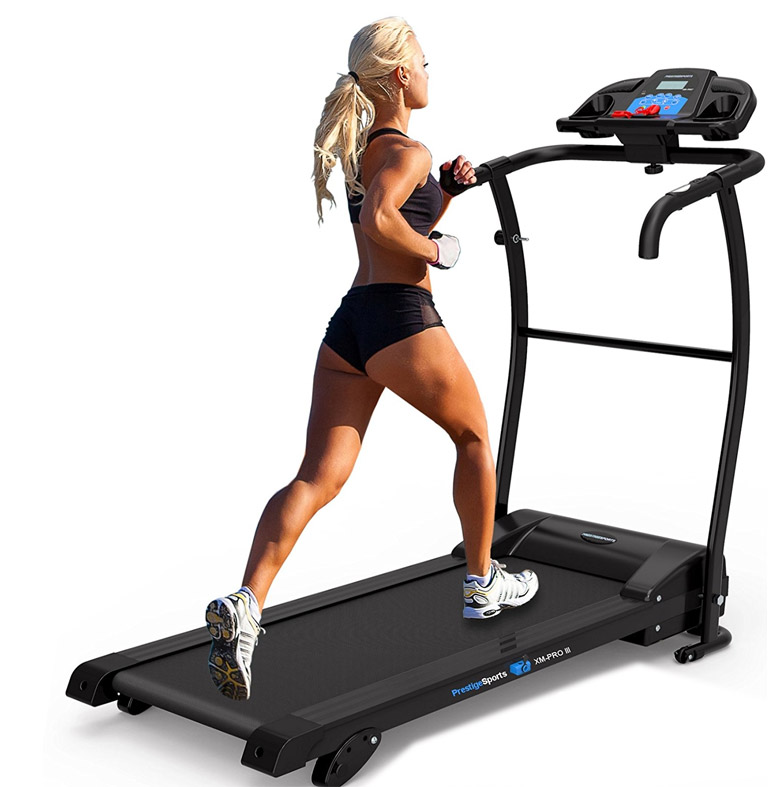 This folding running machine is an unusual combination of being light weight while managing to feel very sturdy.
It won't take any effort to move around. It's also got little wheels to help in that respect. Folding up is straight forward, and it's about as compact a machine as you're going to find.
No-one wants to buy a running machine that's no good after a few weeks. So one good thing about the XM-Pro is it's lifetime motor warranty. While parts get a two year warranty.
This fold-flat treadmill is fine for both beginners or those looking for a taxing workout. There's easy-to-use programmes to suit both groups. Nice clear controls here and a brightly lit display keeps track of speed, calories and all the important stats. Not the most fancy display, but good at this price point.
As for extras there's cup holders and some built in speakers so you can enjoy your tunes while getting fit.
Verdict: For under £200 the XM-Pro 3 is a definite bargain. It folds away nice and flat while offering a good, sturdy running experience. 
Solid running machine
But light enough to move easily
Lifetime warranty
Quick assembly
Good value for money
12km limit to motor may not be enough for some runners
Heart rate monitor could be better
---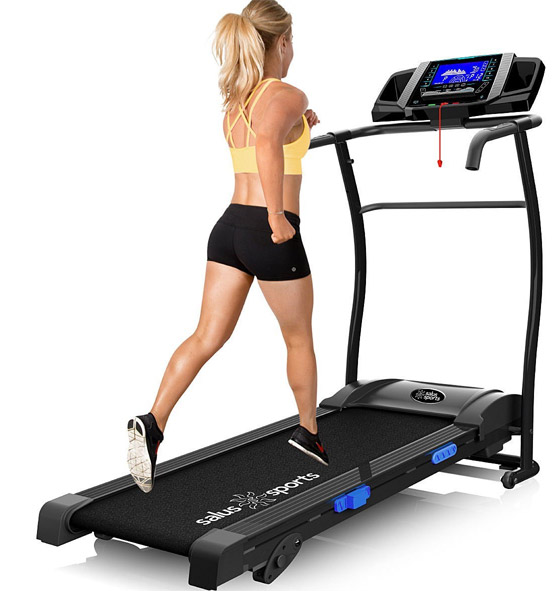 Some folding treadmills would take two people to move around! A good folding running machine should also be practical to move around and store. Thankfully, this gem from Salus Sports folds neatly up and moves around on it's wheels easily.
There's some impressive features on the X-Lite treadmill that give this machine an advantage over some more expensive products. For instance the display / computer part looks like it belongs on a more expensive machine. As well as having a huge range of training programs, it's also touch screen.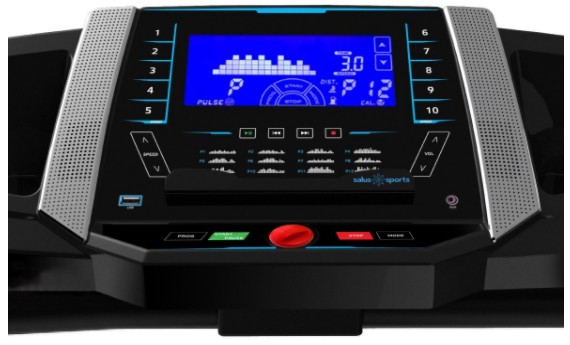 The programs (a whopping 99 in total) have something for everyone – from new users to someone wanting a good sweaty workout. This is one of the best displays we've seen on a folding running machine for this price.
Assembly isn't too hard with this machine either. Actually, there's not much to put together at all. No stalling here; get running!
Our verdict: Don't be put off by the price of this fold up running machine. Salus have a great folding machine here for the price. If you're looking for a cheap compact treadmill, with a good set of programs, this might be the one.
Surprisingly good display
Easy to fold – and move around
Decent running machine for the price
Hardly any assembly
Bottle holders could be better
Built-in speakers bit 'tinny'
---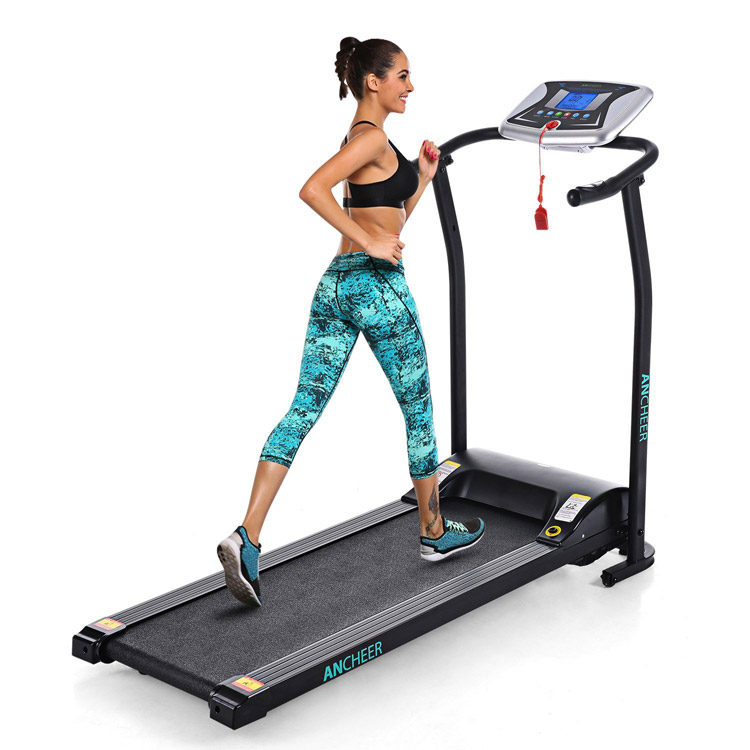 If you're sick of the British weather scuppering your plans (or motivation) for to get out and do some exercise, then here's an electric folding treadmill you might wan to check out. The Ancheer 8400 is perfect for anyone short on space. It's one of the smaller profile ones out there.
Moving this foldable machine isn't difficult at all thanks to it's weight and size. If you need a treadmill you can move between rooms, this is a good option.
So who would this machine suit best? It's a good choice for just about every user – from students to the elderly. One really appreciated feature is the 'soft down' system on the running part of the machine. It lowers itself effortlessly down.  No bending down or back ache.
Construction here is robust (for a folding running machine) and it's perfect for light running or walking. There's gentle manual incline here, although they're not going to put up much challenge for experienced runners.
If you hate putting stuff together, you'll be please to know this one comes 99% assembled, so you can get straight on your new treadmill.
Verdict: We really like this machine and it's a good option for anyone really short on space. It's a good basic, cheap machine that does it's job perfectly well.
Small foot print
Soft down tread saves your back
Easy to move around your home
Good choice for elderly
Nice easy setup
Incline levels are not challenging
Tread could be too narrow for larger users
---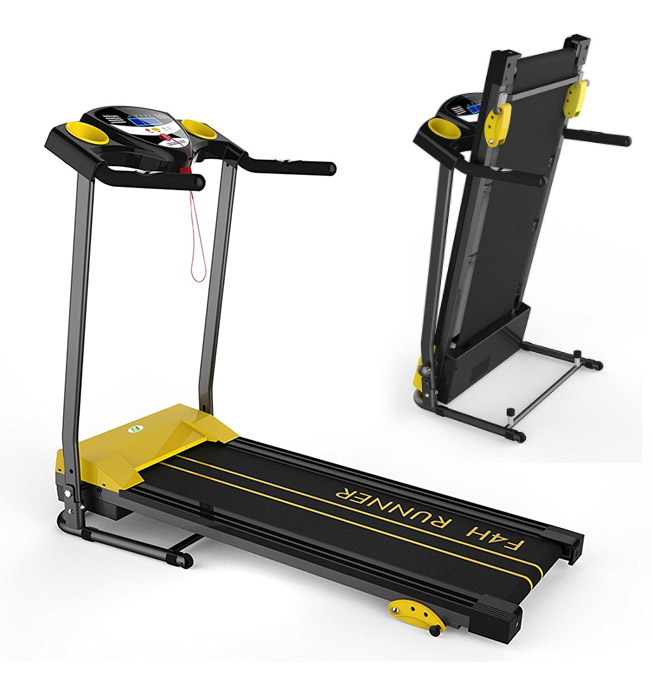 Dipping under the £200 budget mark is a tidy-looking black and yellow folding treadmill from Fit4Home. Like the other fold up treadmills we've looked at, this machine collapses away neatly to save space after use.
One of the key things to look for is a sturdy treadmill, something lacking in many treadmills that fold away, and this one has a sturdy design that's capable of handling users of 110kg or over.
It's also faster than a lot of other electric fold-aways in this price bracket. Enjoy taxing speeds of up to 14mph. Should keep you busy for a good while. While a nifty little computer tracks your progress in the form of distance, time and the usual suspects.
Oh, and it has two cup-holders. You know, in case you get really thirsty.
Verdict: Its sturdy, it looks great and it's a pretty good folding treadmill for the price. It's certainly the best for under £200 and well worth a look.
Sturdy design for a folding treadmill
Fast! Beats others in the price range
Manual incline adds a bit more to your workout
Good buy for the price
Fine for heavy users
Small folded size
Assembly instructions could be much clearer
---
Thanks for reading and please let us know in the comments if there's a treadmill you really like, or if there's anything we've missed here. Happy training and all the best!
Tom, HGE