Knowing which balance board to buy online should be an easy affair, but it's one bit of training equipment that has an unusual number of variations. Here we look at 5 of the most popular balance trainers to help you make an informed decision about which one is right for you. Unlike other product guides, it's more a question of which board is right for you as they offer something different.

#1 Choice: Indo Board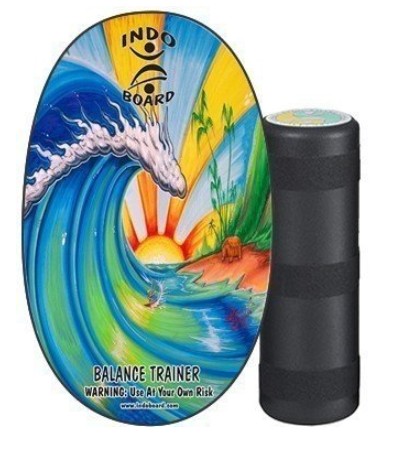 If you're short on time and want to hop to what we think is the best balance board, it's hard to go wrong with the Indo Board Balance Trainer (Amazon).
What's an 'Indo Board'?
Indo board is a balance trainer that's suitable for users of all levels and ages. You get an 30″ x 18″ board along with a separate roller which allows you to perform a wide range of exercises and have '360' degree movement.
This is the best selling board and currently boasts 185 reviews on Amazon US site equaling an a not-too-shabby 5 stars. The best kit comes with a roller and a cushion. The 'cushion' being an easier way to use the board and a good option for new users.
Beautiful design
The pictures don't really do the design of the Indo Board justice. There's a lot of pretty cool looking balance trainers out there but the minimalist wooden design, combined with the obvious attention to quality gives this board the edge. It looks and feels like a quality product. Some users actually hang them on the wall… no, we're not joking.
A wide range of uses… and users
One of the best things about this balance trainer is that it can be used in so many ways. This balancer is put to work everywhere from extreme workouts to recovery from injury and training for seniors. Of course if you're just looking to surf in your living room or goof around then it's good for that too. (Kids love it).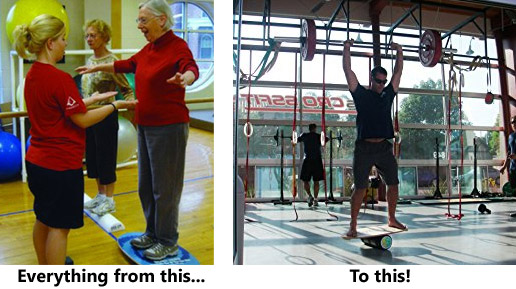 What kinds of things will the Indo Board improve?
Aside from the obvious applications in the surf, skate, wake and snow markets, the Indo board has other uses for your home gym and personal training.
Improving balance and stability
Getting a better posture
Improving core strength
Recovery from injury
Increase your athletic skills and control
You might live to rue the day you questioned what a simple board could to do improve your body
Does a 'bit of wood' really help training?
You might live to rue the day you questioned what a simple board could to do improve your body. The Indo board will leave parts of you feeling sore that you didn't know you had. Just about every exercise you can think of, even the humble push-up (see below), takes on a whole new perspective combined with balance training. Muscles you can train upright include legs, hips, waist, as well as your knee and ankle strength.
The Indo board is a great choice for anyone starting out with balance training and has a huge range of applications. The user feedback has been excellent and we rate this as the best balance board you can currently buy.
Suitable for just about everyone
Excellent design and quality product
Takes a bit of practice when starting out
---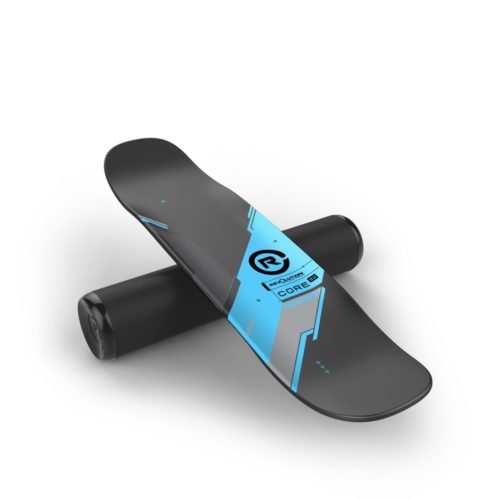 The Revolution Core 32 is a skater board style balance trainer that's great for getting in shape and improving your balance. It comes with a separate roller and offers full freedom of movement.
Build quality
A good showing here on both durability and the quality of the product. There's over 92 positive reviews on Amazon.com for the revolution balance board, many citing the sturdy design. The impact roller is also built to last.
If you're into skate boarding, this will likely be the board you want to get. You can practice your kickflips, 360 flips and more, without ever going outside. The revolution boards beat competing boards for things like for ollies and kick flips.
Who is this the best balance board for?
The Revolution 32 is a serious board for anyone wanting to improve their balance and their tricks. Of course it also works quads and core muscles. It will be of interest to anyone into snowboarding, long boarding, skateboarding or skiing. You should feel the benefit in your improved balance soon after practicing. It's also a good choice for exercise and for a fun balance board. It will take a bit of practice as it's not a noob board. After a day you'll be getting the  hang of it.
Tracks under the board prevent it from flying off when you're doing tricks.
More versatile than the Indo Board
Feels very smooth to use
Sturdy design, suitable for tall or heavy users
Cool design, in one of two colours
Not as easy to use as the Indo board
---
The second of our revolution boards in the top listing.
This is a balance wheel style board that looks a bit like a skateboard, with no wheels. And in fact it has a lot in common with them – it's made from 'bomb proof' tough 11-ply hardwood and it's super-comfortable with orr without shoes.
Freedom of movement
Roller style balance boards allow complete freedom of movement. The 101 will strenghen ankles, legs and feet. It's also used for strengthening core muscles and for rehabilitating back injuries. Often used by PT instructors to strengthen supporting back muscles. However, it does have 'stops' built onto the bottom that will prevent the board from rolling too far and slipping away.
Very high reviews on Amazon US
While there aren't many reviews for this balance board UK wise, say on Amazon UK, it's worth mentioning that it has a 5 star rating on Amazon US, with an impressive 330+ reviews.
" it's worth mentioning that it has a 5 star rating on Amazon US, with an impressive 330+ reviews."
The roller is quiet and lightweight
Your balance board is only half the important part here. The roller part (the black 'tube' bit underneath) is also very well made and it's quiet to use. It's recommended to get used to it holding onto a wall or chair before trying it 'free style'!
Who is this balance equipment suited for?
As well as being a lot of fun to use, the Revolution 101 is ideal for intermediate users. It can be used for fitness and strength training, as well as improving control and the muscles used for snowboarding, wakeboarding and surfing. This balance board will also be worth looking into if you're into skiing.
Very positive user feedback
Complete freedom of movement
High quality product, well put together
Strengthen leg and core muscles
Takes a bit of practice to start balancing
Amount of 'freeness' might not be suitable for everyone
£149.95 at Amazon
Price last checked: Sunday 20th September 2020 – 19:08 pm
---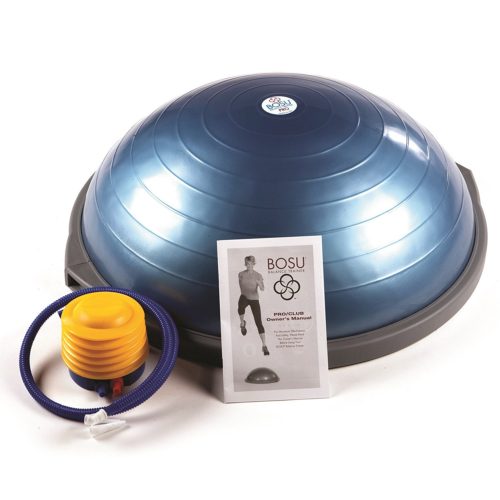 Here's an interesting bit of kit. If you haven't seen a Bosu Balance trainer before, it's a dome-like inflatible trainer that can be used for all sorts of workouts and stretching. It can be combined in your home gym or used on it's own. Bosu is ideal for can be used for core strength training, agility, stability and improving your flexibility. And balance of course.
This balance equipment extremely tough and solid-feeling. Despite it's look, it's designed to take the hardest punishment you can dish out. It's the exact same model used in gym classes, as well as being put to work at professional footballering.
Like all balance trainers, the idea here is that your wobbling movemement, and the correction of that movement, makes the work harder and strengthens your core. It can be worked into your existing training and used to strengthen joints after injury.
Some exercises you can do with the Bosu
You don't have to be an expert to use the Bosu Balance Trainer and it's suitable for people young and old. The 'ridges' on the dome, combined with the non-slip base, keep you from slipping off while you're training. However, as with all training equipment, it's worth doing your research and checking out some of the training videos on Youtube.
In case you're wondering what's different about this 'commercial' model, is slightly larger and sturdier than the home use one, with a stronger base.
The Bosu Trainer comes with a pump and full instructions.
Pros
Varied range of possible workouts
Sturdy and built to last
Great for new users both young and old
Can be used for recovery
The supplied pump could be better
£180.00 at Amazon
Price last checked: Sunday 20th September 2020 – 19:01 pm
---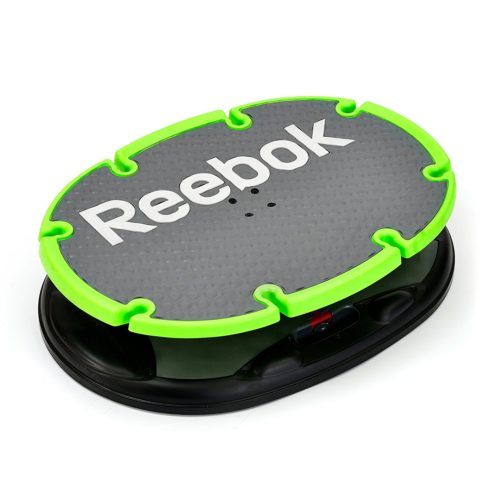 The last UK balance board worth looking at is the Reebok  Professional Core Board. This is a very safe strength training board and you'll find a lot of ways to work into your training. It's prefect for building up your back and core.
Build quality
This balance board is a tough bit of equipment that's designed to take some serious punishment. The build is solid and it feels very sturdy. Because of this, its a sound choice for users on the heavy side.
It's safe and it's easy to use
This balance fitness equipment is a lot easier to use than some of the other boards I've written about. The board part is attached to the base so you can get the full range of movement without the risk of the board slipping away. Another thing I like about Reebok's board is the chunky, solid-feeling grip.
Your range of movement can be adjusted to one of two positions.  This is useful if you're a new user or are using it for rehabilitation purposes. In case you're wondering, those 8 notches around the outside are positions you can use for resistance bands.
"You can do pretty much any standing exercise on the Reebok Core Professional and get up to 20% more benefit."
Using the core board for recovery
Can be used for rehabilitation, especially for back injuries, and also is currently being used for older users looking to stay in shape.
See the Reebok Core Board in action here
There's actually a lot of videos on youtube for the Core Board, and some good ideas for exercises. Here's a quick overview that shows this board in action.
Any downsides?
There's a couple of issues that may or may not change your mind on whether to buy this balance board. First, a number of people have pointed out that the Reebok board doesn't come with any instructions. This is a strange omission as this could be the first balance equipment someone has bought. Secondly, there's less movement that you would get with other boards. This will either be a good thing or a bad thing, depending on what you're looking for from your balance equipment.
Easy to use
Safe, non-slip surface
Good choice for senior users
Ideal for recovery from injury
Does not come with any instructions on how to use
Not as 'wobbly' as some other boards
£119.99 at Amazon
Price last checked: Sunday 20th September 2020 – 19:08 pm
---