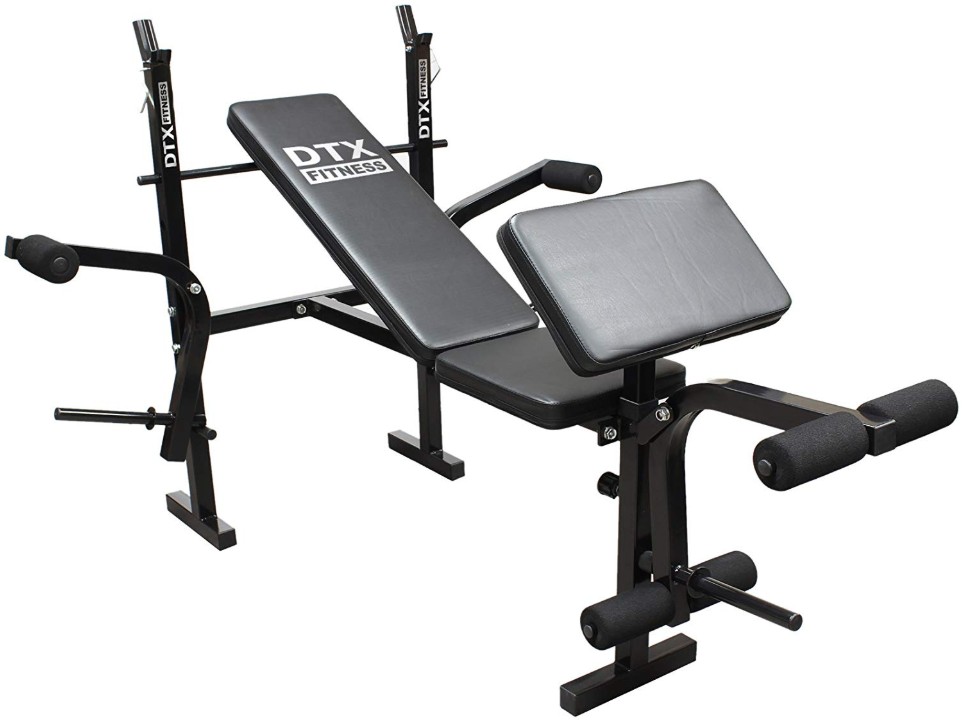 Getting a decent weights bench for your home gym is one of the most important 'bits' to get right. If you're serious about free weights, this investment will make a huge difference to your training.
In this review, we're taking a look at one of the more popular (and cheapest) all-in-one weights benches on sale in the UK at the moment, the DTX Fitness weight bench.
If you've got any questions you'd like answered about this weight lifting bench, please let us know in the comments. And let's dive in and find out how it did!
Check Current Amazon UK Price
What will this gym equipment do for you?
The DTX weights bench is an all-in-one weights bench that lets you take on a number of different exercises that isolate and work each muscle group separately. While it's not a multi-gym, it's not a simple flat or incline bench either. There are moving parts that allow you to work your pec muscles and leg muscles.
The bench itself has a number of incline positions, allowing you to get into some inclined bench press, or lie flat and work your pec muscles. And there's a support bar that will hold your barbell.
What exercises can you do on the DTX all-in-one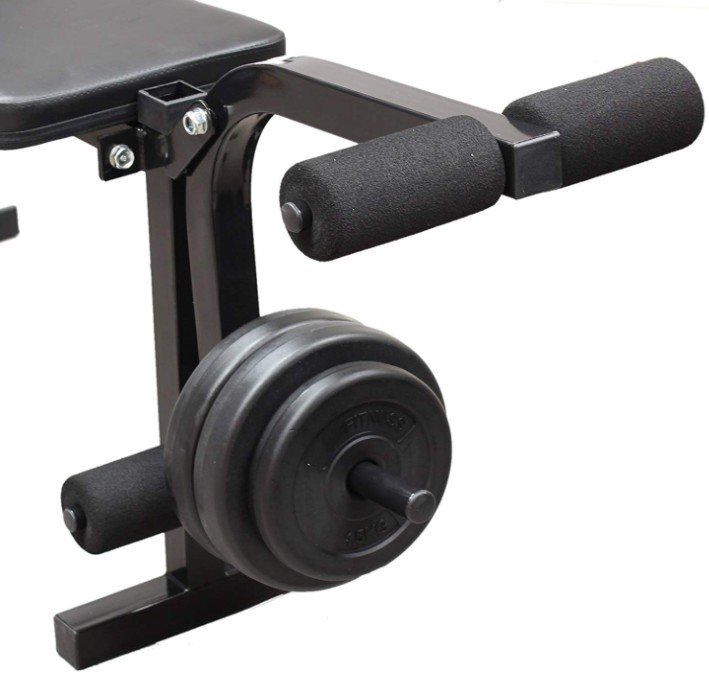 While you could argue there's an infinite number of exercise you can do on a weights bench (which is one of the reason's we love 'em here on Home Gym Experts) here's the main things you'll likely want to get this bench for.
Leg extensions
At the front of the bench, there's an attachment that serves two purposes, the first being seated leg extensions. My legs are aching thinking about this form of torture as I write this. This is an excellent movement that works your quads (the ones on the front, above the knee!) and is difficult to get that feeling with any other bit of gym gear!
Preacher curls
This part of the bench also handles the preacher curls – another gym favorite. It's a seated exercise where your chest and upper arms are supported while you perform a bicep curl. It's extremely effective at isolating the bicep muscles and builds up strength in your bicep and forearms like nothing else.
Pec butterfly
This bench has attachments on either side of the bench for lying flat, reaching down and bringing the arms to your chest. This is an exercise that really focuses on the chest muscles.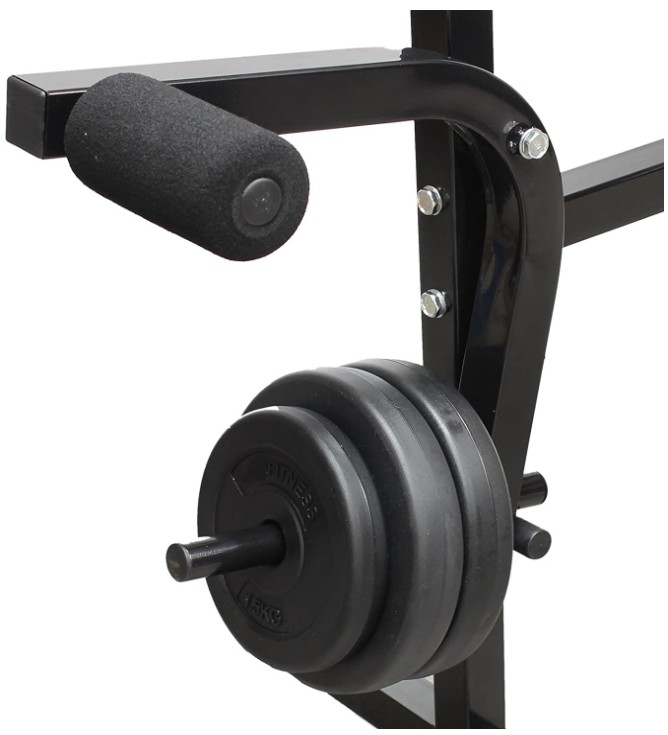 Bench press
The classic bench press is still one of the best exercises you can do to build your upper body strength, and one of the main reasons you're probably looking to buy a bench for. While you can do this exercise without a barbell stand, it's definitely not advised!
The DTX All-in-one bench has a sturdy support that lets you do your bench press properly and safely.
Oh, you'll need to buy your own weights
You don't get any weights with this gym gear, or a bar for that matter.
If you've not already got some weights at home, you'll need to invest in both a bar and some 'plates' to use this machine. The DTX uses the standard 30mm bar diameter so look for weights that have the small hole, not the large one!
Whereas with multi-gyms you increase the weight by moving the pin to different plates, here you're free to add and remove weights depending on what your aim is. There are no nuts to screw or unscrew – instead you simply slot the plates on and get to work.
Alternatively you can use Olympic plates and a small converter (they'll set you back around £10) that will adapt  your plates with the wider hole so they can be used here.
What did we like about the DTX all-in-one?
Lets get to the 'review' part of this guide. Overall this is a top weight bench, at a cheap price, with a couple of things to be aware of. First up: the pros and stuff we liked.
The bench itself is sturdy
Diving in with the most important part of any weight bench: how solid does it feel? DTX's bench is thankfully very sturdy. The thick tubular steel handles the weight (and our weight) well.  It can handle up to 100kg of weights which should keep pretty much everyone happy.
If you've not heard of DTX, they make good home fitness gear and have a good track record as far as quality goes. We've seen a lot of good products for the home gym market from DTX and this bench is another well-built bit of kit. In short: it should last a long time.
The barbell sits snugly on the supports and there's no awkward wobbling, creaking or 'budget-feel'  to report. You feel safe when using this bench. Overall, a good, well-made, robust bit of kit.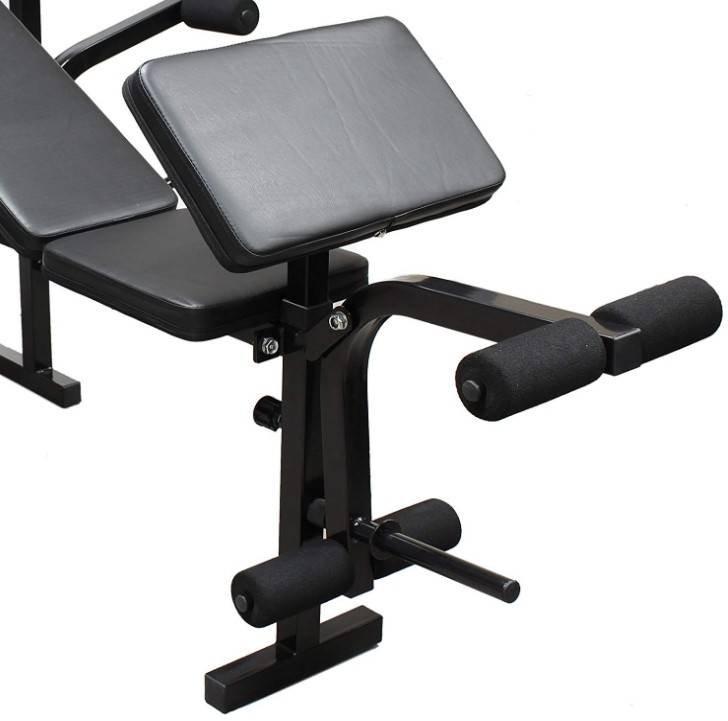 It's light and easy to move around
I would guess more people get injured lifting their gym equipment around that actually doing the exercises (speaking from experience). We've got a weighs bench in the gym here that's so heavy you have to really take care trying to move it. Thankfully, the DTX bench is not like that at all.
If you don't have a dedicated space to keep this equipment in, or need to move it to one side in a spare room or home office, then this could be a good choice for you. It's easy enough to move this bench around and the light-weight design doesn't come at the cost of afore mentioned sturdiness.
The preacher bar / leg extension can be removed easily
The front attachment is easy to remove, which is sometimes handy if you need more space, or want to do some different exercises. This part comes off without anything needing to be unscrewed.
Assembly isn't too bad
Like all the gym equipment we get to review here, the DTX bench comes in a pile of metal tubes, nuts, washers and other weird looking bits you've got to put together yourself.
It's just like Lego, except it hurts a lot more if you drop a bit on your toe.
While the instructions could use a little more clarity (more on that in a bit…) you shouldn't have any issues getting your DTX weights bench set up. If you've assembled anything like this before, you could get it down to maybe 15 minutes. But even those who dread putting stuff together themselves needn't fret.
Having said that, you'll need a socket set, spanner set, or a good old adjustable wrench. There's no tools in the box on this bench I'm afraid.
You can do a lot of exercises in a compact space
One of the best bits about any weights bench is that once bit of equipment lets you do loads of awesome exercises. This bench goes one further with the extra stations it has built in. Leg extentions aren't easy to do in a home gym, but they're handled well here. There's even an attachment that lets you get stuck into some ab work.
Combine that with the barbell and other possible bench exercises and there's enough here to keep you training without getting bored for a long time.
Check Current Amazon UK Price
---
What are the downsides with this budget weight bench?
While this bench isn't the cheapest bench on the market (check out our guide on weights benches for under £100 for that), it comes in at a decent budget price tag for what you're getting. So what are the limitations at this price?
This is not a weights bench for tall people
One of the downsides to the compact design of this bench is that you'll definitely want to look elsewhere if you're over 6 feet tall. Even if you're just on the 6 foot mark, you could still feel cramped when lying on the bench, depending on how you position yourself.
The butterfly exercise won't be for everyone
Tied in with the point above, the pec butterfly exercise, where you lie on the bench and use the 'arms' with weights on them, may not suit every body type, especially taller users, or people with longer arms. It's an unusual one because once you take the arms off, you can do these exercises arguably better with a set of dumbbells.
The instructions could be better
While this is one of the more straight forward assembly jobs we've seen on a home gym style product, the instructions could have used a more simple, step-by-step approach. It's unlikely you'll struggle with assembly but better images and accompanying descriptions would have helped.
The bench itself could be wider
One other thing that we'd like to have seen with the DTX bench would be a slightly wider bench. While it's not uncomfortable in any way, a few inches extra would have made a big difference.
Final verdict: Is the DTX All-in-one bench worth getting?
Overall this is a cracking home weights bench for the price. You get a simple way to isolate each set of muscles and get a good overall workout. It's a good choice if you're not looking to spend a fortune, want something for a limited space that offers a wide range of exercises. It's a good quality for the price and offers good value for money.
Check Current Amazon UK Price
Full tech spec on the DTX bench
| | |
| --- | --- |
| Max user weight | 110kg |
| Max barbell load | 100kg |
| Max user height | 6 foot |
| Plate size | 1" diameter hole |
| Exercises | Bench press, butterfly, leg raise, preacher curl |
| Weights included | No |
| Assembly | Self assembly required |
| Padding | Thick, upgraded padding |
| Length | l: 118cm (exc. Attachment) |
| Width | 60cm/124cm (inc. Butterfly attachments) |
| Height | 94cm |
Sources and further reading