Whether you're looking to de-compress your spine, sort out that long-running back problem or even use it for strength and fitness, buying your own proper inversion table might be a good investment. In this guide we're hunting for the very best inversion table for under £500 (or less, if possible!) We'll take you through everything you need to know to pick the best table, and rate the top ones for the job.
Top Pick
What's the best overall machine in this price range: …. Teeter Hang Ups EP-560 (Amazon). Teeter's 560 is one of the cheaper tables they offer but it's definitely one of the best in terms of stability, ease of use and comfort.
What we look for when reviewing inversion tables
What can you expect to get for your money in the £500 (ish) range?
What's the difference between one of the cheaper inverting machines, like the ones in our guide Best Inversion Table for under £200? and a table that costs more than twice that? Does the old adage of you get what you pay for still hold true for back machines?
Here's some of the main differences we've found between the super-cheap machines and their more expensive siblings.
Overall quality – One of the things that's really hard to get a feel of when you're choosing an inversion table, especially from pictures on places like Amazon, is what they actually feel like. What immediately jumps out with products like Teeter's is how much smoother, sturdy and comfy in general everything feels.
Improved ankle support and comfort – Hanging upside down, or at one of the angles up to 180° takes some getting used to (beginners should practice for shorter 1 minute periods to begin). Paramount to your comfort when doing any inversion stretching is how your ankles are fastened in. We've found the products in the £400 – £500 price range have way better ankle support systems.
Ergonomic beds – One thing that definitely improves in this price range is that the tables are in general much more ergonomic. The Teeter range in particular have back rests in particular that are extremely well designed. They also flex and move with your exercises which is better for your back.
Smooth operation – One thing a lot of cheaper tables are lacking in, that's hard to pick up on reading reviews and videos is how smooth the motion is. The higher budget brands, like the Teeters have much smoother, grind-free movement.
Quick version – look for the three S's
Stability – A robust, steel frame with high quality welding and no creaking or wobbling please!
Safety – The bed should keep you securely in place and lock in place safely.
Smoothness – A proper inversion bed should be perfectly balanced and the rotation should be buttery smooth.
Things we're looking at in this price range: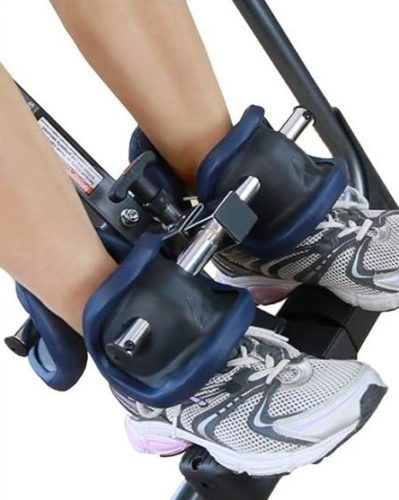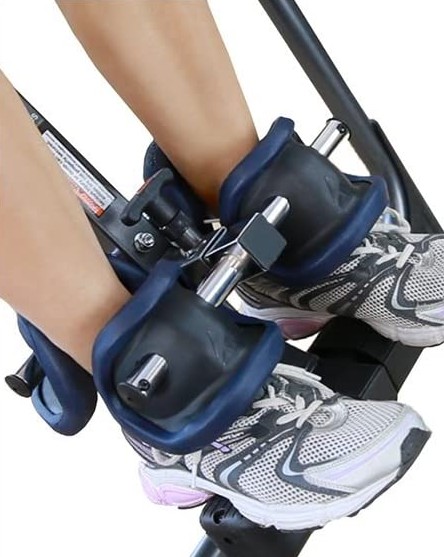 Build quality – For around the £500 mark, any compromises in materials and quality should be gone.

No wobbling, thin tube construction, shoddy joints or instability.

Ankle support – With a budget of up to £500, you can get the best ankle support available, something you'll thank yourself for later!
Smooth rotation and balancing – As well as being sturdy, and kind to your feet and ankles, a decent inversion table should be precisely balanced so that you can manoeuvre into your incline position and back easily.
---
So, what are the best inversion beds up to £500?
For this respectable budget, expect a really good machine that will be a trusty training partner and last a long time. Here's the upside down machines we found were actually worth the money, starting with the top pick first.

#1 Teeter Hang Ups EP-560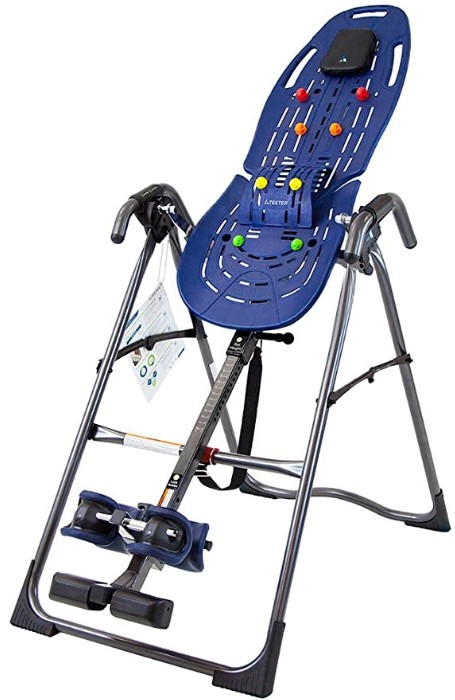 A super-sturdy inversion table
Like other Teeter tables, the build quality is really impressive here. One of the good things with their make of back tables is that they build in this strength to the frame without it looking or feeling bulky and chunky, like a lot of tables do. The bed, grips, frame and every part of this table feels like it's built to last.
Easy to adjust to different body types
Everything on the Teeter 560 is simple to set. Height is set using the vertical column and then your feet are secured using the Ergo Embrace clamps. This inversion table offers one of the more comfy ankle braces and you shouldn't get any pinching or pain when using it.
…this bed scores high on our all-important criteria: stability, safety and smoothness
Beautifully balanced and smooth to use
With inversion machines you definitely get what you pay for. Corny but true here, I'm afraid. And the 560 has a gorgeously smooth rotation without and creaks or grinding noises you find on cheap tables. The balancing is perfect, as it needs to be, so even if you're treating an injury, you can rotate around without any exertion.
Good back support with handy grips
While the Teeter beds never look that comfy at first glance, the back rests aren't as rigid as they look. The 560's blue back bench is designed to flex when you do your back stretches and is oddly comfortable whatever angle you're aiming for. Another thing we really like is the number of craftily hidden handles there are dotted around both the backrest and the frame itself. They let you pull and twist your back easily.
Simple assembly
The Teeter 560 boasts a (very specific sounding) 13 minute installation. While we reckon this is maybe a bit on the optimistic side, it's nowhere near as complex as many other tables we've seen. The included DVD makes things a LOT easier – so check that out before you start. But this is definitely a simple enough job, with easy instructions.
Verdict: Teeter's 560 bed is one of the cheaper beds from the company but actually one of the best. It comes in at a fair bit under our £500 budget and this bed scores high on our all-important criteria: stability, safety and smoothness. Ankle support is secure and comfy, as is the back rest itself. Whether you want to go to 40° or literally hand upside down, you'd be hard pushed to beat the Teeter 560 in terms of quality and value for money.
Smooth gently rotation
Comfortable and secure ankle braces
Excellent quality bed
Sturdy steel frame
Easy to assemble and use
Some of the extras, like the acupressure nodes aren't that useful
13 minute assembly too optimistic
Check Current Amazon UK Price
---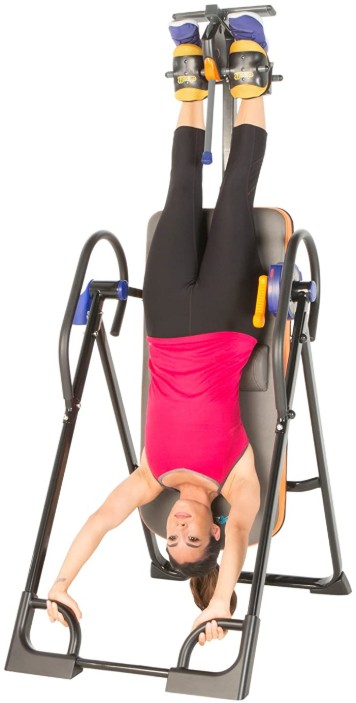 Extremely strong inversion table
This table has the highest upper weight limit we were able to spot an any inversion machine. In fact you can go up to around 158kg! It actually doesn't look as bulky as you'd think either. The tubular steel frame on the Exerpeutic table is definitely well made and gives a sturdy, safe way to incline.
'Infinite' incline levels
While a number of beds offer up to 3 incline levels on average, the Exerpeutic inverter uses a braking system similar to a car, which allows you to lock in any angle you want to. While 'infinite' miught be a bit of a marketing gimmick, the limited levels many cheap tables offer is definitely a drawback. Being able to choose the perfect incline position is a big help.
Good ankle support system
As we've written about a number of times in our guides to inversion tables, one of the most important bits about your table is how your ankles are secured. The Exerpeutic has a really good solution to this problem that combines the handy 'easy-reach' type handles with some soft cushioned clamps. They let your lower legs breath and use a secure ratchet system to lock you in place.
Quality padding on the bench
Another big difference between this bench and cheaper ones out there is the quality of the padding, material and stitching on the bench itself. It's hard to get a measure from the pics how comfy and supportive the Exerpuetic's bed is. Meaty thick padding give you plenty of support, as does the (detachable) lower back lumbar support.
Verdict: A no frills inversion table (in a good way) – Exerpeutic's machine is a good choice for anyone wanting a simple, easy-to-use way to stretch out their back safely at home. It's super-comfy and the ankle locking system feels safe and sturdy.
Solid inversion table
Easy to use
High upper weight limit
Air-soft ankly grips feel great
High quality padding and material on bench
Check Current Amazon UK Price
---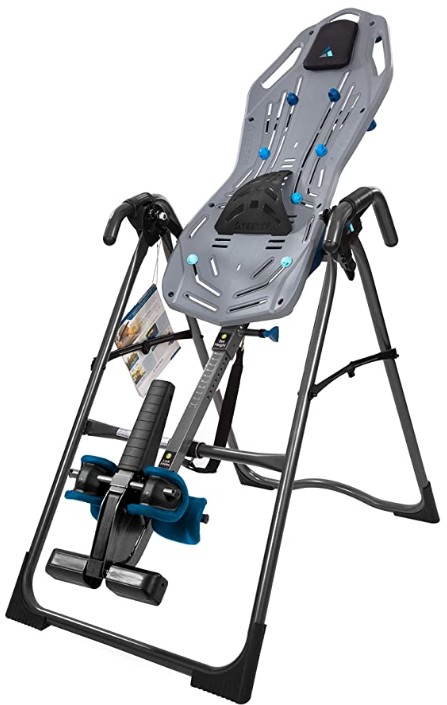 High quality inversion table
Although far from the cheapest, Teeter's range of back machines are bursting with quality and the X2 table follows this trend. Every part feels high well built and this table feels like it will last a very long time.
Good choice for multiple users
Aside from it's robust steel design, one of the best things about this table is how fast it is to alter the table for each person. Setting the height is a doddle and the X2 version has a nice easy-to-reach lever that handles the ankle clamps.
Smooth and comfy
Whether you're going the full hog and want to hang upside down, or are looking for some milder back inversion, the X2 offers a good, sturdy bed that's well balanced. It's easy to control and has a smooth range of motion, something lacking in the super-budget beds we've seen.
Lower back support
For anyone looking to work on lower back issues, there's a Lumbar support that's included. Other accessories include acupressure nodes that you can slot into the holes on the bed and which work more areas of your back. While the included instructions leave  a lot to be desired, that's not true of the DVD you get with this table.
Definitely give that watch as it explains a lot about how to use your table.
Verdict: The X2 is a fantastic, comfortable and sturdy bed. This comes at the cost of some storage space and of course weight. But the bed is extremely robust and oozes quality. It's ideal for shared use, clinics, home gyms and especially for taller users.
Strong and sturdy
5 year warranty
Secure and very comfy ankle supports
Easy to assemble
Some good accessories
Instructions not up to beds quality
On the heavy side
Folded profile could be smaller
Check Current Amazon UK Price
---
Most ergonomic table in this price range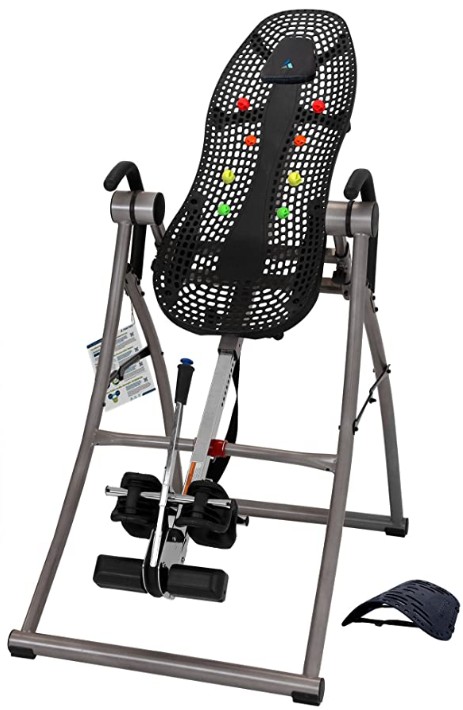 The final table, and yet another Teeter one! Is the Teeter Contour L5.
Comfy foot locking system
If you want to do a full inversion hang, this is definitely one of the more comfy ankle clamps on the market. You put your feet in place, then use the easy-reach handle to 'clamp' down using one of the pre-defined 'click' positions. It works well whatever angle you're going for, especially for the full upside down.
Sturdy, if heavy, curved frame
The curved frame makes it easy to ge on and off the table and this is a seriously strong frame. This table should last for many years of constant use.
Slight flex in the table makes for more comfy back work
Teeter's table has a bit of give in the design of the back rest, which makes for a way more comfy experience than some of the beds out there. It's especially good if you're planning to do exercises as well as just go back into incline.
So smooth to use
A lot of budget beds look great but creak like a rusty robot when you roll back into incline. The Teeter tables, like the contour, are super smooth and also silent to use. It's a common thing where people start off with a cheaper bed then opt for a Teeter later and are surprised at the difference.
Verdict: The Teeter Contour is a fantastic bed. It's not light, or especially compact when folded away but it is blissfully comfortable to use and should offer years of faithful service and back relief.
Good quality
Super-sturdy
Easy to assemble
Comfy ankle braces
Smooth motion
Heavier than other tables
Bulky when folded
One of the more expensive 'Teeters'
Instructions not especially clear (although its easy to assemble regardless)
Check Current Amazon UK Price
---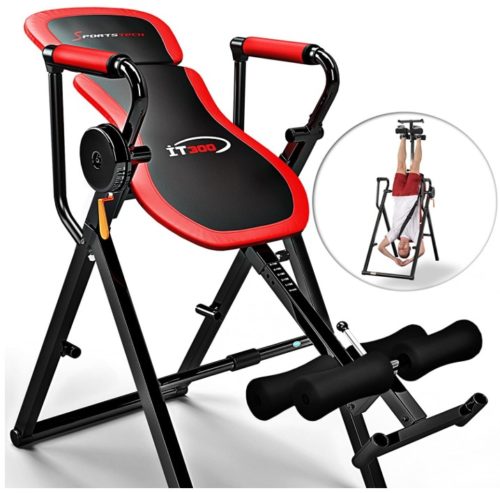 A more sporty table
Looking like it belongs in a Home Gym, Sportstech's mid-priced inversion table is a multi-function back training device that has many uses for home training. Thanks to some nifty design work, this table can quickly be setup to complete a number of gym exercises:
Dips
Leg raises
Pull-ups
Inverted sit-ups
Leg raises
Push-ups
Clever 'rod system' makes for speedy transition between exercises
It uses a really interesting and simple system of two simple bars that are inserted into different sockets around the table depending on which exercise you want to do. The smart bit is there's no pins, screws or anything else to fix between exercises. You simply slip the bars securely into place and get stuck into your exercise.
Good range of incline positions
This back inversion table uses a hand brake system that allows you to set a much higher number of different incline positions do you can find one that's right for you. It's also handy if you're building up to a full 180° but want to do it in increments.
Sturdy build and good construction
One thing that's a definite plus with this table, and a lot of the inversion products we've reviewed is that it doesn't take much to put together. Assembly should take less than an hour and the instructions are fairly clear.
Verdict: Sportstech table is great for back inversion and equally as happy in the home gym. We love any multi-function equipment that lets you do many exercises with one bit of equipment and this one ticks that box. As far as back inversion goes, it's also a good choice for that.
Robust design
Lets you do different exercises
Clever rod system
Folds away
A bit 'sticky out' when folded
Check Current Amazon UK Price
---
£500 Inversion Table Buyer's Guide
Like buying any bit of equipment to improve your body, there's a few things to look out for when hunting for the perfect inversion table. This quick guide will give you all the main info you'll need to pick on that's right for you.
What kind of ankle locking system should you go for?
How you're fastened into an inversion table is super-important. For one, you don't want to slip out and land on your head. Secondly, you don't want to be suspended upside down in some uncomfortable torture machine either. Comfort and safety are essential in a good inversion table system. So which system is the best?
If you want the easiest, most comfy way to get snugly fastened to your table, think about getting one with an easy-reach lever. This uses a simple ratchet system, connected to a long lever which you can reach down and fix your ankles into.
This lets you gently apply pressure, without bending too far down, and also gives you a lot of control over the 'clamping pressure' you apply.
Curves, aesthetics and chunky frames
While the 'look' of a table might be at the bottom of your spec list, and inversion tables aren't exactly lookers at the best of times, there might be another reason to opt for a more streamlined table. Some tables, like the Teeter ones in particular offer curved frames which, aside from looking a bit sleeker, make it easier to get into position on the table.
Who shouldn't buy an inversion table?
While it might seem counter intuitive top start a buying guide by talking you out of buying an inversion table, lets just take a second and go over the people who definitely shouldn't get one.
Certain types of back injury
Anyone with raised eye pressure or Glaucoma
People with high blood pressure
Certain spinal injuries and fractures
The best advice is: go see your GP, or a qualified physio, if you are in any doubt about inversion therapy from home, or to check if you should be using an inversion table.
Storage – not all tables 'fold away easily'
Thankfully, every inversion table we've seen to date folds up. You might be the lucky owner of a huge mansion, with a room you can dedicate to a back stretching machine. If not, you'll likely want something that you can fold up after your session.
All inversion tables will tell you they fold away to a compact size, but don't just rely on that claim. If space is a premium in your home or flat, look for something that really does fold down flat. One thing most table manufacturers don't tell you is that, even iif the table does fold, the handle bars are likely fixed and will protrude a good 12 – 18 inches.
Two main ways the incline is set
Inverting beds generally have a couple of ways they allow you to adjust the incline.
Setting a simple bar – this is a cross bar you manually insert across the frame which prevents the table rotating backwards after a certain point.
Brake system – Usually found on more expensive tables (although not necessarily a better system than the bar – this involves a simple handle which you release or hold to set the angle of inline. It usually allows for greater number of increments.
The 'bar' system requires a bit more physical work but gives a lot o security and comfort, while the hand brake needs less work but allows for a greater number of possible incline positions.
How heavy is it?
Sturdy. It's a good word. And we love our gym gear to be sturdy, long lasting and built for some serious use. But sturdy shouldn't mean heavy. There's a number of inversion tables we've looked at, more so in the cheaper bracket, that are pretty bulky and heavy.
That's not an issue if you don't plan on storing it, or moving it regularly. But, especially considering people want to look after their backs, some could definitely use some weight loss.
Additional safety features to look for
While not an absolute necessity, one thing we like to look at with inversion tables is an added safety belt. These look the same as a car seat belt. The idea is that, in the unlikely event your feet slip out from the ankle braces, the belt will 'catch' you. We've yet to see this happen, but it's a worthwhile safety feature you might want to consider.
---
Tell us about your inversion table!
What do you think about these back-stretching machines? When you're done hanging upside down, why not hang out in the comments and let us know which inverting device you use, or are planning to purchase.
Inversion table references, sources and further reading