Today we're looking at the best inversion tables out there for under the £200 mark. (With some bargain finds coming in at substantially less than that).
This (UK) guide will look at things such as build quality, feature set and a ton of other important criteria and find the best machine your money can buy for this price point. There's actually some top quality machines available in this price range.
If you've got any questions or recommendations, as always, please let us know in the comments!
Top Pick
What's the best overall table in this price range: Here's the super-speedy version: The best inversion machine for under £200 we found in our tests was the Exerpeutic Inversion Table (Amazon). This machine is robust, safe and comfortable and will last for many years.
What we look for when reviewing inversion tables
What can you expect to get for your money in the £200 (ish) range?
Our mission was simple: find the very best inversion table you can buy for £200 or less. Setting out with a limited budget is something we're good at on Home Gym Experts and we were excited to dig into the world of inversion tables – a form of back therapy and training that's ideal for a wide range of back injury, therapy, or abdominal work.
Things we're looking at in this price range: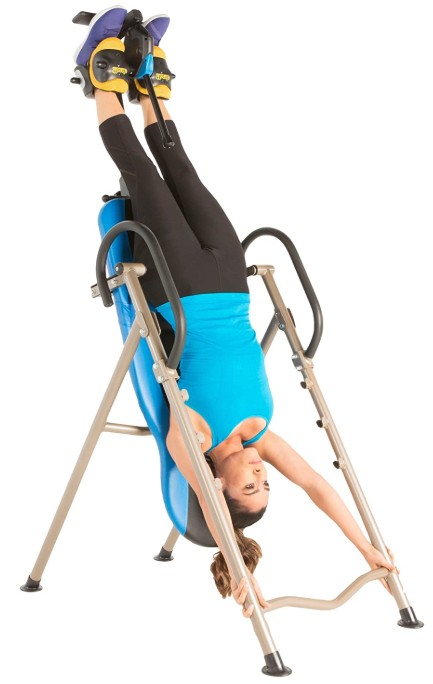 Build quality – Perhaps more importantly than any other machine, a good budget inversion machine should be very sturdy and safe to use.
Comfort – While the idea of hanging upside down and being comfortable don't seem to go hand-in-hand, it's very important that the ankle grips and the back rest on the table make the process as comfy as possible and give plenty of support.
Weight – Unless you REALLY love looking your inversion machine, it's likely you'll want to store it somewhere after use, rather than have it take up that space. We looked at the weight of each machine and how easy it was to move around.
Assembly – Another day, another bit of gym gear to assemble. We don't mind. We're used to it. We looked at how tricky it is to assemble each bit of equipment. The good news with these tables is there's not much to actually put together. Phew.
Folding goodness – Along with weight, we looked at how each back machine folded and what the profile was like once it's collapsed. This definitely varies, to say the least!
Ease of use & safety – While back inverters are actually a lot easier to use than they look, it's important to get a machine that makes flipping upside down smooth, easy and doesn't require a lot of effort. We looked at the ease of getting on board each machine and getting inverted.
---
So, what are the best upside down tables up to £200?
For this low price, you can expect a solid, reliable machine that will last for many years. Here's the tables we found were actually worth the money, starting with the top pick first.

#1 Exerpeutic Inversion Table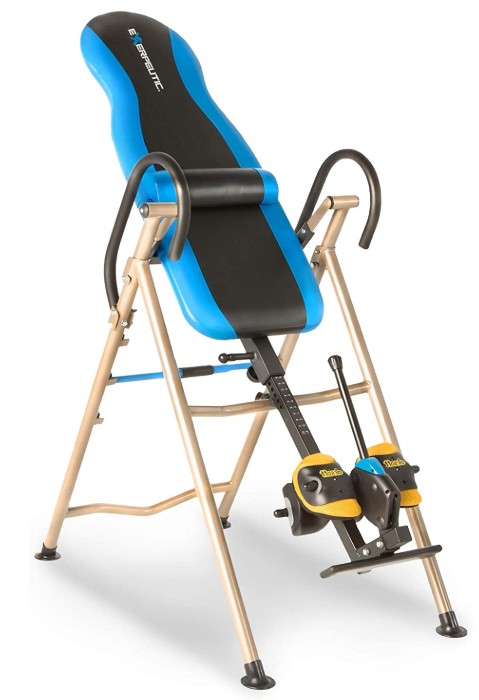 You can normally find Exerpeutic' Inversion Table at a wallet-friendly price of just under £200 and it's a brilliant table for the price.
A strong, sturdy table
Some physios recommend this to their patients and one of the big plus points is how sturdy and solid this back inverter feels. One downside to this is that it's heavier than a lot of the budget machines so, if you're going to be moving it around a lot, that could be something to think about.
Comfy ankle grips
Another strength with this table is it's lovely comfy ankle grips. They lock into place with the lever which can be reached without any awkward stretching. And they've got a clever system where they won't pinch or nip you when you clamp down. This is definitely one of the better systems on a cheaper inversion table we've seen.
On the downside, the included tools aren't up to much and you're better off using your own. Instructions are simple enough to follow but you'll have an easier life if you can get a pal to help put this together.
Another downside is it's slightly heavier than some folding inversion tables we've looked at. At around the 30kg weight, it might be cumbersome for some users and something to be aware of.
Verdict: This is almost the perfect budget inversion table. It looks good, it's easy to use and it's extremely comfy, largely thanks to the ankle supports. Exerpeutic's inversion table doesn't cost the earth but delivers a lot of value.
Excellent system to grip your ankles
Solid design
Well balanced
Easy to adjust
Simple assembly
Included tools are not up to the job
A bit heavy to move around easily
Check Current Amazon UK Price
---
Wow. This table makes a big visual impact. And the second wow was the user feedback on Amazon. Suffice to say, they've sold a lot of these inversion tables and the reviews are impressive. But this doesn't necessarily make it a good product. So how did Yoleo's sub £200 inversion table do?
Really solid table for the price
This table came in under £150 so it was a surprise to see how sturdy it is. A bold, no-nonsense square tubular steel frame forms the base here and there's not a wobble to be felt anywhere. There's a lot you can adjust here, from user height, to an adjustable headrest (something not all cheaper tables offer).
Ankle support is firm and easy to use
This table uses the regular lever which you reach down and gently ratchet until you're locked into place at a level you feel snug. There's extra supports at the back of the leg and it's feels comfy and holds the leg in place.
Elsewhere, you get a lumbar support on this bed which helps keep your lower back comfortable at the 20°, 40° and 60°.
Verdict: For the price, this table is a steel and shows that you can get a really good table for under £200. It's as comfortable as you can be dangling feet up, and has a fab robust frame. Definitely worth a buy.
Bold design looks very 'gym' orientated
Solid, chunky frame
Lower back support
Good ankle locking system
Nice wide, padded loop handle bars make inclining simple
Instructions need to be more clear
Bright colours won't be to everyone's taste
Check Current Amazon UK Price
---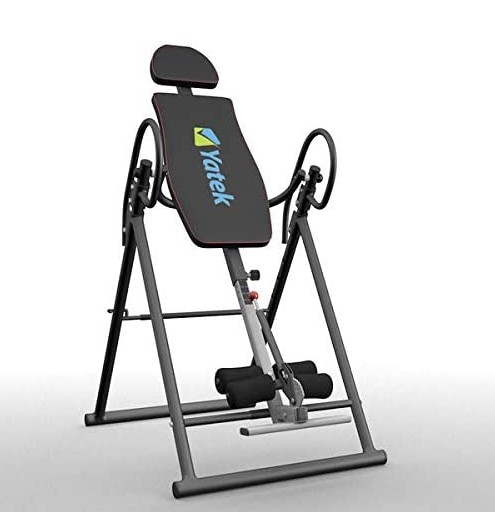 One of the cheapest inversion tables out there is this one from Yatek. It offers no-frills back inversion do doubt, but don't write it off just yet. While it won't win any awards for best looking gravity table, it's a solid, well made table for the price.
One of the best things about this table is how strong it is. While those bars might not look the thickest, once you get on the table it feels robust and sturdy. The max user weight is also impressive: a 150 kg upper limit means this will cater to just about every body size.
If you're looking for a table that's easy to move and store, this might be the one to go for too. It's just over 22kg and folds to one of the most compact sizes we've seen.
Verdict: While far from the most attractive looking inversion table, the Yatek ECO is sturdy, light and easy to use. The thrifty low price makes it one of the cheapest tables you'll find too.
Sturdy
Easy to move around
Folds flat
High upper weight limit
Balanced and easy to use
Not the most attractive table
Fiddly small diagrams could use some work
Included tools not up to the task
Check Current Amazon UK Price
---
Lowest price back inversion table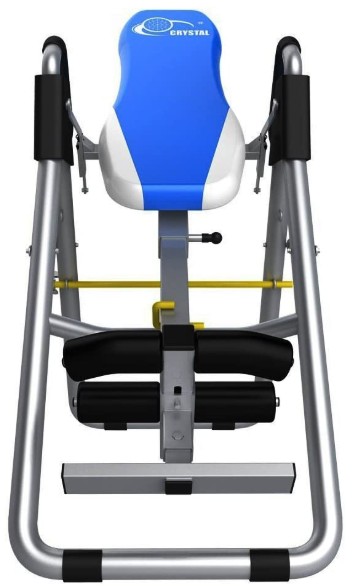 If you're looking for the absolute cheapest inversion table for your money, you'll be hard-pressed to find a better fit than this one, from Bargain World UK. It can normally be bought just over the £100 mark and offers a sturdy table that lets you stretch out your spine and get all the benefits of an inversion table at a decent budget price.
Ankles are secured with simple memory foam supports and, while they're not the most comfortable things when you're upside down, they're fine. The construction itself is nice sturdy chunky steel pipes. This is a folding inversion table but it's got a good bit of bulk about it, and might not be suitable for smaller spaces.
The max weight for this table is 125kg. The included guide and illustrations make both putting this table together reasonable easy and there's not much to actually put together. It comes partly assembled out of the box.
Verdict: BWUK's back inverter doesn't cost a lot of money for what you're getting and those on a tight budget will definitely want to give it a look. It's sturdy, easy to use and is good for your spine.
Not much self-assembly required
Robust construction
Easy to use
Includes tools
Bulks design might not suit small spaces
Lacks features of more expensive tables
Check Current Amazon UK Price
---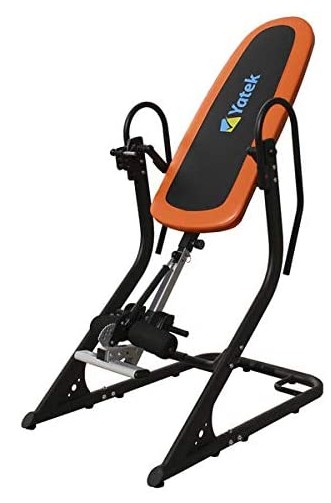 Yatek have a number of different inversion tables available at the sub £200 pound range. One of the best parts we found with their inversion table Pro was just how sturdy this back inversion table is. It's robust metal frame can handle weights of up to the 150kg mark and it's suitable for anyone up to around the 6 foot 2 inches in height.
You can go completely upside down safely and easily with the Yatek model and you've got 12 different back rest positions to choose from.
If you're looking for a budget table that won't hog too much space in your home, this is good choice as it folds away neatly, saving at least a bit of space.
Verdict: Yatek's solid frame and budget price make it worth looking into. It's a simple, no frills machine that will let you easily stretch our your back.
Good build quality
Sturdy frame
Easy to assemble
Good value for money
Check Current Amazon UK Price
---
5 Quick tips for picking the perfect budget inversion table
If you thought there'd only be a few cheaper inverting tables out there on the Interwebs, you'll be in for a surprise. While choice is a great thing, it might also leave you asking 'how the heck do I pick beween them?!' So let's take a super-speedy look at some of the things you should be looking at on this price backet.
1) Check the ankle supports
How your lower extremities are locked in place on your inversion table has a huge impact on how comfortable you'll be when you're tilted back to 20, 40 or up to 180 degrees.
The best systems offer a 'ratchet' which with a lever which will allow you to gentle increase the 'clamp' on your ankles. While this sounds draconian, it's a lot more comfy than it sounds.
2) Look at the levels of incline
When you get an inversion table, you'll strap yourself in and then rotate backwards. This can take some getting used to but to make things safer and easier, a good back-stretching table should have simple metal bar that will limit the degree you can roll back to.
Look for a budget table that has at lest 2 – 3 levels of incline. And, if you're wanting to eventually go the full hog – check it can go 180°.
3) Lumbar support
Another thing you might have noticed that some inversion tables come with in a lumbar support back rest. That will be a little bump that appears on the back board. This can offer extra support for your back and should also be adjustable.
4) How much space does this thing take up?
Just about every inversion table will fold up to some degree. However they're not all created equally in this regard. If you've only got a small space to store your table in, add this to your list of important specs to check up on. Some tables can fold away to a super-slimline 8cm profile, while others have a far more bulky, space-hogging design.
5) Build quality and frame width
Last, and perhaps most importantly, make sure you get an inversion table that has a solid, wide frame. There's a couple of hidden things here that are worth keeping an eye on too:
How heavy is the table? We've seen a few inversion machines that were sturdy, but you wouldn't want to move them around on your own too often!
What's the max user weight? While inverted tables usually cater for height no problem, there are limits to the body weight. Check this stat carefully if it applies to you.
Tell us about your inversion table
Got a cool table you want to shout about? Please let us know in the comments if you've found a good back stretching machine that's not mentioned here, or about any of your own training experiences with inverting tables.
Further reading