We love cross trainers on Home Gym Experts. Why? They offer one of the best forms of exercise, working a ton of muscles at once, building up cardio and fitness and there's no impact on your joints.
This review is for the XS Pro 2-in-1 'Luna' cross trainer – an ultra budget elliptical machine that works as both an exercise bike and a cross trainer combined. But how does such a low-priced trainer stack up? Where have cuts been made? And how does it compare with similar machines out there?
Unlike a lot of reviews – this is a real one with GOOD and BAD things you should be aware of before you buy this cross trainer. We don't sugar-coat things here. With that in mind, lets dive in and see what the XS Pro has to offer.
What does this machine do?
The XS Pro Luna combines two fitness machines in one: a sit-down exercise bike and an elliptical cross trainer. This machine works your legs in an elliptical motion, a bit like walking … through treacle.
While your arms pull and push vertical bars at the same time. There's little room for bad form and it's a very efficient way to work out lots of areas of your body at the same time.
What this machine will do for you
The XS Pro machine aims to do the following:
Build upper body strength
Develop and improve cardiovascular strength
Work joints and overall fitness
---
What level is this cross trainer aimed at?
Later in our XP Pro review we'll get into the nitty gritty of whether or not this home fitness machine is right for you, along with reviewing what it does and doesn't do. For now, here's a quick overview of who this machine might be best suited to:
New and casual users will benefit most from this machine
While the XS Pro Luna will give you a challenge, it's not an ideal machine for people who are looking for an extreme workout, with plenty of high intensity. If you've been pounding the gym for years and are used to gym quality cross trainers and bikes, you might want to spend a bit more money and maybe look at something like the JTX Cross Trainers.
Is this a good fit for me?
If you're not hammering the gym every day, and looking to build up your fitness and lose some weight, then this machine is worth looking into! The XS Pro has a lot going for it and the convenience of a home machine you can hop on any time, combined with it's low price might be of interest..
---
New to cross training?
Here's a helpful video on how you can improve your fitness with a cross trainer:
Quick run down of this cross trainer's features
Overall, the XS Pro Luna has a good range of features that we'll be going into in depth in this review. Here's a quick at-a-glance on what you can expect from it.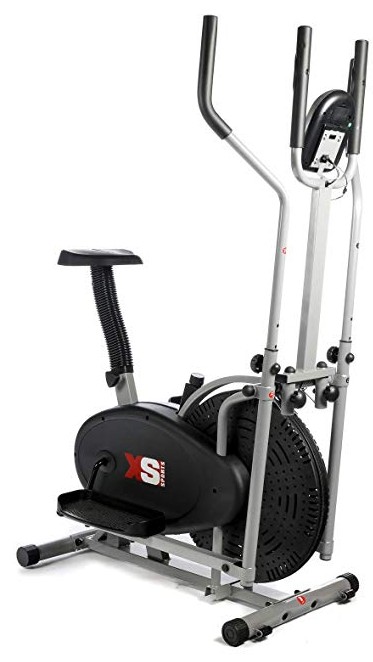 2-in-1 – Sit down and pedal, or stand up and do some cross-training
Steel frame
Fly wheel resistance – A large front-mounted fly wheel provides resistance.
Work different muscles – Legs, bum, arms, shoulders and back
Dual direction – Pedal backwards to hit your legs
Adjustable resistance – you can set it to an easy mode, or go for something with higher intensity.
LCD Display panel – There's a simple display which shows Pulse, Time, Speed, Distance, Calories oir can scan between each stat
Extra wide pedals – Whether seated or standing, there's lots of room (up to size 12 UK foot size)
Large comfortable seat – The seat is padded and supportive
Transport wheels – smaller wheels on the front of the frame allow the cross trainer to be wheeled around your home for storage.
Moving stride bars and static bars – There's a choice of working your upper body at the same time, or using the static bars to rest your arms on.
Pulse sensors on the fixed bars – Track your heart rate by placing your hands on the sensors
Self-assembly required – Sorry, but this is one you'll have to put together yourself.
Full English instruction manual
---
Things we liked about the XS Pro cross trainer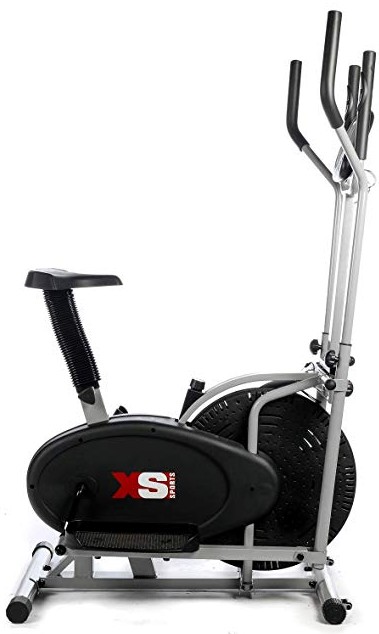 It's cheeky bargain price
Anyone else love a bargain? If you're not in the market to slap several hundred pounds down for a bit of gym gear you can use at home, then the price of the XS Pro is a definite plus. At around the £100 price bracket, the XS Pro is definitely good value for money.
The XS Luna is easy to use
Once you've got your XS Pro assembled, there's not really anything complicated about the machine. You can hop on and find your feet with this machine easily. Unlike say a rowing machine, where there's some work on learning form, cross trainers and exercise bikes are super-friendly to new users. The resistance can be altered to suit your level.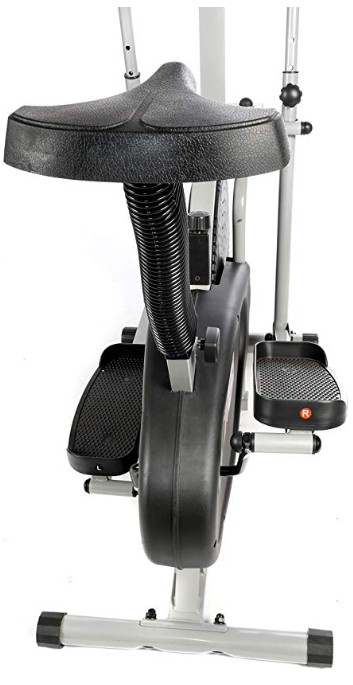 Dual crank is great for working more muscles
The XS Pro lets you pedal backwards which works a different set of muscles to going forwards. It takes a bit of practice but it's a great way to work the backs of your legs.
Break a sweat!
Another good thing about this machine is that it definitely has enough of a challenge that it will make you break a sweat in a fairly short time. This depends on how fit you are now, but you'll likely find 10 minutes, at a decent pace, will give you a good workout when you start out.
Good heart rate sensor for a budget machine
For the price, it's surprising there's a decent heart rate sensor. This lets you work out your optimal level you should be training in, for your age and it's as simple as putting your hands on the metal contacts on the static bars.
Noise – fairly quiet … for the price
While noise can be a subjective thing, the XS Pro does a decent job at keeping your workout noise to a low level. It's certainly not whisper-quiet, but it's definitely not the loudest machine we've heard either. This isn't a machine that's going to disturb anyone else in the house.
Check Current Amazon UK Price
---
Things that could be better on the XS Pro Luna
The next section of this review is a tad unfair as we'll be comparing the budget priced machine against some fo the higher priced machines available.
The LCD display is definitely basic
While you can easily see your basic progress, such as calories or your heart rate sensors, this is definitely a no-frills display. It's quite small, has no back-light and only shows one bit of information at a time. It can scan through calories you've burned off and other stats however.
No programs
Another area where the XS Pro shows it's budget price tag is in the lack of any programs you can set. Clearly at this price point this is to be expected, but we love our programs – not least because they help prevent you getting bored during training.
Conclusion – should you buy the XS Pro Luna Cross Trainer?
For the price, you might well love the Luna Cross Trainer. It's dual use of cross trainer and exercise bike is a neat idea and the machine is sturdy and solid enough. The display and lack of things like dynamic resistance is where it shows it's budget origins and this is not going to beat any of the machines that run into the £100's.
This is a good machine for the price
However, if you're looking for a convenient way to lose some weight at home, and improve your fitness without hitting the local gym, and don't want to spend a fortune, the XS-Pro is definitely worth investigating!
See more reviews on amazon here
Full Features of the XS Pro Machine
| | |
| --- | --- |
| Resistance | Front-mounted Fly wheel |
| Adjustable resistance? | Yes, via adjustable dial |
| Dual motion? | Yes, has 2-way pedaling action |
| Display | LED display |
| Display features | Time, Speed, Distance, Calories, Hand Pulse |
| Display scan mode | Yes |
| Backlit | No |
| Frame material | Steel |
| XS Sports Pro has the following adjustable parts | Seat, Handles, Foot rests |
| Dimensions | 122 x 60 x 154cm (L x W x H) |
| Weight | 28kg |
| Max user weight | 110kg |
| Assembly | Self-assembly required |
| Manual language | English |
| Batteries included | Yes |
| Safety standard | CE Certified |
| Warranty | 1 year |
References, resources and further reading