Like any expensive purchase, there's a lot of leg work in choosing the right multi-gym. There's also a hell of a lot of products out there in this space. Here's a quick guide to the real stand out multi-gyms we've found in 2020.

#1 Marcy MD-9010G Home Gym & Smith Machine with Weight Bench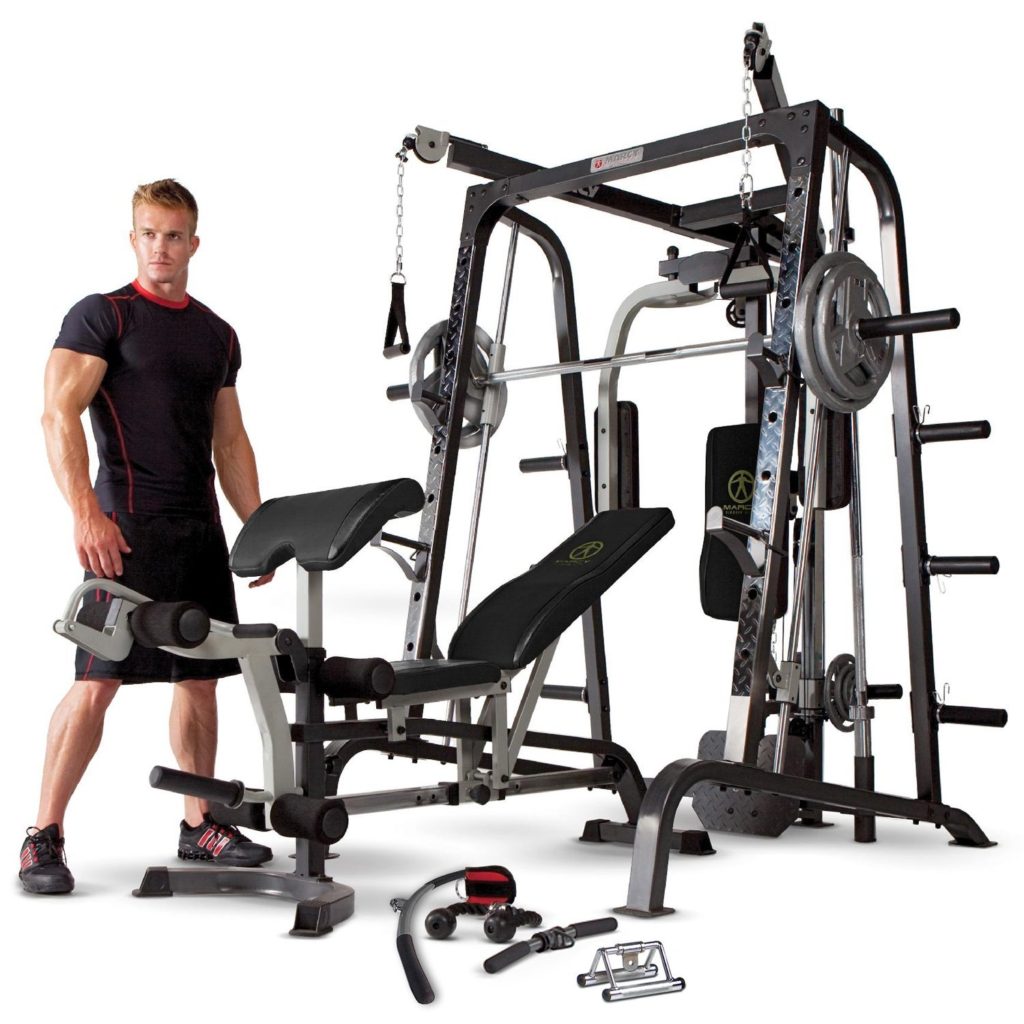 Forget ever going to the gym again – another Marcy home gym in our top 5 for 2020 and this one is an absolute beast. If you've got a bit of extra space (at least 4 by 7 foot – ideally a dedicated garage or gym room) and a budget of about  a grand, then you should seriously consider the Marcy 'Diamond Elite' MD-9010G.
Combining a free weights bench and the best of a home multi-gym, this is all you'll ever need to get seriously fit, big, ripped – or whatever your training goals are! Marcy have been making home gym equipment for over 35 years now and you can see the quality of this gym.
Exercises include (but aren't limited to) lat pull down, bench press (inclined or flat), shoulder press, leg extensions, bicep curl, seated rows, bent over rows, squats and a lot more. You can do anything you can in a regular gym on this equipment. In short, the MD-9010G offers one of the biggest variety of exercises we've found in a home gym.
We especially like how you the weight bench is independent so after you've done your bench press (or shoulder press) you can drag it out the way and work on the cable crossovers, pec dec or lower pulley.
Build quality is also top notch gym-standard. We're talking seriously heavy-duty. And 2000lb aircraft cables and sealed bearings make for a smooth workout.
Hard to imagine anyone not loving this multi-gym or finding something it couldn't do. One of the best we've seen.
£1012.94 at Amazon
Price last checked: Sunday 20th September 2020 – 19:06 pm
---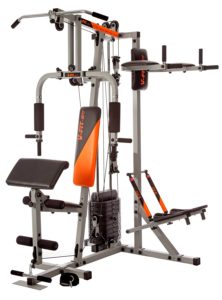 It's easy to say things are 'built to last' but we've heard of people still using this machine after 2 decades of training. That's pretty impressive.
You're getting a full size multi-gym with a 90kg stack that can be adjusted. The V-Fit Python Gym is a sturdy as they come with excellent tubular steel frame.
Looking at this multi-gyms size we're happy to report it fits in a limited space, like the corner of a room, and doesn't hog too much space, measuring 188 cm x 131 cm. You'll need to leave room at the front for leg extensions of course.
The 2:1 pulley means you can get a really heavy resistance, if that's what you're looking for. And it's one of the best ones in the group we looked at for those used to weight and looking for some serious lifting.
After a fairly painless 2-3 hours assembly you'll be ready to do some serious training with a host of usual and interesting additions. Standard exercises like Bench press, chest press, lat pull-down, leg extension and curls are all here. Along with some welcome additions like the aerobic stepper and a dip station at a good height that doubles for leg raises.
This mutli-gym is fine for both male and females and caters for anyone up to 20 stones in weight.
An excellent compact multi-gym. We love the quality, range of exercises and the amount of weight on offer feels perfect for new or advanced gym users.
---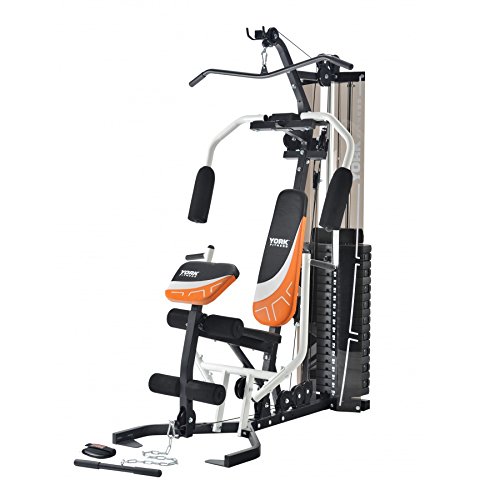 With a monster 100kg weight stack, the York Perform is about as future proof as they come. Offering more weight than most other MGs. And just shy of a £600 budget, there's a lot to like about this multi-gym,. It's got one of the smallest profiles out of all the training equipment we've seen so doesn't need to take over an entire room.
You've got a massive choice of exercises including chest press, peck deck, leg extensions, arm curl and shoulder / lat pull down.
We especially like the sealed bearings in this gym that ensure it won't be creaking like an old body builder's joints. Smooth is the key word with this gym, along with the usual robust spec you'd expect from York Fitness.
This is a solid, versatile choice for a home gym that won't hog too much space.
---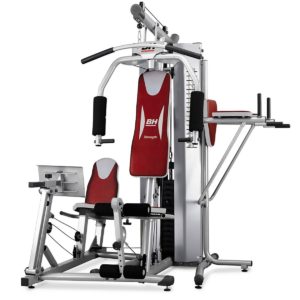 If you've got a bit more space (and cash!) then you definitely want to look at the G152X. Combining 3 'separate' stations, you've got seated leg press, dip/leg raise, high and low pulleys for leg and chest development. Even does bicep curls. This home gym doesn't just look the part, it also won't leave any muscle group out.
You're getting a complete gym for your home. The weight stack goes up to 75kg and again, a solid build here with tough, ergonomic upholstery. It's wider base also increases stability when you're training. The seat on the main station also folds away to let you do additional exercises. Adjusting cables is quick and easy for different sets.
Don't worry about the cables on the G152x – geek fact: they're the same ones used on aircrafts, so they're pretty tough.
---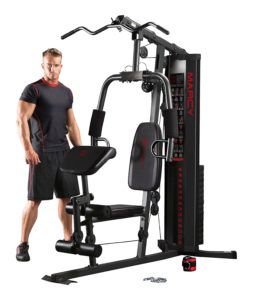 If you think you have to spend a fortune on a multi-gym, the HG3000 wants to say hi. For well under £600, you get a solid 68kg compact gym with everything you need to stay in shape at home. Including high pulley, low pulley, chest press / dec setup.
It's got a solid build to it, like it's more expensive siblings and is built to last. (Unlike some of the more light-weight looking home gyms we've checked out).
Although it looks like a bit of a beast, you don't need a massive amount of space to install it. The Eclipse will sit quite happily in a home office or small bedroom. Be warned though, as with most multi-gyms, it is HEAVY! You may want to consider a downstairs room.
This is a great gym for any home at a good price. There's even a toolkit to put it together. Nice!
---