Do you have to spend a lot of money to get a decent rowing machine? If you're shopping for a good rowing machine with a budget price tag, we've got all the info here on what you need. As with all fitness products, we found there's a lot of pros and cons to different models on offer. Below we compare the top 5 and give you some ideas as to what's right for you.
If you haven't discovered rowing yet, it's a great way to burn off calories and you can get an excellent workout even with limited time. It might be hard work but it's one of the more enjoyable forms of exercise and there's something satisfying about watching calories tick away on the display as you row away.

#1 JTX Freedom Air Rower
If you're looking to jump straight to the best rowing machine we've found, this is it. The JTX Freedom Air Rowing Machine. This air rower has all the features of the Concept 2 machine but the good news is it currently weighs in at around half the price. It holds it's own while offering some features that are arguably better. Lets dive in.
The first thing you need to know about this rowing machine is that the JTX Freedom is really solid and well built. More so than the other rowers we've reviewed. There's no wobbling, pedals are wide and the seat is smooth and as comfortable as these machines get. Overall, build quality here is excellent.
There's 16 levels of intensity here, insuring that anyone from beginners to serious athletes will find a level that's just right for them. The neat thing here is that it's all controlled electronically. Meaning that rather than alter the resistance yourself, the onboard computer handles it all. Making for some great, dynamic workouts and some variation in the programmes you can run.
Speaking of the computer / display the JTX Freedom Rower has one of the best of the bunch. Rather than a dull LCD display with basic information, this machine has a really good blue led display. Not just a pretty face, it shows you all kinds of useful info including a cool power dial, as well as the basic stuff essential to your workout: distance, time and the all important calorie count.
What else? There's also a free wireless hear rate monitor – something that you often have to buy with other machines. Assembly is pretty straight forward, taking around 30 minutes to an hour. And the JTX rowing machine also folder up so you can store it out of the way.
Verdict: The JTX Freedom rowing machine is a great alternative to the more expensive Concept 2, while doing some things it's more expensive counterpart can't. The build quality is superb and it gives a quiet, smooth workout every time. The display offers some excellent features and variable programmes to help lose weight. Highly recommended.

Excellent build quality
Free wireless heart rate monitor
Fine for heavier users
Seat and handle are comfortable
The onboard display / computer is fantastic
Electronically controlled resistance
Top notch customer service
No way to save data and record progress
Alan keys included are not great quality
Needs to be plugged in, no battery operation
Images in instructions a tad small
---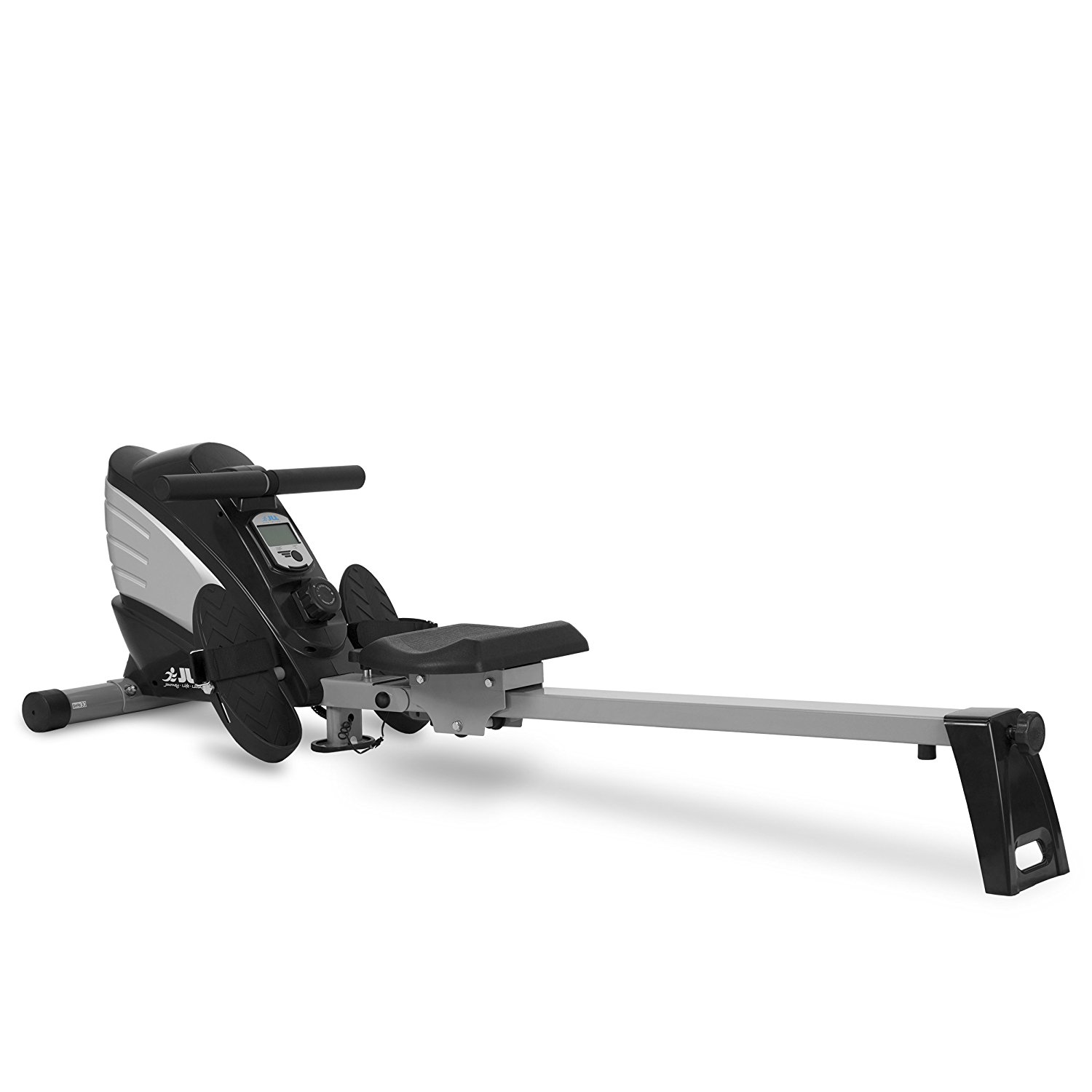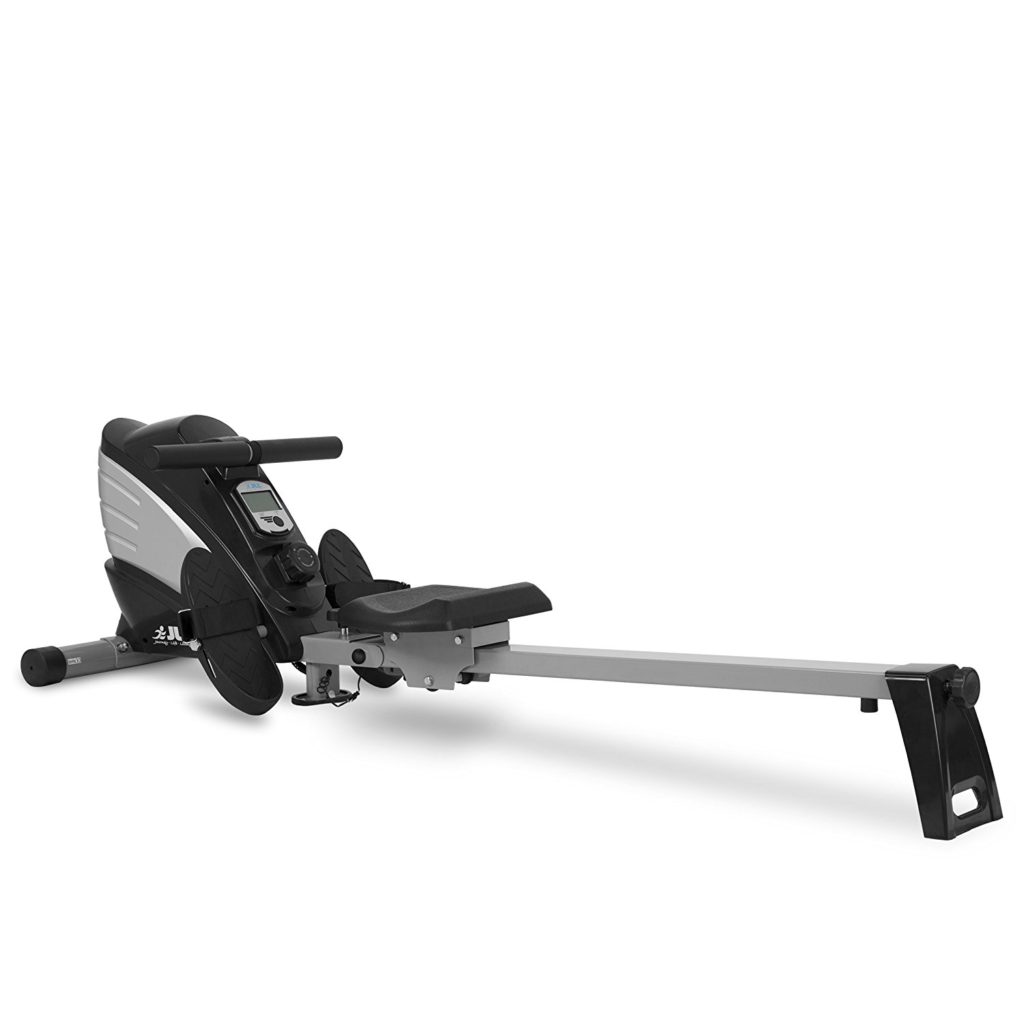 For just under the £170 mark you can get yourself a very decent rowing machine in the form of the R200 from JLL. This budget home rowing machine has some great features and a solid build. Lets dig in and see why it makes our top 5 list of best rowers.
Lets start with noise. There's nothing worse than a rowing machine that sounds like you're on an air field. Happily the R200 machine keeps things quiet, and is one of the better budget rowers we've seen for this. Listen to your music or podcasts without background noise.
This rower is ideal for losing weight and has 10 levels of resistance to help you get there. Does it have resistance enough for you? We'd say the frist setting feels very easy, while number 10 feels a lot tougher than some other rowing machines we've seen. So this budget rower has plenty of challenge if you need it.
The display is LCD, takes 2 x AA batteries (included) and gives you time rowing, calories, number of strokes and your distance in km.
Setting the R200 rower up is not too difficult and should take around 30 – 40 minutes from opening the box. And the set contains the tools you'll need to get it assembled. Nice!
But it's not all sunshine and flowers with this budget offering. Sadly, like a lot of rowers in this category the LCD display can't compete with more expensive models. You can see the calorie count and other information fine, but some parts of the display are in a very small font and are hard to make out. Still, compromises have to be made and it's still perfectly functional.
Verdict: We really like this amateur rowing machine. It's not perfect but the value for money here is excellent. It's well made, has plenty of power for advanced users while being easy enough to get into for complete newbies. Well worth a look.
Suitable for taller people – up to 6′ 2″
12 month warranty
Folds away to a decent size
The machine is very solid and sturdy
Smooth, quiet action
LCD display on this rower could be better
Difficulty settings 1-5 are a tad easy
Foot straps could use being stronger
---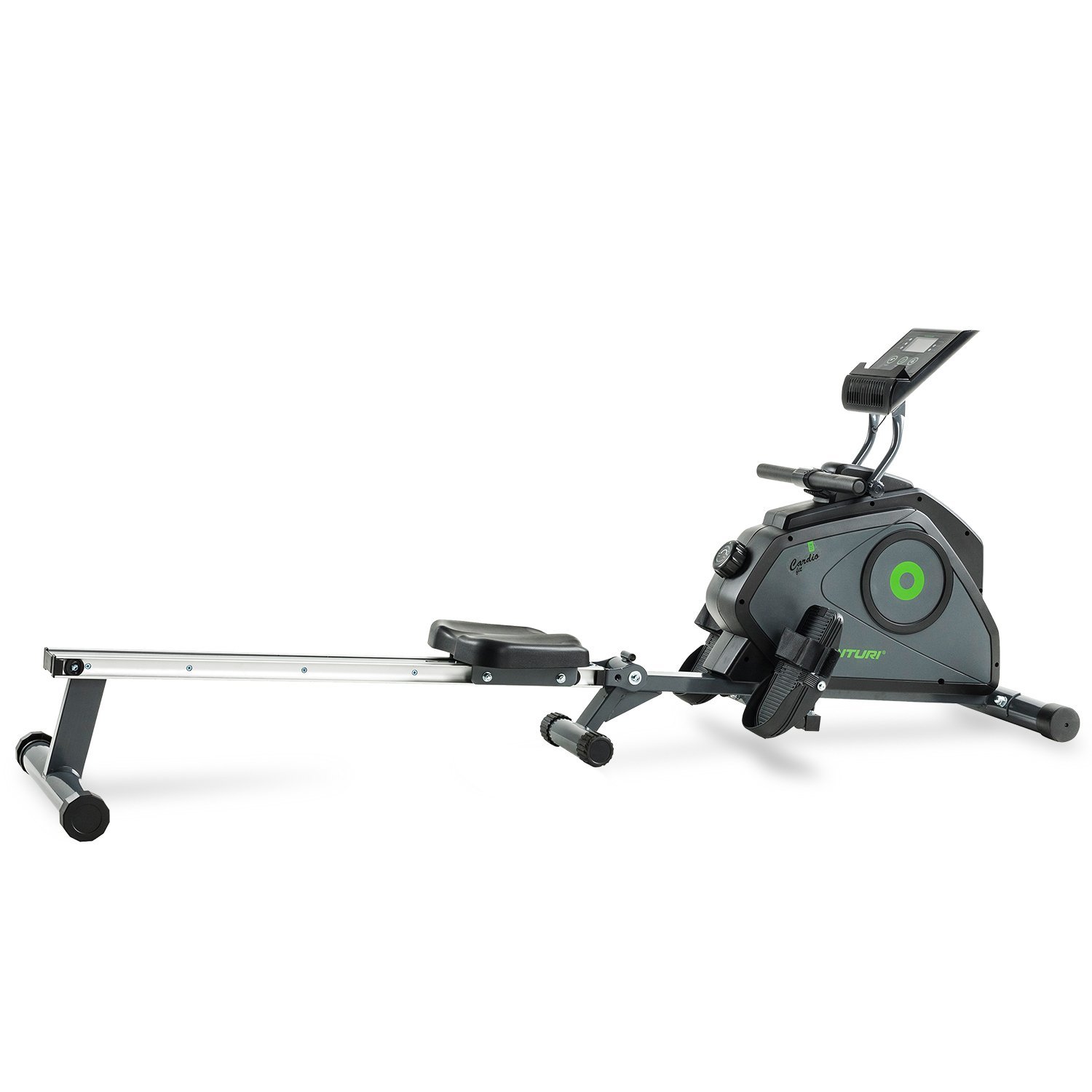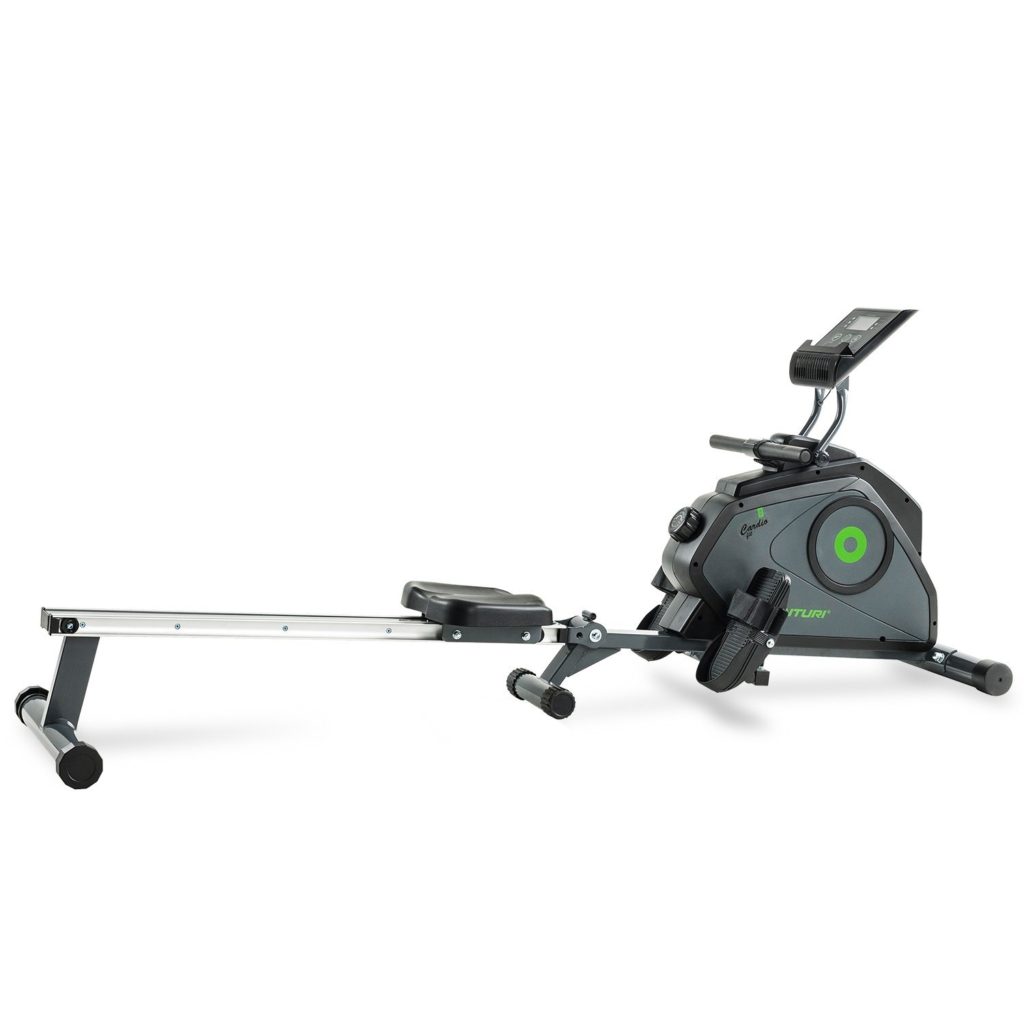 We've looked at a lot of Marcy fitness products in the past and they always review well. Their budget priced home rowing machine is a sound bit of fitness kit offering a good blend of features and quality for the price.
So what's the actual performance like? Noise levels are noticeably low when you're rowing the Marcy and it feels smooth when you pull the bar back. There's a solid construction to the rowing machine and you've got a variety of difficulty settings to play with. The flywheel is not the heaviest we've seen (4kg) so it may not have quite enough resistance if you're a very experienced rower.
The display shows the important stuff clearly – you can see distance, time, strokes and how many calories you've rowed away in your workout. Oddly, there's no counter for distance – something that's found in pretty much every budget rower we've tested. But the display itself is large, easy to read and looks better than some other budget rowing machines we've seen.
It's easy to assemble and easy to use. A handy tips is to layout all the parts before you start. As with any home gym equipment, this will take a lot of the hard work out of putting your new rowing machine together.
The Marcy rower is highly recommended for anyone on a budget. It's a great choice if you're looking to get back into shape from the comfort of your own home. It's got a solid build and folds away easily. Most importantly the Marcy Regatta gives a brilliant workout.
Quiet and smooth to use
Easy to assemble
Solid build
Great for a beginner
Diagrams in the instructions should be bigger
No distance counter on the rower display
May not have enough resistance for experienced rowers
---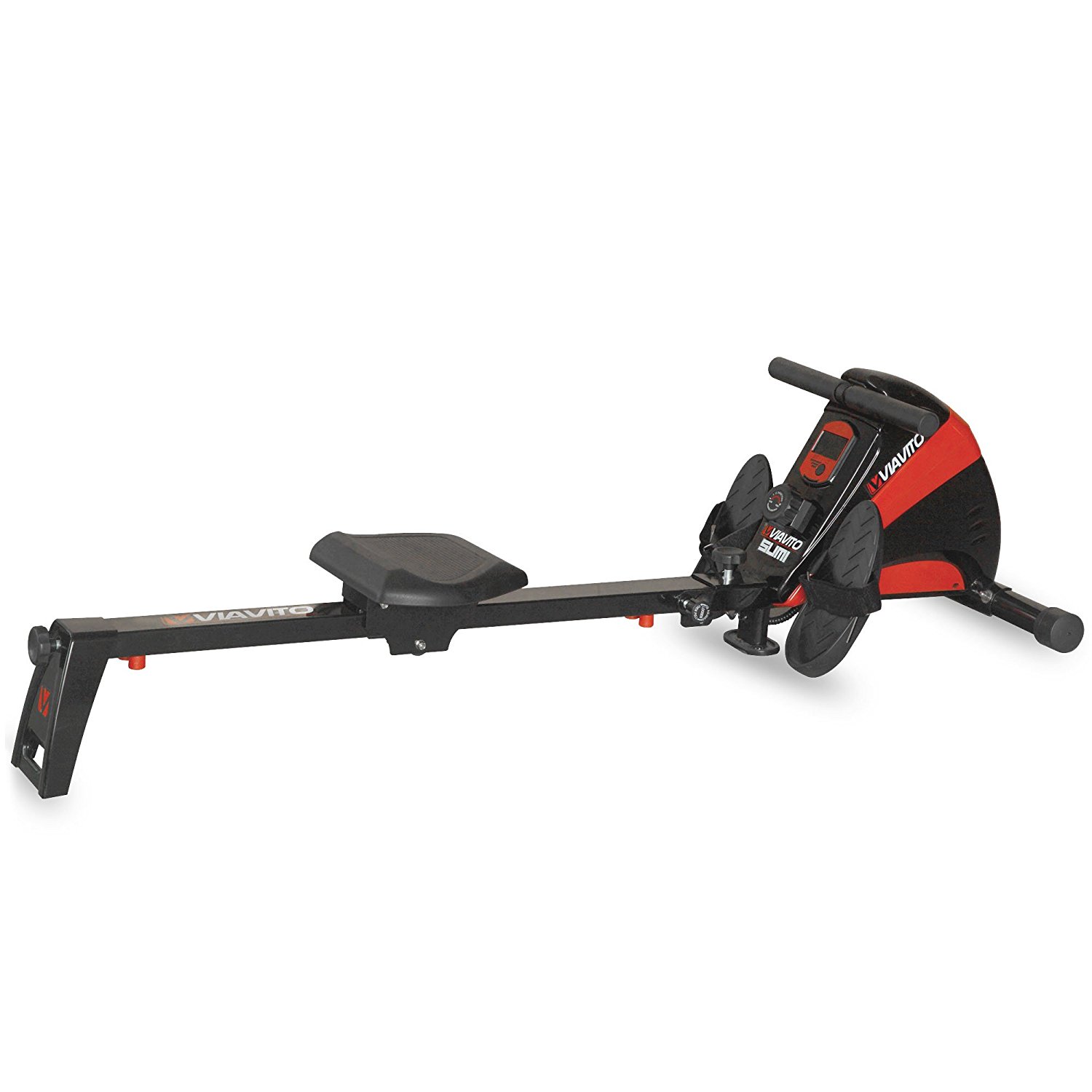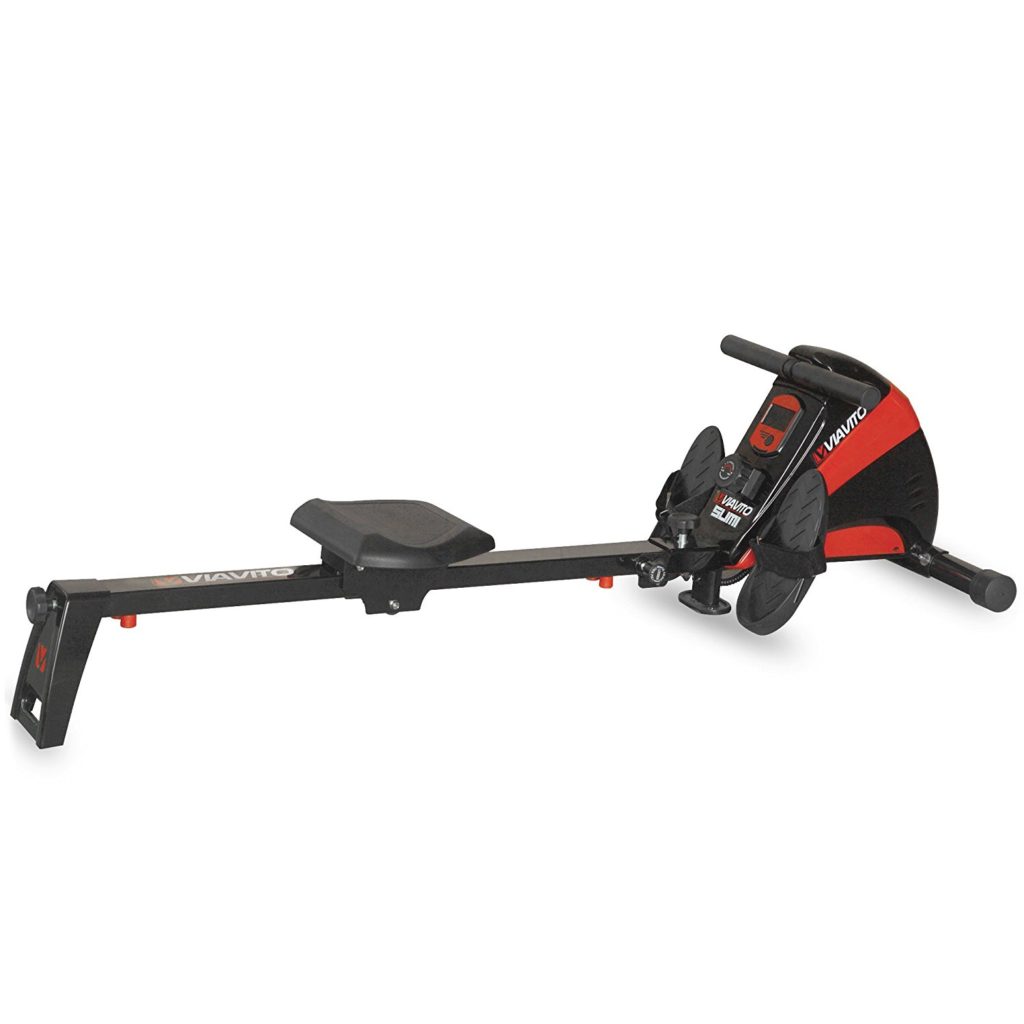 Another budget rowing machine that's worth looking into is Viavito Sumi Folding Machine. This one uses a large 7kg fly wheel to provide the resistance and folds away to an uncannily small size. So why is this rower good?
This wallet friendly rower takes around 30 minutes to put together. Once assembled it gives a smooth rowing experience and the magnetic resistance feels good. (It's also fairly silent). A simple dial lets you adjust the 10 levels of resistance. It's ideal for beginners up to rowers looking for more of a challenge.
Comfort wise, the seat is ergonomically designed and as comfortable as you can be while training. And the foot pedals are wide enough to prevent slipping off.
The display panel on this budget rowing machine is decent, if nothing flashy. The LCD screen is an OK size and gives you important information such as calories, strokes per minute, time completed and the distance you've rowed.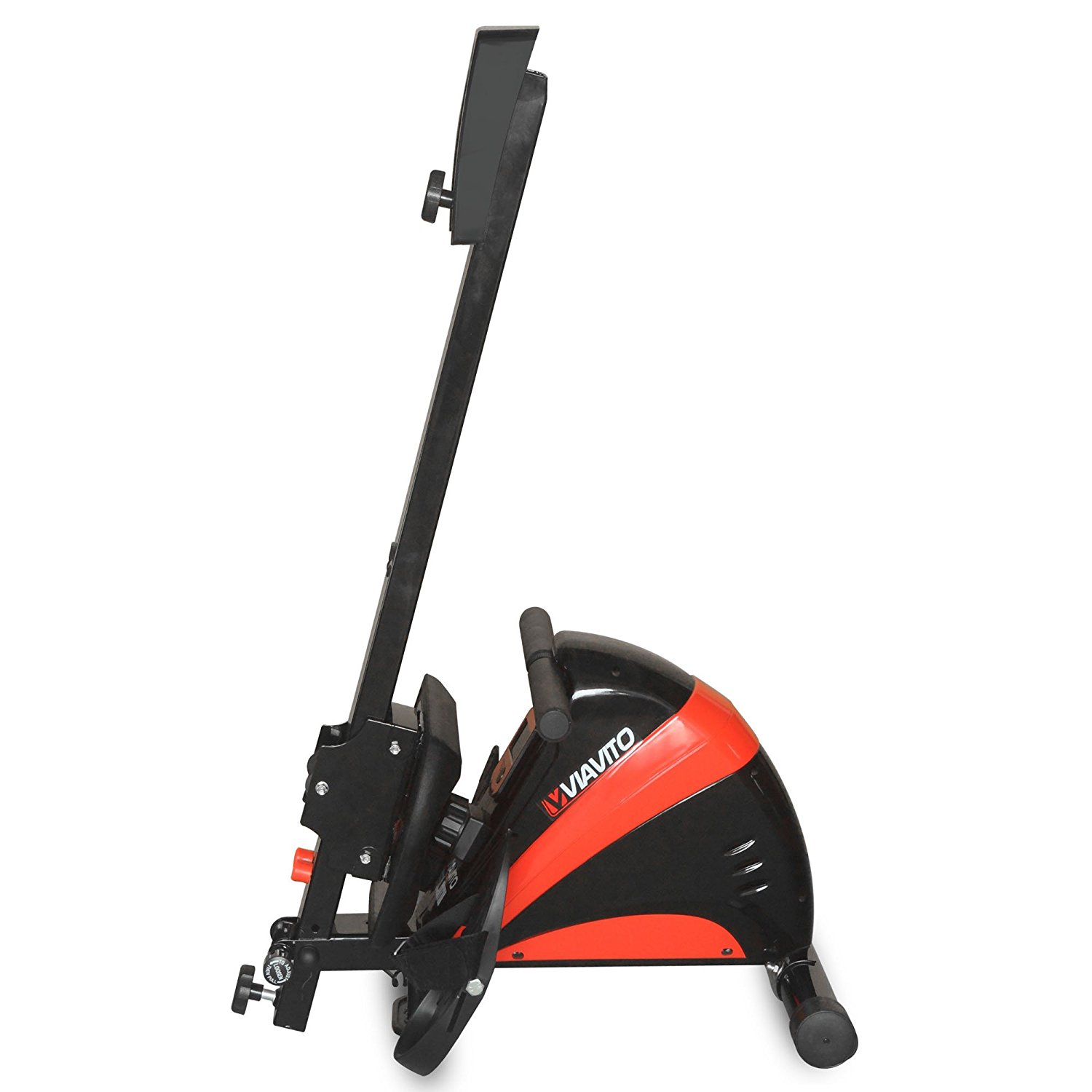 One of the best things about this rowing machine is how well it folds away. Folding quick and easy and, as you can see from the picture, it's a great choice if you need to store it and space is important.
When it comes to size, we'd advise you'll be OK up around 6 foot to use this machine. While weight capacity will support users up to 120kg. Overall a sturdy machine, especially for the price and the fact it's a folding model.
If you're looking for a decent rowing machine at under £200 then you can do a lot worse than this one. Unless you're after a serious gym standard machine, you might find this one does the job. Great for home users looking to get in shape and lose some weight.
Fairly compact once folded
Good value for money rower at under £200
Fully adjustable for any shape or height
Comes in two colours (albeit plain ones)
Handle bar and foot support could be spaced better
Computer / display is basic but functional
£279.99 at Amazon
Price last checked: Tuesday 14th July 2020 – 05:11 am
---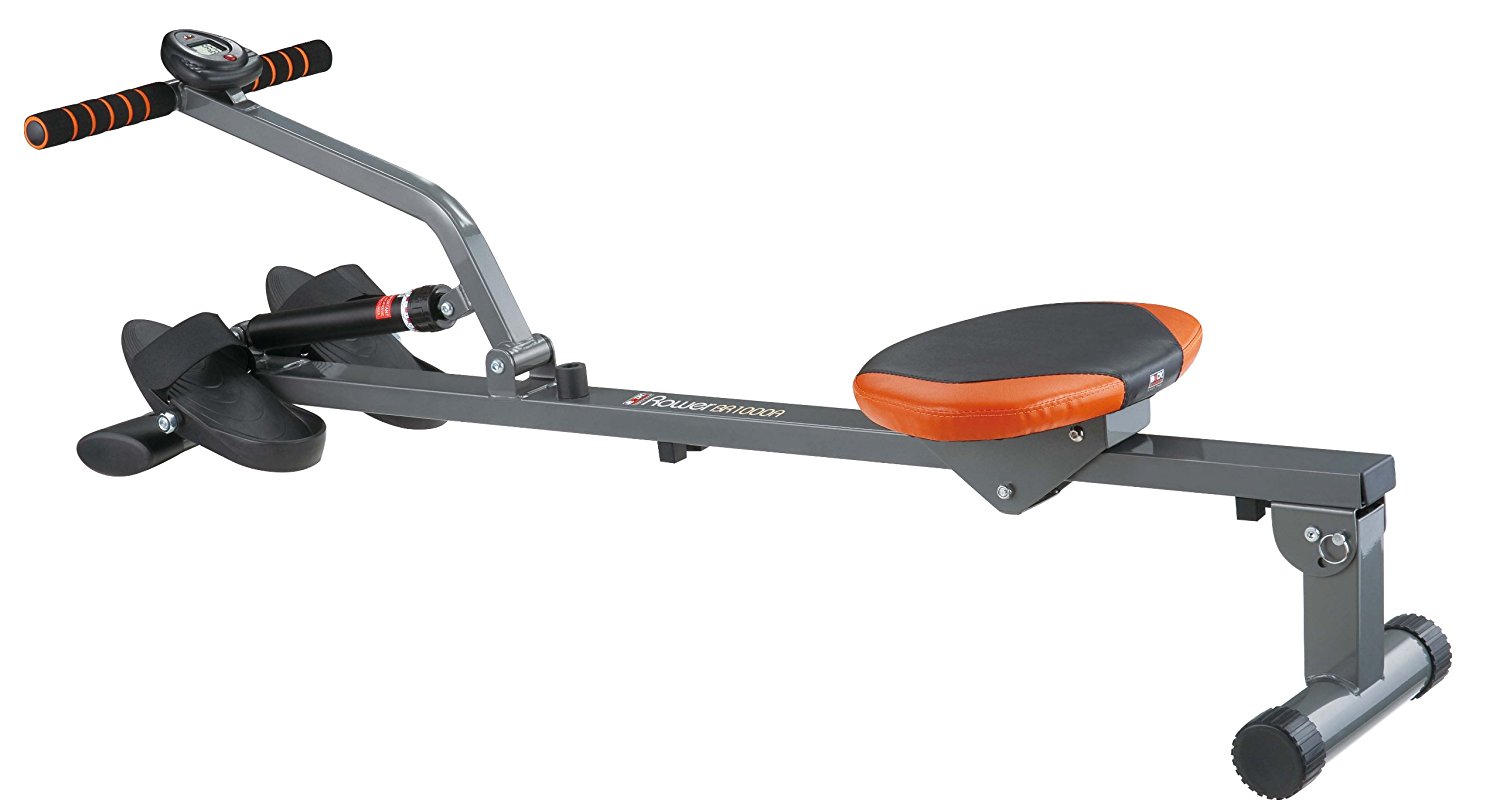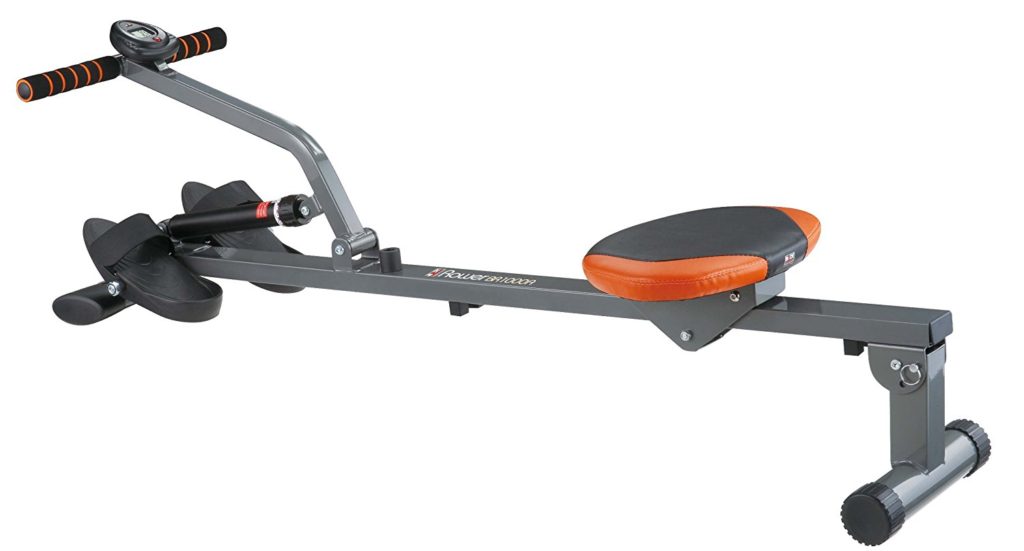 We were very curious to see what kind of a budget rowing machine you could get for under the £100 mark. What can you expect at this end of the product range? Well you might be pleasantly surprised. The Body Sculpture Rower offers adjustable incline, so you can vary resistance and a hydraulic cylinder with 12 resistance levels. This is helpful if you're new to training or rowing machines as the first resistance level is pretty easy.
There's a basic display that's got decent sized letters and gives you the information you need – important stuff like calories you've burned, time and your count. It's also got a solid build and is large enough to accommodate users of up to around 6 feet and around the 90kg mark. Overall this feels like a well made home rower.
Assembly is a doddle as there's actually not much to do with this budget priced rower. About 30 minutes and you should be good. Everything is bagged and labelled clearly so it's just a question of following the instructions. Once assembled we're happy to report that, besides the budget price, rowing feels smooth and is fairly quiet. the seat is padded and, unlike some home rowing machines, it's actually fairly comfy.
So you're getting a good cheap rower here. It's a little on the basic side but the price can't be argued with. Perfect if you're looking for a cheaper option or wanting to try out rowing at home without spending too much money. Compromises are made in the resistance, which is not as smooth feeling as water or air, but still good for working up a sweat.
Excellent value for money at under £80
Nice clear display
Easy to fold away and store
Easy to put together
Resistance could be stronger
Hydraulic cylinder not as good as other options
Not suitable for very tall users
---