Having trained with kettlebells for many years now (lost track of how many…) I can say they're one of the best finds I made in my training. Offering a completely unique form of exercise that differs completely from other free weights like dumbbells.
One thing I didn't know when I started training was that you could get a range of adjustable weight kettle bells, which mean you save a lot of money once you start to move up weight. I've shed a few kettlebells along the way which now only prove useful at keeping my gym door open.
They're also ideal for anyone short on space, taking up the space of one while offering up to 13 different weight combinations. So lets jump in and explore these wondrous gadgets. Here's some of the best adjustables on the market today.

#1 Choice: Fitness House Adjustable Kettlebell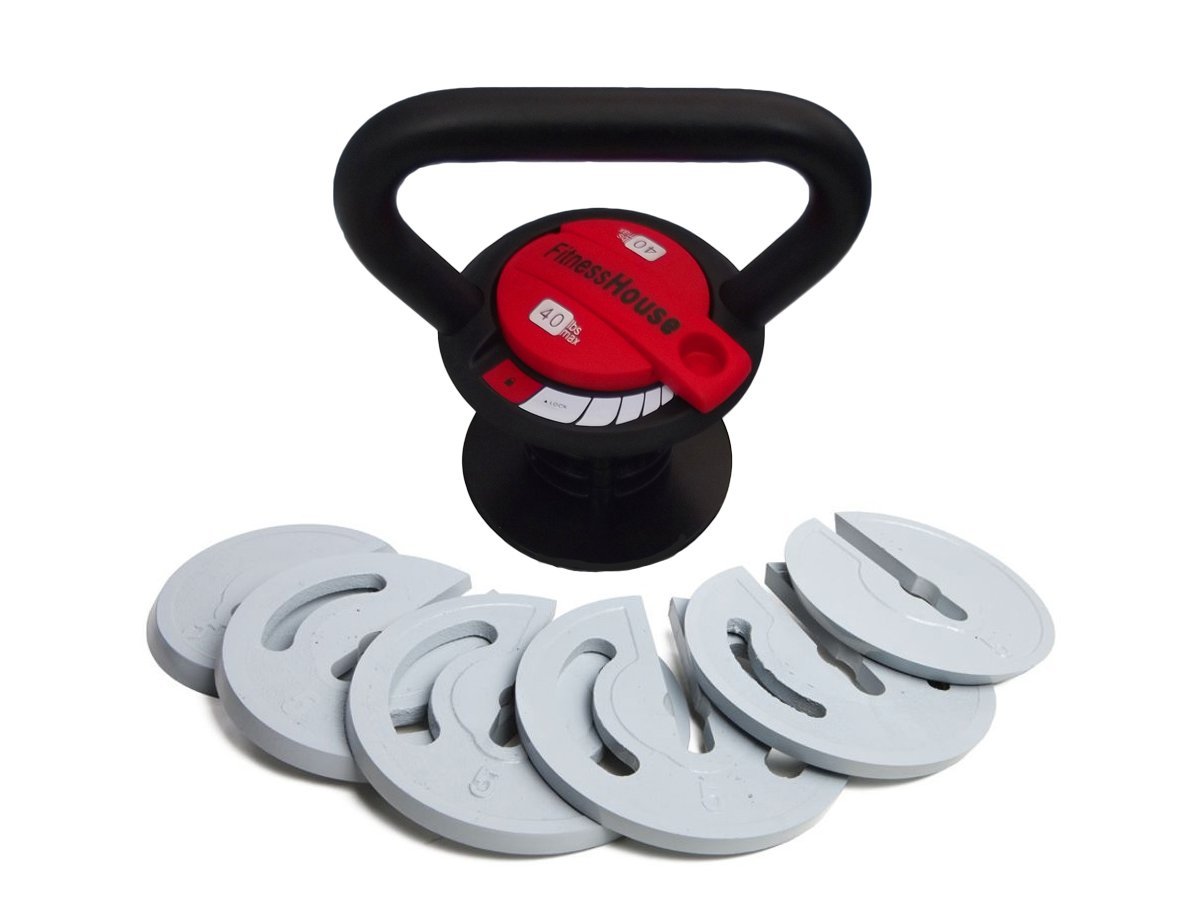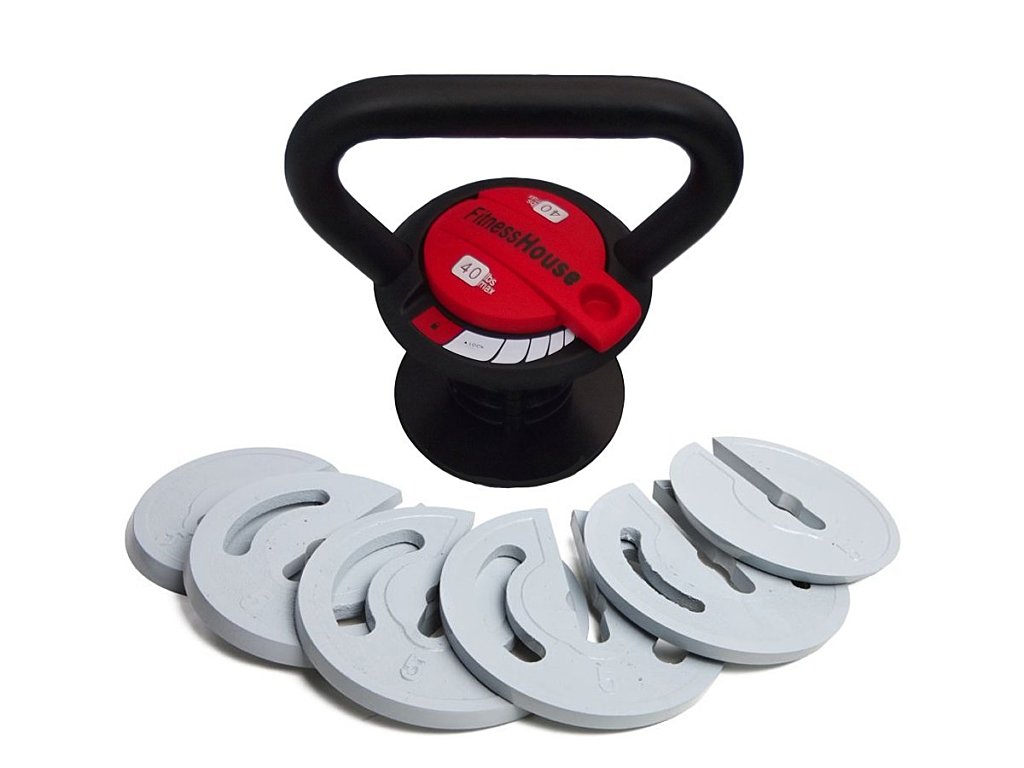 First up, we've got an awesome adjustable kettlebell set from Fitness House. This one comes with all the weights, so you don't need to buy anything else. The range of plates here is good too. You can create any kettlebell from 4.5kg up to a pretty hefty 18kg.
Swapping plates is a quick and easy business, and they're all numbered to make it easy to see what kind of weight you'll be lifting, swinging or whatever else you like to do. Price-wise, this isn't the cheapest set out there but the quality is top-notch.
Verdict: If you're new to kettlebells and looking for an easy start, with plenty of room to grow, you can do a lot worse than this brill starter kit from Fitness House.
---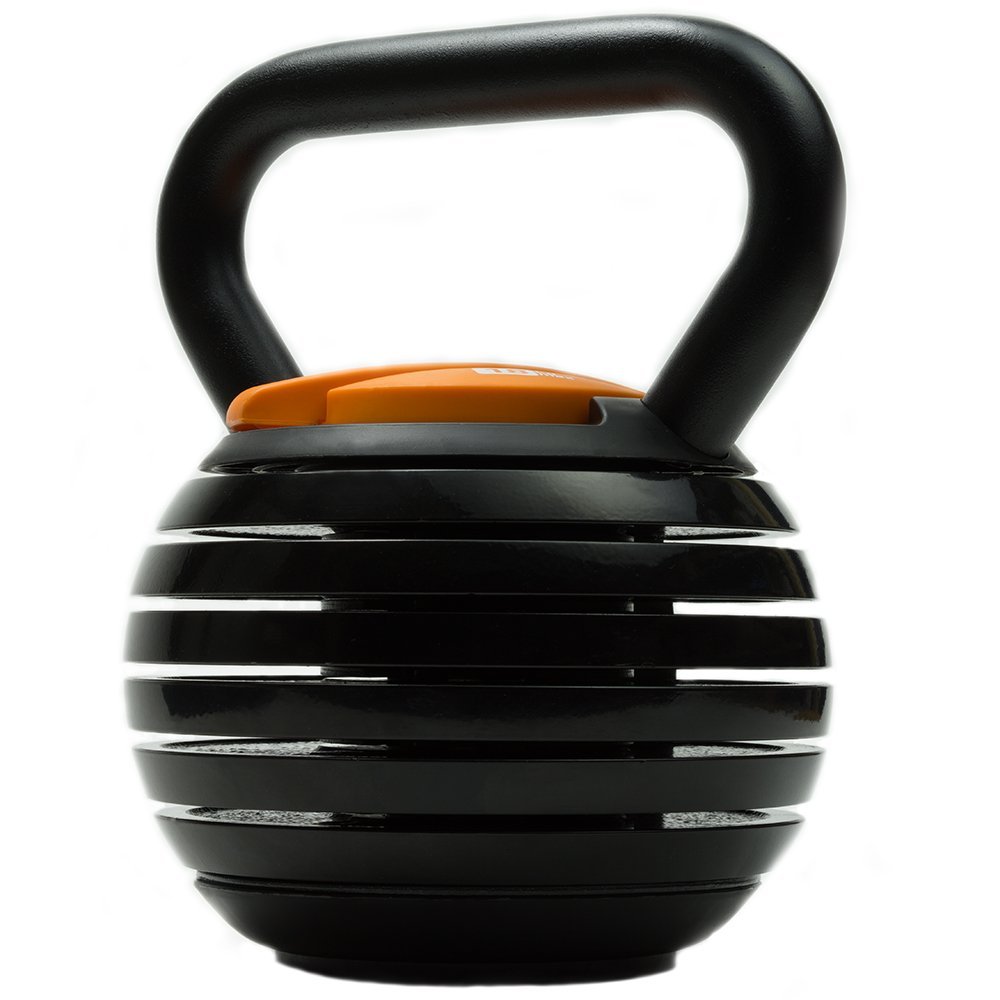 With a lovely rounded design, the 13-in-one adjustable kettlebell set is one of the better looking ones in our roundup here. But enough about looks. What's it like? Well, you're getting a set of mini plates that let you knock together a bell from 4kg up to 18kg.
It's awesome being able to perform different exercises with just one kettlebell and it's very fast to change between weights with this set. It has the fell of lifting a 'real' kettlbell thanks to it's nifty weight distribution.
There's also a chunky rubber base to protect your floors. Very thoughtful.
Verdict: If you've got the budget for it, the Alpha-stretch won't disappoint. It's as close as you're going to get to a real kettlebell while offering the convenience of having one size fits all.
---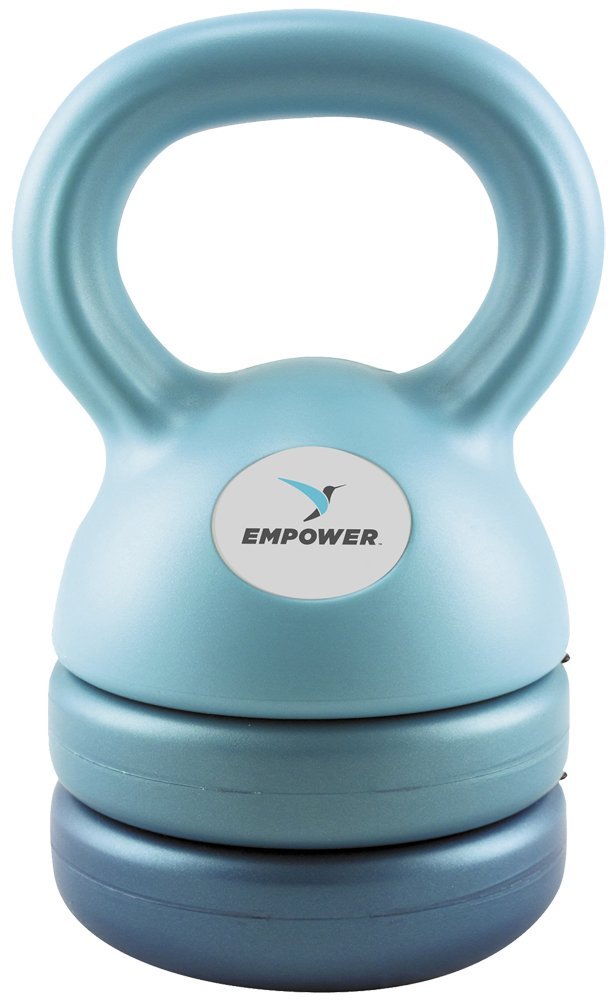 At the slightly lighter end of the scale, (and cheaper!) sits the Empower Kettlebell set. A best seller on Amazon with a 4.5 user score over 140+ reviews. This is also one of the easiest to use adjustable sets. You just click and twist weights on and off. And yep, it's very secure once they're on.
You've got an option of 5lb, 8lb or 12lbs and the handle is lovely and smooth, so it won't give you any strain while training. If you're looking for something to do with your new fitness gadget, then you'll be pleased to know it comes with a very good DVD, featuring trainer Gin Miller.
Verdict: Perfect for ladies looking to jump into kettlebell training, the Empower has everything you need, along with a very cheap price for what you get.
---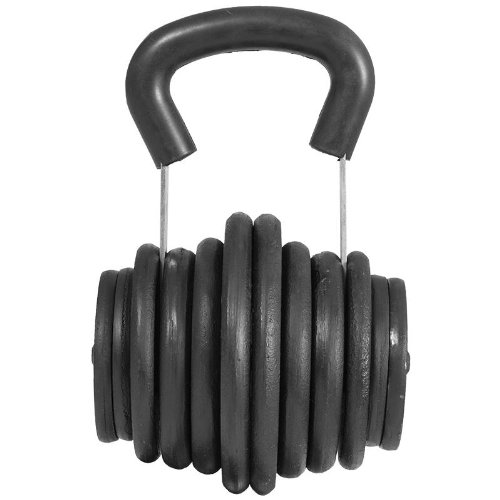 The very-practical looking Gorilla Sports adjustable kettlebell set comes with the handle, and plenty of weights to get you busy. Although it doesn't look much like a kettlebell, it comes in at a budget friendly price and lets you create a kettlebell from 1.5kg up to 15kg.
You save money because all the weights are included. And you can save yourself some storage space with this very neat and compact adjustable weight kettlebell.
Verdict: This one is solid, easy-to-use and comes with everything you need. The Gorilla adjustable set is ideal for new users..
---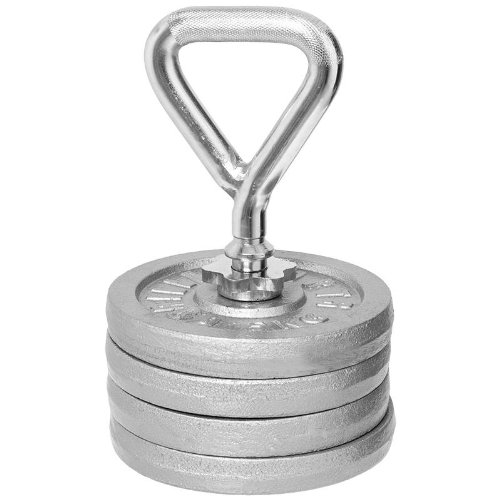 This is a great idea, and a very cost-effective way to get into training with kettlebells. The Gorilla Sports adjustable weight kettlebell doesn't come with any weights, instead it uses any existing plates you have.
It takes 30mm hole weights and you simple slide them on as you would a dumbbell. You're able to get up to 22.5kg on here, which is a pretty substantial weight for a kettle bell. The upper nut screws down to keep however many plates you have in place.
The only downside is that you need those 30mm hole weights. So check to make sure you've got the right ones, or can get them.
Verdict: So long as you have, or can get, the correct weights here, this is a good solution that's a lot cheaper than the other adjustable kettlebells we've seen.
---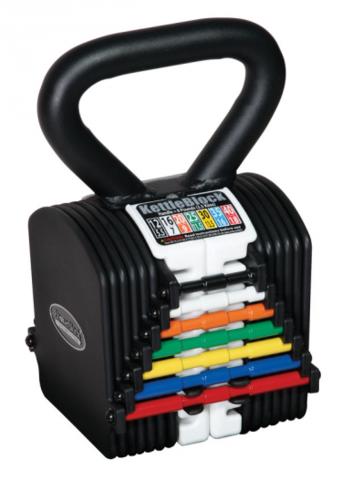 Here's an interesting-looking gadget! Sitting at the other end of the price scale is the Powerblock 40 adjustable kettlebell. This system has been used for dumbells, but it's the first time I've seen a kettlebell that uses it. So hows it work?
By altering the coloured pins on the front, you can quickly swap between one of 8 standard weight kettlebells, from 4kg up to 18kg. If you close your eyes, it feels exactly like the 'real thing'.
Although a high price, it still works out cheaper than buying the 8 kettlebells, and takes up a lot less space. You also get a lifetime warranty for home use too.
Verdict: If you've got a decent budget and are looking for a serious adjustable weight kettlebell set, then this is an interesting and very cool option. 
---
Thanks for reading this guide on the world of adjustable kettlebells. I hope you can find something here that fits with your training. As always, let me know in the comments if there's an adjustable set you've bought and love.
Tom, HGE