Can you get a decent rower for a few hundred quid?
If you're not ready to shell out the hefty price of a Concept 2, or a sleek new wooden water rowing machine, there are several budget machines up for grabs on places like Amazon that might scratch that rowing itch.
In this XS Sports R310 review, we'll cover everything you need to know about the UK version of this rowing machine: what's it get right, where's it show its low budget limitations, and most importantly, is it worth your cash?
What is the R310 Rower?
The XS Sport R310 is a basic low-priced rowing machine that's designed for home use.
You've got a standard front-mounted 4kg flywheel here that counters its fairly light weight with magnetic resistance. That comes with the benefits of being quiet and low-maintenance but unlike a Concept 2 or WaterRower, the harder you row, you won't get extra push back from the machine.
If you fancy a challenge, there are ten levels of magnetic resistance that you set with a simple spin-bike-style knob. There's a curved hard foam seat that has a bit of give in it and you've got a choice of colours too: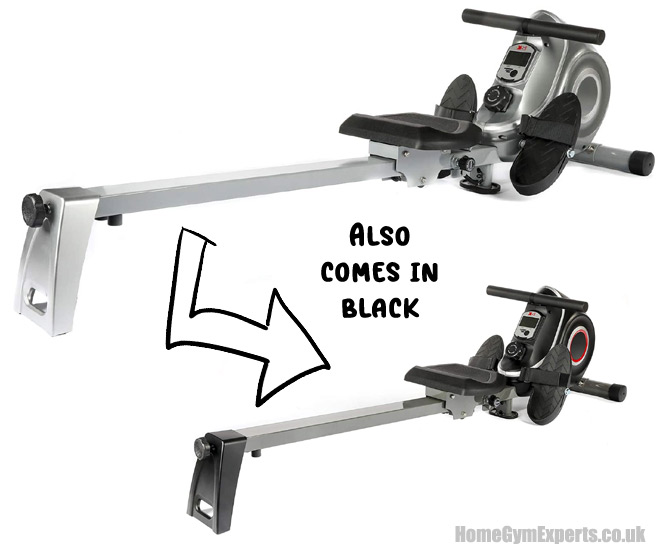 Check price on Black Model (Amazon)
Check Price on the silver R310 version here (Amazon)
If you're looking for something that saves a bit of space, the rowing track on the R310 flips upwards and there are transport wheels to scoot it around. Whether it's light or not is subjective as you've got a 27kg machine here, albeit with transport wheels that make moving it around the same floor fairly easy.
It's easy to 'fold'; pull out a couple of locking pins and pivot the track upwards.
There's a basic LCD display that tracks key stats, such as calories, time and the usual scan mode which will cycle through them all for you. Think step counter rather than performance monitor.
Check Current Amazon UK Price
---
XS Sports R310 Features at a Glance
10 magnetic resistance levels
4kg inner magnetic flywheel
Easy vertical folding to save space
Inbuilt wheels for moving
Lightweight at 23 kgs (50.7lbs)
Dimensions 181x50x48cm (LxWxH) (17.2'' x 19.6'' x 18.8'')
Advanced LCD display: Total count, Calorie, Count / Min, Count, Scan, Time,
User weight limit 100kgs
Whisper quiet technology
Soft grip handles for comfort
What you'll get training regularly with this rowing machine
A low Impact Cardio Workout
Unlike treadmills, stationary bikes, and outdoor running, the XS rower's smooth action ensures low impact training that protects your joints and ankles. Because of the secure seating and secure rowing action, the XS is a safe way to ensure you get the highest calorie burn you can.
High-Calorie Burn
According to Harvard Health, indoor rowers such as the XS Sports R310 are an excellent means to get in shape and burn up to 754 calories an hour. The cardio exercise provided by rowing ensures that you burn off excess fat safely and efficiently without stress on your joints.
Full Body Workout
Unlike many other home exercise options such as treadmills and stationary bikes, rowers such as the XS provide a total body workout. The rowing action benefits those who seek a full-body exercise in one machine without supplementary training for even muscle development.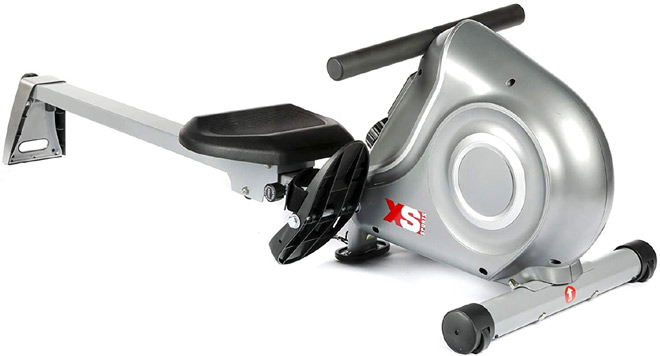 The rowing action works out your core muscles, obliques, back, arms, and shoulders while still building up your glutes, thighs, and leg muscles. This overall reach gives you the maximum muscle reach all in one piece of exercise equipment.
Improved Health
The cardio workout on a rower increases your cardiovascular health, strengthening your heart and lungs, and improving your circulation. Rowing is an excellent means to improve your overall health, lowering your blood sugar, bad cholesterol, and prevents heart disease. Just 30 minutes of moderate-intensity rowing can improve your sleep, boost immunity and reduce excess weight.
Check Current Amazon UK Price
---
More in Rowing Guides
---
Who is the XS Sports R310 Aimed at?
Anyone who needs to get back in shape
The R310 will suit anyone looking for low to medium rowing that will tone overall muscles up and get back into shape. If you're used to a Concept 2, you're likely not going to find what you need here and the intensity level on offer probably won't push you enough. For anyone after a simple way to lose some pounds and get in shape, this is a good option. *
* (Although rowing is not a magic bullet of course, you'll have to watch the calories too).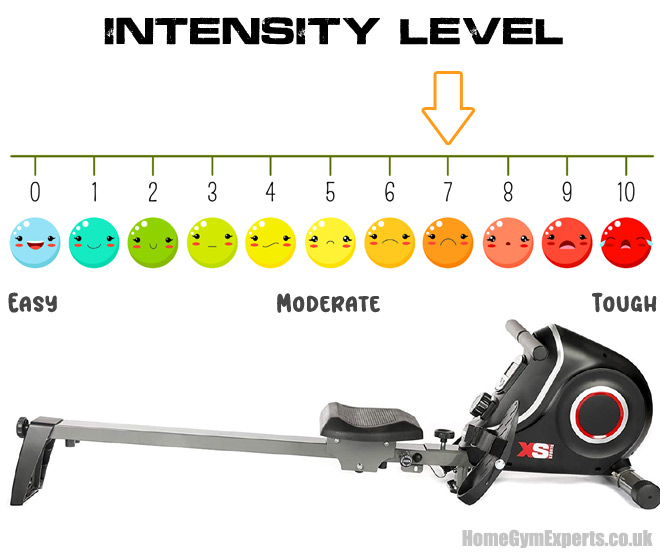 If you're on a budget
This is definitely one of the cheapest rowers we've seen, with the exception of the weird and wonderful contraptions you can buy – many of which don't even have a flywheel. The R310 will likely appeal to anyone looking for a no-frills rower that will get the job done. It's something you can set up in the spare room, or garage gym.
Seniors will find a good training partner here
This rower has a smooth, easy-going action that will appeal to anyone looking for a gentle way to get into exercise. It's both quiet and easy on the joints, making it a good choice for seniors looking to prevent sarcopenia and build some muscle tone and cardio fitness.
---
3 things you
won't

get with this budget rower

Nabbing a rowing machine for a handful of tenners sounds great. But let's get real here. What about the stuff you're not getting with a super-budget friendly machine like the R310?
1 – Interactive live training
One thing that stands out with this rower is that there's no direct way to connect it to an online service like iFit or Kinomap. Don't expect to compete in online races or compare your performance with others. There's no app compatibility here.
2 – Advanced performance monitor
Another big thing that stands out with this rower, when compared to your NordicTrack's and Concept 2s is definitely the performance monitor. This machine has a basic counter and no graphical representation of the current level you're at. There's also no programs to choose from, games, or advanced multi-user features.
3 – A tough workout, if you're already in shape
You've got 10 levels of resistance here which should keep most people extremely busy. But if you're used to the feeling of pulling hard on the stroke and having the fan or water blades fight back every bit as hard, you'll probably want to look for a tougher, more expensive machine than what's on offer here.
---
Review: What We Liked About the XS Sports R310 Rower
Let's start with the good stuff first! Overall this is a solid, well-made rower for the price, with plenty to like about it.
Make no mistakes: this is a cheaper rower but it's far from flimsy
There's not much to put together
Who can be bothered to spend hours putting rowing machines together? The kit has all the tools your need to assemble the machine and as long as you give the instructions the once over prior to assembly, you should be fine. Sadly there are no assembly videos but it's not the most difficult of builds.
There are quite a few parts in the assembly process but don't let that intimidate you. There are some very well-laid-out instructions and you should have this one knocked together in under 30 minutes. And yes, it's easy to put together even on your own.
The R310 folds up neatly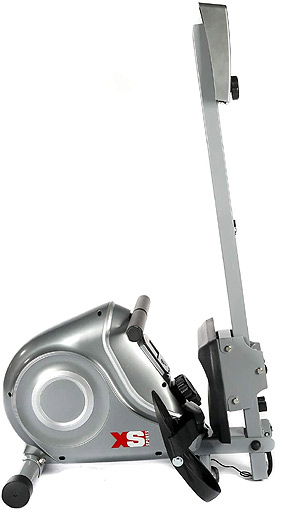 Some rowers are a nightmare to fold, but we liked the quick-folding mechanism. The vertical storage position takes up less space than cycles and treadmills, and we liked the sleek silver design and the covered flywheel.
A good level of resistance
The ten magnetic resistance levels are surprisingly powerful for the 4kg flywheel and deliver a moderate- high-intensity workout, with each one feeling different to the last.
The XS R310's resistance levels give it a lot of room to accommodate a variety of users, from those who are older and seeking safe and secure low-intensity training to anyone seeking to build up their endurance and lose excess weight.
You should be OK up to around 6′ or a bit over but watch the upper weight limit. That 100kg won't suit anyone with a larger built.
A sturdy rower at a decent price
While it didn't blow us away with the simple, no-frills design, the same can't be said for the stability of this machine. Whether on carpet or floor, there's very little in the way of movement when you're rowing.
You should absolutely get a rubber/foam mat to go under it for wooden floors though, just to keep them free from any marks or scratches. Make no mistakes: this is a cheaper rower but it's far from flimsy. It's robust and a solid rowing experience.
Smooth, pleasantly quiet operation
Exercising from a secure seated position offers many benefits to users, including those who suffer from sports injuries or those infirm who suffer balance issues. The rail glide is smooth, and the noise is negligible, making it perfect for homes where noise may disturb other occupants.
Check Current Amazon UK Price
---
What Could Have Been Better
No Integrated Tablet Holder
With the popularity of fitness apps today, it seems an oversight not to provide a suitable tablet holder. How much would it cost to provide a clip section for users to enjoy iFit? I think this might be a deal-breaker for some buyers who enjoy virtual workouts.
Low User Weight Limit
The user weight limit is low for the XS R310's class and may limit users in multiple occupant homes. However, the lightweight portability is worth the sacrifice for me personally as I am 5ft 4 and hate struggling with heavy exercise equipment.
Basic display console
As with a lot of these lower-priced rowers, the display bears the brunt of the budget cuts. Here, you've got a relatively small display that's as simple as they come. You can track the absolute basics here such as number of strokes, distance and an estimate of your calories.
No pulse training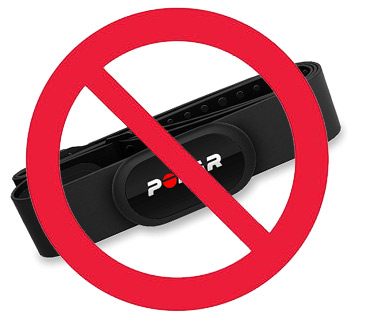 Again, not expected at this price point but something you'll find on machines further up the price tier is heart rate training. Because of the nature of rowing machines, it's always going to be a chest strap affair.
Here, there's not Bluetooth compatibility with chest straps. You're free, of course, to use your own solutions such as Fitbit and Apple watch, so it won't be an issue if you own a fitness watch.
The plastic footrests could be better
There's a couple of issues with the foot pedals on the R310.
For starters, there's no vertical adjustment on them. Meaning if you've got just the right sized feet, you're fine. Larger feet or smaller ones will likely wish they could slide the footrests up or down for a better fit.
Secondly, they're a bit on the flimsy side – especially if you're a big strapping bloke. The plastic could bend and we've seen more sturdy footrests, with the 'best' being on the water-based machines – where you're pushing off against solid wood supports.
---
Conclusion: Does the R310 deserve a place in your home gym?
The summary here is going to be conditional on one thing: price. Because this is a decent rower – for the price.
As covered above, there are a lot of features that you're not getting with the R310 such as app compatibility and connecting to a 3rd party heart rate strap.
Having said that, don't overlook this rowing machine if you're in the market for a basic rower that gets the job done and doesn't cost a lot of money. There's a decent length rowing track here, a good selection of resistance to choose from, and it's more solid than some rower's we've seen.
It may not have much in terms of features and add-ons, but it provides a high-quality moderate intensity workout with quiet and comfortable action. The XS R310 is a solid option for those who seek a highly portable and well-designed rower for home use and it's impressive for the few hundred pounds it will set you back.
Check Current Amazon UK Price
R310 Full Specs & Info
Brand
XS Sport
Model
R310
Resistance type
Magnetic
Resistance levels
10
Flywheel weight
4kg
Console
LCD Display
Stats displayed
Total count
Calorie
Count / Min
Count
Time rowed for
Scan through all
Folding
Yes
Transport wheels
Yes
Handlebar
Straight, foam-padded handlebar
Weight
27kg
Dimensions
181cm x 50cm x 48cm
Folded size
70cm x 50cm x 125cm
Max user weight
100kg / 15 stone
Warranty
12 months
Assembly time
Around 20 minutes
Resistance type
Manual knob adjustment
Resources and further reading
You can phone them here: 01743 290393 (open Mon-Fri 9am-3pm)
Or email them support @ xssports.co.uk / Use the contact form here