Today I got the chance to check out some tasty protein-packed goodness with some wallet friendly snacks. In this Sci-MX protein bar review, I'll go over what I think of them as well as look at what's in them. Overall, I think this is an excellent bar that tastes fantastic. I'm definitely re-ordering.
Who are Sci-MX?

I'd not heard of Sci-MX prior to testing these bars but they're a UK company who have been on the scene from 2007. Their line includes a selection of protein powders, clothing and bars like the one we're looking at today. These protein bars are all made in the UK.
The company has a great review rating on Trust Pilot too, with a current 4.7 out of 5 stars.
What is the SCI MX flap jack?
So let's tuck into some of these bars and see what they taste like and, just as importantly, what they'll do for our training.
You've got an 80g protein bar here that can be used as a pre or post-workout snack. It has a respectable 21g of protein, 35g of carbs and 276 calories over all.
What's in it?

What are you eating?
Here's the ingredients for this flapjack
Oat Blend (36%) (Rolled Oats)
Toasted Malted Oats Wholegrain Oat Flakes
Palm Oil
Barley Malt Extract
Oat Flour
Protein Blend (15%) (Milk Protein
Whey Protein Concentrate [Milk]
Emulsifier [Soya Lecithin])
Sweeteners (Maltitol Sucralose)
Humectant (Glycerol)
Collagen Peptides, Milk Chocolate Flavour Coating (8%) (Sweeteners [Isomalt Sucralose]
Palm and Palm Kernel Oil
Whey Powder [Milk]
Fat Reduced Cocoa Powder [0.4%]
Fortified Wheat Flour [Wheat Flour]
Calcium Carbonate
Iron
Niacin
Thiamin
Emulsifiers [Soya Lecithin E476]
Water
Fat Reduced Cocoa Powder (2.3%)
Hazelnuts (1.8%)
Flaxseed Flour
Rapeseed Oil
Flavouring
Antioxidant (Tocopherol-Rich Extract)
Note that these bars contain milk and nuts, so they're not suitable for Vegans or anyone with a nut alergy.
---
Related Gym Guides
---
Happy with the sugar content in this flapjack
One of the things I'm most concerned with when I buy pretty much anything is the sugar content. One of the best things about this bar is you're getting around 1.2g only. And with the amount of oats in here I'd guess that's going to be released very slowly. That 1.2g is only a 6th of a teaspoon full. I think I can live with that.
Fat content
There's 8g of fat in each 80g bar, with 2.9 of that being saturated fat.
---
The taste factor: are they actually nice to eat?
If you've tried any protein bars in the past, you'll likely have had mixed experiences. Personally I like that 'proteiny' grainy sort of flavour and texture but I know it's not to everyone's taste.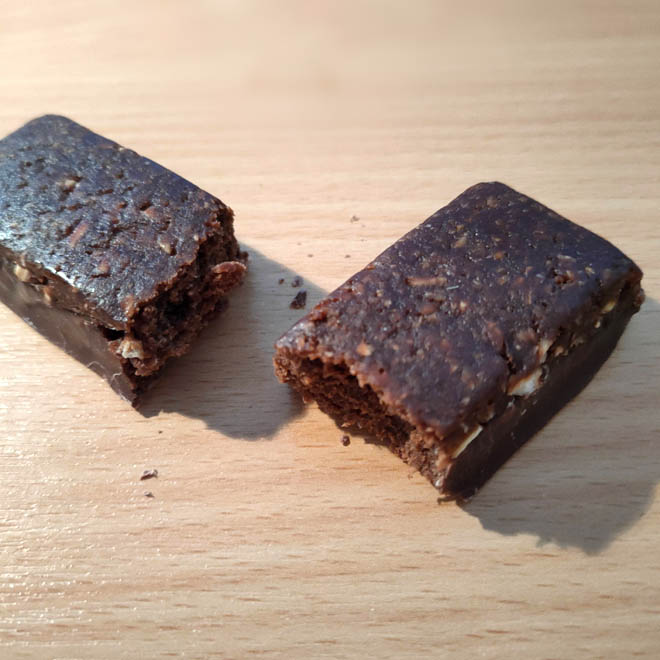 One of the best bits with Sci MX's bars is that they do actually taste like a snack rather than a great slab of protein. They don't remind me of flap jacks, oddly enough, more like the Nakd bars you can get. They have a rich, dense texture and a wonderfully balanced chocolatey taste that's not all sweet. There's some salty goodness in there too.
Rich-tasting with not-too-grainy texture
That grainy protein bar texture and flavour is still there but it's certainly not overwhelming or too intrusive. If you don't normally find you enjoy protein bars, I'd say still give this one a go.
Get your chocolate fix
If you normally head for the chocolate section in the sweet shop, you'll likely enjoy the SCI-MX bars. I don't get much of a hazelnut taste with this flapjack (fine by me – I'm not a huge fan of that nut), but the chocolate flavour is really rich and tastes fab. I'm just pleased I can get a good chocolate fix from a relatively healthy snack.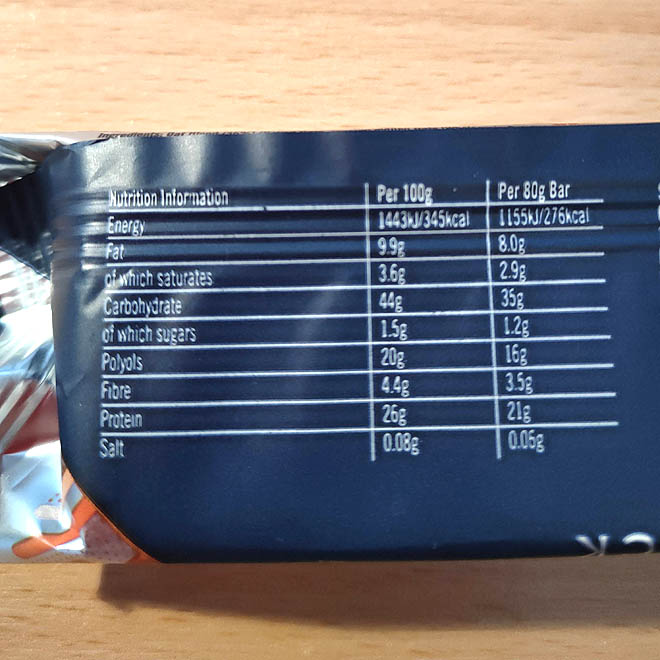 The bar has a rich moist feel to it too as opposed to some of the dryer, crumbly and synthetic tasting high-protein bars you can buy.
Personally, I think this bar tastes amazing. Each bar is only 80g too and they're a lot more compact than some of the other protein 'bricks' I've tried.
Check Current Amazon UK Price
---
Any downsides to the Sci-MX bars?
A bit fiddly to open
It's probably just my fingers but I struggle with these serrated edges bars. There's no pre-cut opening to make life easier so you'll have to rely on finger strength and a bit of testing different bits of the product's seal to find a way in. Some bars I got in straight away, while others needed a bit more pulling about to get in.
Palm oil
I know this is a controversial one with a lot of people but this bar does contain palm oil, so you'll have to decide if that's an issue for you.
---
Price – are they good value?
One of the best things about these bars is that they're a good bit cheaper than some of the other commonly available bars, such as the Grenade bars. Depending on where you buy them, you can pay as little as a pound per bar, which is on the low side for a good-tasting protein snack.
I definitely think this bar is good value, especially bought in larger quantities.
---
Where's the best place to buy them?
You can add these to your online shopping basket at most major super markets. I sometimes get them with my Morrisons shop and they come in at about £1.50. That's not the most efficient way to buy 'em but it's a good way to taste them out, so to speak and see if you like them.
You can buy them direct on the website, but they're a lot cheaper on Amazon as it happens. If you buy a pack of 24, you can get the cost down to under £1 a bar, which is pretty decent!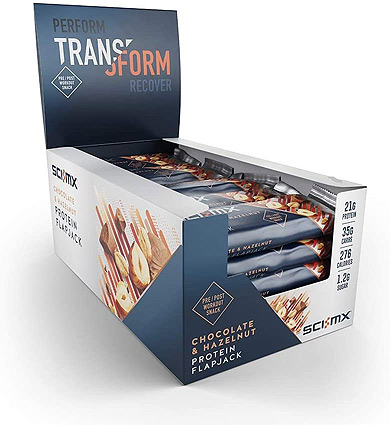 Verdict: Are the Sci-MX bars worth a chomp?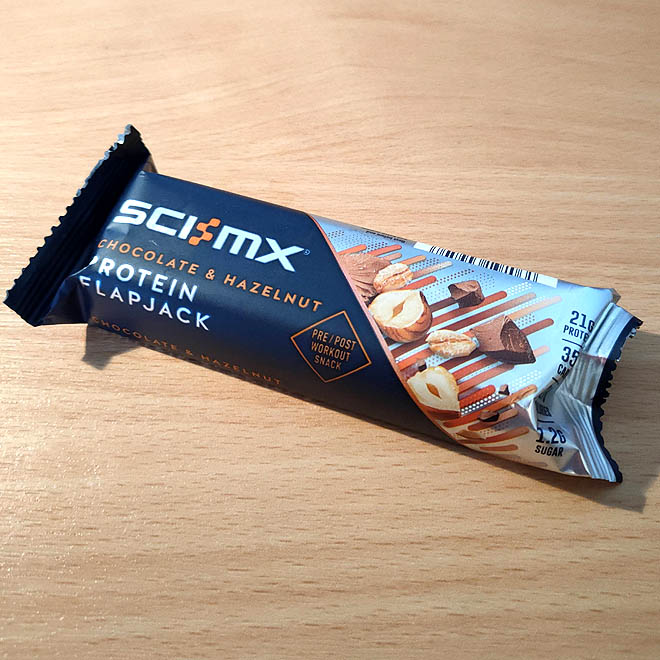 These bars are gorgeous. I'm thoroughly enjoying the ones I bought and will definitely get some more as they run out. There's plenty of protein in each bar and the fact they're a compact size means you can eat them before a workout or after.
The only problem is going to be having one per day, especially when my 24 pack arrives from Amazon.
Highly recommended
Check Current Amazon UK Price
Verdict for the Sci-MX Flapjack Bars
Taste -

93%

Nutrition -

90%

Macros / Protein -

86%

Quality -

90%

Value for money -

95%
Summary
Sci-MX's protein flapjacks are ideal for anyone who might not normally enjoy the often-dense protein bars. They've got a great taste, especially if you're a chocolate lover. Buying in 'bulk' brings the price way down and there's a good amount of protein and carbs for an 80g bar. Tasty!
---
References & Further Reading