Welcome to our guide on the best recumbent bikes in the UK in 2020! An often overlooked form of exercise, rcecumbent (or 'sit down') bikes provide a superb way to get in shape and lose calories at home. Further more, they're ideal for anyone who can't train on an upright cycle too, offering safe training for those with back injuries.
As with every fitness category, there's a whole slew of reclined bikes promising to be the best on the market but we've dug deep and found the best ones we think you'll want to look at. Whatever your budget, you'll find something here that suits your needs. From the mini bike to the excellent RE100, read on and happy hunting!

#1 Best Overall Recumbent Bike: Kettler Premium Recumbent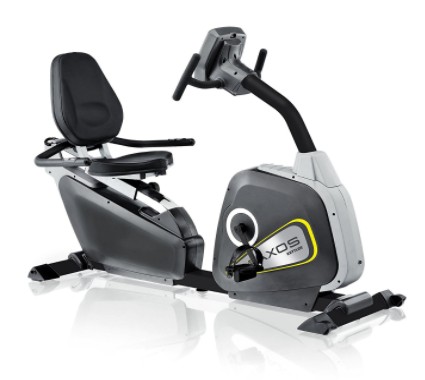 Sitting in the mid-range of the recumbent bike category is a superb bit of kit from Kettler. Design wise, this recumbent cycle looks the part and it's backed up with a solid construction throughout.
At 9kg, the flywheel in this bike is one of the largest in this group. Combined with the electro-magnetic resistance, you get a smooth workout that's suitable for new users, right up to those looking for a challenge. In fact there's an impressive 16 levels of challenge to be found here.
"Kettler have managed to create something that feels extremely comfy, even for extended cycling sessions"
Although plain monochrome, the computer / display is one of the best in this category. We really liked the 4-person memory that allows four different users to store programmes.  You get 12 preset programmes to get your teeth into, offering different challenges and keeping things fresh.
One thing to note is that you'll need to build this exercise bike up and possibly even get it delivered where you're going to use it. that's because the Kettler's sturdiness comes at a cost – this thing is heavy! This recumbent bike isn't exactly portable. Still, it has the feel and build of a commercial sit down bike so it's easy to forgive.
It has to be said that not all recumbents are, well, comfortable. But Kettler have managed to create something that feels extremely comfy, even for extended cycling sessions. The seat is on a slope, meaning it goes downwards as it goes forwards – something smaller users will no doubt find helpful. At the other end of the scale, the weight allowance with this bike goes all the way up to 130kg.
While not the cheapest products in this market, Kettlers' bike is easily the best recumbent exercise bike in our reviews. A superb piece of kit that's worthy of your short list.
Setup is fast and easy
Really like the computer / display
Comfortable seat
Looks and feels like a commercial recumbent
Sturdy
Suitable for all levels, including people wanting a challenge
Heavy, can't be moved around easily
Not the cheapest bike in the home category
---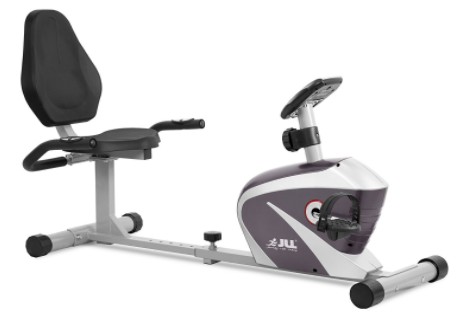 If you don't want to pay a fortune for a home recumbent bike, but want something that will last and give a good workout, then the best one we've found is the JLL RE100. A sturdy CE approved build means there's no jiggling around while you train.
The resistance here uses magnets and ships with a 5kg fly wheel. It's bi-directional so you can pedal forwards or backwards. There's a decent choice of 8 levels of resistance and another good feature is that this recumbent is very quiet to operate. Catch up on some serious TV without any noise.
This is a good bike for the money and it has some nice extras like a heart rate monitor (sensors are built into the handlebars). After sales customer service has been very good, and there's a 12 month warranty in case anything goes wrong. The assembly isn't tricky at all and the bike doesn't take up a great deal of space.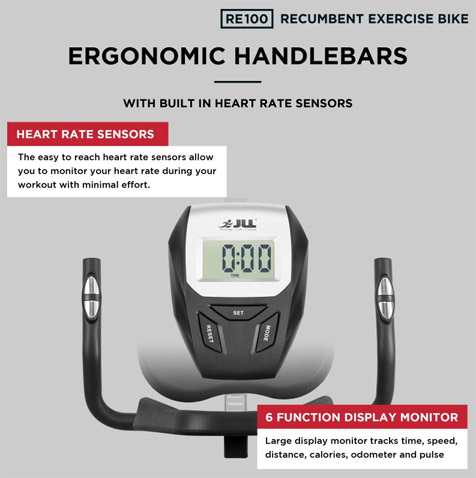 The display is really good too. Especially for a cheap recumbent bike in this price range. It has a quality look and feel and, most importantly, it's clear and easy to read. You can track the usual stuff like time,distance, calories, and your heart rate.
Great price for a quality recumbent
Smooth magnetic resistance
Quiet operation
Sturdy construction
Easy assembly
Crisp, clear and large display
£169.99 at Amazon
Price last checked: Sunday 20th September 2020 – 19:05 pm
---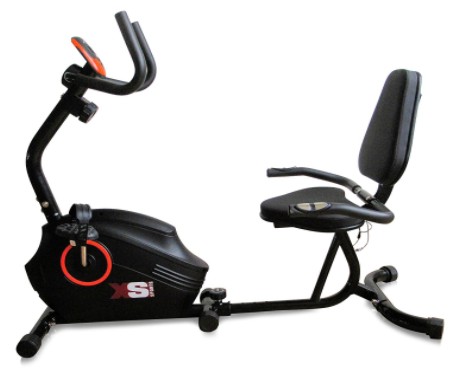 This is a low cost entry into budget side of recumbent exercise bikes here but one that's won  lot of praise from users. The XS Sports  Bike is a sit-down cycle that's ideal for anyone looking to get back into exercise or wanting a milder form of training to keep in shape.
It uses the same resistance that the best recumbent exercise bikes use, combining a heavy fly wheel with magnets. Speaking of the peddling action – the fly wheel is 2-way which means you can go backwards as well as forwards.
Overall this recumbent gives a nice smooth feel without that awful rubbing you can get with other systems. The seat is chunky and comfy and the pedals are over-sized, with straps to keep you from slipping out. Max user weight here is 110kg.
The on-board computer tracks the basics such as calories burnt, virtual distance, times and, surprisingly for a budget recumbent cycle, it also shows your pulse (pads are in the handles). The LED display gives a crisp readout compared to LCD ones.
Great value for the price
Chunky seat that's supportive and comfy
XS have great after sales support
Ideal for anyone with back problems
Getting the tension spring in place was a bit tricky
Might be too gentle for anyone wanting a punishing workout
£229.99 at Amazon
Price last checked: Sunday 20th September 2020 – 19:12 pm
---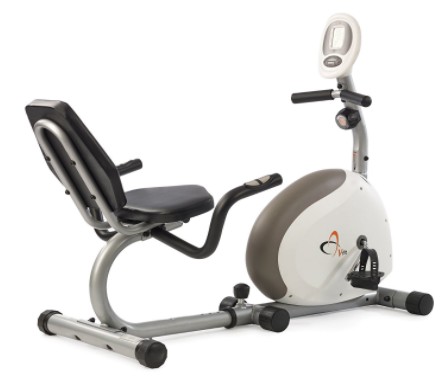 The V-Fit G-RC is a recumbent bike and has a pretty good price for what you're getting. The tubular steel makes it feel nice and solid and the seat part slides back and forth. It should fit all shapes and sizes, with some users allowing the whole family to get stuck in and get fit.
The resistance is magnetic resistance paired with a substantial 6kg iron fly wheel. One of the best things with mag resistance is that it tends to be quiet. The G-RC bike is both quiet and smooth. You have a choice of 8 difficulty settings and everyone should be able to find something to suit their level.
One of the best things with this bike is it's 7-function monitor. We've seen too many recumbents with small fiddly screens but you'll be able to track youre progress easily here. It shows calories, distance, speed and also pulse. The handles have little metal pads that track your heart rate. You don't have to use them of course.
This bike is a good choice if you're recovering from back injury and want to stay in shape. It's also a good choice if you've tried one of these machines at a gym, as they're very similar. Setup takes 2 – 3 hours and the only tricky bit is getting the wires through the tubing.
Sturdy and smooth to pedal
Good construction, like the tube style steel
Price is good for what you're getting
Display is large and tracks pulse too
Magnetic resistance and a nice heavy fly wheel
Bit fiddly getting wires through tubes
Long use can get uncomfortable
---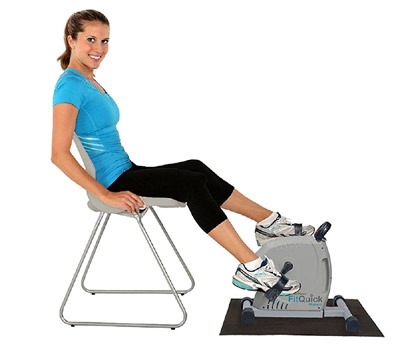 If you think this mini exercise bike looks like some cookie gadget you might see on a late night shopping channel, then you might want to have a second look. the fitQuick is a small, light and portable bit of equipment that will turn just about any chair into a recumbent bike. OK, it's a little different to the other bikes here but it's one of the better models in it's category and the price is pretty good.
the fitQuick is a small, light and portable bit of equipment that will turn just about any chair into a recumbent bike
The FitQuick bike is recommended by physiotherapist and can be used by senior exercisers as well as disabled users. It's extremely quiet and has a smooth, impact free motion. The magnetic resistance is altered using the dial on the top and goes from easy going to a moderate pace. It's suitable for beginners to intermediate.
If the idea of burning off calories while you're sitting on the sofa seems far fetched, this mini recumbent might surprise you. It will work with pretty much any chair, including arm chairs and dining chairs. You will be strengthening your legs, arms and ligaments as well as burning off calories. A simple display keeps track of your virtual distance and how many calories you have got rid of.
The sit-down exercise bike comes with a non-slip matt although this is perhaps the main drawback with this product. Even with this matt it can slip around. However, this can be worked around if you move the mini bike against something solid – especially a wall.
This is the best recumbent bike if you're short on space!
Space saving mini recumbent
Light enough to move around
Robust and well made
Easy to assemble and instructions are clear
Calories burnt off mount up quickly
Suitable for older or disabled users
Non-slip mat doesn't always keep bike in place
Not suitable for anyone looking for a very hard workout
£99.00 at Amazon
Price last checked: Sunday 20th September 2020 – 19:03 pm
---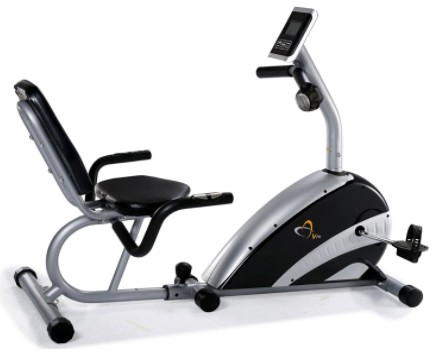 If you're after a good quality recumbent bike that won't give you hearty failure when you get your next credit  card bill, this bike from V-Fit might be a choice. So what's to like about this indoor recumbent, apart from it's sexy, sleek design?
First up you're getting a bike that uses magnetic resistance, but has a hefty enough fly wheel at 5kg. This provides a nice smooth, friction free motion with non awful 'rubbing' when you're pedaling.
Reach and height are fully adjustable without too much fumbling around. And the pedals aren't those awful ones your feet keep slipping off. They are large, and it's easy to get your feet into position. The LCD screen isn't anything fancy but has 7 functions and keeps track of your calories, time and the usual stats.
Speaking of light, this bike is fairly easy to move around the home. But at the same time it feels very sturdy when you're on it, with no creaking or shifting around.
So what's NOT to like? For one, assembly is a bit of a bugger, taking upwards of the 40 minute mark. And you'll need your own tools, as the ones supplied are not too hot. If you're a heavy user over 100kg, or your height exceeds 6′ 2″ mark then you might find this budget recumbent a little on the light side.
Speaking of light, this bike is fairly easy to move around the home. But at the same time it feels very sturdy when you're on it, with no creaking or shifting around.
Resistance and fly wheel feel smooth
Cool looking design
Light enough to move around by yourself
Easy to adjust and comfy
Stable and good quality build
LCD panel won't win any awards
Tools included could be better
Set some time aside for assembly
Not suitable for larger users
---
Thanks for reading this guide on the best recumbent exercise bikes available in the UK. Please let us know in the comments if we've missed any you'd like to see featured, or if you train with a recumbent.