Today we're looking at the Best Dip Station UK out there for under the £200 mark. (With some bargain finds coming in at substantially less than that).
This (UK) guide will look at things such as build quality, feature set and a ton of other important criteria and find the best dip gear your money can buy.
If you've got any questions or recommendations, as always, please let us know in the comments!
Top Pick
What's the best overall dip station: If you want a proper, no-nonsense dip station then Yaheetech's Dip Stand should tick the box. It's sturdy, suitable for any size or weight and easy to assemble.
What we look for when reviewing dip stations
While dip stations are a lot less complicated to compare and weigh up than say a rowing machine, there's still a few important things to look out for.
Things we check carefully when reviewing dip stations:
Build quality – Probably top of the list is how sturdy the dip station is. Everything looks good in the pictures but is this equipment completely bomb-proof? Dip stations are one thing you need good quality steel tubing, with nice thick welds.
User weight – Something else we like to check out when it comes to buying dip machines is how much weight they can take. As well as user weight, a lot of people like to add additional weight, in the form of weighted jackets, or plates on their legs. So a good dip station should be able to take a decent weight. Ideally 150kg or more.
The hair-loss factor – AKA how easy is this dip station to assemble? Thankfully dip stations generally rank among the easiest bits of gym gear to cobble together. But we'll let you know if anything is unduly a pain in the butt to put build. Not everyone is good at building stuff.
Range of exercises – A quick glance on YouTube and you'll see people using their humble dip station for a lot more than just dips. And why not? This bit of gym gear can take up a lot of space, so why not train every muscle you can with it? Some dip stations are better suited to things like calisthenic exercises, so we'll let you know during this review.
Who would it be suited to? There's a few different kinds of dip stations (more on that below) and depending on your space, what exercises you want to to (apart from the obvious) will impact which station you should fork out for.
---
What kind of dip station should you get?
There's a few different bits of gym kit you can get to work on your dips. While each does a similar job, each has a slightly different use. Let's go over each bit of kit and cover who it's best suited for!
1) Fixed dip station
This classic, weighty dip station is the real meat and potatoes of the dip world. It doesn't do anything except training your dips and it does it very well. It's the most sturdy of dip stations and the kind you'll find in commercial gyms. There's also practically nothing to assemble with this iron beast.
Main Advantage: Super sturdy and always ready for you to jump onto.
Main drawback: Very heavy and clunky to move around.
2) Wall mounted bars
If you've got the wall for it, and you don't mind diving into a bit of DIY, wall mounted dip bars can be a brilliant space-saving way to incorporate this compound exercise into your workout.
Main Advantage: super sturdy dip station you can hop on any time
Main drawback: If you suck at DIY (like me!) you're not going to want to go there.
3) Combined dip and tower stations
If you read Home Gym Experts regularly, you'll know we got nuts for any bit of gym kit that will save space and do multiple exercises in the space it takes up. One of the best things you can get to train your dips is a combined 'tower' that also has a chin up bar. Pull ups are an absolutely fantastic body weight exercise and an ideal compliment to dips.
Main Advantage: More training done in the space it takes up
Main drawback: Not portable. At all. And kinda bulky too – make sure you have room.
4) Separate parallel bars
This dip station is a really good way to get into dips. You get two twin bars that you can position as far apart as you like. There's a wide range of exercises you can do – and even get into things like lifting your legs onto one side and doing dips that way. Because they don't have a connecting bar, they can be easily moved around and stashed out of the way when not in use.
Main Advantage: Portable and fully adjustable.
Main drawback: Takes a bit of getting used to and not as stable as a fixed station.
5) Supported dip / chin-up stations
These are normally found in commercial gyms but there's nothing stopping you getting one for your home gym too – if you have the space. And the cash! These things are expensive! They are brilliant at what they do though: you kneel on a platform which has a counterweight on it that all, part or a little of the work of lifting and raising you up and down. They build your upper body strength up to doing full dips and chin ups, or just as a way to benefit from the exercise.
Main Advantage: Very easy to use and a great way to start doing dips and pull-ups.
Main drawback: Requires a permanent and large space in your home gym, and they aren't cheap.
---
What are the best dip stations up for grabs in the UK today?
So what are some really good dip stations you can buy today? This next bit will help you find the perfect bit of kit to train dips on at home. We'll cover a range of different types of dip stands. There'll also be stations to suit every budget. Nice.

#1 – Multi function Pull up Bar Dip Station
Simple, non-nonsense dip station
This is one of the best kinds of dip stations you can get. The reason being it doesn't do anything but dips and as such is incredible strong and sturdy. Made from super solid gym quality steel tubes, with thick welding, this is a machine you can buy once and never worry about.
Robust and sturdy
This dip station can handle over 200kg of weight and is really sturdy. The thick bolts don't work loose and the station feels great to jump up on and use. The thick heavy grade steel tubing won't win any awards for design but this machine should never need replacing either. It's solid, heavy and very supportive.
Comfortable V-shaped, 'tapered' grips
One of the best things about this dip station is that the handles are pointed slightly outwards that make them very comfy to grab hold of and feel natural when you're performing your dip.
Another plus with this kind of bars is that you can adjust where you grip depending on your and height. This easy self-adjustment means you'll be comfortable and in the right position when you're doing your dips.
Good customer support
One quick note on this – we've had good feedback from people whop have bought this dip station and needed help from the manufacturers. While it's nice to  buy from known brands, this company have a good customer support team who seem friendly and helpful!
Any downsides?
One thing I'd like to have seen, that we've seen on similar dip stations is a rubber grip on the lower cross bar. This is handy for hopping up onto the machine, or if you want to take a rest on this bar.
Another thing to be aware of is that this style of dip station is a bit on the clunky side. If you're planning to move it around before training, be prepared for some chunks take out of doors and a few whacked ankles. Ideally, have somewhere you can setup and keep this one ready.
Verdict: This simple design should last a lifetime. It's robust, sturdy and there's really nothing to maintain or worry about, except your next set. The V-shaped bars are comfortable and the price is decent. A gym quality dip station.
Very strong and sturdy
Good price vs. quality
Wide base doesn't rock about
Thick rubber feed protect floors
Easy to assemble
No grip on the step-up bar
Clunky to move around
---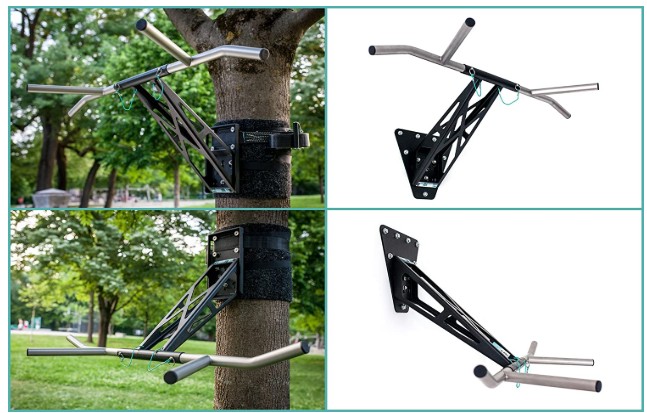 A dip bar with loads of possibilities
Worthy of a spot on any Dragons Den, this dip bar invention is ingenious. You can attach it quickly to a tree outdoors (or any solid post shape) and get some sun while you train.
Alternatively, the frame attaches to any wall. It's one of the more popular wall-mounted dip bars and you can see good reviews of it on places like Amazon.
Training with TREES! Indoor and outdoor uses
One of the coolest things with this dip equipment is you get a fixed bracket for indoor use which has an army of bolts to keep it secure and make sure it stays on the wall. The dip bars are detachable and you get a second frame you can use for outdoors too.
It's actually also portable and the chin up bars can fit in a backpack! Another clever thing they've worked in is the way the bars can rotate 180° so let you do slightly different exercises.
Over 30 exercises?
The marketing for this dip stand says you can do over 30 exercises but really you're getting a good quality set of dip bars and a good quality chin up bar to boot. The bars are easy to adjust between exercises however. It's also worth noting the quoted other exercises require you to fit it lower down to a tree or post outdoors.
Really sturdy
If you're jumping to do some dips, you want a seriously sturdy it of kit. The Indoor / outdoor bars come with a template that helps you attach to to the wall. It's actually not as difficult as you think. The bars themselves, and both mounting methods are extremely strong and sturdy.
Verdict: This is a premium wall-mounted dip bar. It's not the cheapest dip station on the market but the quality for the price is fair. It's sturdy as hell once mounted on a wall and the way you can take part of it outdoors is a brilliant innovation that more bars should offer.
Top quality
Train dips, chin-ups
Easy to setup
Simple to use and adjust
Works indoors and outdoors
Could use some rubber grips
More costly than other bars
A good machine for upper body development
Body Solid's knee raise and dip machine focuses on a number of important muscle groups and offers a nice variation to dips. Knees and leg raises are a fantastic way to tone up abs, back and core muscles and they're easy to do with this bit of kit. You're also getting a super-sturdy way to do dips at home.
High quality dip station without the wobble
Quality-wise, this is probably the best dip station we've seen. The heavy gauge steel frame on this thing is incredibly thick and strong. There's zero wobbling when you're training, like we've seen on cheaper stations. The pads on the machine are also top notch.
Body Solid are known for making tough gym gear and this one's definitely built to last.
Padded arm rests for knee raises
This station also comes with the rests for your forearms and a padded back support. This opens up a lot more exercises, such as knee raises (ouch), leg lifts (double ouch), twists – all of which are great for you core and abs and back.
Verdict: Combining two bits of gym gear is always a win. Here, you're getting a high quality knee raise and dip handles 
Top quality
Sturdy and wobble-free
Trusted brand
Train more than just dips
Seriously good for abs and core
No chin up bar
Not the cheapest dip machine
---
Mirafit's parallel bars: dips, calisthenics and more
This dip station is a kind of hybrid between the separate split dip bars and a fixed dip station. Rather than just positioning the parallel bars, you can slide them along a locking bar. This gives you that extra bit of safety and a lot more stability. Ideal for if you're doing a wider setup, or extending your legs to one side.
You can of course take the connecting piece away and use the parallel bars in whatever way you like. The wide bases and huge rubber feet make for a sturdy workout either way.
Good looking bars that are well made
We've featured a fair bit of Mirafit's hear on Home Gym Experts – they make really good standard gym gear that has an eye for visual flair too. The bright orange dip bars are both well made and look good too. The quality of the welding and the steel gauge is also top notch.
Separate bars you can adjust
These bars are great because they combine the flexibility of separate stands with the strength and stability you get with a fixed dip station. The bars can be slid as close as you want together, or wide enough to bridge them with your legs. It's all adjusted with handy pull out and twist pins on either side.
Verdict: Mirafit's parallel dip bars are easy to setup and use and offer a good, stable way to work dips. If you're looking for something that does more than plain old dips, this could be something you'll get a lot out of. The adjustable system is a great idea and offers the best of both worlds.
Fully adjustable
Great looking bit of gym gear
Easy to assemble and use
Sturdy and good quality
Bright orange won't be to everyone's taste!
You will have to bend your knees on this station when doing dips!
---
Best budget-priced dip station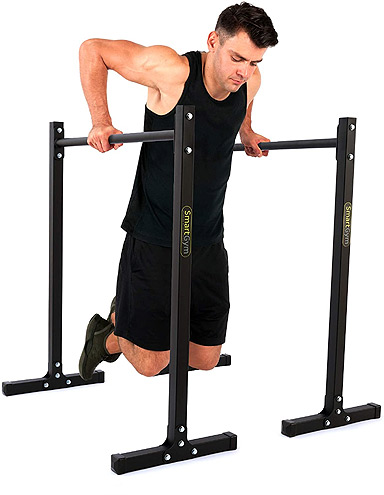 This dip station is split into two separate bars which you can setup and position how you want to.
Great if you don't have space for a fixed dip station
One of the best things about these dip bars is that they're way easier to move around in between training sessions so you don't need to take up a permanent space ni your home gym, or apartment. They can easily be stored after use.
Provides a wide range of exercises
You've got the choice here to angle the bars how you want them, and because there's no cross bars, you can easily do more than just dips. Lie back and do pull up exercises. Move them further apart and put your feet up on one side for a different kind of dip – there's a lot of possibilities with these bars… or just dip!
What are the drawbacks with these bars?
The freedom of movement and different exercises comes at a cost to stability. These bars don't measure up to the fixed station mentioned on this page. If you have the space to spare, and are looking for a serious dip-only station, you might prefer one of those.
Verdict: …
Easy to store
Sturdy steel design
Budget price
Wide range of exercises
Slightly narrower feet supports than some other dip stations
Smaller weight load of 140kg
---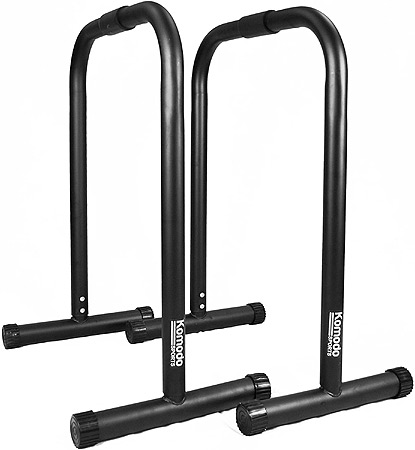 Strong, cheap parallel dip bars
If you're leaning more towards the separate parallel style bars and want a good way to do dips without spending an arm or a leg, Komodo Sports' bars might be right up your alley. Made from a good grade of 45cm tubular steel bars, they give a good solid feel.
Good upper user weight
The robust design means that these bars are strong enough to support up to 150kg. That's total so if you're doing weighted dips, take that into consideration too.
Adjustable to different heights
You get two height adjustments here and while you might never want to use it, it means you can at least set it to the height that suits your size better.
Bit stingy on the grip
One thing that's a bit of a disappointment with this set of bars is the grip rubber. While it feels great – there's just not enough of it. You've got to position your hands carefully each set. Arguably you should be doing that anyway, but a few cm more grip would have been ideal.
Verdict: This budget dip stand is a quick and easy way to add some dips into your gym, and a number of other possible exercises too. They don't look especially cool, but they're easy to store and get the job done. The price is pretty nifty too.
Strong, sturdy tube steel
Can stored and moved easily
Range of possible exercises
Easy to assemble
Great quality
Not as fancy-looking as the Mirafit bars
Grip could have been longer
---
Extra tips for your home dip station
Wall mounting dip bars – is it that scary?
One option you've got with dip bars is whether or not to wall-mount them. This has the benefit of doing away with the bulky stand and giving you a fixed, sturdy place to do dips any time you want. And they look seriously awesome.
The downside? You'll have to do some DIY to get the bars in place.
The first thing you'll need is the right wall. Yep, those dip bars aren't going to play nice with a plaster wall! You'll need a solid, sturdy brick or concrete wall. Any good wall-dip bars will come with a handy template that will show you where you'll need to drill the holes.
There will be drilling too. And don't forget to vacuum out the dust from the holes – it makes like a bit easier when it comes to adding the bolts in. Here's an example of how to mount a dip bar on a wall:
---
References and further reading