If you're serious about building up some serious power then the heavy bag is one tool you'll want in your arsenal. If you're lucky enough to have space to hang your own bag, there are some hefty beasts out there competing for your money. In this review, we're standing toe-to-two with the Hatton Heavy bag.
We'll be putting this bag through its paces and finding out if it's the last man standing.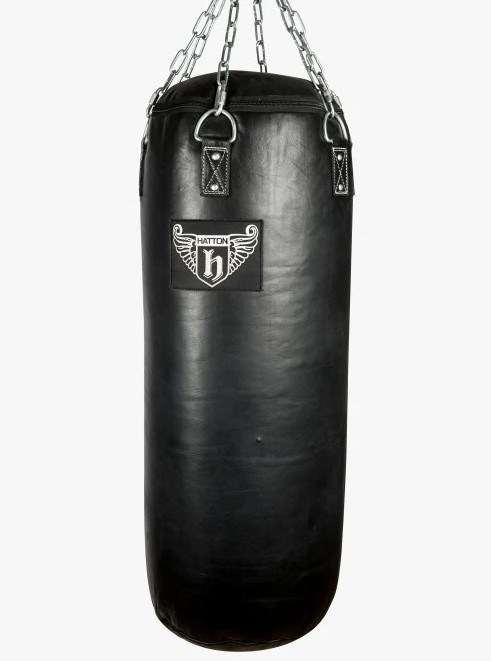 What is the Hatton Heavy Bag?
There are loads of different bags, pads and dummies you can get to practice your strikes. The heavy bag is a larger, weightier bag that will put up a lot more resistance when punched or kicked. It's mainly used to train power, but we'll get into that in a sec. Here's the specs for the Hatton Bag:
Features at a glance
High-quality leather punch bag
Comes with 6 hook chain
Hand-stitched
Famous Hatton 'H' Logo on one side
Available in two lengths – 100cm and 130cm
35kg – 40kg
100% leather
Who makes this bag?
Although this bears the Hatton logo, the bag is actually made by Jordan Fitness. They have a good range of home gym gear available.
What will you get from working with this bag?
Here's the man himself, Ricky Hatton training on this punch bag. And don't worry if you think the bag's swinging around like it's a bit of a lightweight, that's down to how hard this man can hit. Hatton has a famous half tonne punch.
Learn to hit hard! The heavy bag is the ultimate tool to building up power in your punches.
Good for HIIT workouts – Boxing is one of the best ways to burn off calories. You can burn around 800 per hour, making it one of the best sports for weight loss. Here's a great 30-minute heavy bag workout on Youtube you might like.
Practice footwork and positioning – Unless you want your opponent to declare open-season on you, learning to move around your target is essential. A heavy bag swings around and gives you a great base to work around in a circular motion (watch Ricky above).
Short on space? Bags take up a lot of room, no doubt about that. If you'd like to get into boxing at home but don't want the hassle of hanging one up, you might like our guide to HIIT boxing at home.
---
Heavy Bag Deals For Thursday 30th Nov 2023
Prices last updated: Monday 20th Mar 2023 - 02:01
Save £20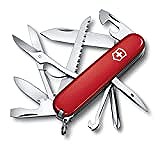 Gallant 5.5ft Free Standing Punch Bag Boxing Bag Free Standing for Kickboxing Martial Arts MMA Muay Thai Home Gym Workout Exercise Training Fitness Boxing Equipment for Men and Women

Get Deal
5 Things we like about the Hatton Heavy Bag
You can get it in leather or PU – Not many bags offer this but if you don't want a leather bag, there's a PU version. They're both high quality and have a nice solid feel to them. You'll definitely need bag gloves on this bag.
It's durable – One problem with a lot of home and commercial bags is they either look good in the pics and then suck when you get them delivered, or they feel OK at first and then quickly become lopsided or, worse still, have problems with the stitching/material tearing. Hatton's bag is not like that. It's tough leather and definitely made to last.
Good quality stitching – Another thing that makes a huge difference in how long a bag lasts is the thickness and quality of the stitching. You can tell with this bag that it's not some cheap rubbish. These heavy bags are hand-stitched with thick, thread.
The filling is better quality than cheap bags – Apparently, a lot of work went into making the fill of this bag evenly distribute and maintain the bag's form over time. It absorbs power without having that 'rock hard' feel to it.
Comes with a chain – There's a lot of cheaper bags on the market and one of the way they cut price is to have fabric straps at the top to support the bag. The Hatton Heavy Bag comes with
---
Price – are you paying for the brand name?
Ricky Hatton is an iconic British boxer. No doubt about it. And having his logo stamped on this bag gives it a really cool look and feel. But is that costing you? Aside from the branding, this is actually a good quality heavy bag. And for the price, it's good value and while there are cheaper bags out there for £50, they don't really compare to this.
Is the heavy bag right for you?
What are some of the benefits of punching a weighty bag like the Hatton one?
This is the part of the guide where most people will tell you that hitting a heavy bag reduces stress, or works out your anger. That's actually not true (sadly!)
Hitting any kind of punch bag will not reduce your anger levels, no matter how hard you imagine your bosses face, or that customer who was mean to you, floating in front of you. A recent study by psychology today debunked that. So what can the heavy bag do for you?
POWER! While this trait is more tailored to anyone in martial arts, the heavy bag is the undoubted king when it comes to learning to build up punching power. Other drills and bags are great for speed but the big bag is the best way to develop harder strikes.
Cardio (especially if you're short on time) – The heavy bag is incredibly good at building up your cardio – both long term and shorter-term, high intensity. So if you've not got time for long sessions, the heavy bag can prove invaluable in getting in shape and losing weight.
Great for practising footwork – you can practice your in and out movements really easily on a heavy bag because of the way it will move back towards you after striking it a few times. They're also ideal for circling around and getting into the best position on your opponent.
---
What kind of gloves should you get for the Hatton Heavy Bag?
This is definitely a bag where you'll need to get a pair of gloves if you've not already got some. There are really two choices with this: smaller bag mitts or larger 16oz gloves. For the heavy bag, and especially if you're new to striking, go for the larger gloves.
They have more padding and will be way kinder on your hands. While they are a bit clunkier, you'll get a better workout in less time and your fingers, knuckles will be better padded.
---
Reading and resources