Today we're looking at the iconic Century Bob Dummy – a freestanding punching dummy that can be used for both kicking and punching. I'll be going over whether you should buy one of these for your home gym, along with all the pros and cons in this review.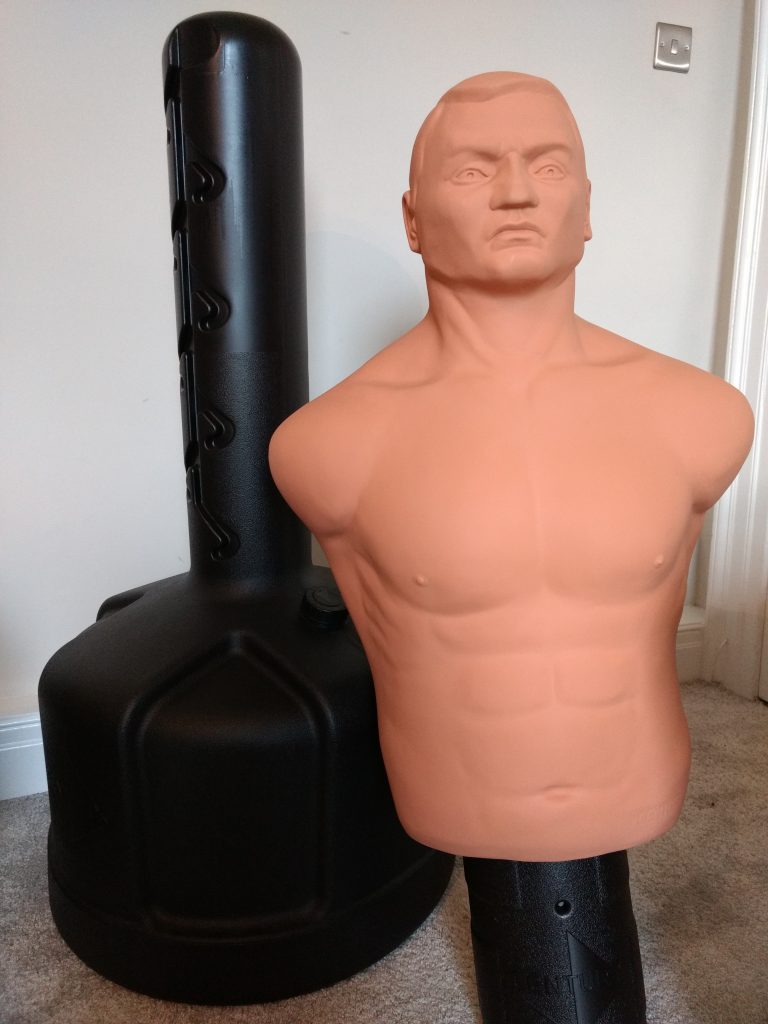 Whether or not you're into martial arts and self defense, putting on some boxing mitts and getting stuck into some high-intensity boxing work is one of the best forms of exercise out there. In fact, it's been proven to burn off more calories per hour than running, rowing or intense cycling. It's technically possible to lose 800+ calories per hour.
I've spent a great deal of time over the years in boxing gyms and it's just such a good way to stay in shape. Getting someone to hold some pads for you is one way to do it, as is having your own punch bag. Another fab way to get some boxing work done is the fantastic (and slightly grumpy looking) Bob Dummy.
Meet BOB!
If you don't want to mess around hanging a bag, or getting a stand set up, the free-standing 'dummies' (as I always call them) are a brilliant way to get some boxing work into your routine. They don't take up the space a punch bag does for a start.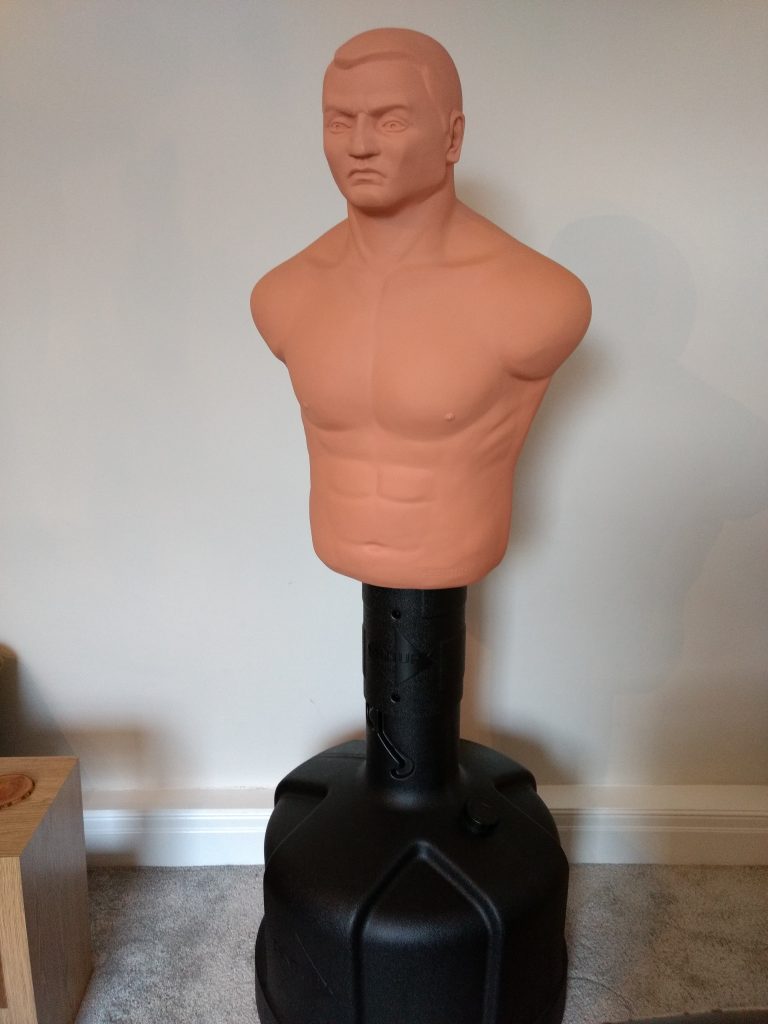 Check Current Amazon UK Price
How does the Century Bob Dummy arrive?
The Bob freestanding punch 'bag' arrives in a large cardboard box, that contains 3 main parts: There's the top 'Bob' guy part, a tube section he's permanently attached to,  and there's a hollow bottom section. It's not heavy or awkward to move around and you'll end up with an awesome box for kids, pets or the recycling bin.
Assembly
Unlike a lot of gym gear, this free-standing dummy is really quick to put together. The only job you have really is attaching the rubbery body part to the black plastic tube. This is done with a series of large screws that you'll need to tighten with the included tools. As with all things, take it easy and you'll be fine. We're talking a few minutes to put this together.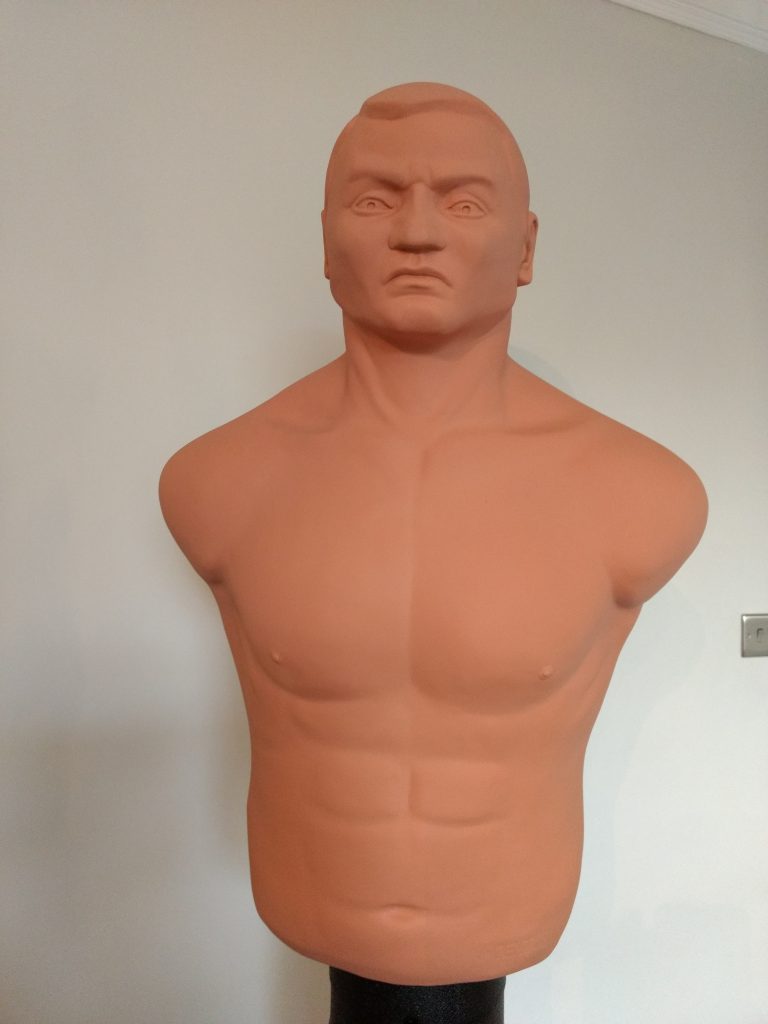 You've then got to 'fill' the base up with either water or sand.  (More on sand later!) The bob dummy doesn't come weighted down and the fastest and easiest way to do this is to get a hose pipe in there. Move your Bob where you want him because it's a nuisance to move once it's full of water. Your toes will thank you later.
Fully adjustable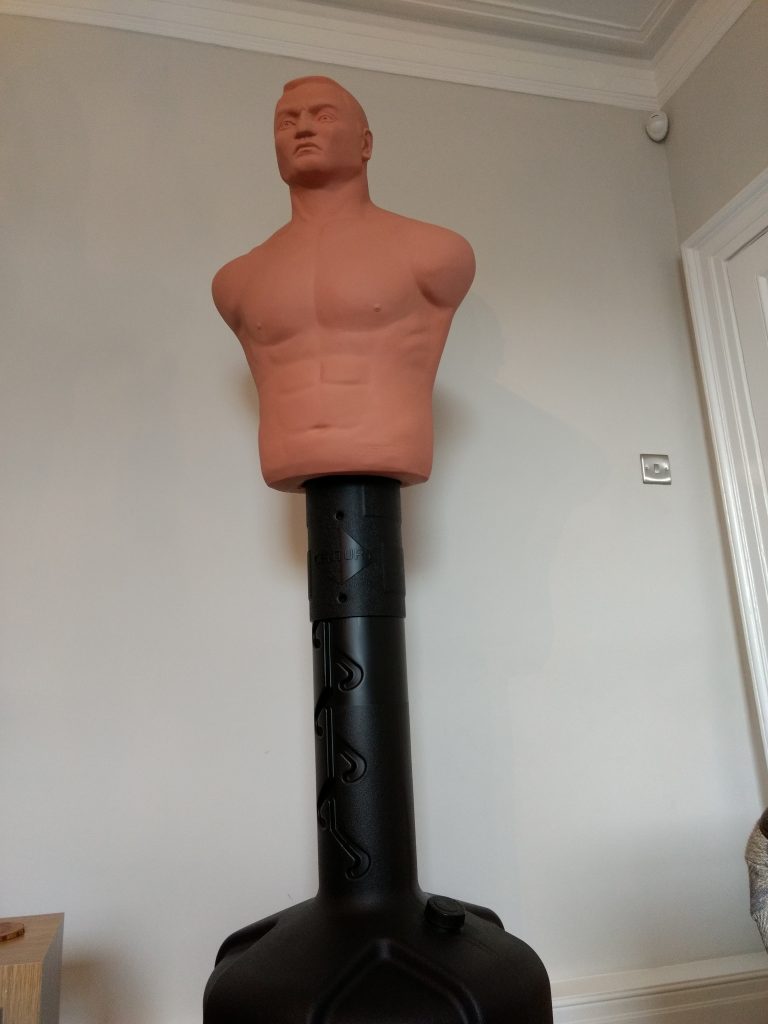 There's a really clever system on the Bob Boxing Dummies where the top pink section can easily be altered to a huge range of heights. He can be adjusted from anything  around 4 feet tall to over 7 feet. It's a simple but clever mechanism where you lift the body part up, twist and it will settle into the height it's at. There's no pins, screws or anything else to alter.
Another benefit is that the top can be removed in a matter of seconds and stored somewhere else, if you're short on room or need to protect it.
Durability and quality
So a bit on quality first. Aside from the metal screws, the black stand part of the Bob Dummy is basically plastic. If this sounds worrying I'd have to say that this is one of the toughest plastics I've seen or 'felt'. It's nice and thick and it's literally never going to crack, bend or give out. Really top quality here. It's apparently toughened 'Plastisol'. This is one part of the Bob Dummies I've seen that don't get damaged so it must be pretty good.
The pink part of the Bob dummy really feels … weird! Not in a bad way, it's just a texture that's hard to describe and I'd have to say it does feel as close to skin and tissue as it could. It's not plastic, or rubber but is tough while being squishy. It might be weird to the touch, but it feels fantastic to strike. The Bob dummy's sculpted body and face do yield a bit when struck but give a solid feedback.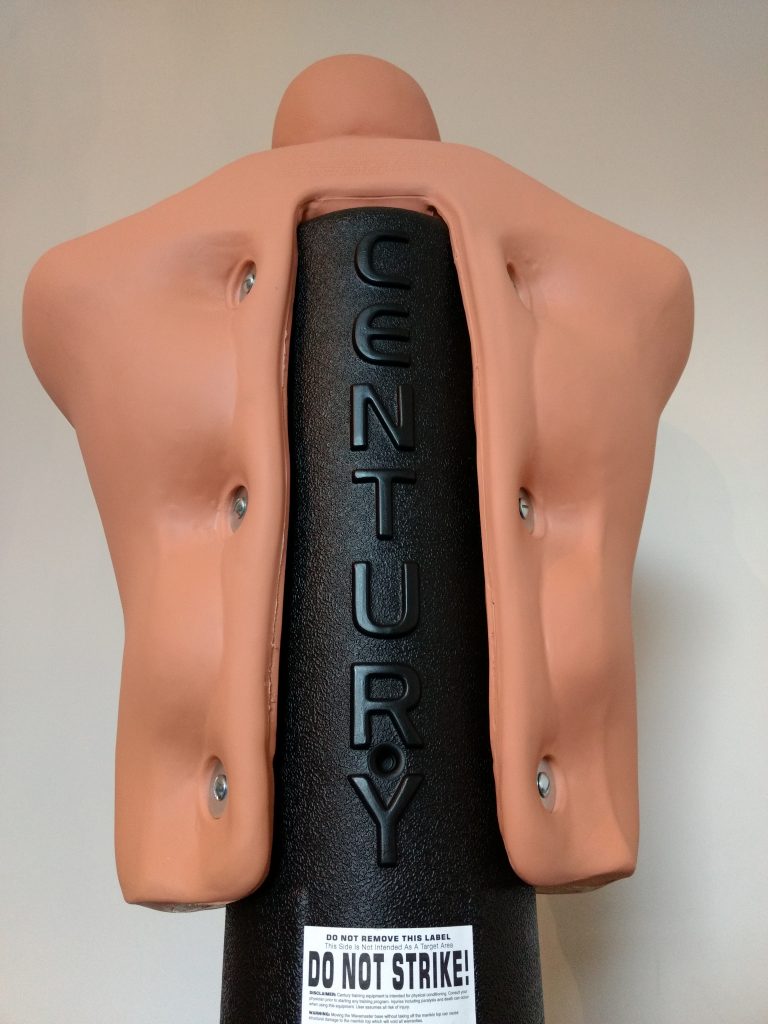 I think I'm in a pretty good spot to be able to talk about how durable and long lasting the bob dummies are. This isn't the first time I decided to buy a Bob Dummy I bought one years ago and it stayed in my brother and my first gym. There the poor thing was beaten mercilessly over a period of years (I think we even used sticks on it at some point). I mean this thing was just so dirty and smacked around. So did it stand the test of time?
I'd say the Bob Dummy (and this was a slightly earlier version) did, and has, lasted well. Everything it still pretty much intact, with the exception of a small break in the 'skin' under the chin. I should also mention that my brother is seriously into martial arts and this dummy has had more than a normal share of punishment.
Getting stuck in and quality of workout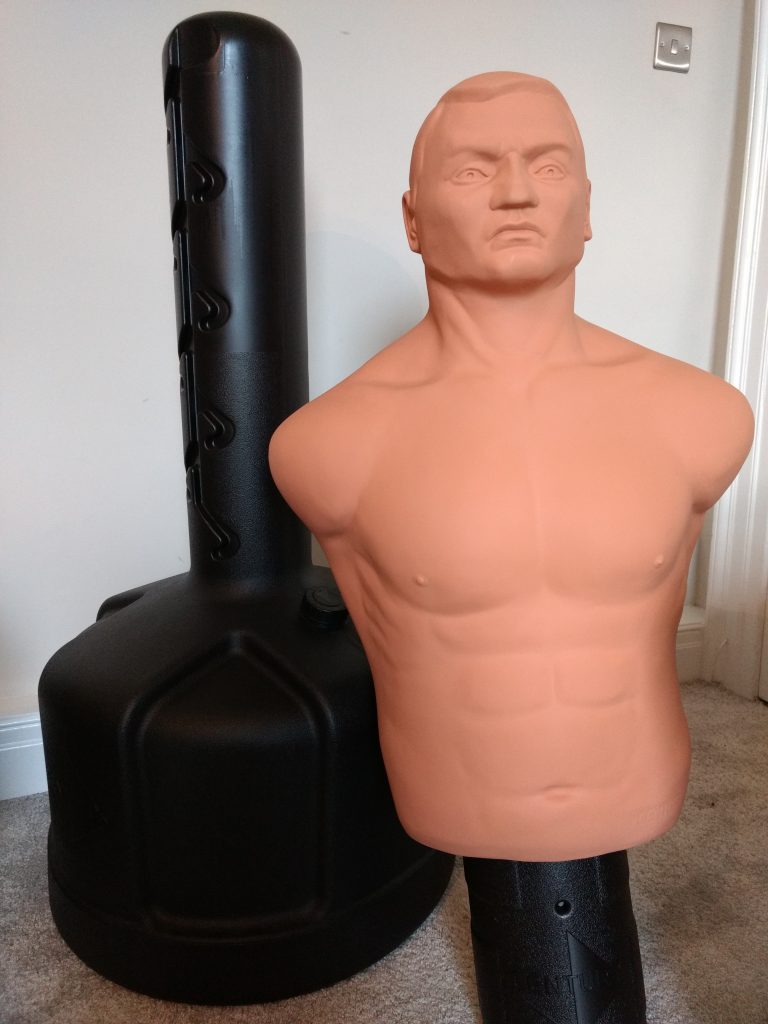 The Bob Dummy is great for people new to boxing or long running martial artists looking to improve punching and kicking. Once filled striking both the head or body provide a great grounded feedback, very different to hitting a punch bag. As punch bags swing around and are attached to the top it's a completely different physical feedback using a Bob Dummy.
You'll need to invest in some bag mitts as the head especially will definitely hurt your hands with it's plasticy kind of feel. This is a good thing as it's definitely going to last. But unless you're a serious hard case, definitely get some bag mits.
Jabs, crosses, hooks, uppercuts are all ideal here, both to body and the head / face area of the bob boxing dummy. Kicks are also possible of course although you've got to watch your accuracy as whacking the black frame pole with your foot isn't a good time.
Tips for getting the most out of your Bob Boxing Dummy
Make sure you leave enough room
If you get into your work out, it's easy to blast the dummy back, or make it rock backwards. Any mirrors or other stuff it's next to will take a beating.
Get some mitts! I've found that the Bob Dummy is a bit too tough to strike without some light boxing gloves. Protect your knuckles or your friends will think you've been in a fight.
Keep the body part safe and sound.
Don't forget kicks – although the Bob Dummy is
It's really easy to remove the top part of the Bob Dummy. If you're planning on keeping the bottom bit outdoors, bring your Bob body inside. I don't think it would take too well to the British Winter.
Stuff I don't like
I'll start with a funny thing actually. If you're in the market to buy a Bob Dummy, prepare to scare yourself silly every time you walk in the room, or your garage for the next couple of months at least. When you flick the light on I swear you'll think for an instant you've got an intruder in your home. It's really funny when people come round your house and aren't used to it. Anyway this is a silly aside, lets get on with what I really don't like with this boxing training dummy.
The hole to fill it up is a bit small
At the bast of the unit is a small screw off cap which you remove when you want to fill it up. I mean this isn't a huge issue if you're going to fill it with water, but my brother and I had an awful (and messy!) time trying to fill one of these with sand at one time. And a lot of people will want to use sand. It doesn't swish around like water does and offers a more stable workout.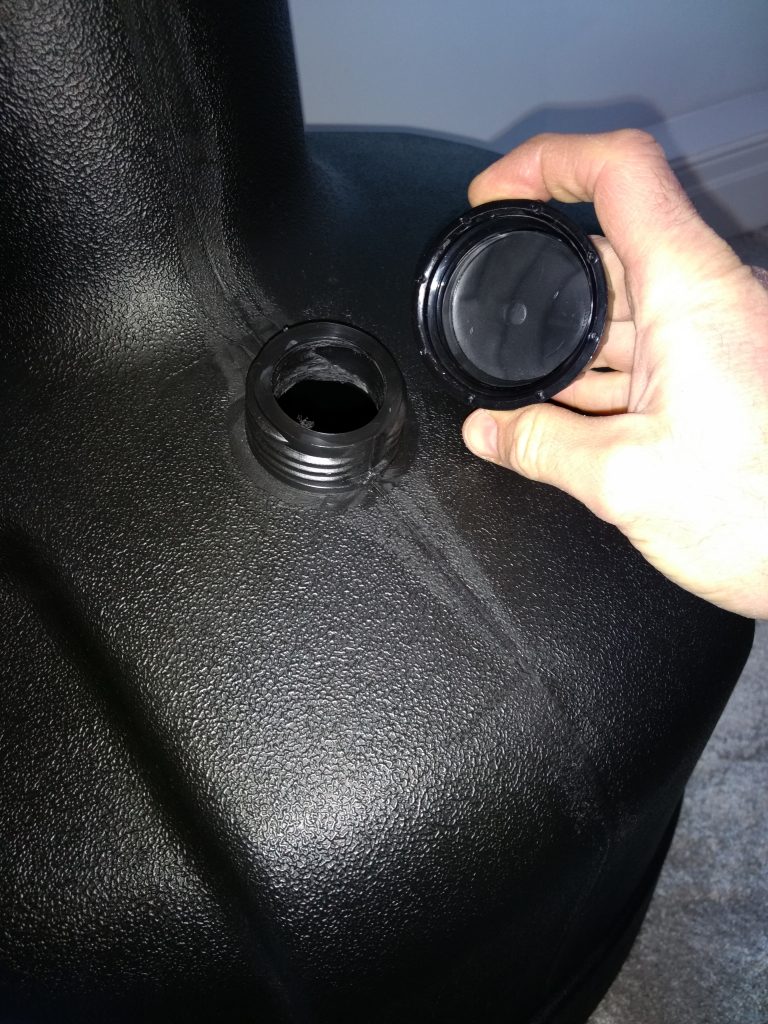 Which leads me to… water!
The majority of people who buy a Bob training dummy are going to want to fill it with water. This isn't a huge problem by any means and it works great once it's full. But water does shift around and you will find the doll moves around if you're giving it a serious hard bashing. This is even more true when you're on carpet. The bottom is super smooth and while it's not going to fire off quickly, it's going to move around a bit. That's a problem with any free-standing punch bag.
Moving Bob around is a bit of a pain
Once your Bob Dummy is full of water, they're a bit tricky to move around. Unlike treadmills or some rowing machines, this boxing equipment hasn't got any casters or anything that makes it easy to move around. So unless you want to hump it onto a low wheel barrow or something, it might have to stay where you put it. This isn't really a huge issue as I'd imagine most people will do what I do and have an area to train on the Bob.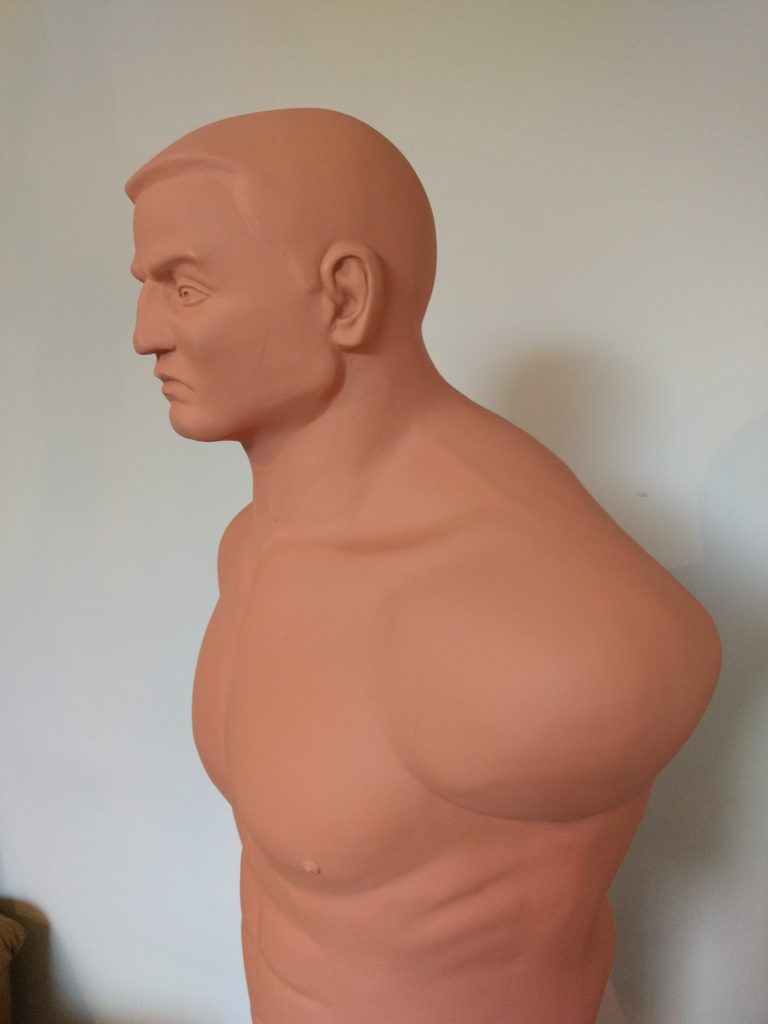 Final thoughts
The Bob Dummy is a fantastic bit of training equipment. It's easy to put together and very durable and long-lasting. You'd have to seriously abuse it to make much of a dent. This is a super bit of boxing equipment that you can bring into your home gym with a minimum of fuss. The price has come right down in recent years and they're a pretty good bargain at the moment.
Despite the few minor negatives mentioned above, the Bob dummy is still the number one free standing punch equipment. If it sounds like something you're interested in, go for it. And please ask me if you have any questions.
Best price on the Bob Dummy
Check Current Amazon UK Price
Verdict on the Century Bob Dummy
Usability -

97%

Quality -

95%

Value for money -

93%
Summary
This is a fantastic free-standing punching dummy. It should last a very long time, and it feels great to punch and kick. Filling it with sand is a pain but aside from that it's an excellent product for anyone into martial arts or looking to do boxing work at home.