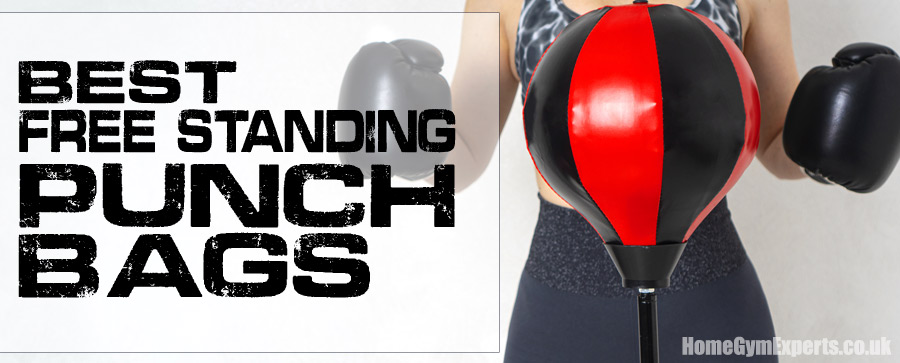 In this guide, we're taking a look at some of the best free standing punching bags you can get for your cash in the UK today. We're huge fans of boxing and martial arts training at Home Gym Experts, a sport that was going HIIT long before it was even invented!
If you're training for a combat sport, martial arts, or just looking for a viciously exhausting cardio workout, a sturdy boxing dummy is a great way to practice punches, kicks and your footwork too.
Simple to set up and relatively easy to use, a these bags don't require a stand ad are much easier to store in your home. There are a lot of reasons to choose one of these bags, rather than the more traditional hanging kind.
"This free-standing bag is the best one availabile due to it's sturdy base and high quality bag."

Base filler: Water or sand

"The Bob dummy is miles ahead of similar 'human-like' dummies in terms of quality and the feel of impact."

Base filler: Water or sand

Gallant Free-Satnding Punchbag
The 5 Best Punchbags to buy in 2023
#1 Century Wavemaster – best overall free-standing bag
Height: 172cm
Weight: 131kg
Bag materials: Synthetic leather, foam
Base filler: Water or sand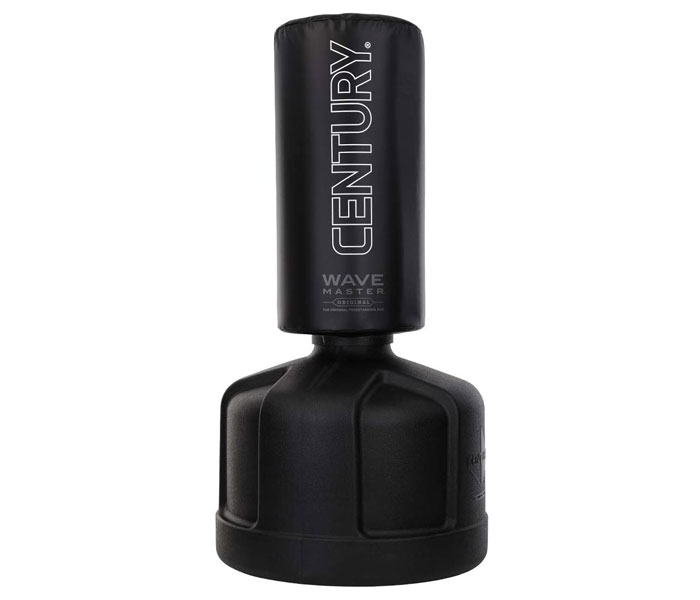 The original Century free-standing bag, the Wavemaster might be a venerable design, but that doesn't mean that it doesn't hold up against newer, shinier models.
In fact, it's the opposite. The fact that the Wavemaster has lasted this long shows you precisely how good the design is. It's ideal for even very heavy combat sports and has plenty of padding for either punches or kicks.
A vinyl-wrapped design, the bag itself is heavy duty and really hard-wearing, but really needs gloves for training, because it can be hard on the hands. Internally, it's a high-impact, high-grade foam that's built to last and recoils from big impacts without issue.
Like a lot of Century bags, the Wavemaster punching bag is height adjustable, from 120cm (47 inches) up to 173cm (68 inches) and weighs around 100kg when filled, a perfectly respectable and usable weight.
This floor-standing heavy bag has some pretty impressive user reviews on Amazon too.
At the price, you're paying, and considering how simple the Wavemaster's design and use is, it's still an incredibly competitive punchbag, even against much newer bag designs. It turns out original might actually be best.
Easy to set up and use
Simple to fill
Very heavy duty
Not the most attractive bag
Check Current Amazon UK Price
---
Century BOB Dummy
Height: 198cm
Weight: 122kg
Bag materials: Vinyl, foam
Base filler: Sand or water

Anyone who's ever seen the inside of a gym or watched a film with fight training in it knows the Century BOB. His pink, gurning head is probably the single most recognisable punch bag on the market, and there's a good reason why everyone seems to have one.
The BOB, (which stands for Body Opponent Bag) is a punching bag that's designed to give you a lifelike training opponent that gives you real targets to aim for, without breaking your knuckles or hurting a sparring partner. The bag itself is foam core, with a thick vinyl covering that's hard-wearing and built to last.
The base is plastisol and can be filled with water or sand. Fully filled, it sits at around 120kg, so it's heavy enough to take a hit and stay standing.
The impact bag itself has an adjustable height option that can be set from 152cm (60 inches) up to 198cm (78 inches.) This is key to realistic training. Anyone who's ever thrown a high kick or tried to land a hook on someone taller than them knows how difficult that can be.
Everything about the BOB is ultra-high quality. It's tough enough to take a real beating and forgiving enough that you can still train without gloves. In terms of realistic training punching dummies, the BOB is almost certainly still the best on the market right now.
Tough and resilient bag
Anatomically correct for realistic training
Very stable and heavy
Fantastic weighty impact on your punches
Check Current Amazon UK Price
---
Gallant 5.5ft Standalone Punchbag
Height: 165cm
Weight: 70kg
Bag materials: PU, EPE foam
Base filler: Sand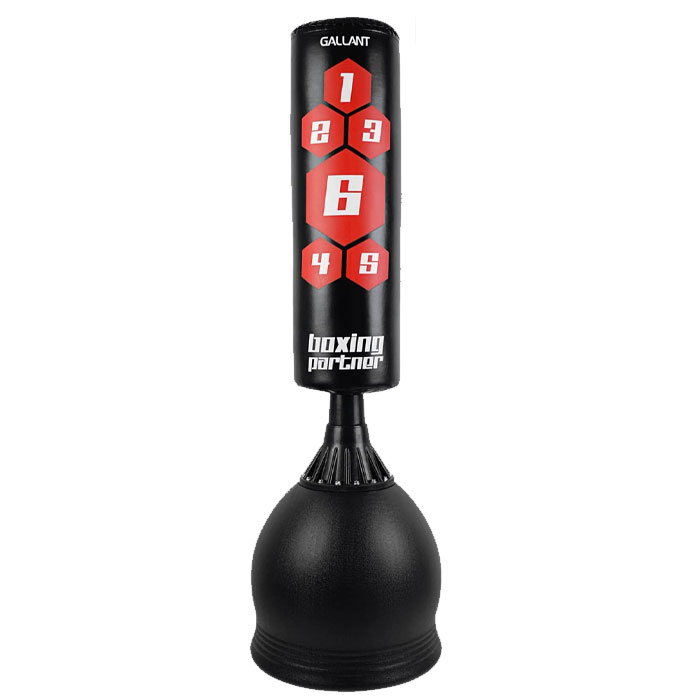 The best budget bag on our list, this punch bag by Gallant is ridiculously cheap but doesn't feel or perform like something that's less than half the price of some of the other options here.
Compared to a lot of bags, it's a little thinner than you might get used to. This is and isn't an issue. It makes it great for Muay Thai, or if you want to train in fighting, as it's easy to get close to, and can really help with precision.
However, that thinness also comes with a lot of flex in the neck, so you can expect a little more bag movement compared to other options, so this might not be the best bag for bigger guys and gals who can put out a lot of force. The base is pretty beefy too.
But despite the fact that it's thin, the outer of polyurethane synthetic leather is backed up with a hefty 5cm thick layer of EPE foam that really takes impacts well. You can hammer this and it will take the hits and easily bounce back.
The bag isn't height-adjustable, but there is also a 6ft version available. And in terms of value, this is probably the best bag on the list. Check out some of the awesome designs on Amazon too – from dragons to numbered targets.
If you're getting into the game and are working on a budget, or you're not sure what bag to buy and don't want to burn several hundred on something you might not use, Gallant's got your back.
Great looking
Very aggressively priced
Easy to fill
A little light, so some bag movement
Check Current Amazon UK Price
---
Century Versys VS1 Punching Bag
Height: 168cm
Weight: 50kg
Bag materials: PU leather, EVA foam
Base filler: Sand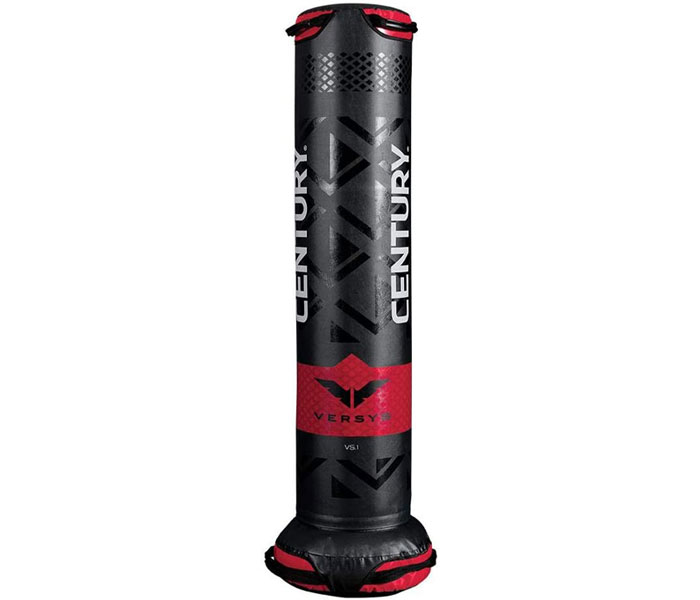 The Versys VS1 is more than a punching bag. It's a multifunctional training tool that's designed with the evolving landscape of the fighting world in mind.
With that said, this is a great punch bag, sitting at a decent 168cm (66 inches) in height, and weighing 50kg. It is pre-filled, so you won't be able to adjust the weight, but if you're buying this, that's not why you're here.
You're here because of the heavy-duty handles at the top and bottom of this.
Handles designed to let you clinch and pull, practice knees and elbows in a much more realistic environment, and even take it to the ground and roll with it, where the length and weight lets you practice important BJJ movements like bridges and mount escapes.
The external is a thick vinyl wrap, and the rounded design organically rebounds against strikes. That means this won't respond like a traditional punch bag.
Instead, it's light and mobile, which forces you to move more and work harder. Again, mirroring what it's going to be like in the cage.
In short, for boxers, look at our other options. But if you train MMA or BJJ, the Versys V1 is a bag you should try.
Top handles help with grapples and knee strikes
Massive target area
Unique rebound property
Not a boxer's bag
Pre-filled, so can't change the weight
Check Current Amazon UK Price
---
Everlast Omniflex
Height: 170cm
Weight: 60kg
Bag materials: Nevatear, foam
Base filler: Water

Everlast is a known name in the fitness sphere, and they're never a bad brand to buy, as quality is consistently and reasonably high across the board.
Accordingly, the Omniflex punching bag offers solid performance and lasting durability.
The Never outer shell is functional and incredibly tough and should take a beating over years. Internally, it's heavy-duty shock-absorbing foam, which, when paired with the Omniflex neck, takes a lot of the impact force and allows you to train longer and harder.
The low profile base is easy to work around, but still weighs around 60kg (130lb) when filled with water. The neck is also adjustable, up to a maximum of 170cm (67 inches) high.
One downside is the small target area. This is clearly designed for boxers, as it's really not suitable for low kicks at all. But as a target bag, this is an impressive piece of kit. And surprisingly cheap, too.
Durable and tough
Low profile, but heavy-duty
A lot of shock absorption and padding
---
Related Guides
---
The Best Bags for Children
#1 – Viper Free-Standing Punch bag
Height: 118cm
Weight: 55kg
Bag materials: Polyurethane leather, EVA foam
Base filler: Sand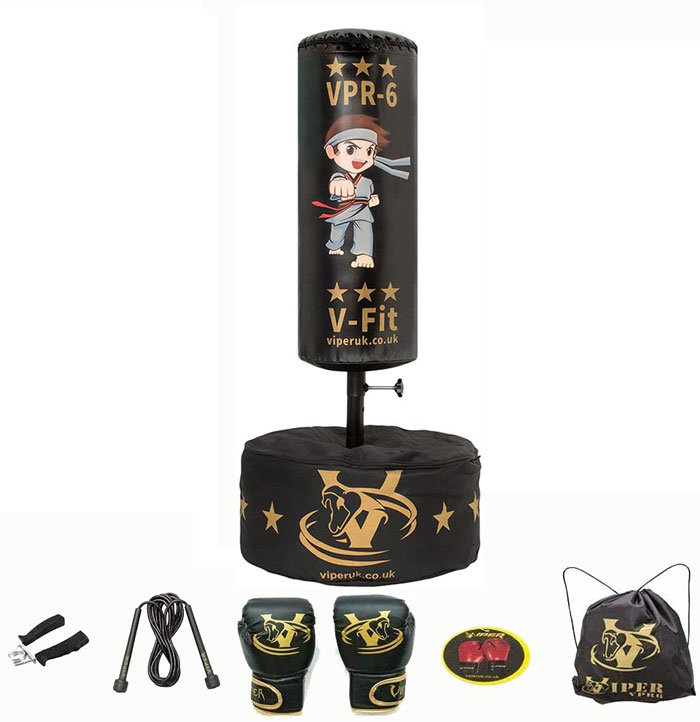 A full-on standing punch bag, just smaller, this bag by Viper is perfect if your kids are into boxing and other combat sports, or just health and fitness in general.
At 118cm (46 inches,) it's pretty large and weighs in at a surprisingly beefy 55kg (120lbs.) At this size, it's suitable for kids ages from 3+ up to around 11-12 years old, at which point they're large enough for a full-size bag.
The base is very large, and can only be filled with sand, taking around two builder's bags, but once it's full it's incredibly stable and solid. If your kid is small enough, they're pretty much not even going to be able to rock this, let alone knock it over.
The outer is PU, which is soft and responsive, with a thick inner layer of EVA foam. This also comes with a whole bunch of incidentals, including a grip trainer, skipping rope, and a decent pair of MMA training gloves, so out of the box you're ready to go.
A real punchbag, scaled-down 33%
Great age range
Lots of extras
---
Inflatable Kids Punching Bag
Height: 160cm
Weight: 26kg
Bag materials: PVC
Base filler: Water or sand
An incredibly budget, incredibly simple free standing bag that's perfect as a starter, but probably shouldn't ever be considered more than that. We've added this bag to our list, but you can easily substitute any inflatable bag, from any manufacturer, instead.
Made from PVC, this is an inflatable bag, so has no inner foam core or protective layering. That means it's not going to respond like a normal punching bag, without any physical feedback. Instead, this is fantastic for target training, and it's a good little bag for smaller children.
At 160cm (63 inches,) it's surprisingly tall, and when the base is filled with water or sand it weighs a reasonably hefty 26kg (58lbs.) So once you've laid this down, it's not going anywhere, no matter how hard it gets hit. But the lack of spine or central column means that every impact is going to send this reeling.
If you have smaller children who need to learn how to aim strikes, this is a good starting point. If not, you really should get a better bag that's going to last more than a week or two of heavy use.
Cheap and easy to set up
Light and flexible
Great for target striking
It's not a proper punchbag
If someone hits it hard, it's going to die
Check Current Amazon UK Price
---
What's the difference between free standing and hanging punch bags?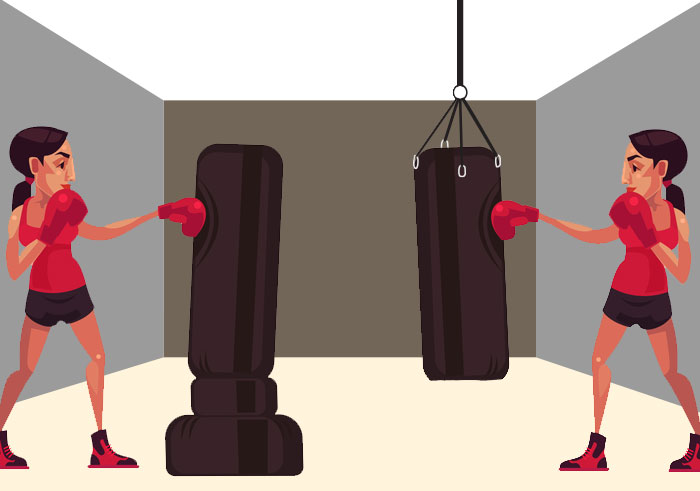 There are two general types of free standing boxing bag; hanging bags and free standing bags.
Hanging bags, also called heavy bags, are easy to recognise. Anyone who's ever trained in a boxing gym (or seen Rocky) will recognise them on sight. A hanging bag is attached to a metal brace that's anchored into a wall or ceiling, with the attachment point at the top.
Heavy bags need a lot of space, and also need a structurally sound wall or ceiling to hang it from, as bags like these generally weigh anywhere from 60 to way over 100lbs. If you'd like to try boxing without splashing out on a full-size bag, see our guide on HIIT boxing at home.
Free-standing bags, on the other hand, can go almost anywhere. They're much simpler to use indoors, because you don't need to anchor them anywhere, meaning you don't have to drill into a wall, and their weight is spread across a large, stable area.
This gives you a lot more freedom with your bag. You can move a big if you decide that you don't like it in a certain space or need it somewhere different, and in general, they just take up a lot less room, especially in a home gym.
A standing punchbag also feels different from a heavy bag when it's hit. The fact that it's free-standing rather than hanging means that it flexes from the bottom, with the top half moving back further than the bottom.
Another good option if you're upgrading your home gym is to pick up a multigym that comes with a boxing station. These gyms are super heavy which makes for a sturdy base to hang your bag from.
Sizing your punching bag
One of the biggest things that affect the performance of a free standing bag is how big and tall it is. Bags sized for adults tend to run from 5 to over 6 feet tall, sometimes with adjustable height, and weigh anywhere from 40 to upwards of 100lbs unfilled.
A good rule of thumb is to choose a bag that's around half your total weight and at around the same height as you at maximum extension. This should give the bag enough solidity that it's going to react to strikes without flailing wildly or toppling, even if you seriously lay into it.
---
Final thoughts
The market for fight gear is immense, and making the right choice can be tough. Making sure that you've got the best free standing option, even after reading a guide like this, is difficult, so if you've got any questions or recommendations of your own, get in touch and leave us a comment below!